Davos From 'Game of Thrones' Tells Us Everything He Can About Season 6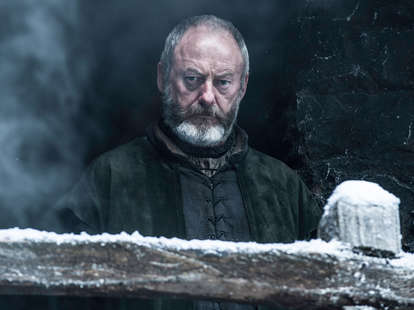 HBO
HBO
Which dead character would you most like to see return to Game of Thrones? Cast your vote now in our bracket tournament here -- round one ends Monday, April 25th at 3pm EST.
I'm backstage at a Game of Thrones Season 5 DVD release with only a few minutes to interrogate actor Liam Cunningham about what's in store for Davos Seaworth, the former Stannis Baratheon confidante he plays on the massive HBO series. Before the night is out, there will be cosplayers, 3D-projected dragons, a peek at The Dance of Dragons (a bloody, animated history of Westeros), and more than a few elliptical references to Jon Snow.
But there is one true quest: parse the final Game of Thrones trailer with someone who lived it, and feed my hunger for hints. Where is Davos this season? Who's the next to die? What really happened to Jon Snow? Here are the Onion Knight's official answers, annotated with what they might reveal about the incoming season.
On Davos' arc
Cunningham: He's lost Stannis. He's lost Shireen. He's lost his job. He's lost his reason for living. He already lost his son at the end of Season 2. Things aren't looking too good. He teams up with the Lord Commander Jon Snow. And then he's taken from him as well, when he was going to put his efforts into taking care of that guy. Or at least being his counselor or an extra set of eyes and ears or whatever it may be. Now he's been taken away. We [left] him in a very peculiar place.
My take: Peculiar, yes, and also desperate. Davos appears in the final seconds of the Season 6 trailer, drawing Jon Snow's sword over his dead body as men of the Night's Watch also draw their blades. It's a safe bet they're trying to steal the corpse.
On his S6 look
Cunningham: I'm not in armor, so I don't complain. The boys who wear armor, they're the boys who suffer.
My take: Davos will continue to serve in an advisory capacity. Check. Does this mean his character's journey to meet the Manderlys could still be worked into the plot? At this point we know Jon Snow returns for an epic Northern battle. But if Davos doesn't join in armor, maybe he acts as an emissary to the Northern lords still loyal to the Starks.
On Thrones locations
Cunningham: Eighty percent of it is shot in Northern Ireland. We've got Iceland, Croatia, Spain. I don't get the glamor. All the filming is an hour and a half from my front door in Dublin. It's Northern Ireland, which is very similar to Dublin, as in "The Home of Rain."
My take: Season 6 will make Davos wet. Check. (Kudos for keeping it local, Liam.)

On shooting conditions
Cunningham: I prefer the cold. It gets hot because the costumes are incredibly real and incredibly heavy.
My take: Davos will probably not venture south (let alone to King's Landing or Essos) in Season 6. Check.

On this year's scripts
Cunningham: It's an absolute luxury for an actor to get to speak the quality of words that these guys are putting down. I'm spoiled.
My take: Liam Cunningham doesn't share the "tits and dragons" opinion of Ian McShane. Reassuring! His answer also tells us that Davos could have a primary role this season. More lines, more scenes, more weight. Check.

On Davos' place in the world
Cunningham: At the end of every season I feel like I've been set adrift into nothingness.
My take: No one is safe. Check. But wait, could Davos share the fate of Gendry, who disappeared into plot abyss?

On Davos' future
Cunningham: I've never been set adrift into nothingness. It's probably closer than I think.
My take: No. Just no. I will not entertain the notion. Davos is a survivor. He's gonna make it. Check.

On our hope that he'll spoil Game of Thrones
Cunningham: You talking about [Season] 5 or 6? I ain't gonna tell you nothing! You're wasting your time, dude!
My take: Check.
Sign up here for our daily Thrillist email, and get your fix of the best in food/drink/fun.
Eric Vilas-Boas is a freelance writer and an editor of The Dot and Line. He too pays his debts. Follow him on Twitter: @e_vb_.