Let's Obsessively Analyze the New 'Game of Thrones' Season 6 Trailer!
Earlier today, HBO released yet another trailer for the upcoming season of Game of Thrones, the best show involving dragons that has ever been created. (Sorry, Kukla, Fran & Ollie.) Watch the new Season 6 trailer above and then ask yourself, What the hell did I just watch? Because it's kind of a lot to process. And then read on -- let's sleuth this mysterious trailer together!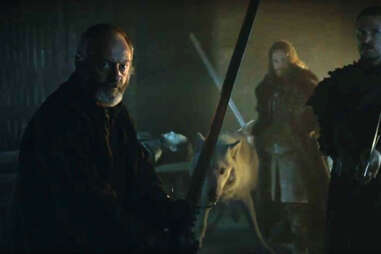 Jaime vs. the High Sparrow
This showdown is guaranteed to be better than Batman v. Superman, and there are only three hands involved. The High Sparrow: "You would spill blood in this holy place?" Jaime: "The Gods won't mind. They spill more blood than the rest of us combined." It's so on.
Mopey Melisandre mopes a lot
The first episode, which was screened at the official premiere last night in Hollywood, is titled "The Red Woman." Cheer up, sad Melisandre -- it's your time to shine! Or maybe die? Who knows what the title really means? (No one seems to -- and believe me, I've checked.)
Drogon-cam is the best cam
Something tells me that tonight's menu at Ye Olde Essos Pub will include scorched Dothraki.
So, Bran is a tree now?
This shot would appear to show the paralyzed Stark boy assimilating with a tree. (Yes, I just typed that.) Or maybe it's just Bran realizing that he could have had a V-8.
Meanwhile, there is decidely no Hodor in this trailer. But, hey, at least the actor who plays him was looking awesomeat the premiere last night.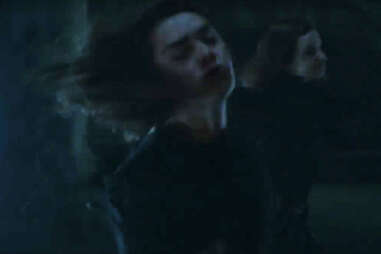 Arya is basically Glass Joe
From Nintendo's Punch-Out.
Dany gets humiliated
But you know what? The Targaryen formerly known as Khaleesi doesn't seem to be particularly worried.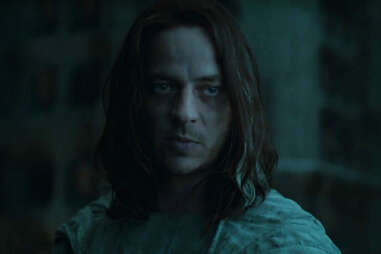 Jaqen H'ghar is kind of a downer
"The girl has been given a second chance. There will not be a third." Thanks, meaner Mr. Miyagi.
Sansa is going to rip some shit up this season
"All I think about is what's taken from me." Cut to...
That horny old goat Walder Frey!
Does Sansa's portentious voice-over imply that the smirking Red Wedding engineer's return to the show will be brief?
Returning to the scene of a particularly bloody crime
Look at all those chuckling Freys.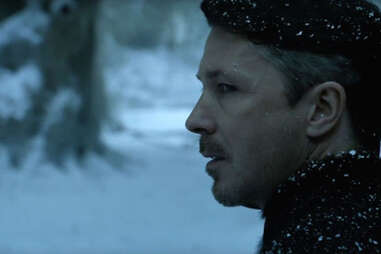 Littlefinger getting all Littlefinger-y
Petyr Baelish getting all Petyr Baelish-y. In the snowy woods. Near Winterfell, maybe?
Greyscale is bad for you
And Jorah Mormont knows it.
Weeping Margaery
But who is she cradling? Loras? Will no one stop the High Sparrow and let these two get back to their lavish upper-crust lives? Jaime?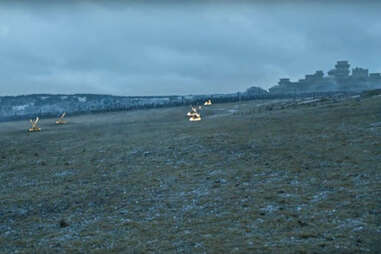 Love is a battlefield
So is this remote location, where, presumably, the Boltons and their Flayed Men will square off once and for all with the northerners who dare to still oppose them. Will a resurrected Jon Snow be there?
The Spider shudders
Varys doesn't often look truly disgusted. But he does in this quick shot that finds him talking to a mysterious woman.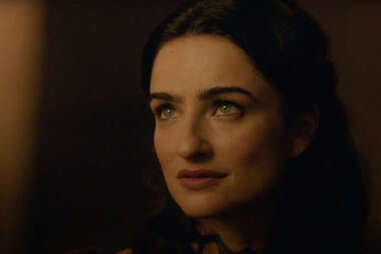 Holy Red Women, Batman!
This is the woman Varys is seen talking to. Is this doppelgänger Melisandre?
Seriously, is that Melisandre?
OK, stupid theory: maybe the Melisandre in Westeros sacrifices herself in order to resurrect Jon, and then is herself reborn (quickly) in this steps-descending woman?
This is Cersei acting motherly
Cersei voice-over: "Show them what Lannisters are. What we do to our enemies." Poor Tommen.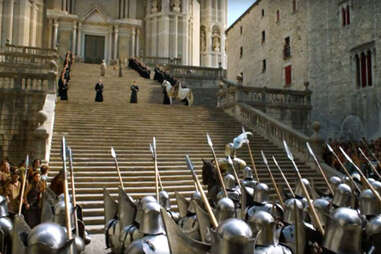 See Jaime stop Sparrows on the sept steps
Not only is it a tongue-twister, it's a possible end to the tedious High Sparrow plotline!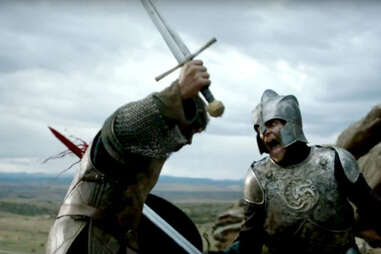 Someone gets stabbed
In the gut!
The Night's King is a bad-ass
Voice-over Davos is saying: "The real war is between the living and the dead. And make no mistake, the dead are coming." In other words, the Four Horsemen of the Snowpocalypse are heading south, and it's not going to be good for anyone.
The Four Horsemen of the Snowpocalypse are bad-ass
Also: those horses are the scariest part of this screengrab.
Wait, white walkers aren't scared of fire?
This doesn't bode well. Even for dragons.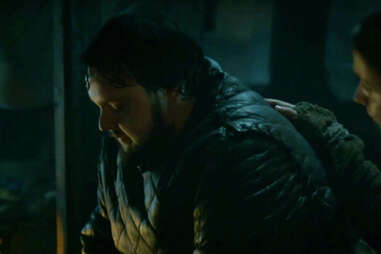 Sam and Gilly, doing their thing
As George Constanza once said, "The sea was angry that day, my friend..." Note how green Sam's looking around the gills. And whoa -- I just blew my own mind: what if Gilly is named Gilly because she's a mermaid!?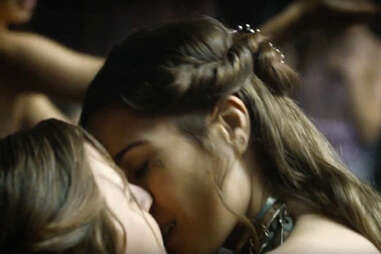 Yara has a kissy-face
Theon's sister gets cozy with a mystery woman (note the chain around her neck).
Theon has a cryface
Will this become the new Michael Jordan crying?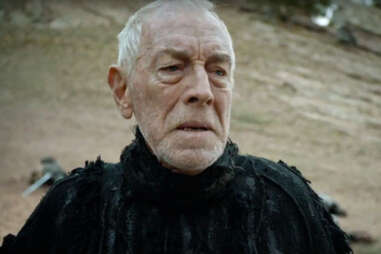 Three-Eyed Raven in the house
In December, he turned up as Lor San Tekka in Star Wars: The Force Awakens. Now, the 87-year-old (!) takes over as the Three-Eyed Raven on Game of Thrones. This has been a good six months for thespian Max von Sydow.
Ramsay: still the worst
I mean, seriously, look at him.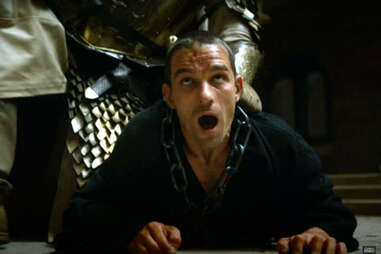 Dead man crawling
This is the only shot we see of an unlucky Sparrow whose head is about to be crushed in, most likely by the Zombie Mountain That Rides.
It's the Boltons vs. the Wildlings
And both sides still have skin in the game. But ask yourself: why would the Wildlings bother to fight the Boltons? Who is likely the only person, living or seemingly dead, who might be able to convince them to do something like that?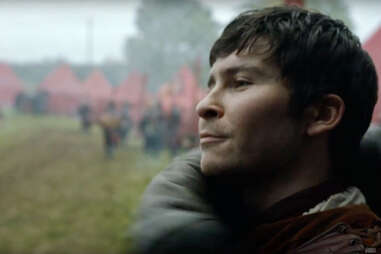 Podrick gets choked
Open letter to Benioff and Weiss: Please don't kill Podrick. Thank you.
A giant kicks in a door
Knock knock.
Who's there?
Wun Weg Wun Dar Wun.
Wun Weg Wun Dar Wun who?
Wun Weg Wun Dar Wun is inside your house.
Things are looking up for Meera
Or are they? It all depends on what terrifying thing is above her.
"Dragons do not do well in captivity"
Wise words from Tyrion, who then unwisely ventures into the dragon dungeon with a torch. Viserion and Rhaegal don't seem very amused!
Tyrion, you're fired!
Season 6 of Game of Thrones can't get here soon enough.
Sign up here for our daily Thrillist email, and get your fix of the best in food/drink/fun.
John Sellers runs Thrillist Entertainment from the comfort of his Iron Throne, which everyone else seems to think is a standard-issue swivel desk chair.