The Theory Behind Why Daenerys & Jon Snow's First 'Thrones' Encounter Felt So Damn Awkward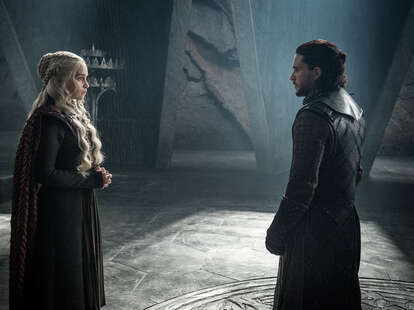 This post contains major spoilers for
Game of Thrones
Season 7, Episode 3, "The Queen's Justice," and every episode before it. Visit our "Beyond the Wall" hub for more
GoT recaps, theories, and spoilers.
It's always hard for heavily hyped scenes to live up to audience expectations. Game of Thrones Season 7 is no exception (and just wait until Season 8). The version of the inevitable confrontation between Jon Snow and Daenerys Targaryen that you built up in your mind over six seasons -- whether it involves them colliding on the battlefield, sharing a rom-com worthy meet-cute scene, or sharing a ride on a dragon together -- was going to pale in comparison to the actual scene. There was too much riding on the moment for it not to disappoint at some level.
That doesn't mean that the showdown, which took place towards the beginning of last night's episode "The Queen's Justice," was a total slog. Tyrion was there to provide some quips. Davos Seaworth did his best to sell Jon as a leader with no obligation to bend the knee to Daenerys. The throne at Dragonstone still looks like it was lifted from the cover of a particularly foreboding metal album. Shit got accomplished.
But it still felt underwhelming -- and maybe a uncomfortable. What was it about the big Queen of Dragons and King of the North face-off that made it feels so awkward and strained? Beyond the somewhat stilted quality to the two actor's performances -- Kit Harington can feel out of his element when he's not brooding -- there could be mystery-solving plot reasons this scene didn't quite light your TV ablaze with fire-breathing intensity.
Dany and Jon are probably related
As much as some fans have rooted for a romantic relationship between Jon and Daenerys, there's one icky factor potentially lurking in the background: they're blood relatives! More specifically, if you believe the very popular (and likely true) L+R=J theory, which argues Jon Snow's real father was Rhaegar Targaryen, then you must also believe Daenerys is actually Jon Snow's aunt. That type of family connection could throw a wrench in any wedding plans.
Even in a show that's more than comfortable with a little brother-on-sister action, it's unlikely that the final batch of episodes will center around a royal courtship between its two major stars who also happen to be nephew and aunt. (Though, plenty of fans still ship them!) When you keep in mind Jon Snow's patronage, which the character has yet to piece together, it becomes clear that Harrington and Emilia Clarke were presented with a peculiar and difficult acting challenge. Should they have emphasized the possible family connection? Downplay any flirtatious undercurrents? Wink to the camera so theory-obsessed fans know they know what's up?
It's tricky. Beyond the future plot implications of the scene, which were numerous, the meta-pressure of fan expectations also weighed heavily on the moment. It's not that Game of Thrones hasn't dealt with these type of conundrums before -- they were more widespread in the beginning when book-readers had a clearer sense of where the plot was going at all times -- but the combination of ice (Jon) and fire (Daenerys) is uniquely important within the larger narrative. It's a matter of alchemy. And it might take a few more tests get the formula just right.
They were talking past each other
"An oath is an oath," said Daenerys as she glared down Jon Snow, expecting him to "bend the knee" and swear loyalty to her. Throughout their terse exchange, Daenerys played on Jon's sense of history, his standing as a military commander, and the importance of symbolic gestures. She miscalculated. As she quickly learned, Jon's concerns are not tied up with the Game being played at King's Landing and in the surrounding territories. He's wrapped up in a more existential threat that lurks in the North.
I'm referring to the White Walkers and the Night King, two frightening realities that Jon struggled to explain to a clearly skeptical Dany. It's a tough task: how do you convince someone to fight (and commit considerable resources to) an enemy they cannot see with their own eyes? (Cough, climate change, cough.) Though he insists he's not her enemy, Jon's refusal to bend the knee still makes him a threat. And Dany is correct to wonder why -- if the White Walkers truly are so dangerous and the apocalypse is near -- would Jon risk his life by not submitting to her will? Who cares? Why not just bend the knee and get it over with?
It's here that Jon's resurrection, which Davos alluded to but didn't quite spill the beans about, might come into play later. Dany, who controls three massive dragons and believes herself to be a once-in-a-lifetime revolutionary figure, is a leader who puts a certain amount of faith in prophecy. Jon's death and return lend him some mystical gravitas that Dany might find appealing -- and it's where he probably draws some of his gumption from. Once Dany finds out the truth about Jon's past and they can bond over their magic abilities, I bet their partnership becomes a little less testy.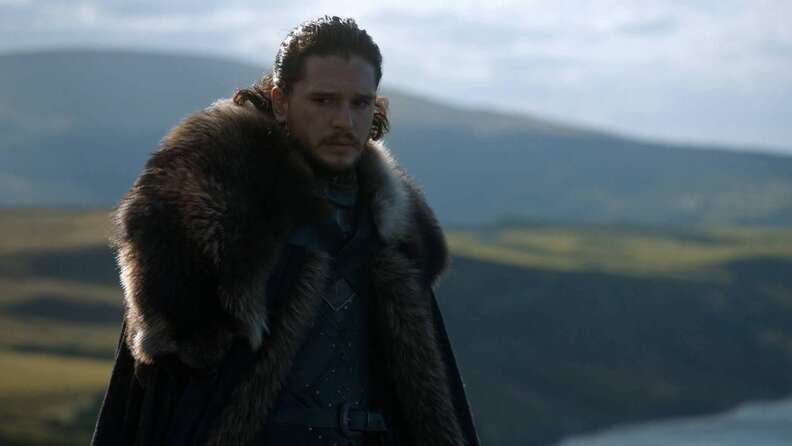 The big team-up is going to be a slow-build
So far, this season has been a warp-speed version of Game of Thrones. (As our own Dave Gonzales has pointed out in his recaps, characters now ping across the map with relative ease.) Despite the assurance from Benioff and Weiss (and the cast) that this shortened season would be crammed with action, this is still a show that loves a good slow-build. They're not going to rush towards the unification of the two regions. It will be a while before you see the Wildlings and the Dothraki singing songs together around a campfire.
There may only be about a season-and-a-half left to go, but that doesn't mean the budding alliance between Jon and Dany will be resolved quickly. Last night's scene was just a hint of what's to come. These are two headstrong military leaders with conflicting interests! There's going to be some in-fighting, back-stabbing, and intrigue before they combine forces. The wait for Dany and Jon riding dragons together, roasting their enemies, and laughing all the way to the Iron Bank will be a long one. Hopefully it gets a little less awkward along the way.
Sign up here for our daily Thrillist email and subscribe here for our YouTube channel to get your fix of the best in food/drink/fun.