The Theory Behind Tyrion's Weird Reaction to Dany & Jon in the 'Thrones' Finale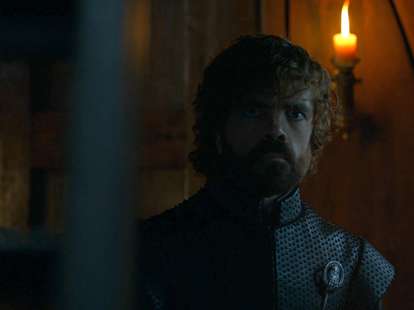 This post contains spoilers for all of
Game of Thrones
Season 7, including the finale, "The Dragon and the Wolf." Visit our official hub for more
GoT recaps, theories, and spoilers.
The finale of Game of Thrones Season 7, "The Dragon and the Wolf," was a big one for Tyrion Lannister. He finally came face-to-face with his sister, Queen Cersei, to persuade her towards working with Daenerys against the Night King's army. That might not have gone to plan -- the duplicitous Cersei remains duplicitous -- but it was not without effort. Tyrion's role as Dany's Hand has been a mixed bag since their arrival in Westeros, costing them the Dorne, Highgarden and a dragon. But the finale reminded us why he's still a great advisor: he's a master conversationalist. He may not have swayed Cersei, but he certainly got her attention.
The truth of Cersei's lie hasn't yet reached Team Targaryen, which means Tyrion ends the episode with a perceived win. So why, then, was he so concerned about Jon and Daenerys going to bed together?
It's hard to say from that one scene alone, but there are a few clues in supplemental material that might indicate the two very different ways this could play out.
Option #1: Tyrion is worried for political reasons
Jon's pride is a sticking point for Dany's allies, who scoff at him for not lying to Cersei when she asks him to remain in the North and take no sides. "I cannot serve two queens and I've already pledged myself to Queen Daenerys of House Targaryen," he tells the small crowd.

The implications of Jon's stubborn truth could be massive, and his feelings for Daenerys might jeopardize the safety of everyone. Their moment of passion is the culmination of their season-long attraction, but it As Peter Dinklage explains in HBO's Inside the Episode segment for the finale, "It's dangerous for everybody involved. I'm sure it's good for both of them in the moment, but you don't even get the relief of how beautiful it could be or should be. It's not good."

There's further proof in the danger of love with the flashback to the wedding of Rhaegar Targaryen and Lyanna Stark, Jon's parents, the reveal of which is timed (not coincidentally) to Dany and Jon's lovemaking. As Bran states in a voiceover, "Robert's Rebellion was built on a lie. Rhaegar didn't kidnap my aunt or rape her. He loved her, and she loved him." What resulted was a bloody war that saw the defeat of House Targaryen and almost lead to the total detonation of King's Landing at the hands of the Mad King, had Jaime Lannister not intervened.

Tyrion lived through Robert's Rebellion as a Lannister, who were at the center of the conflict. He also knows from past relationships how love can make an otherwise intelligent person weak and vulnerable.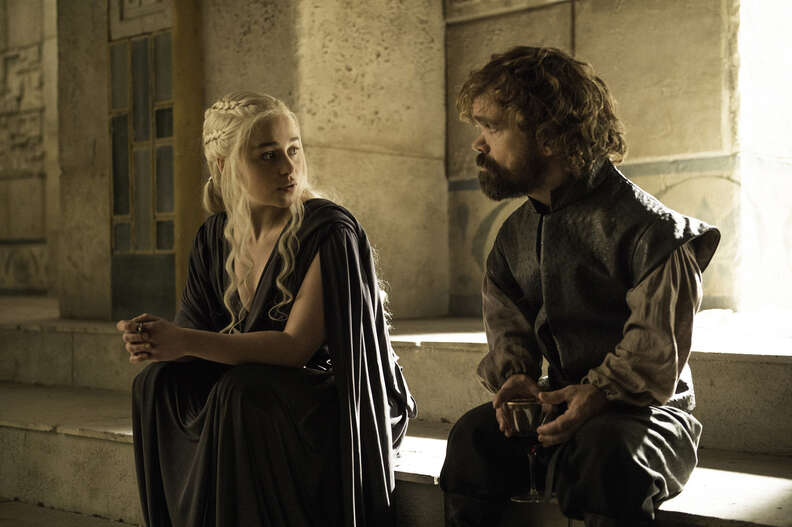 Option #2: Tyrion is worried for personal reasons
As Joanna Robinson points out in a piece for Vanity Fair, the outline that George R.R. Martin sent to his publisher way back in 1993 could hold clues for where the story ends up. The series has already significantly diverged from Martin's original plan, but it's possible that some of the seeds he planted will eventually pop up.

Among those earlier proposed storylines was one of a love triangle between Jon, Arya, and Tyrion. Obviously the Jon and Arya thing didn't play out, with Jon instead having an incestuous affair with his aunt, Daenerys (at least on the show). But could the Tyrion love triangle remain?

As Cersei reminds us, Dany is Tyrion's type. "I shouldn't be surprised, I suppose, she's your kind of woman," Cersei scowls at him in their meeting. "A foreign whore who doesn't know her place."

Personality-wise, Daenerys is nothing like Shae, the woman who betrayed Tyrion for his father's money, and whom he eventually murdered. But both spent much of their lives in Essos, and both had a strong sense of self-worth.

Is Cersei right, and is Tyrion falling for the woman he's supposed to counsel? Anything is possible in the show's final season, set to arrive sometime in late 2018.
Sign up here for our daily Thrillist email and subscribe here for our YouTube channel to get your fix of the best in food/drink/fun.
Lindsey Romain is a writer and editor living in Chicago. She covers politics for Teen Vogue and has also appeared in Vulture, Birth.Movies.Death, and more. Follow her on Twitter @lindseyromain.