The Epic 'Game of Thrones' Finale Trailer Teases a Long-Awaited Arrival
This post contains major spoilers for
Game of Thrones
Season 7, Episode 6, "Beyond the Wall," and every episode before it. Visit our official hub for more
GoT recaps, theories, and spoilers.
The second to last Game of Thrones Season 7 episode was so action-packed that we'd understand if you wanted the finale to be a little more reflective. Peaceful, even. After six episodes filled with scorched-earth dragon battles, wild revelations, and hints of romance, we could all use a breather. Maybe the 81-minute finale will mostly consist of Dany and Jon getting to know each other on that boat? Something low-key.
Of course, this is unlikely, and if the trailer HBO just released is any indication, the finale is going to be as crammed with conflicts, schemes, and bloodshed as the previous six hours of television. David Benioff and D.B. Weiss have had their foot on the gas for all of Season 7 -- much to the occasional frustration of continuity and map obsessed fans -- and it's unlikely they'll be slowing down for an episode of quiet character beats any time soon. We're all on the back of a dragon now. Hold tight.
What exactly is this new trailer teasing? Well, for one thing we know Sansa will be feeling moody and isolated, staring out at Winterfell in one of her many coats while she decides how to deal with her sister and that bag of face-masks.
We'll also finally get to see how Grey Worm's life has been going since he had sex, sailed off to Casterly Rock, then wound up in a trap set by Euron Greyjoy. There will be a bunch of ships, if you're into that. Theon to the rescue? The Dothraki?
And, oh, yeah, there's a dragonpit. Sorry, the dragonpit. It's a big deal. Here's what it looks like in the show: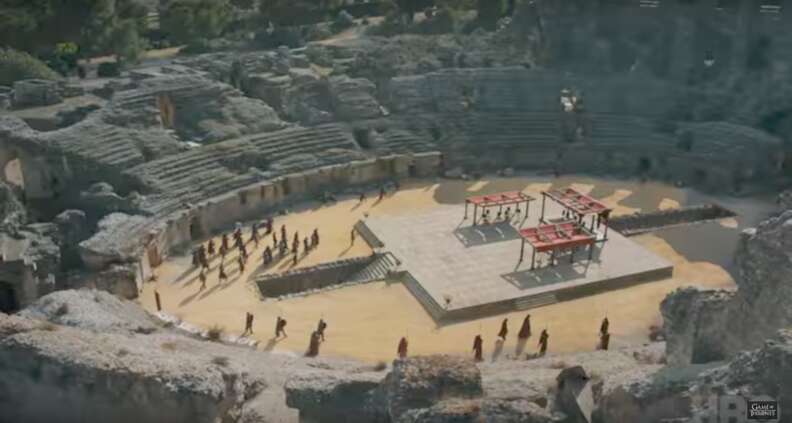 That's not just an ordinary ruin-like structure that Cersei is organizing her not-at-all-nefarious get-together at. No, it's the dragonpit where House Targaryen would store their winged beasts back in the day, making it the perfect, history-rich location for Queen Cersei to stage a negotiation with Daenerys, the Mother of Dragons herself. (Though, it's worth pointing out that we don't see Dany in this clip -- just a now recovered Jon Snow saying, "There is only one war that matters and it is here.") As the Game of Thrones Wikia notes, it was "destroyed during the civil war known as the Dance of the Dragons, 170 years before the War of the Five Kings." With no more dragons around, it hasn't exactly been a major infrastructure project for more recent leaders and it's one part of King's Landing that the show hasn't shown us. Until now.
The dragonpit is also an ideal location for some betrayal. If last year's explosion-filled finale taught us anything, it's that we should never bet against Cersei Lannister, especially when it comes to ceremonial gatherings of leaders. These parties have a tendency of ending in a brutal, bloody fashion. Jon Snow might think there's only one war, but, if this ominous trailer suggests anything, it's that he'll be fighting a few different battles next week.
Sign up here for our daily Thrillist email and subscribe here for our YouTube channel to get your fix of the best in food/drink/fun.