Recommended Video
These Tacos Are Made for Dunking
For the longest time, Tyrion Lannister has been both the star and the soul of Game of Thrones. When the show's oddly comforting theme music starts to play and the camera swivels over that chintzy computer-generated map of Westeros, actor Peter Dinkleage's name is the first piece of text to appear.  He remains the only performer to win an Emmy -- two, in fact -- for his work on the show. And yet, throughout the past few action-packed seasons (including the maddeningly paced Season 7), he's mostly been absent or relegated to the sidelines.
There's a strong chance that Sunday's finale "The Dragon and the Wolf," which will clock in at a gargantuan 79 minutes and 43 seconds, will be a welcome showcase for Tyrion's cunning wit and strategic know-how. After all, he was the mastermind behind the plan to capture a White Walker from beyond the wall, carry it back to civilization, and present it to his sister Cersei Lannister as a sign of… good will? Imminent danger? Global warming?
The nuances of this plan are hard to suss out, partially because it scans as transparently terrible, but also because Tyrion hasn't had much screen time to get into the nitty-gritty details. The show's creators David Benioff and D.B. Weiss seem to be saying, "Trust us. We got this."
But do they, really? The benching of Tyrion -- along with his fellow string-puller Varys -- suggests that Game of Thrones has undergone a gradual change over the last two seasons from a tough-minded, bleak show primarily about machinations of power to a more fleet-footed, zippy adventure series about conquest. Conventional heroes, like Jon Snow and Daenerys Targaryen, are more important to the larger narrative of the show now. There's less room for a figure like Tyrion -- unless he's about to undergo his own dramatic transformation.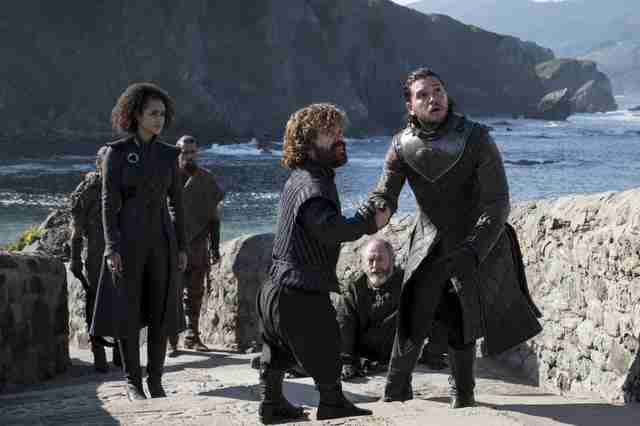 "You know what I like about you?" Daenerys asked Tyrion during Sunday night's episode "Beyond the Wall." "You're not a hero." In the moment, the Mother of Dragons was referring to Tyrion's long celebrated pragmatic instincts, which have served him well as he's offered guidance to leaders both insane (Joffrey) and noble (Dany), but her dialogue also worked as a meta-acknowledgement of his role in the story. Dany is correct that Tyrion is no hero. When the show was dealing with morally ambiguous conflicts like the Battle of Blackwater, in which there was no clear good side, that wasn't a problem. It's unclear how Tyrion, a lover of drink and a cold-blooded murderer, fits into the morally flattened landscape of zombies vs. good guys. It makes sense that he wasn't out on the ice.
The problem is that in recent weeks he hasn't even been an effective sidekick: Our last glimpse of him was a pained shot of his face as Dany soared off to battle after ignoring his advice. Earlier this season, he watched from afar as dragon flames nearly engulfed his brother. He's looking less clever with each passing episode. Even his attempt to get Dany to think about the problem of succession -- which he framed by asking her "After you break the wheel, how do we make sure it stays broken?" -- felt short-sighted and clumsy. He's lost that nimble Tyrion touch.
Could this all be a bit of misdirection? Your relative enjoyment of Season 7's more implausible plotlines -- like Arya's curiously bitter behavior towards her sister Sansa -- probably depends on how much you think the characters are acting on unstated, hidden motives. Presumably, these "smart" characters are acting "dumb" for a reason that will become clear in the finale or next season. Is it possible that Tyrion's scheme to bring a White Walker to King's Landing involves a cunning twist? Sure. Could he be in cahoots with his brother Jaime? Very possible. Has he worked a deal with Jon Snow? I have no idea.
The more difficult question is this: Will he become a more conventional hero? Or die trying?
Some Game of Thrones fans see a clear path to heroism for Tyrion: Climb aboard the dragon train. Literally. As outlined by Thrillist writer (and GoT expert) Lindsey Romain, the popular "Dragon has three heads" theory has long predicted that Tyrion, who was often referred to as "no son of mine" by his withering father Tywin, is secretly a Targaryen. "His mother, Joanna, was an object of lust for the Mad King, and the timeline works out just right that she may have been in his presence around the time of Tyrion's conception," writes Romain. She also points out why that theory might be a little lame. "Though the idea of another secret Targaryen is exciting, it would undo Tyrion's complicated relationship with Tywin, which is a lynchpin of his characterization."
I tend to agree. The image of Tyrion soaring across the sky with Dany and Jon just feels silly, like the pandering embodiment of fan service. The idea of there being multiple secret Targaryens is too cute. Plus, the Night King assuming control of one of Dany's dragons clearly throws a wrench into this prophecy. We haven't seen the blue-eyed dragon in action yet, but it would shock me if he took kindly to human passengers. Even secret Targaryens.
That means Tyrion will have to find a cleaner route to hero status, one that will presumably find him crossing paths with his brother and his sister again. It's likely that the final conflict of this season will also tie back to what could be considered the original sin of the Game of Thrones universe: the attempted murder (and crippling) of Bran at the hands of Cersei and Jaime. Remember, Tyrion was put on trial for this crime back in Season 1 and won his innocence thanks to Bronn's skills in a trial by combat. Jaime and Cersei have certainly suffered in recent years, but they're still breathing. It remains an act that demands retribution.
With Bran and Arya in Winterfell, that leaves Jon Snow and Tyrion to administer justice. Given how few major characters have died in this shortened season, the possibilities for bloodshed in the finale are numerous: Cersei and Jaime could both be on the chopping block, along with a range of supporting figures. Or Tyrion himself could meet his end. If he does, it would be a near fatal blow for this show: there's no clear line of succession if Game of Thrones kills off its most emblematic character.
Sign up here for our daily Thrillist email and subscribe here for our YouTube channel to get your fix of the best in food/drink/fun.