Recommended Video
Here Are the 4 Craziest 'Game of Thrones' Theories (Spoilers)
With only two (shortened) seasons to go, time is a commodity for Game of Thrones. HBO's adaptation of George R.R. Martin's fantasy series has already clocked 60 hours' worth of betrayal, political bickering, dragon-flambéed action, and magical interference. Still, there's much to be wrapped up, and exactly how creators David Benioff and D.B. Weiss will pull it off remains the show's greatest mystery.
What should we expect from the upcoming Game of Thrones Season 7? Here's everything we know, from official announcements to on-set leaks, broken down by where we left off with each band of characters...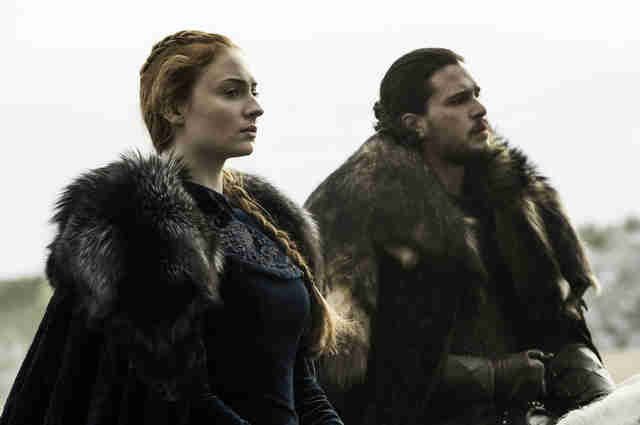 The North
What happened: In the final act of Season 6, Jon Snow (Kit Harington) became King in the North after his sound defeat of Ramsay Bolton in the Battle of the Bastards. The win wouldn't have happened without Sansa Stark (Sophie Turner), who called upon Lord Petyr "Littlefinger" Baelish (Aidan Gillen) and his knights of the Vale as reinforcements. The move didn't come without a cost; in the finale, we saw Littlefinger positioning Sansa against Jon in an act of manipulation. In the background, Davos Seaworth (Liam Cunningham) learned that Melisandre (Carice van Houten) killed Princess Shireen in a fiery ritual, leading Jon Snow to banish the "Red Woman."
What will happen: Set photos showing Jon Snow shaking hands with Tyrion Lannister (who has history with the bastard) all but confirm a team-up between Jon Snow and Daenerys Targaryen, though without source material to draw from, there's no telling how long the alliance will go.
Sophie Turner, who plays Sansa, spilled that she would "go on to [film] Season 8" in a recent red-carpet interview, leading many to believe she'll survive whatever Season 7 throws at her. (Though when asked why Turner's hair was still blonde at a SXSW panel on Thrones, Maisie Williams, who plays Arya, claimed  "she's dead"). Rumors claim that Sansa will sentence Littlefinger to death, since he's done more than any other character -- apart from Joffrey Baratheon and Ramsay Bolton -- but that has yet to be confirmed.
King's Landing
What happened: In the Season 6 finale, Cersei Lannister (Lena Headey) murdered her hometown enemies in a green fireball at the Great Sept of Baelor, a move so ghastly that her son, King Tommen, committed suicide via self-defenestration. Body count highlights included Margaery, the High Sparrow and his Faith of the Seven acolytes, and veterans like Grand Maester Pycelle, stabbed to death by "little birds." Jaime Lannister (Nikolaj Coster-Waldau) arrived with Bronn (Jerome Flynn) at King's Landing just in time to watch Cersei's coronation and stare daggers at his sister.
What will happen: The look Jaime gave his sister doesn't bode well for the future of their relationship, nor does the rumored possibility that she might join forces with pissy Iron Islander Euron Greyjoy (Pilou Asbæk).
But on to hard facts: Set photos in temperate, non-snowy Spain have shown Jaime leading a battalion of King's Landing soldiers to battle while carrying Widow's Wail -- one of two Valyrian steel swords forged from Ned Stark's greatsword, Ice. Brienne of Tarth carries the other sword, and they were meant to be reunited. One could imagine Jaime switching sides this season.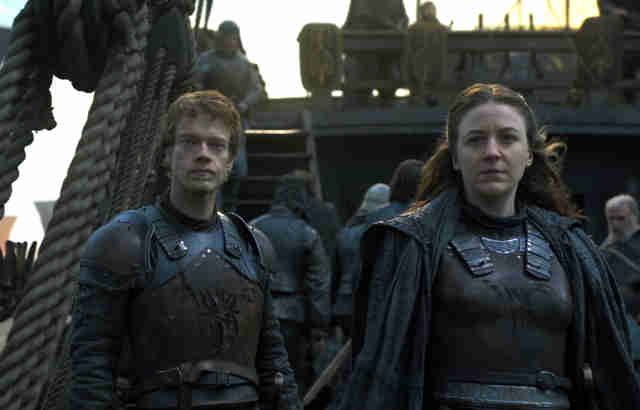 Pyke in the Iron Islands
What happened: Last season Euron Greyjoy, uncle of Yara and Theon, murdered his brother and became King of Salt and Rock. Yara and Theon escaped with his fleet when he took the throne. His parting words suggest he's still in the picture: "I want every man bending planks, I want every woman spinning flax for sails. Build me a thousand ships, and I will give you this world."
What will happen: With Yara and Theon sailing towards Daenerys, Euron and Cersei will join forces in an alliance. To do what? Here's a potential spoiler:
Fansite Watchers on the Wall reported in September that Euron will face off against his niece and nephew in a giant sea battle that will end in one of them being captured (and potentially kill one of the Sand Snakes, per its sources). Cersei's own troops could be involved.
The Citadel of Oldtown
What happened: We left Samwell Tarly (John Bradley) and Gilly (Hannah Murray) in the capital of the maesters order, the largest repository of written knowledge in all of Westeros. Night's Watch Lord Commander Jon Snow sent Sam there to learn everything he could about becoming a maester for the Night's Watch and fighting the White Walkers. Sam also wields his father's Valyrian steel sword Heartsbane, which he lifted after hightailing it out of Horn Hill.
What will happen: At some point Sam and Gilly need to leave Oldtown and get back to the action. Season 7 set photos have shown them filming in the snow, so we can assume they'll be heading back north to rejoin Jon Snow's forces soon enough -- presumably armed with maester training and White Walker knowledge. But before that, Bradley will share some screen time with Thrones newcomer Jim Broadbent, who recently revealed he plays a new maester in Season 7.
The Riverlands, from the Twins to Riverrun
What happened: Arya's back! She murdered Walder Frey at the Twins, where the Red Wedding happened way back when, after serving him a literal pie made of his children. The Hound (Rory McCann) is back! He joined up with the Brotherhood Without Banners to head north in a campaign against the White Walkers. Brienne of Tarth and her faithful squire Podrick didn't really go anywhere, but they'll be back (!), following a run-in with Jaime at Riverrun.
What will happen: There aren't many spoilers to infer where Brienne, Arya, or the Hound go from here beyond how Brienne might relate back to Jaime's arc. Aforementioned set photos suggest a potential reunion.
The Hound will continue his alliance with the Brotherhood, per set photos with Richard Dormer's Lord Beric Dondarrion. Maybe he'll run into the band Bastille, spotted on set as wildlings? 
Many assume Arya is on the way to meet Jon and Sansa, but theories have also pointed to another reunion between her and Nymeria, her direwolf from Season 1. She might also wear Walder Frey's face at some point, based on a casting notice that David Bradley, who played the deceased lord, will return this season. The only thing we know for certain: Williams will share screen time with one of her favorite musicians. Ed Sheeran is confirmed for a Season 7 cameo.
The Narrow Sea passage to King's Landing
What happened: Daenerys Targaryen ended Season 6 with a fleet of Greyjoy-, Martell-, Tyrell-, and Targaryen-branded ships she looted after killing the masters in Astapor. She's riding the waves with 100,000 Dothraki screamers and their horses, plus 8,000 elite Unsullied warriors, plus three fully grown fire-breathing dragons in the sky.
What will happen: Based on her course, many assume Daenerys will, at long last, engage Cersei's army at King's Landing. Concept art that trickled from set strengthens the argument -- if you're a spoilerphobe, skip ahead.
The painting depicts a ruin adjacent to King's Landing known as the Dragonpit, where we expect Daenerys will lead Tyrion (Peter Dinklage) and her allies to a wight. Set photos confirm that nearly every Thrones star was present for the shoot, including Harington as Jon Snow and Headey's Cersei. One spy shot even sees Snow shaking hands with Tyrion, a sight we haven't seen since Season 1. Is this the super army that can take on the Wall? The alliance won't be that easy to pull off -- onlookers also caught Emilia Clarke on set for Nikolaj Coster-Waldau's big army battle, leading many to believe the season's big action sequence will pit Daenerys against Jaime.
Beyond the Wall
What happened: Bran (Isaac Hempstead-Wright) had an emotional ride last season, between losing his lifelong faithful companion Hodor and learning that Jon Snow is the son of Rhaegar Targaryen and Lyanna Stark. Now the teenage Stark is the new Three-Eyed Raven, and somehow must relay the information about the White Walkers' origin to Jon. There's just one big problem, made abundantly clear by Bran's undead uncle Benjen: The undead cannot pass through the reinforced magic of the Wall, and Bran was touched and marked by the undead Night King in one of his visions.
What will happen: Could Bran bring down the Wall? There's no concrete evidence for the prevailing theory, and the only photo evidence of Hempstead-Wright's involvement with Season 7 are a few snack-heavy photos alongside Maisie Williams. But as the actor pointed out, Bran is ready to bust out from behind the Wall. Out of options, but ready to bust out: "Is he gonna tell Jon? Is he gonna find anyone? Is he even going to make it past the Wall? He's only with Meera now, and he's out in the middle of nowhere, so it's not looking great." 
Then again, if the prospects looked great, this wouldn't be Game of Thrones.
Sign up here for our daily Thrillist email, and get your fix of the best in food/drink/fun.