Everyone Who Died in the Penultimate Episode of 'Game of Thrones'
It was a rough one.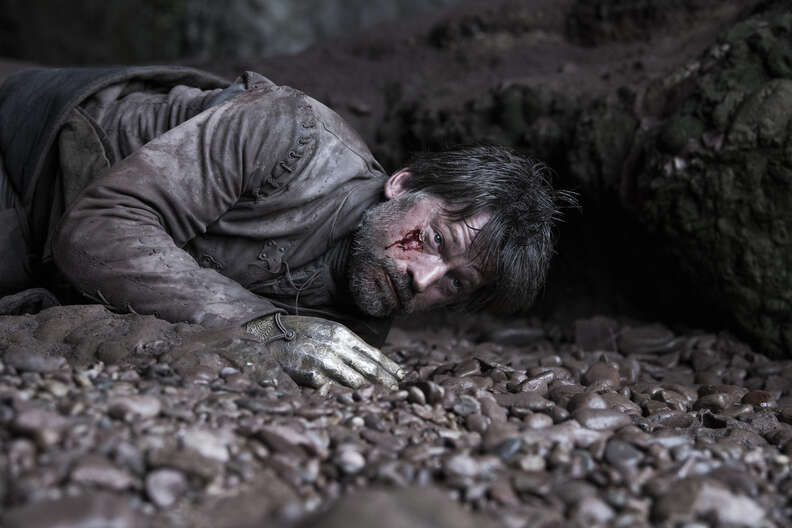 HBO
HBO
If it's one thing we can all agree on, it's that Game of Thrones never skimps on upsetting subject matter when given the chance. And in its penultimate episode, a fiery storm of death reigned down on King's Landing. We knew the body count was on the rise, but at the hands of a vengeful Daenerys Targaryen, the whole place suffered an over-roasting… kinda like the stale coffee in the infamous Starbucks cup.
"The Bells" was an onslaught, a bloodbath of the highest order, and aside from the thousands of innocents burnt to a crisp under the constant rain of dragon fire, a handful of important characters perished. In the aftermath, will Jon Snow end up taking down Dany, his queen? Probably -- but that's another conversation altogether. The House of Lannister has crumbled to dust, and to keep you up to speed on where we stand with the central cast being whittled down by the week, here's a quick "in memorium" to get you prepped for Sunday's series finale.
Varys
We all saw this one coming, right? After Varys tried to convince Tyrion that Jon Snow was the best heir to the Iron Throne, word got back to Dany (because Tyrion's a snitch) that her other Hand had betrayed her. Of course, in her mind, it's really Jon that was doing the betraying -- he told his truth to Sansa and Arya after promising Dany he'd keep his true Targaryen parentage a secret.
After approaching Jon on the beach, trying to convince him, once more, to take the Iron Throne, Varys was taken away in handcuffs by the Unsullied only to stand trial on the beach at night. But he was already stamped with a guilty verdict, and in front of the Dragon Queen and her squad, Varys ended up being the first to fall victim to Dany's dragon fire in the cataclysmic episode.
Harry Strickland
Harry Strickland, we hardly knew ye. The captain of the Golden Company was introduced to the story this season, in the episode, "The Long Night." He's the dude who came with Euron Greyjoy to King's Landing, supplying a horde of troops (but no elephants) to join in the pending war. He may not have been involved in the Game of Thrones story for long, but his death is still significant as it truly marks the beginning of the Battle of King's Landing. After Drogon, with Daenerys on his back, burned through the city's walls, Harry made a run for it only to find Grey Worm's spear thrust through his back. Ouch.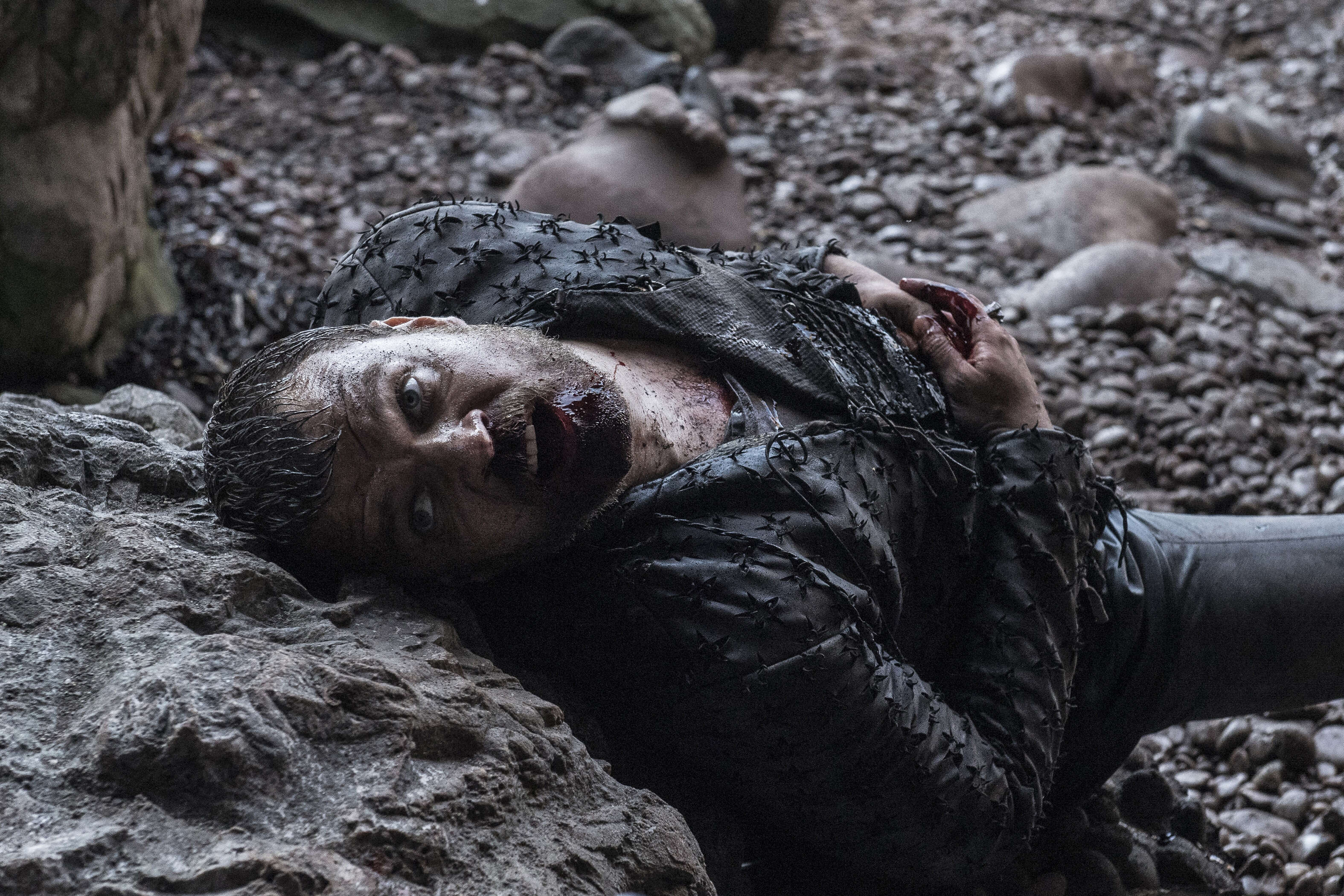 Euron Greyjoy
Euron Greyjoy sucked. His toxically masculine, conniving persona helped him gain a fearful following on his mission to conquer the Seven Kingdoms. Bringing the Iron Fleet -- and those gargantuan scorpion weapons -- to King's Landing helped get him in the good graces of Queen Cersei. At least, that was his egomaniacal take on the whole thing. Yes, they had sex. No, she wasn't pregnant with his kid.
Somehow, Euron survived Drogon's onslaught that had pretty much incinerated half of the Iron Fleet. And after conveniently coming ashore at the Red Keep, the secret spot Tyrion told Jaime to head to, a battle to the death between two of Cersei's betrothed took place. Jaime walked away from this muddy battle mortally wounded, but it was Lannister's sword that gutted Euron, leaving him and his egomaniacal potty mouth to die right there.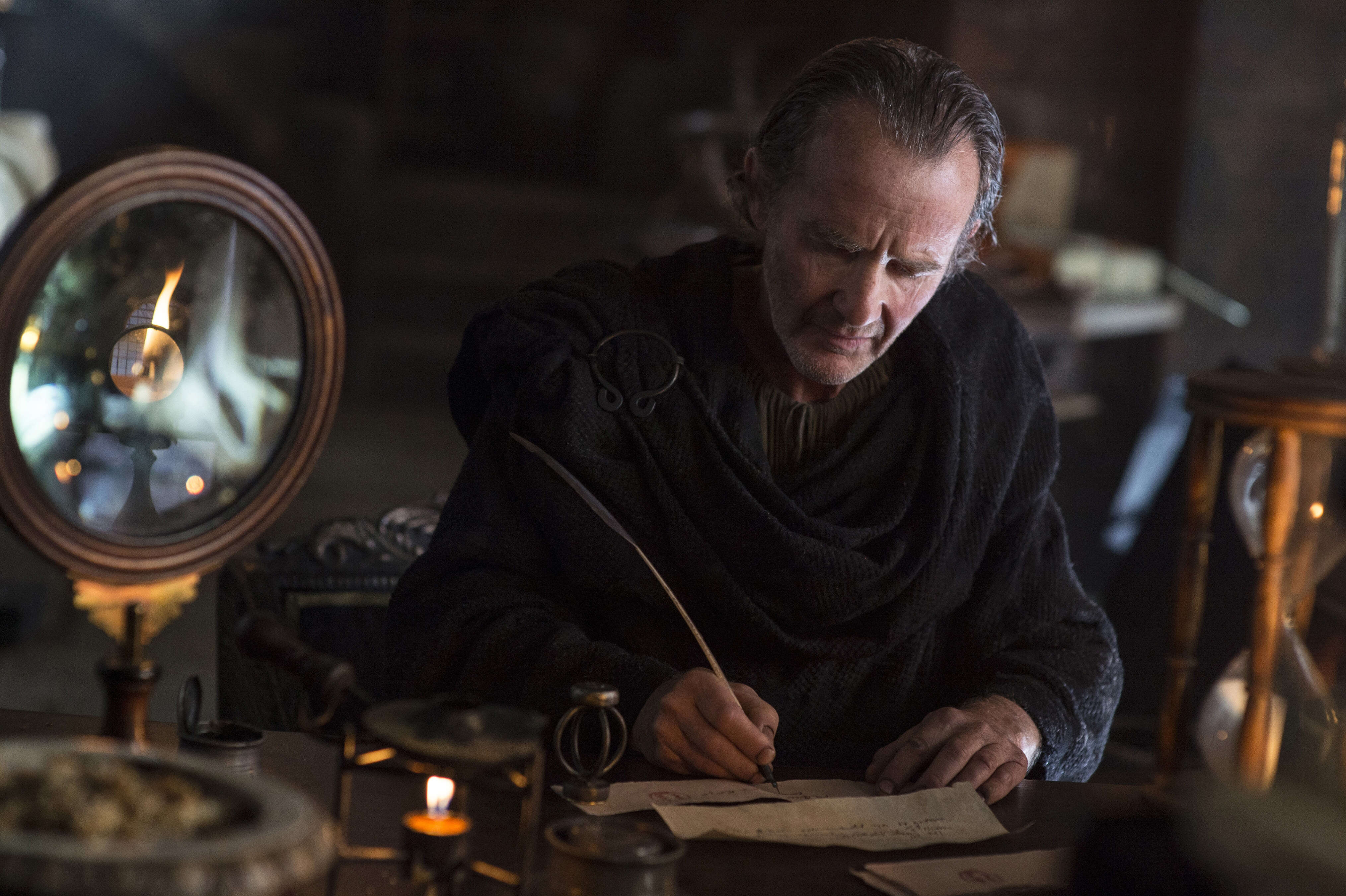 Qyburn
Some of the deaths that transpired in Sunday's episode were so quick, if you blinked, you'd have missed them. Qyburn's demise happened in such a throw-away, hilarious manner, the whole moment felt a bit out-of-place. But there was literally no levity to be found through Sunday's hour-and-a-half death orgy, so it's possible the passing of Cersei's Hand was meant to incite a few chuckles.
That said, there's some irony behind his murder. It was Qyburn who brought The Mountain back from death, transforming him into Queen Cersei's loyal zombie guard. And yet, all it took was the appearance of The Mountain's younger brother, Sandor, to snap some hateful sense back into his lifeless skin. As Cleganebowl was finally at hand, the undead musclehead just flung Qyburn out of his way like a rag doll, his head splattering open on the stone staircase like a cracked egg, to clear the path between himself and The Hound.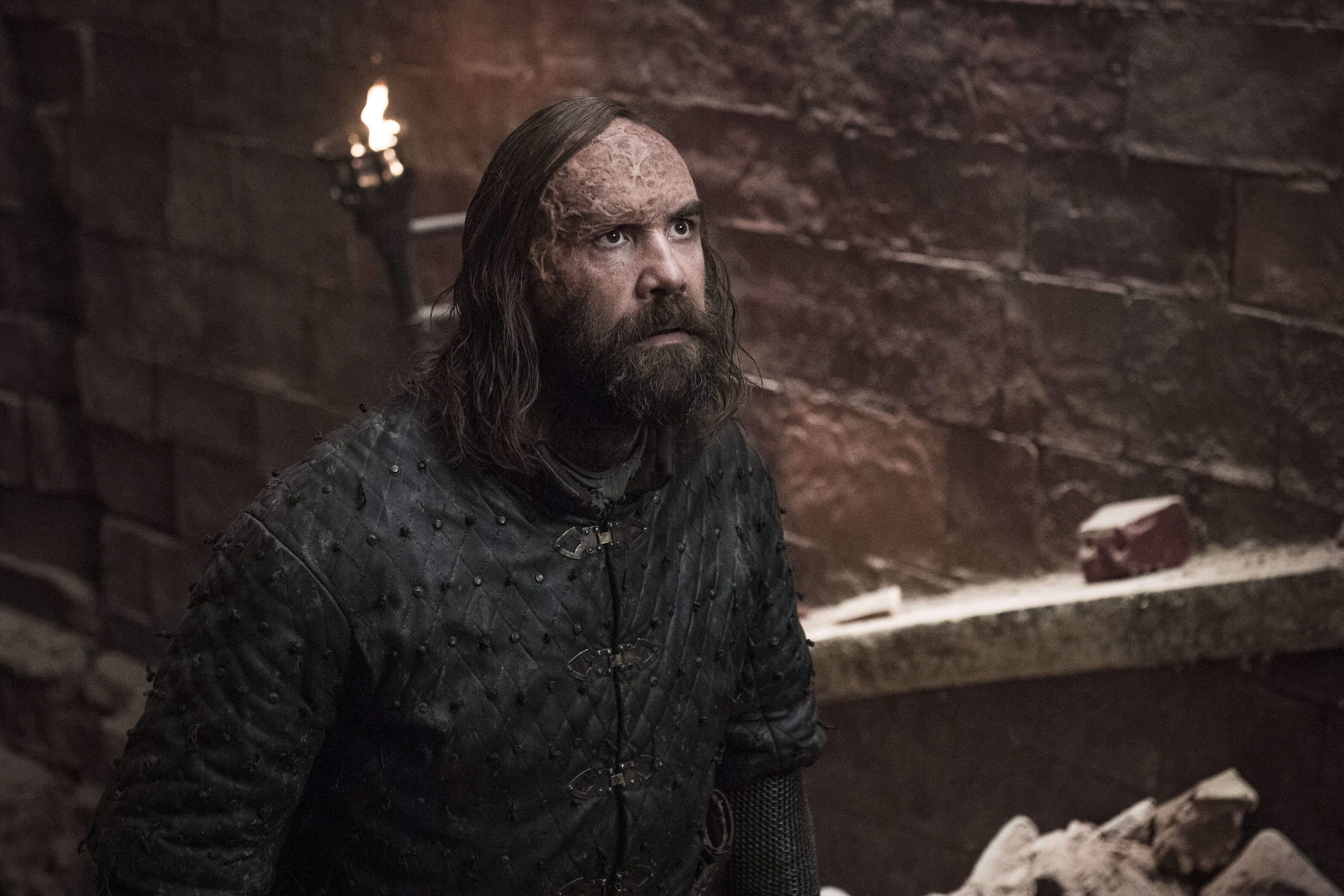 Sandor and Gregor Clegane
For years, fans have yearned for this moment and in Sunday's episode, The Hound and The Mountain reunited for an epically bloody staircase brawl. Their hateful sibling rivalry began in childhood where Gregor set Sandor's face ablaze for playing with one of his toys, instilling in Sandor a primal fear of fire. How fitting, really, for their final battle to take place as the world burned around them.
To say that the brothers died in a blaze of glory wouldn't be totally accurate -- we're not sure there was any glory to be found here. But watching them trade jabs and stabs on those King's Landing steps was a sight to behold. Sandor was clearly affected by his injuries, while his undead brother withstood all sorts of slashings, including a dagger through the skull. Knowing he wasn't going to come back from this, The Hound turned his phobia into a weapon and knocked his brother through the castle's crumbling facade and together, they perished in the fiery maelstrom below. How poetic.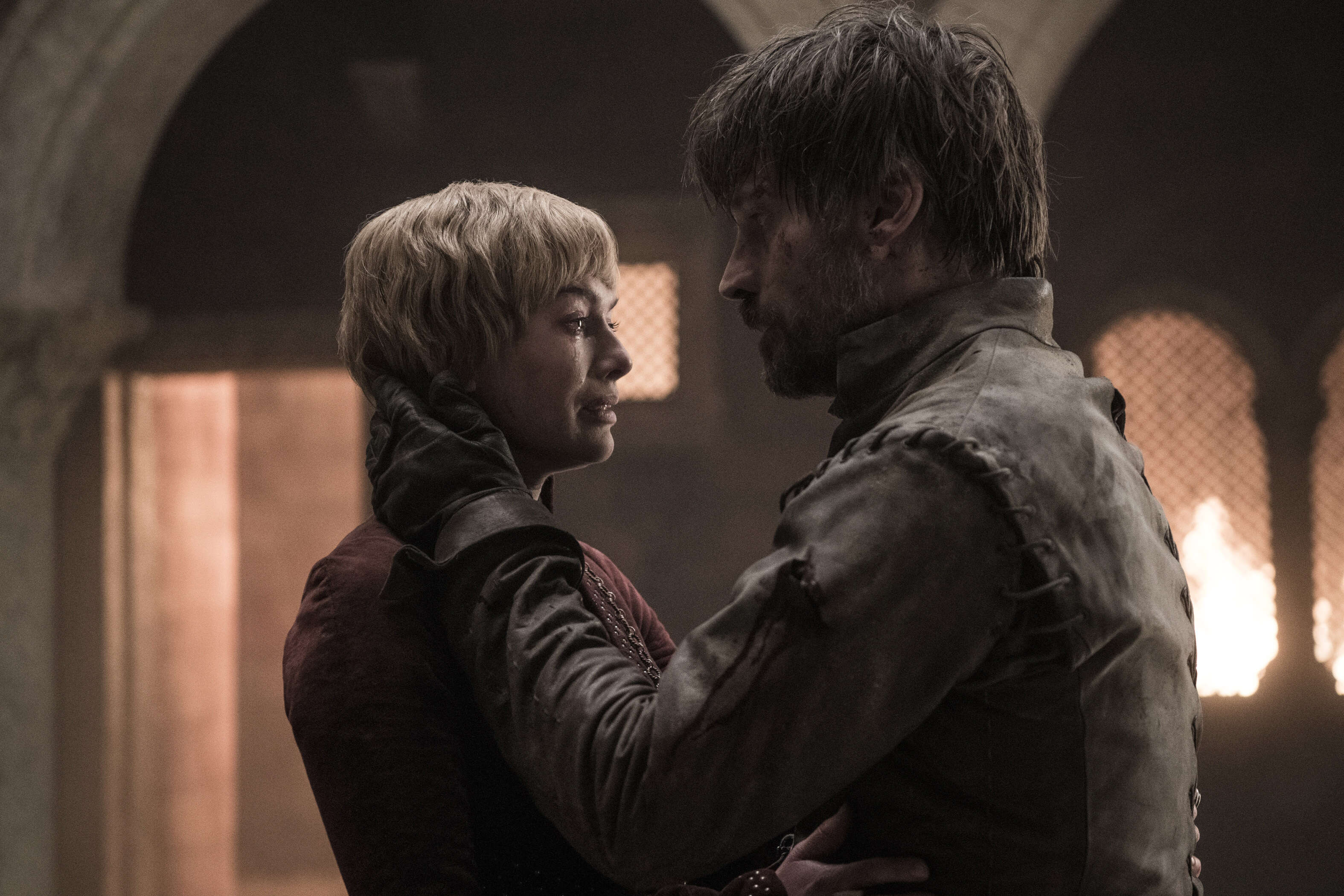 Cersei and Jaime Lannister
Jaime Lannister heading back to King's Landin, to reunite with his sister/twin/lover/mother of his child/whatever was an infuriating move. Did Jaime do Brienne wrong? Sure. But he was never painted as the most morally sound person in Westeros -- in fact, morally sound people in the realm are kind of an anomaly.
That said, when he finally found Cersei, the reunion wasn't one of reckoning. Jaime didn't take her to task for all the damage she had done, nor did he acknowledge all the ways in which he had enabled said damage. Instead, they gave each other a shoulder to cry on as the sky fell around them. And when they found themselves trapped in the basement of the Red Keep as they tried to make their escape, the sibling lovers embraced knowing they'd be leaving the world the same way they came into it: together.