It's here. You know what "it" is: Winter has come in April, and with it will arrive the conclusion of Game of Thrones. We haven't seen Jon, Dany, Tyrion, Cersei, Jaime, the Night King, undead Viserion, or a single direwolf since August of 2017, which is a long time for HBO's most popular show to be away. 
We haven't spent that time idly: We ranked every death in the series, we figured out which Got episodes are the best of all time, we requested information from the FCC about the complaints people make regarding the show, we rehashed where things stand heading into Season 8, we relived the show's most shocking moments, and we pored over the realistic theories on how Thrones will end. 
Despite all our hard work producing Thrones-related content, our desire for more Westeros-based knowledge can never be satiated. We've spent months -- years, even! -- lying awake at night, visions of the Wall's collapse dancing in our heads, wondering what will happen in the last six Game of Thrones episodes ever.
These are the burning questions that caused us to lose sleep, friends, and loved ones since late 2017. We need them answered.  
Recommended Video
The 10 Best Stoner Movies of All Time
Is Cersei actually pregnant?
In Season 7, Cersei Lannister revealed to her brother/incestuous lover that she was yet again pregnant with his baby. All their other children have died, fulfilling a prophecy she got when she was a child. But Cersei's not the most stand-up gal, and there is the possibility that she's trying to mess with Jaime, who, by the way, has ditched her to fight the White Walkers in the North. Just before he leaves he says, "I don't believe you." Actor Nikolaj Coster-Waldau interpreted it as "I don't love you anymore," which seems logical, unless you want to take it more literally. An image of the Lannister lady sipping on her favorite beverage -- wine -- in the trailer lends credence to the idea that she's not actually with child. Thrones has sort of established that for some reason in this medieval inspired world people know alcohol and pregnancy is a bad combination -- and yet, no one smokes. (Tyrion notices that his sister isn't drinking in the finale.) Still, if she is having a baby, that could lend credence to a theory about her death. Chew on that.
Will Jon and Dany end up together?
Are Jon and Dany the show's OTP? (One True Pairing. Seriously, get on Tumblr.) That would be weird considering they are related, but not out of the question for this show. Still, their relationship status is a big mystery looming over the rest of the series. The finale of Season 7 intercut Jon Snow and Daenerys Targaryen's first sex scene with the revelation that Jon is actually Aegon Targaryen, the son of Rhaegar Targaryen and Lyanna Stark. Ned Stark, the man Jon thought was his dad, is actually his uncle, lying to him in order to protect everyone involved. Even before we knew they were aunt and nephew, though, Jon and Dany seemed like the show's endgame. Whether or not they continue to be involved romantically, a more immediate question is: Will they stay together in alliance? He's bent the knee to her, but when he figures out he's the one with a more legitimate claim to the Iron Throne, that knee could start to straighten out.
What has Melisandre been up to?
Last time we saw Melisandre, she was leaving Westeros in disgrace after Davos Seaworth spilled the beans to Jon about all those sacrificial pyres -- and the fact that little Princess Shireen was burned at one of them. She told Varys she was sailing to Volantis after she "brought ice and fire together," but said that she'd be back one last time. "I have to die in this strange country, just like you," she tells him. Melisandre seems to know plenty about Varys' fate, just like the other Red Priestess in Meereen knew about the voice from the flames he heard as a boy when his body was used for a sorcerer's spells.
The followers of the Lord of Light seem all-in on Daenerys as the prophesied Azor Ahai, the genderless "prince" that was promised who'll save the world, and Melisandre even thinks that it could be both Dany and Jon Snow. She's likely journeying to Volantis -- or even somewhere like, say, Asshai, if she's only telling Varys half-truths -- to gather some weapons or group of people to help Daenerys and Jon in their war against the Night King. Will a deus ex machina army of Red Priestesses show up in the heat of battle on the backs of dragons (remember: Daenerys' eggs are from the Shadow Lands of Asshai, Melisandre's native land)? Some theorize that she could be searching for Lightbringer, the red sword of the original Azor Ahai, or even the Fiery Hand, the 1,000-strong army of slave soldiers who guard Volantis' Red Temple. One thing's for sure: Though her methods have been suspect, Melisandre has been right about the big picture, i.e. the coming war between good and evil, which will probably take place during the Long Night. As they say, the night is dark, and full of… you know.
Is Tyrion Lannister secretly a Targaryen?
The amount of personal investment you have in the image of Tyrion Lannister riding a dragon through the sky is likely proportional to your interest in this popular, yet difficult to explain, fan theory. The gist is basically this: There's a possibility that the Mad King is actually Tyrion's father instead of Tywin, the uncaring dad Tyrion killed on the toilet a few seasons ago. If that's true, then according to the "dragon has three heads" prophecy, Tyrion, presumably along with Jon Snow and Daenerys, will end up riding dragons with his new family members before the show's conclusion. (The theory draws on quite a bit of lore from the novels and is very controversial online.) This is a theory that actually might not end up getting "addressed" in a direct manner, but silence on the issue is its own answer. The show's later seasons have sidelined Tyrion considerably in favor of more conventionally heroic characters, but he remains the soul of the series in many ways. Even if he doesn't get a big Targaryen reveal, expect some major Tyrion reveal or moment before the finale.
How will (or just will) the White Walkers be defeated?
Here's one way we know Game of Thrones will absolutely not end: With the evil White Walkers claiming total victory, sitting on the newly snow-covered Iron Throne, and turning all of Westeros into a giant ice skating rink. Despite the show's reputation for grueling brutality and shocking surprises, the ending will likely be bittersweet and melancholy as opposed to completely nihilistic. That means the White Walkers will (probably) be defeated, but it's still unclear what act of technological (or magical) innovation will send them scurrying back behind the wall where they came from. Could it be a shower of dragonglass, a deadly dose of Valyrian steel, or a sustained bombing campaign from some winged lizard creatures? Could Bran go backward and forward in time to alter the course of events enough to prevent total destruction? A combination of all the above? You have to believe the army of the dead is going down, but there are no guarantees in Thrones.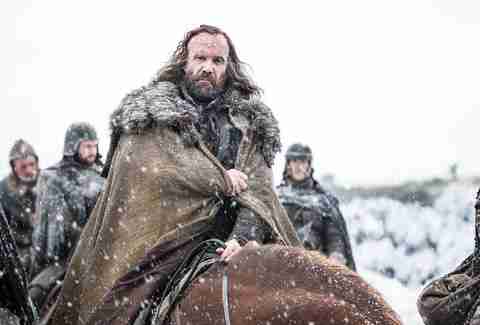 Will we finally get to see Cleganebowl?
For years, eager fans have waited, crafting memes in the depths of forums and cutting together ridiculous promo videos in the gutters of YouTube in the hope that Sandor "The Hound" Clegane and Gregor "The Mountain" Clegane would face off in combat. Where many Game of Thrones fan theories require a nuanced understanding of the material and a knowledge of various family trees, the Cleganebowl speculation only requires bloodlust. It's a concept that turns Game of Thrones, a vast drama about inter-palace intrigue and political struggle, into a WWE pay-per-view event. Benioff and Weiss have engaged in a few acts of pandering fan service in recent years, rewarding fans as opposed to punishing them, so the Cleganebowl feels like a real possibility at this point. Get hyped accordingly.
What will happen to the rest of Arya's kill list?
Arya has successfully slipped right back into the optimal location to take out a bunch of names that are still on her kill list from Season 2. Joffrey and Tywin were offed before she could get to them, while Thoros of Myr died beyond the Wall. But she succeeded in taking out two: Meryn Trant, who killed her dancing master Syrio Forel, and Walder Frey, who murdered two members of her family and nearly the entire Stark army. That leaves Cersei Lannister, the Mountain, Melisandre, Beric Dondarrion, and, if her feelings haven't changed since their long journey together, the Hound. (The actor who played the mute King's Landing executioner Ilyn Payne was written off the show to account for the actor's cancer treatment.) She and Melisandre likely won't cross paths anytime soon, as the Red Woman is spending her exile doing mysterious stuff in Volantis (so she says). Beric Dondarrion still has to get back from the Wall, fleeing the Night King's army all the way. Plus, he's basically on Jon Snow's side now, so that's worth something. But Arya will definitely still feel like doing away with Cersei and the Mountain -- the former for engineering Ned Stark's execution and mistreating the whole Stark family, the latter for torturing innocents at Harrenhal. If "Cleganebowl" actually happens, the Mountain's brother Sandor probably has a claim on his life, which leaves only Cersei. How chilling would it be to see Arya go up against the biggest non-undead villain in Westeros?
What's the connection between Bran and the Night King?
Bran has been weird for a long time, and now that he's officially the Three-Eyed Raven who can travel through space and time, many fans have wondered whether Bran might somehow use his abilities to either influence the Night King's action, or -- gasp! -- become the Night King. The complicated rules of time travel mean that if Bran somehow becomes the Night King, he was always the Night King, but Game of Thrones is not a show that should ask you to grapple with the limits of general relativity. While Bran probably isn't the frosty undead general leading hordes of undead south of the Wall, our money is on Bran somehow figuring out what makes the White Walkers tick (seeing into the future? warging into Viserion? Going back in time and preventing the White Walkers from ever being created?) and therefore saving the day for the living. 
Can Theon/Reek FINALLY redeem himself?
At the end of Season 7, Theon -- the wreck formerly known as Reek -- grew a pair (hah!), beat the crap out of an Ironborn captain and promised to rescue his sister, Yara. If you know anything about Theon, it's that he's made pretty much the worst decision every chance he's had, and all he has to show for it is a mutilated body, plus a total lack of allies self-respect. He betrayed the Starks time and again. He leapt off the boat when Yara needed him the most. He became Ramsay Bolton's torture pet. Things have not gone well for Theon over the past seven seasons, but there's the faintest glimmer of hope that he might find a bit of redemption yet. The first step would be rescuing Yara from Euron, but he's still got a long way to go after that. 
Will Sansa/the North accept Daenerys as their Queen? And how will they feel about Jon Snow's true identity?
This problem is two-pronged. First of all, the Northern lords loyal to House Stark made a pretty big to-do about electing Jon "Ned Stark's bastard" Snow as their King in the North, and Jon upheld their honor for as long as he could, finally acquiescing to Daenerys and bending the knee in fealty to her in desperation (sprinkled with a tad of horniness). Lyanna Mormont and the rest of the Northern houses probably won't take kindly to a) a foreign invader demanding their loyalty, b) a queen related to the insane ruler from a creepy inbred house they spent all that time rebelling against, or c) Jon pledging the North to her without their consent.
There's also the matter of his parentage to consider. Jon's not a Stark, as he kept insisting many seasons ago, and though he is related to the family through his mother Lyanna, he's also a Targaryen by birth, and in fact has a stronger claim on the Iron Throne than Daenerys does. The mantra of the independent North is, "We know no king but the King in the North, whose name is Stark," which means, if they find out who Jon is, they might decide to pick someone else. Sansa, perhaps?
Who will win the Game of Thrones?
Cersei said it best: "You win or you die." So that's it. That's the question. Who is going to win this thing? Game of Thrones has always been framed as a competition, and it's presumed someone will end up on top. Plenty of our favorites (including Jon and Dany, see above) have made allegiances given the current Night King threat, but unless our White Walker friend is the true victor, the final battle will be between the characters we've come to care about over the years. Will David Benioff and D.B. Weiss actually give us a champion? One man or woman sitting on the Iron Throne alone? Or will it be a team-up? Just a few short weeks and we'll know. If we don't, expect some angry fans.