Cersei Is Maybe Next on Arya's Kill List, According to This Prophecy
So, Arya Stark, you killed the Night King. What are you going to do next? Probably not make a stop at Disneyland is our guess. (Or whatever the Seven Kingdoms equivalent of Disneyland is. Braavos is been there, done that for our gal.) Arya is likely destined to kill again -- that is kind of her thing -- but now the ultimate question is whether Cersei Lannister is her next target. One bit of dialogue might confirm that the evil queen will get stuck with the pointy end of one of our girl's many weapons in her crafty arsenal.
When Arya met up with Melisandre before the Night King dissolved into a bunch of tiny crystals, the Red Woman echoed one of her earlier prophecies. The first time these two met back in Season 3, Melisandre told the Stark, "I see a darkness in you, and in that darkness eyes staring back at me: Brown eyes, blue eyes, green eyes. Eyes you'll shut forever. We will meet again." This time she rearranged the order of the eyes -- landing on the blue as a signal to Arya to go get the big bad -- but maintained the same colors. And that had people on various corners of the internet asking, "Uh, what color are Cersei's eyes again?" The answer: Green.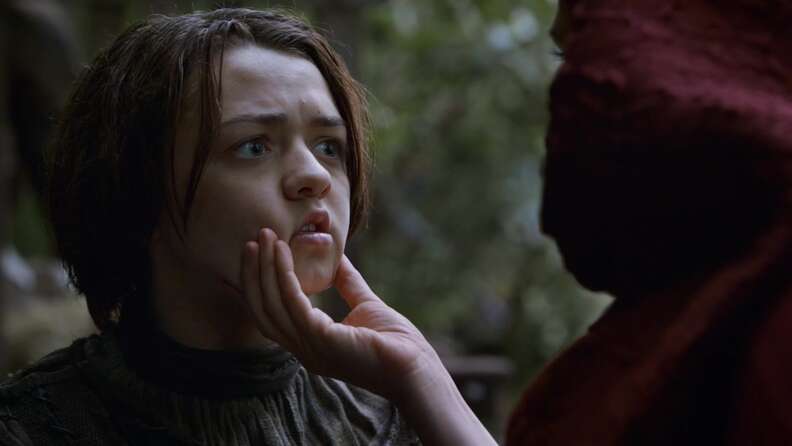 It's clear, based on the preview for next week's episode, that the fight now heads south where Cersei has been getting freaky with Euron Greyjoy and patiently waiting for everyone else to deal with (or die from) the encroaching zombies. Cersei has long been at the top of Arya's kill list given her years of cruelty directed toward the Stark family, so, naturally, allowing Arya to be the orchestrator of her demise would be something of a happy ending in the Thrones world.
If you want Melisandre's words to indicate that an Arya-Cersei showdown is on the table, you can plug in that Walter Frey, one of Arya's victims, had brown eyes while the Night King had blue ones, leaving the doyenne of King's Landing to stand in for green. But it's a bit more complicated than that. After all, Arya's body count is not insignificant, and she may have already filled her green quota with someone like Littlefinger, whose throat she slit at the end of last season. In the books, Peytr Baelish is described as having green eyes, though actor Aiden Gillen's eyes are more one the blue-grey side.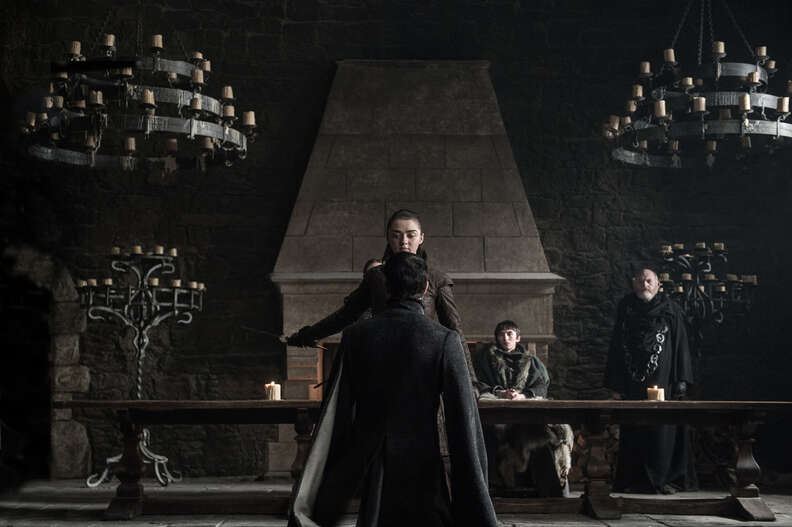 Another possibility is that perhaps Cersei is not Arya's green-eyed target. As some fans have been pointing out, Daenerys (on the series) also has emerald-hued peepers. And while stopping Cersei is clearly the priority, the Stark sisters have had some power issues with Khaleesi in recent episodes. Would Arya step in to defend Sansa should the latter's desire to maintain control of the North get in the way of Daenerys' world-conquering? Or maybe we're forgetting one of Arya's long-time enemies: Executioner Ilyn Payne.
During "The Long Night," Arya very well may have fulfilled Melisandre's Azor Ahai prophecy, which states that a "prince who was promised" will "bring the dawn." The cold front may have passed, but there is also a nasty villain in a much warmer climate. The red priestess has taken off her age-defying necklace and let herself die, but her words may continue to have currency for our small, but mighty hero.
Sign up here for our daily Thrillist email and subscribe here for our YouTube channel to get your fix of the best in food/drink/fun.