An Obsessive Breakdown of the 'Game of Thrones' Season 8 Trailer
It's Game of Thrones, it's the final season, and HBO has finally come through with a full-length trailer a little more than a month before the new season airs.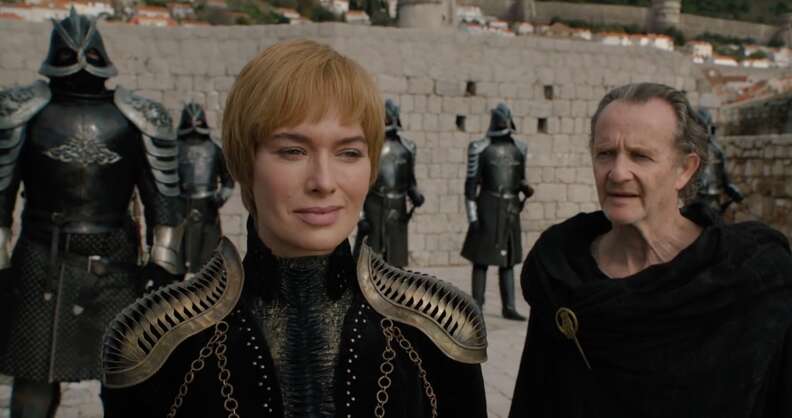 It's Game of Thrones, it's the final season, and HBO has finally come through with a full-length trailer a little more than a month before the new season airs. Because it's Game of Thrones, they're not gonna give us a ton of spoilers about what's to come... but that doesn't mean we haven't been sitting here analyzing every single frame of footage since the trailer dropped. In particular, we need to discuss the following 13 moments -- join us! And then watch our comprehensive video breakdown of the trailer.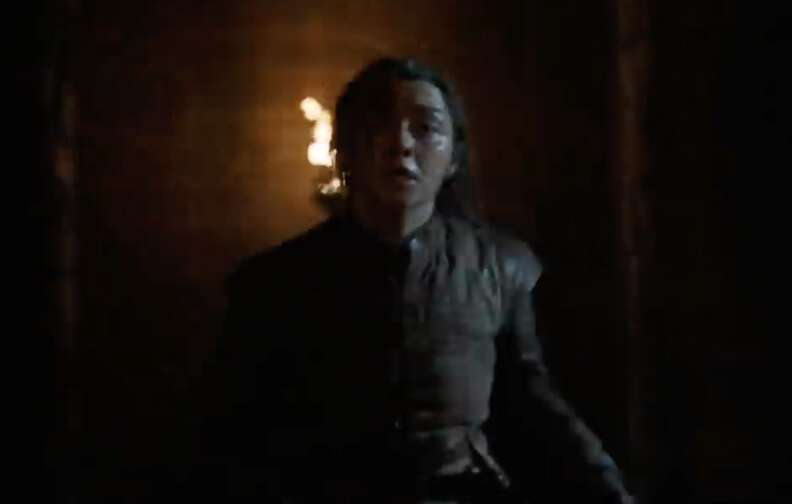 1. Arya runs around Winterfell
Oh, look -- it's Arya! We love Arya! But someone certainly doesn't love her, as the Stark girl is being chased through what appears to be the halls of Winterfell. A theory on Reddit posits that she might be running to the crypts beneath Winterfell to prevent the Night King from raising the Stark family corpses to add to his undead army. But that's definitely just wild speculation. In the voiceover, Arya gives an extremely creepy monologue about Death having many faces while twirling a blade that doesn't look like the Catspaw Dagger that found its way into her hands in Season 7 -- the same dagger an assassin used in Season 1 to try to kill Bran. Could it be made of dragonglass? Maybe it'll help her fend off what's chasing her.
2. The Golden Company joins the fray
Next, there's an extremely swashbuckling shot of Euron Greyjoy's fleet of ships transporting the fabled Golden Company from Essos. The Golden Company is a legendary band of soldiers fighting for whoever pays them. This time, the moneybags in question is Cersei, who memorably (and some might say foolishly) declined Daenerys and Jon's invitation to join them in the impending fight against the White Walkers. And who's that tall blonde with the long sword who's seen only from behind? While the back of his head resembles that of Jaime Lannister, but this is likely Harry Strickland, a new character being introduced for the final season. Strickland, a character from the novels, is the commander of the Golden Company, although George R. R. Martin describes him in the books as being fat and balding, and the actor who's playing him in Season 8, Marc Rissmann of The Man in the High Castle, is uhh... not that.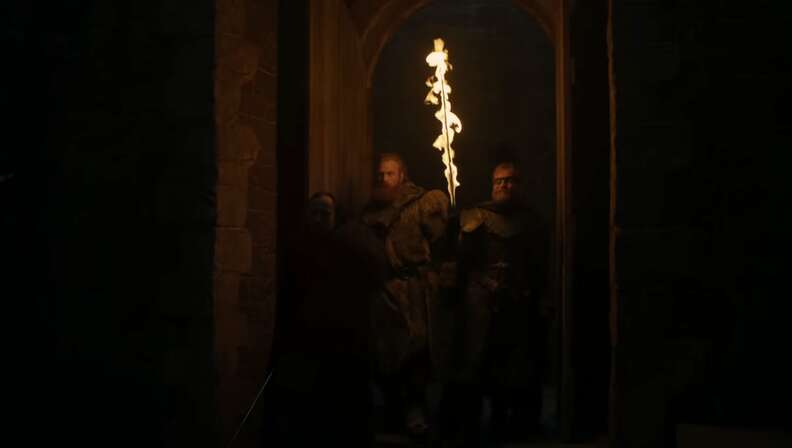 3. Tormund, Beric and Dolorous Edd live!
They're aliiiiiiive! During the Season 7 finale, when the Night King rode his new zombified ice dragon pal Viserion like a horsey and melted the Wall, good boys Tormund Giantsbane and Beric Dondarrion seemed to be imperiled by blocks of falling ice. But never fear, they're back, along with Jon Snow's Night's Watch bud Dolorous Edd, and Beric's handy flaming sword still has its batteries.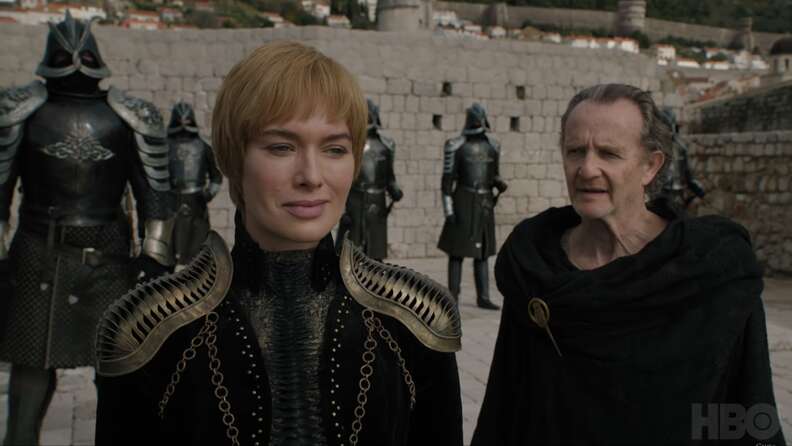 4. Cersei smirks (part one)
Oh, Cersei, what in seven hells are you thinking? The newly crowned and self-proclaimed Queen of Westeros plans to let the Jon-Daenerys contingent duke it out with the White Walkers alone, and she'll take on whoever's left with her shiny new army. Still by her side is shifty Maester Qyburn, who is basically the Victor Frankenstein of Westeros, given his interest in bringing things back from the dead (like zombie Mountain, lurking in the background), so we're willing to bet the Hand of the Queen will be very interested to see what this Night King has up his gross, rotting sleeves.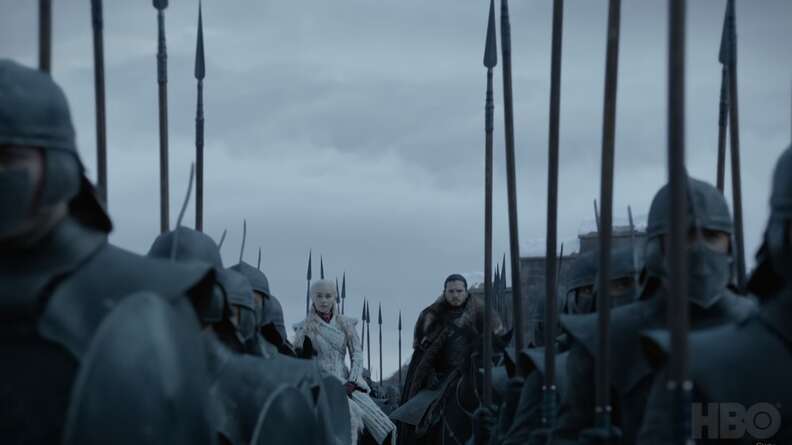 5. Daenerys and Jon march into Winterfell
Daenerys and Jon Snow are finally coming to Winterfell. We saw in a recent teaser from HBO that Sansa will hand over her home to the Targaryen queen, and it looks like Winterfell will become the base of operations. The Unsullied, the two dragons, and everyone else who plans on fighting on the side of the living will make their stand from the castle formerly owned by Eddard Stark.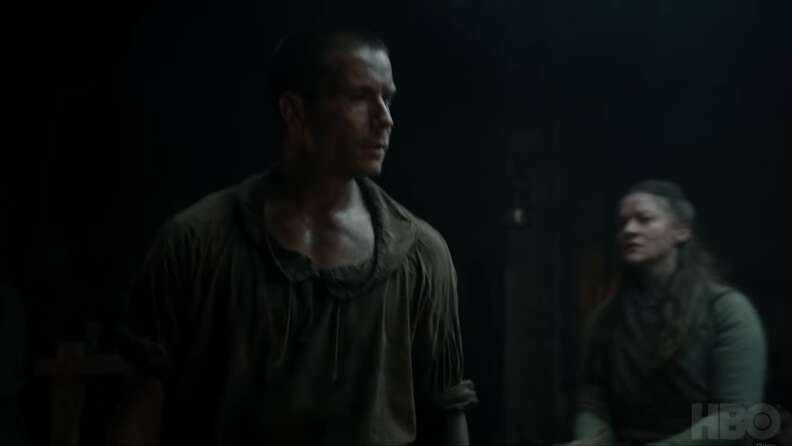 6. Gendry looks ripped
Remember Gendry?? He's the last of Robert Baratheon's many bastards -- the kid befriended by Arya back in Season 2 whom Melisandre later nearly murdered to appease the Lord of Light and who was subsequently set afloat on a little rowboat by an empathetic Davos Seaworth, only to show up in Season 7 with a giant warhammer, bucking to fight for Jon Snow. Gendry had joined Tormund, Beric, and Edd on a mission beyond the Wall, but was sent back to Eastwatch and told to send a raven to Daenerys, calling her forces to aid them. And that big ol' warhammer? The Hound has it now. Cleganebowl (see below) has never seemed more imminent.
7. Missandei and Grey Worm kiss
Missandei, Daenerys' trusted translator and advisor, and Grey Worm, the commander of her Unsullied army, share a passionate smooch on what looks like the eve of battle. (We say "looks like" because many things in this trailer are very hard to see clearly -- turn up the lights, Game of Thrones!) These two have had the hearts of shippers ever since their clumsy flirtations in Season 4. Please don't die please don't die please don't die.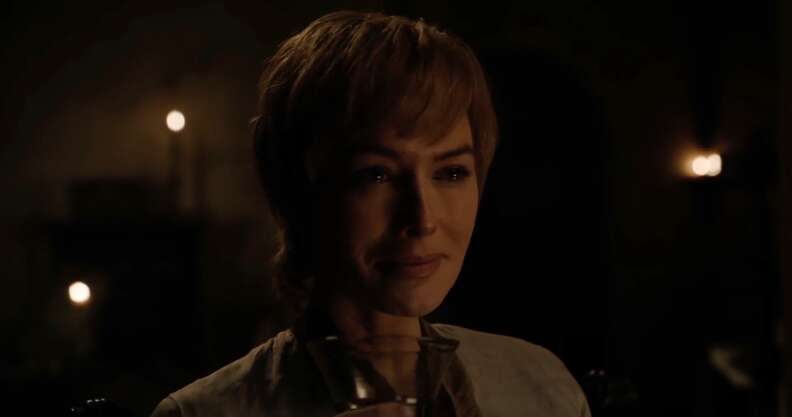 8. Cersei smirks (part two)
Cersei Lannister has gone full Robert Baratheon with her wine-imbibing, a habit Cersei used to bully her husband for back in the day. Now, drinking is her way of dealing with the world and she's rarely seen without a glass in her hand. It's interesting that she doesn't say a word in this trailer, and yet when we hear Jon Snow talking about an enemy that "doesn't tire, doesn't stop, doesn't feel," the trailer immediately cuts to her.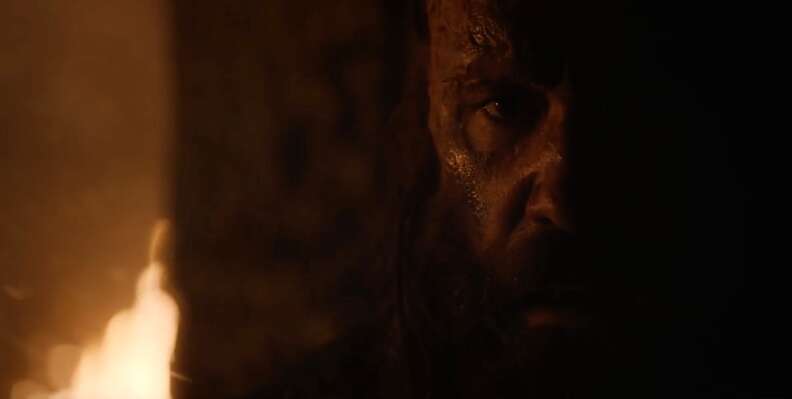 9. The Hound sweats
There's a very quick close-up of the Hound, a.k.a Sandor Clegane, wreathed with fire -- his greatest fear, thanks to being burned and tortured by his brother, Gregor Clegane (aka The Mountain) as a child. This season, super-fans are amped up for the so-called Cleganebowl, a much-wished-for fight between the Hound and the Mountain that's been theorized about on Reddit based on clues from the books and show. I'm sure the Hound would love to take some righteous revenge against his creepy undead brother, and we would definitely watch that fight.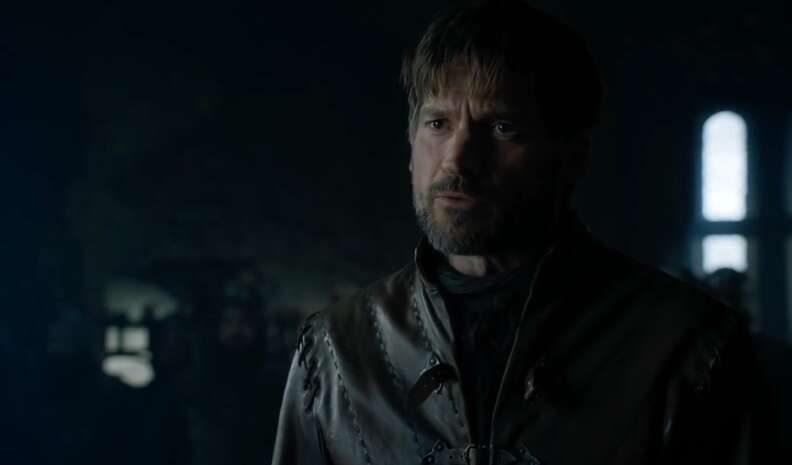 10. Jaime Lannister seeks redemption
Jaime's journey has been one of the most dynamic character transformations we've seen on TV, and in Season 7 he finally broke free from Cersei's influence for good. When she refused to help Daenerys and Jon in the coming battle against the White Walker army, he first tried to convince her to change her mind. But when it became clear that she'd made her decision, Jaime left in disgust, saying that he'd pledge himself to the North instead of her. (In newly released photos from this season, we see Jaime dressed in Northern armor.) It was a huge moment for both of them, since before then they'd been seen as kind of a package deal, the creepy Lannister twins who were probably shtupping not-so-secretly behind the Red Keep's tapestries. "I promised to fight for the living," he says in the new trailer. "I intend to keep that promise."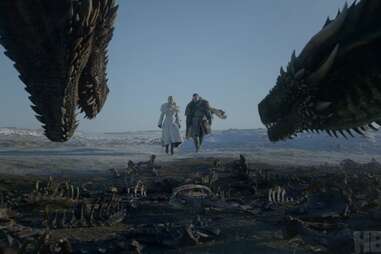 11. Dragons guard some bones
Whose bones are these?? They look variously like people bones, horse bones and dragon bones. There has to be a reason Jon, Daenerys, Drogon, and Rhaegal are gathering here -- but what is it?? This isn't the first time we've seen a dragon with a bunch of burnt boned: in Season 5, Drogon rescued Daenerys from Meereen's fighting pits and took her into the Great Grass Sea, where he made a nest for them out of burnt bones, flesh and dirt that probably didn't smell fabulous. But what's the deal here? Is this the remains of poor, zombified Viserion, who was turned into an ice dragon in Season 7? Could this pile of bones have something to do with Jon and Daenerys' shared Targaryen heritage? Or something completely different? We'll see!
12. Brienne and Podrick await... something
And just to make sure we remembered the rest of our key players, Brienne and Pod, best buds, turn up at what appears to be the vanguard of Winterfell's soldiers. And in the next shot, we see the concerned visage of Jorah Mormont, back in Daenerys' good graces after Samwell Tarly saved him from his greyscale disease. They're all still alive, but for how long?
13. The Night King arrives at Winterfell
And finally, the final boss, the man of the hour, the Night King's undead horse! Just kidding, but that is all we see of the zombie army's leader before this trailer fades to black. With the torch lights of Winterfell in the distance, two rotting hooves step into place. We can probably assume that a giant army of zombie humans, zombie horses, zombie giants, bears, wolves, and (fingers crossed) ice spiders are falling in line behind him.
And there you have it, the long-awaited official trailer for Game of Thrones Season 8. It answered exactly zero questions, and it prompted a million more (chief among them: Where the hell is Ghost?), but such is our lot in GoT-obsessed life.