What Arya Stark's New Weapon Means for the End of 'Game of Thrones'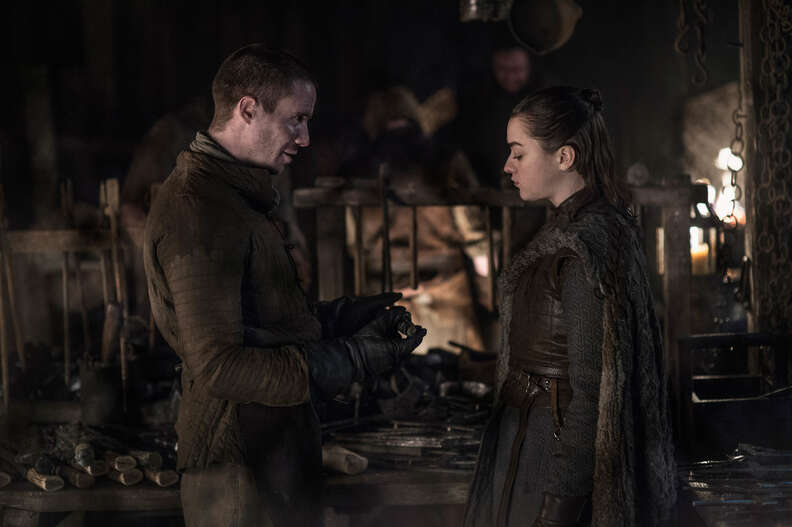 HBO
HBO
After teasing Arya Stark's newest weapon in last week's Season 8 premiere episode "Winterfell," Game of Thrones quickly unveiled the object in "A Knight of the Seven Kingdoms." With a shortened season of six episodes, things move faster on the show now, and a weapon can go from a prototype on a scroll to a finished product in no time. Before their controversial pre-battle sex scene, Arya and Gendry actually gave us our first glimpse at what this potential White Walker-killing piece of hardware can do.
What did it look like? Well, it's pretty similar to the drawing of it that Arya presented to Gendry last week. It's a bow-like staff with two ends of dragonglass -- perfect for Arya to swing around and fend off undead attackers with. Though we didn't get a chance to see her split it in half in the scene, presumably it can do that. Certainly, Gendry is a capable blacksmith with an ability to interpret a blueprint. As Arya says when she first handles it, "This'll work."
What exactly is Arya planning to do with this weapon? It's not entirely clear at the moment, but her interactions with Gendry both last week and this week give us a hint of where her head is at. For one thing, she doesn't exactly sound confident that she'll survive the coming battle, which should be brutal and deadly. That was supported by her brief interaction with the Hound and Beric Dondarrion this week, which ended with her telling both of them, "I'm not spending my final hours with you two miserable old shits."
The weapon looks like it can be split into two functioning weapons, a detail more or less confirmed by Game of Thrones weapons master Tommy Dunne in an interview with Vanity Fair when he referred to a "showstopper" weapon. "There is one creation in Season 8 that is absolutely phenomenal," he said in the interview. "It was great to make, great to design in that it was able to be reverse-engineered and made into two different items."
Right after Arya reveals the schematic to him, Gendry asks why she "needs" a weapon like this and she doesn't really respond. It's a good question, one of the many that the short scene inspires. It looks like a weapon best used for fending off White Walkers, like the Game of Thrones equivalent of Darth Maul's double-sided lightsaber, and we know Arya has been trained with a staff. (RIP to the Waif.) Could Arya Stark be the character who kills the Night King? Or will this new piece of equipment be used to cross a name off her list? Or maybe she's just going into doomsday-prepper mode and is looking for something to add to her arsenal?
We do know that Arya's larger journey, her continued evolution from a brave child into a brilliant warrior, will be one of the main plot threads going forward into the series finale. (She also wasn't the only character to receive a weapon last night: Bronn was presented with a crossbow to kill Tyrion Lannister with.) After all, the opening images of "Winterfell," which tracked a young boy as he ran through the crowd to catch a glimpse of Daenerys and Jon Snow's arrival on horseback, were a direct callback to the pilot, as creators David Benioff and D.B. Weiss explained in the behind-the-scenes making-of after the episode. She's no longer an observer of history; she's making it herself. All she needs is the proper tool -- and now she's got it.