'Gemini Man' Director Ang Lee on De-Aging Will Smith in a Super High-Definition Frame Rate
Gemini Man gives us twice the amount of Will Smiths we're used to seeing in normal action movies, thanks to two groundbreaking forms of technology. In Ang Lee's new movie, Smith plays an aging assassin on the brink of retirement who's hunted by a clone of himself, made by a combination of stunt doubles and a digital recreation of Will Smith's own face, but about 30 years younger. That's complicated enough, but to up the stakes, Lee used a preposterously high frame rate, 120fps, to make this movie experience just about the most realistic thing you could ever see onscreen. About a week before Gemini Man's October 11 release, Lee sat down with Thrillist to discuss his new tech, Will Smith's decades of stardom, and how he's not sure if regular humans will ever get used to seeing movies in 120 frames per second.
Thrillist: Will Smith does such an amazing job playing basically two characters in the movie. Did you always have him in mind for this role, or were there other possibilities?
Ang Lee: Yeah, he was the number one name to pop up when the producer talked to me about the project. If your project is an action movie, you obviously want a big movie star to carry it. Also, the fun of looking back to when he was already a movie star to compare over time, how familiar we are with him. It would just be fun. There were probably another couple [names] that came up. Will is on the younger side for the original idea, but not many others came up. Will Smith -- we had to have him [laughs]. We were lucky.
Was it ever intimidating for you, since the entire audience pretty much already knows what he looked like when he was younger, was it ever worrying to be like, "Okay, I really have to get this right because they'll know if I don't?"
Lee: I worried, especially, because Will is a much better actor now than before. It would be interesting just to pull his younger self, that swaggering, boyish, fun, wisecracking, the bad boy, Will Smith. We gotta deliver that, that's what people expect. And he was very reluctant to do that, because he's a better actor now [laughs]. He sort of wants people to know, from his body, the way he carries himself. Of course, Bad Boys III, he'd go back to that with pleasure. But with this one, he was very reluctant.
Did it feel different for you, as a drama director, to jump back into a classic action movie?
Lee: I think action can be quite dramatic. Especially with Junior, a man fighting himself, seeing his ghost being kicked around. That's haunting. Plus, our high frame rate, and 3-D, you actually see clearly their expression, their intention. You can really give a lot of detail to dramatize it. The difficulty I run into -- which is sometimes like oil and water, they're very hard to blend -- action movies require a kind of populist, wisecracking slickness to them, people are expecting that, and you try to please the mass audience -- mostly younger male. So that's not an area I'm familiar with, and when I do it, sometimes it does clash. That's probably more difficult than action and drama, is the genre of action sometimes clashes with the character study of drama.
What was the process for creating Junior like? You've said before, it's not simply de-aging, it's creating a new character.
Lee: From the start, I try to persuade them that we have to start from zero. Because de-aging is a lot of manpower, frame by frame, especially if I want to do 120 frames -- that's a lot of work. We cannot afford it, for a leading man. And also, by de-aging you brush out a lot of the details, which is not good for this medium. So, I thought we should create a new character. Basically, we do the science and the nuances, and Will drives the performances and the realistic part of the physics, weight distribution. Without a real person that's really close to Will, or Will himself, I don't think you could make believe. Somehow it would be off.
I loved how, in this movie, a lot of the action scenes are really brightly lit. You can really see everything.
Lee: We're not going for the blurs and strobe and frenzied camera movement and quick cutting and editing; that's not really the tool that's best used for this kind of media. A lot of detail is welcome. Actually, we slow down the shooting, slow down the count. And we don't do a lot of horizontal speedy moves, but stay right on to the subject. You see intention, you see expression, you see reaction. You see the miss and the hit, the stumbling and unclean movement, the puzzlement. I think breaking the rhythm is very important -- which, physically, humanly is impossible to do. But with digital help, you can alter it slightly, and get the realism. As a result, it's more visceral.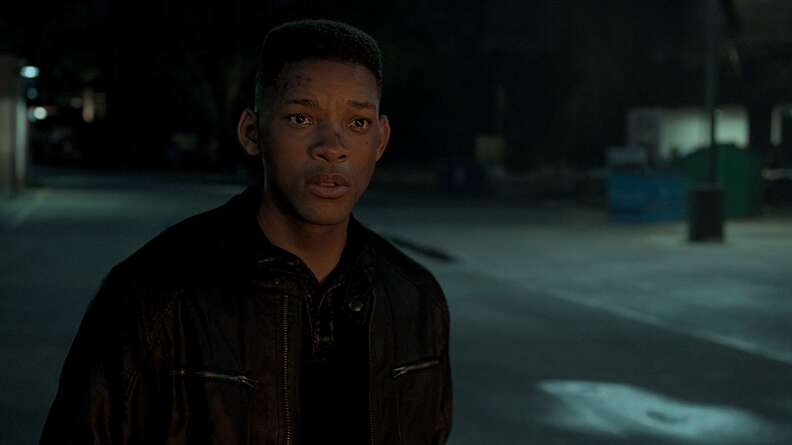 I was at the junket for this movie in New York, and you talked about how you wanted "messy" fight choreography, there was never anything "perfect" that they did, and how you'd digitally shift fists so that they mashed into the actors' faces.
Lee: Yeah. It's not like we can imitate what you can see in a YouTube fight. But they don't last very long, they're ugly and stupid [laughs]. Real good fights don't last very long. In a movie, we still have to deal with choreography, shot angles, dramatic beats. Just mess it up, dirty it up.
How long did those action sequences take to shoot? They're very complex.
Lee: The shooting days were pretty short, compared to other action movies. Because our shooting is very expensive and very slow, so planning becomes very important. As you can see, we don't have a lot of coverages. Actually, we don't have coverage. Everything is pretty much assembly. And I participated in every shot. The motorcycle chase was probably a week. Maybe four days on the foot chase, so it's not a lot. And the catacombs fight was three or four days. Very limited.
After Billy Lynn's Long Halftime Walk, which was also shot in high frame rate, was this the logical next step for you, to make an action movie now, to make this technology more palatable to people who aren't used to it?
Lee: Well, it's just that somebody pitched me an action movie. And then, the chance to do a digital human on a movie star. And [the distributors] would support a higher frame rate. They promised a distribution in 60 [frames per second] in 3-D, and they're gonna do it. Because Billy Lynn, I guess here, you didn't really get to see it in 3-D. Very limited shows. But after a while working in 120 and in 3-D, some shots looked really beautiful to me, and the strobe-free frame rate looks normal to me. For me, 120 is just normal. 60 has a little strobe, just between normal and the movie I used to know. I would like to make movies that way and just keep improving, I hope.
Do you think this is the future of filmmaking? Do you think audiences will eventually adapt to this?
Lee: I think so. But I don't know! We'll have to see how this one goes. We're less than a week from release, I'm anxious. You were in the New York show, right? In the Dolby theater?
Yeah.
Lee: Seems like people are pretty positive about it. I was quite delighted. Sometimes critics, seeing it, they don't want that to be the future, clearly. And then last night I had it shown not only in 120 but in 4K, special projection in a Chinese theater, with a thousand in the audience. There were oohs and aahs, people gasping about how beautiful things looked, people were saying that they wish that that was how movies were showing everywhere. What you saw was 2K. That was in 4K, that's even more exquisite. To me, it's pretty logical. But my eyes are different from other people's eyes. I've been getting on with this for years. I hope that more people will get used to it. Digital seems more like life, and in life there is no strobe. It takes about 100 frames per second to get rid of strobe.
You've been immersed in this for so long, and the rest of us only get to see it for two hours at a time. Was it ever difficult to showcase the technology without making this movie all about the frame rate? Was it difficult to balance making a movie, telling a story, but also trying to show off this really cool technology?
Lee: I will say it's very hard in the beginning, because it consumes most of your energy. Your energy and focus go through to the technology just so you can see it. To see it is a big thing. And then I think you should be able to play it, because it's a commercial movie. It's not just a school exercise. You're taking a lot of people's money [laughs]. You want to attract a lot of people to see it, and when the audience is large they think in certain ways. What they have established, you have to play along with that, which is not new, while you're trying to do something new. So, those things trouble you, day in and day out, you cannot help but get sucked into the technology. You want to do art, but when your tool is so difficult, it takes a lot of energy. I still want to feel optimistic. You can overcome that, you can make it easier. And then you get to be playful again. I think the audience needs a little adjustment and time to be playful, too. So, getting it out there, to have people seeing it, discussing it, giving feedback back and forth, that's very important. We're still early in the stage, so I hope we have a great future there. Not the future, but one of the great possibilities. I'd like to think so.
What are you hoping to do next? Are you even thinking about that yet?
Lee: [Laughs] I'm thinking. There's ups and downs. When I talk to you, I start thinking. When I read a bad review I want to just run away. I think after another month this thing will settle, and I'll probably need a break, and I'll think. But there are things happening in my head. There are people getting excited, there are things people want to try, there are things I want to try. There are things.
Sign up here for our daily Thrillist email and subscribe here for our YouTube channel to get your fix of the best in food/drink/fun.
Emma Stefansky is a staff entertainment writer at Thrillist. Follow her on Twitter @stefabsky.