Is This Long-Lost 'Game of Thrones' Favorite Returning to Land in Season 7?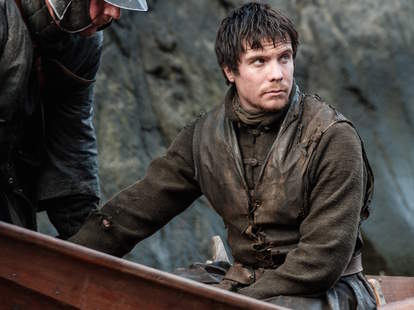 Most characters leave Game of Thrones swiftly, and often missing some crucial body part. But not Gendry. Gendry, Arya's pal from King's Landing who just happens to be Robert Baratheon's bastard son, rowed off into the twilight in season three, with no official update on his whereabouts other than actor Joe Dempsie's oft-retweeted quip:
But Arya-Gendry 'shippers ('boaters?) have a reason to get excited for the first time in four years: GoT superfan site Watchers on the Wall has posted a photo of Dempsie arriving in Northern Ireland, where the HBO show's seventh season recently began filming.
This news and photo bring up so many questions:
• Does someone really just camp out at the airport waiting for Game of Thrones people to arrive, so that they could post a photo of them? Or was this taken by someone who was on the same flight as Dempsie?
• Will Arya and Gendry, both a few years older than the last time they saw each other, team up? Gendry's gotta be pretty pissed about being at sea all this time, and Arya could make use of Gendry's skill with forging armor and weapons.
• Melisandre was also sent packing last season by Jon Snow -- not to mention Davos, who'd pushed Gendry into that rowboat -- and left on a horse in a similar way. Of course Melisandre was the reason Gendry was rescued by Davos. Maybe they'll run into each other again? And Arya will save the day and scratch another name off her shrinking list?
• What if this is all a false alarm and they're just filming Dempsie for a day, still at sea, still in that sorry rowboat? And then what if the rowboat gets destroyed by Daenerys' armada? Weirder things have happened on the show, although I'm struggling to think of an example!
Sign up here for our daily Thrillist email, and get your fix of the best in food/drink/fun.
John Sellers is the Entertainment Director at Thrillist and is not a fan of water travel.