Remembering Gene Wilder's Finest Moments, From 'Willy Wonka' to 'Young Frankenstein'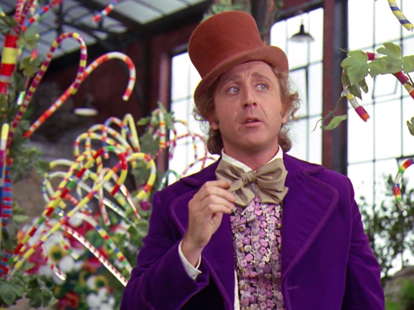 "I don't think I'm that funny," Gene Wilder told an audience in 2013. "I think I can be in the movies ... but when people see me in a movie, and if it's funny, they stop and say things to me about how funny I am." And who could resist? Wilder, who passed away this week at the age of 83, crossed over from the theater to the screen in the mid-'60s and became an instant comedic commodity, adding anarchic humor to more serious films like Bonnie and Clyde and injecting blistering deadpan into over-the-top movies from guys like Mel Brooks and Woody Allen. Younger generations soaked up the actor's subdued eccentricities with Willy Wonka & the Chocolate Factory, now more of a rite of passage than movie.
Gene Wilder didn't think he was funny, and he was right; the word doesn't begin to capture what he brought to each and every scene in his career.
To honor Wilder, we've compiled a handful of his greatest moments. They're very, very, very funny.
The Waco Kid's chess piece trick, Blazing Saddles
Mel Brooks' Western is known for having it all: pitch-perfect genre spoofs, lewd innuendos, politically incorrect race jokes, loud farts, and musical numbers. Less appreciated are Wilder and Cleavon Little's rapport as Waco Kid and Sheriff Bart, respectively. Forged with sight gags and wordplay, these two develop real friendship, an actor's take on comedy that made Wilder's work stand above the rest. In one of their first scenes, Wilder plays his hiccuping, heroic introduction totally straight (and leaves us in stitches).
"Fat! Fat! Fat!" The Producers
The Producers is a vulgar gift basket of one-liners, sight gags, and indignities. Pick any five-minute stretch of the film and you'll find a classic moment. Wilder, with his high-pitched voice and frazzled hair, is a portrait of hysteria, finding laughs from simply repeating words over and over. "Fat, fat, fat," he shouts here. It's not funny on paper or reading it online -- in fact, it's a little mean -- but he finds more joy in that word than most actors find in a whole screenplay.
"Pure Imagination," Willy Wonka & the Chocolate Factory
Wilder deserves Gobstoppers of praise for all the flashes of quirk popping throughout his turn as Roald Dahl's whimsical candyman. But c'mon, we have to rewatch the movie's early musical number, a dance through Wonka's candy park, and the soundtrack to every kid's sugar-laced dream (and nightmare, to be perfectly honest). Even if it's too syrupy for you, Wilder's last scene, Wonka congratulating Charlie aboard the Wonkavator, should melt your dark chocolate heart.
The greatest noise ever produced by a human, Stir Crazy
Most people would react with outrage if they were found guilty and sentenced to 125 years in prison for a crime they didn't commit. Chairs overturned, bum-rushes on the prosecutor attempted, outright sobs produced. But nobody will ever produce a yelp as ridiculously pitiful as the one Gene Wilder throws out upon hearing of his fate in Stir Crazy. But worry not for Wilder in this 1980 team-up with Richard Pryor -- he bad, and he can handle whatever those prison guards dish out to him.
"Puttin' on the Ritz," Young Frankenstein
Wilder co-wrote this horror-movie parody -- in which he stars as the title doctor (Franken-STEEN), a grandson of that other infamous scientist -- with Mel Brooks. Their collaboration earned an Oscar nom for Best Adapted Screenplay. It's easy to see why. Enjoy the above scene as an amuse-bouche, and if you haven't, watch the whole movie ASAP.
The man who loves his sheep, Everything You Always Wanted to Know About Sex* (*But Were Afraid to Ask)
One of the brightest highlights in Woody Allen's 1972 comedy, divided into seven silly vignettes, is Wilder's segment, "What Is Sodomy?" He appears as a doctor who lusts after one of his patient's sheep. It's totally absurd and hilarious, mostly because Wilder plays his part in earnest. His 25-second reaction, when he first learns of said sheep, is a work of art all its own.
Flirting in the backseat, Bonnie and Clyde
Despite being most well-known as a comedian, Wilder was a gifted dramatic actor as well, capable of finding pathos in the smallest moments and the most minuscule gestures. Watch the above clip from his big-screen debut in Arthur Penn's Bonnie and Clyde, where he goes from joking around as a playful passenger with the titular bank-robbers to suddenly fearing for his life. It's the type of subtle, quiet work he did in his comedies, but you're really able to notice it here because no one's laughing.
Why Gene Wilder stopped making movies
By the mid-'90s, Wilder was over Hollywood. Aside from the occasional voice-over, he made a life with his third wife and became a novelist. That was that. Why? TCM's Robert Osborne asked him in 2013 -- and the answer was perfect. "I didn't want to do junk," he said. "I didn't want to do 3D. I didn't want to do ones with bombing, loud, so much swearing." He goes on to explain his love of the craft, and his career, for 30 more minutes. It's a must-watch.
Sign up here for our daily Thrillist email, and get your fix of the best in food/drink/fun.
Follow the Thrillist Entertainment editors on Twitter @ThrillistEnt.