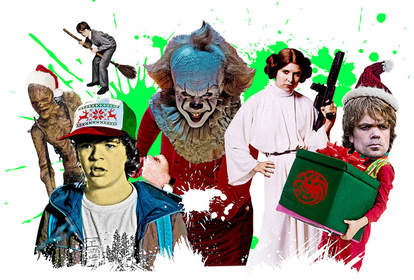 The Ultimate Gift Guide for Any TV or Movie Fan
Don't bother counting the shopping days before Christmas -- you needed the perfect gift yesterday. 'Tis the season for you scrambling to search for "the best gifts for him" and "the best gifts for her," hoping to land on a gift guide that'll somehow understand your loved one better than you do.
C'mon! The holiday season doesn't have to feel like one, long eggnog headache. What did she diligently binge watch this year? What movie did he have to check out in theaters? You see where this is going: Pop culture obsessions are the keys to finding the perfect gifts this Christmas, everything from the pragmatic to the totally superfluous to the stocking stuffer throwaway you wind up using for the next 20 years. Whether you're buying for a Star Wars obsessive in need of a new coat, a Stranger Things fanatic who skateboards on the side, a Game of Thrones theory-hunter looking to kill time between seasons, or someone in need of a good book, Thrillist has you covered. Here are seven gift guides best that'll score big with the giftee this year. We know you can do better than a gift card. (Click through each image for full gift guide)
Nick Thackray for Thrillist
A long, long time ago, in a galaxy you call home, the movie Star Wars forever changed the lives of countless generations, including someone you owe a gift this holiday season. With The Last Jedi on the horizon, Star Wars materialism is once again on the rise. Overwhelmed? Remember Yoda's words: "Fear is the path to the dark side... fear leads to anger... anger leads to hate… hate leads to suffering." Don't be angry, don't be hateful, and certainly don't suffer. We've sifted through Star Wars clothes, toys, Last Jedi prep reading, and everyday household items that look like lightsabers to assemble a collection of gifts worthy of Jabba's palace. To quote Yoda once more: "Do or do not. There is no try."
Nick Thackray for Thrillist
If you want to impress the Thrones-lover in your life, or are hoping to get a newbie hooked, look no further than this collection of Seven Kingdom-inspired goods, from books to dragon eggs to a door stop ("HODOR!") you never knew you needed until now. These are the best Game of Thrones gifts money can buy.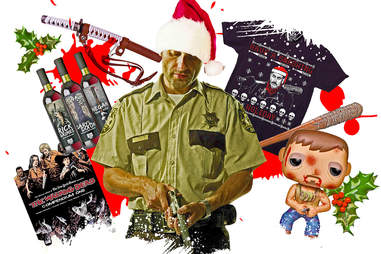 Nick Thackray for Thrillist
But what do I buy The Walking Dead fan in my life? you wonder as the doomsday clock counts down and the zombie hunger (for presents) grows. We have good news: Besides all the merch AMC pushes during the holiday season, there are tons of less obvious gems that'll entertain your post-apocalyptic obsessive. Consider these collectibles, tchotchkes, and TV-watching companions.
Nick Thackray for Thrillist
On the 12th day of Christmas, a die-hard Stranger Things fan gave to me: 12 Demogorgons demogorging, 11 psychics psychicing, 10 Barbs a-screaming, nine Hawkins lab goons, eight Darts a-slobbering, seven wide-eyed Joyces, six nail bats a-swinging, five golden Eggos, four bike-riding D&D players, three hormonal teenagers, two government conspiracies, and a shadow monster in an Upside Down tree. To be honest, none of those were very good gifts, so consider our list of Stranger Things... things. They're not so much strange as perfect. Perfect Things.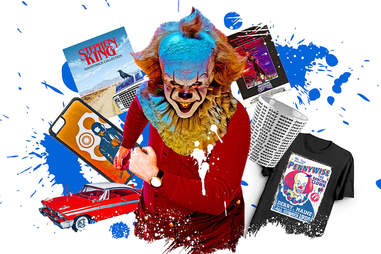 Nick Thackray for Thrillist
With the mega success of IT, the breakouts of lesser-known adaptations, and the upcoming series Castle Rock, which will mine multiple King books for inspiration, there's never been a better time to be an obsessive reader of America's most popular living horror writer. Many obsessives own most of the famously prolific novelist's back catalog, so we're digging a little deeper to find something creepy for the IT-loving noob and the Dreamcatcher-defending diehard in your life. These are the best Stephen King gifts money can buy.
Nick Thackray for Thrillist
If your giftee is someone whose favorite Christmas movie is a marathon of all eight Harry Potter movies, who has definitely sorted the characters of their favorite TV show into Hogwarts houses, and who can rattle off all three of Albus Dumbledore's middle names at the drop of a sorting hat ("Percival Wulfrick Brian," for the record), read on for a selection of the most sophisticated, unique, and intriguing Potter-related gifts that'll wow them and win favor for future alliances. There are only so many neckties in Hufflepuff colors a person can own, and commemorative statues of Dobby the House Elf don't totally mesh with most modern decor, so here are a few off-the-Marauder's-Map picks.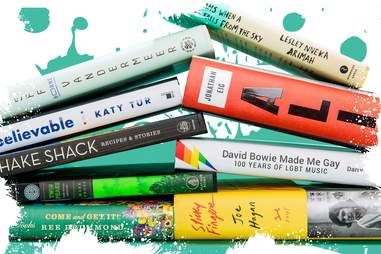 Cole Saladino for Thrillist
As you rack your brain trying to think of the perfect gift for everyone on your holiday shopping list, it's important to remember that even in our technology-driven world, there's no substitute for a good book. Here are our favorite titles released in 2017 -- you're sure to find something for everyone.
Sign up here for our daily Thrillist email and subscribe here for our YouTube channel to get your fix of the best in food/drink/fun.