Where Netflix's 'Gilmore Girls' Trailer Leads, We Will Follow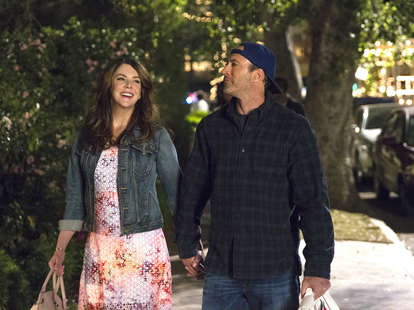 At today's Television Critics Association press tour, Netflix announced that Gilmore Girls: A Year in the Life, a four-part revival of the cult WB series, will be released on November 25, the day after Thanksgiving. But it's Thanksgiving in July, because Netflix has released a new trailer that finds Rory and Lorelai gabbing just like old times.
Predictably, the update is concerned with checking off as many pop-culture-reference boxes as possible. In roughly a single minute of dialogue, Lorelai and Rory (Lauren Graham and Alexis Bledel) stuff in mentions of Amy Schumer, John Oliver, tabloids, something called "corpse flowers," and water sports.
Conspicuously absent: any mention of Rory's love interests Dean (Jared Padalecki), Jess (Milo Ventimiglia), or Logan (Matt Czuchry) -- although show creator Amy Sherman-Palladino promises they'll all show up at some point. Lorelai's on-again, off-again beau Luke (Scott Patterson) doesn't get any trailer time either, but he's also confirmed to appear on the show -- as is Lorelai's BFF Sookie (the now megafamous Melissa McCarthy).
Despite hopes for the contrary from Sherman-Palladino, Netflix will release all four 90-minute episodes at once. Each installment is named for a season: "Winter," "Spring," "Summer," and "Fall." All you have to do is call your mom.
Sign up here for our daily Thrillist email, and get your fix of the best in food/drink/fun.
Lauren Leibowitz is Thrillist's Entertainment Editor and #TeamJess all the way. Find her on Twitter @lleibowitzz.