If You Like 'Jennifer's Body,' Watch the '00s Werewolf Precursor 'Ginger Snaps'
In this 2000 Canadian film, puberty is its own form of body horror.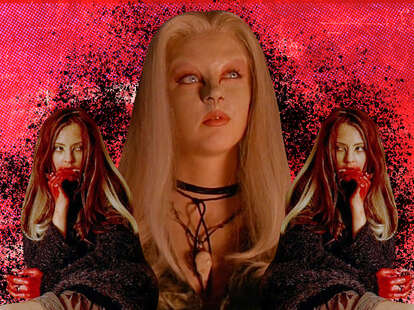 Design by Maitane Romagosa for Thrillist
Thanks to critical re-evaluations of Jennifer's Body from the past few years, the cultural consensus today about the once-panned 2009 horror-comedy couldn't be more positive. Not only is TikTok obsessed with Megan Fox's performance as a possessed, teenage-boy-eating high schooler, the movie is currently available on the cinephile's streaming service, the Criterion Channel.
Now that the feminist horror movie found the reception that it always deserved, sinking its demonic teeth into hearts everywhere, its recent resurgence should be an invitation for more people to check out other, less mainstream movies in the "girls devouring boys" subgenre (see: The Lure, Raw, Teeth). The 2000 Canadian film Ginger Snaps, for instance, is essentially a precursor to Jennifer's Body—and as Twitter recently pointed out, you could say that the film's protagonist Ginger walked so Jennifer Check could run. The film, co-written by Karen Walton and director John Fawcett (Orphan Black), generated a handful of sequels in the '00s, although they weren't as warmly received as the original, but now that Ginger Snaps is streaming on Amazon and Shudder (and a reboot series is in the works), there's never been a better time to (re)visit the teen scream.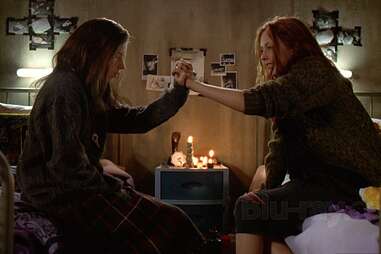 Instead of focusing on a Myspace mall hottie, the Y2K Ginger Snaps is centered around the Fitzgerald sisters, Brigiette (Emily Perkins) and Ginger (Katharine Isabelle), who are two very post-'90s grunge teenage goths. They're outcasts who only hang out with each other and dress in dark, loose clothing that turns them into a shadow as much as possible, and take their morose obsession with the macabre very seriously. They don't just try to fit a joke about death into every conversation like it's a game—their free time is spent assembling elaborate photoshoots of themselves dying in different ways straight out of a suburban nightmare (you know, drowning in the bathtub, falling onto a white picket fence, etc.). They've also made a pact with one another to get the hell out of suburbia before turning 16, whether they're alive or not ("Out by 16 or dead on the scene, but together forever"). But when Ginger has a run-in with a beast that's been terrorizing the neighborhood dogs, the sisters' infatuation with horror becomes more than they bargained for. After she survives the attack, Ginger's body and temper start to undergo ghastly changes, as she starts to turn into a werewolf.
In Ginger Snaps, puberty is its own form of body horror. Like many creature features, bodies change in uncomfortable ways, hair grows out of places where it didn't before, acne creeps up out of pores, and new urges suddenly feel unbearable. It's the (admittedly unsubtle) approach Ginger Snaps takes, the body becoming an unrecognizable monster, when Ginger gets her first period, is attacked by a werewolf, and starts to become one all under the same moon.
The puberty horror concept is by no means original to the film—it's the allegory behind classics like Carrie, and contemporary movies like Raw have explored it since—but Ginger Snaps has its own take on the theme. It's one of the smartest portrayals of the way society (and even the adults in an individual's life) can make a girl feel like puberty is equivalent to becoming a grown woman, even if that means being seen as more mature and sexual than she feels ready for. When their mother (Mimi Rogers) notices Ginger is experiencing cramps for the first time at the dinner table, she's ecstatic that her daughter "finally" has her period, and later makes a cake to celebrate; and when Ginger seeks out the school nurse, even her well-intentioned medical advice turns suggestive, telling her to "play safe." In these moments amidst her changing body, Ginger is not only uncomfortable—she's terrified. To Brigiette and Ginger, death itself isn't what scares them: It's the death of their girlhood.
In its portrayal of real-life and monstrous body horror, Ginger Snaps doesn't shy away from being gruesome. While the terrifying, body-altering elements of Jennifer's Body are campy and riff on imagery from big studio possession movies, they're simple and technical in Ginger Snaps. The result gets under your skin even more so. Ginger sprouts hair out of the scars where the wolf attacked her, and she develops a fleshy tail at the bottom of her spine. (Seriously, avert your eyes as she tries to tuck the appendage into her jeans.) But to Ginger, these changes pale in comparison to the terrors of adolescence, be it shaving her legs (and cutting them up in the process) or menstruating.
What makes Ginger most similar to Jennifer Check, though, is how she leverages her body's supernatural changes against the boys who lust after her. Throughout the film, she's constantly objectified by the boys in her class, and perceptive to how young women are perceived—telling her sister how frustrating it is that girls are seen as nothing but "a slut, a bitch, a tease, or the virgin next door." So when she gets her own claws and fangs, she seduces her crudest classmate Jason (Jesse Moss) and sinks them into him, simply because she can. Ginger calls the shots as they make out in the backseat of his car, but because Jason becomes uncomfortable with a woman taking control, he asks, "Who's the guy here?" Knowing that hooking up with someone would make her no more than "a lay," but wanting to act on her urges regardless, Ginger takes the opportunity to get even more aggressive and penetrates Jason's torso with her razor-sharp teeth. It's exactly how Jennifer haunts Devil's Kettle—ripping out and gnawing on boys' guts for revenge, once they reveal themselves as seeing her as nothing but something to conquer. It may be ravenous, but it's how the two wield the little power they have, and in both movies, there's even a nearly identical shot of each protagonist basking in their confidence acquired from these acts. As they walk down down the school hallway, all of their classmates' eyes are on them, clearly proud to have everybody under their spell. (It doesn't matter that they'll use it to eat a boy for lunch after second period.)
In both movies, their foil (Amanda Seyfriend's bookish BFF Needy in Jennifer's Body and Ginger's shy sister Brigiette) tries to stop the hell the others unleashed because, of course, there's always consequences to girls flaunting their supernatural leverage. (Because Ginger has unprotected sex with Jason, for example, he also starts to change into a werewolf, and she's left to take the blame.) Brigiette sets out to turn Ginger back and, (spoiler alert) when all else fails, kill her when she's gone past the point of return. It's like if someone grows up too quickly, they're deprived of their own innocence, turning into something the people around them can't even recognize.
Watching Ginger Snaps for its similarities to Jennifer's Body is half the fun (especially because you get to see a brazen performance of a teenage girl putting terrible boys in their place). That enjoyment is quickly stripped away, though, when the film's eerie outlook on adolescence creeps up. Just like Ginger had always wanted, she does end up "dead by 16." But that's not without living through what she's most scared of, which is being thrust into a womanhood that was never her choosing.