Everything We Know About Netflix's 'Ginny & Georgia' Season 2
Will there be more of the mother-daughter duo?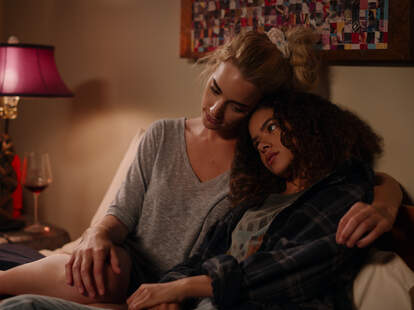 The first season of Netflix's Ginny & Georgia ended with a bunch of revelations and a rash decision. It's a perfect set up for another season of the series, which plays like Gilmore Girls turned up to 11. Yes, the show follows former teen mom Georgia, who moves her now surly teenage daughter Ginny to a precious New England town after the death of her rich yoga mogul husband. Georgia has a lot of secrets in her past and Ginny has a lot of angst. But is there officially more of their story in the works? Here's what we know.
Is Ginny & Georgia renewed for a Season 2?
Yes! In April 2021,
Netflix announced
that a Season 2 is on the way.
When is it debuting?
Slow down! It hasn't even started filming yet.
What will Season 2 be about?
OK, here's where we can start speculating. Season 1 ends with the revelation that, yup, Georgia (Brianne Howey) definitely murdered her ex-husband who was creepy to Ginny. (She also murdered an
earlier
husband who was also a piece of shit.) Ginny (Antonia Gentry), upon getting confirmation about all of her worst fears about her mother, decides to run away, taking her little brother (Diesel La Torraca) along with her. Presumably, Season 2 will open with all the fallout of Ginny's actions.
Plus, there are a ton of dangling questions, among them: Will Georgia ever get together with cute restauranteur Joe (Raymond Ablack), who she actually met when she was a runaway teen herself? Will private investigator Gabriel Cordova (Alex Mallari Jr.) continue to try and connect Georgia to her misdeeds? Will Georgia end up marrying the hunky mayor Paul (Scott Porter)? And what about Ginny's love triangle? Will she get back together with next-door neighbor Marcus (Felix Mallard)? Will she ever make up with her friends, among them Marcus' twin sister Max (Sara Waisglass)? Seriously! There is so much left unanswered.
Netflix
Any word from the creator on what's in store?
It all comes back to the fact that Ginny and Georgia are more alike than they are different, even though Ginny is really pissed off at her mom.
Creator Sarah Lampert told O
that the writers always wanted to build to that cliffhanger. "She's doing exactly what her mother does: Always running," Lampert said. It's hard to imagine that Ginny will be gone from Wellsbury very long. Remember when Buffy left Sunnydale at the beginning of Season 3 to waitress in a diner, but was soon back at her old haunts? Yeah, it'll probably be something like that.
Will we ever get more details on the tap dance flash mob?
I sure hope so. Ginny's boyfriend Hunter (Mason Temple) busts out a happy birthday tap dance at school with little explanation and I still have so many questions.
Need help finding something to watch? Sign up here for our weekly Streamail newsletter to get streaming recommendations delivered straight to your inbox.