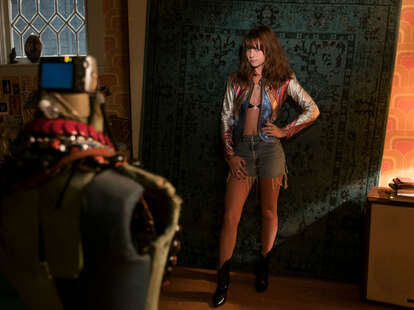 The Creator of 'Girlboss' on Writing a Mad Young Woman Every Netflix-Binger Can Love
Netflix's new series Girlboss has the hyper-specificity, beaming personality, and laid-back ferociousness to become -- brace yourself -- a millennial touchstone, an Easy Rider for anyone who shamelessly blasted Modest Mouse's "Float On" that one summer.
That wasn't the conscious intention for 30 Rock and Pitch Perfect writer Kay Cannon when she created Girlboss, but maybe it secretly was. In adapting Sophia Amoruso's memoir of the same name (sans hashtag), Cannon carved out a show that defies standard definitions and dares to put a caustic personality (played by Britt Roberston) in the spotlight. Screen Sophia rubs people the wrong way. For most of us hovering around our 30s, it's all too real. For Cannon, it was a dream come true to unleash a rare female fighter out in a world full of Dr. Houses and Wolves of Wall Street.
I spoke to Cannon, currently in Atlanta directing her first movie, about pulling out all the stops on Girlboss. Binge this show, and then read this.
Girlboss can be funny and heavy. There's a season-long arc, but each episode is 30 minutes and stands alone. It's unlike most other television. How'd you land on this approach?
Kay Cannon: I'm glad you're saying that because that was the intention. We tried to make it feel like something you haven't really seen yet. I wanted to make sure it looked cinematic, then the way I approach the episodes is with this bingeing feel -- I made four movies, in my mind. That's how we broke it up in the writer's room.
The first three episodes feels like one movie. At the end of that movie she names her company. Then by the end of four through six she's decided it is a business and declares it as a business and that she's going to be 100% in. Then in seven through nine she now has her new location, she fought through another obstacle, and launched her site. But I also wanted to make it feel like every episode was special. By being at Netflix and not being on a network show, I felt like we had the permission to do that and to make each episode had a different feel than the other.
Do you write differently for a "bingeing" audience?
Cannon: I was told [by Netflix] that people on average binge 2.3 episodes in one sitting. That's where the idea of every three episodes would feel like a movie, kind of thing. Because if you were to stop at the third one and take a break and go live your life… it could be a joy to come back to as opposed to a homework assignment.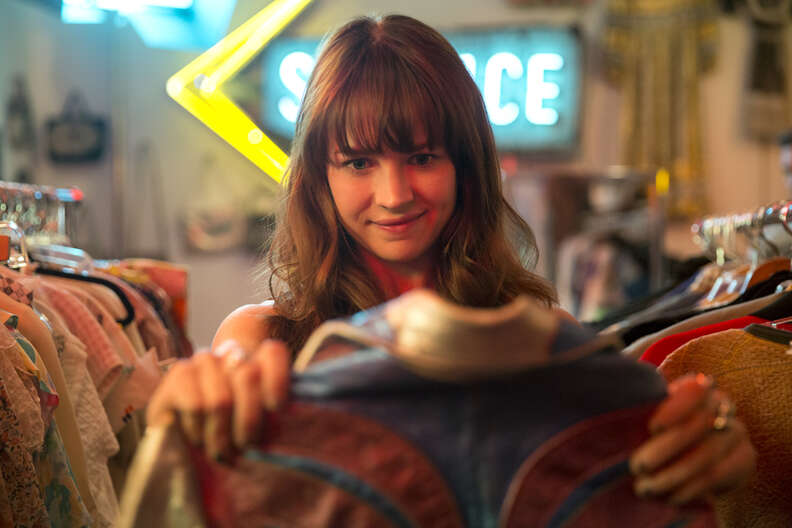 Girlboss episodes remind us that this is a loose retelling of Sophia's life. "Real loose." So how loose is real loose?
Cannon: There are so many fabrications and liberties that I took. Any of those characters that are around Sophia are just all made up. Her parents aren't at all like her real mother and father. We wanted to keep reminding the audience that this is a loose retelling of true events because there's flag posts of things that happened to the real Sophia that we are definitely doing. Her launching her site and selling out in the first day, that was something that we were definitely going to do. Her getting the hernia and having to work. There are also some slight variations on the same ideas where she worked really hard to get a button for a -- the real Sophia worked really hard to get a button onto a vintage Chanel jacket and that became the story of the vintage dress and her running across the Golden Gate bridge.
But I think it's very rare to do a show about a woman who's still very much alive and young and living her life and having things still happening to the company. I didn't want to confuse the audience into thinking that all of these things actually happened to the real Sophia because things are still happening.
Considering that, are you working on a Season 2? How far does the Girlboss story go?
Cannon: We haven't started working on it yet. Netflix waits until after it launches, but I think they feel very happy... if we were to get a second season, there's so much more of her getting the big investment and moving. We haven't shown the meteoric rise of Nasty Gal.
Then, in other seasons ... I mean, I don't know how far I would go in the second season, but we will eventually at some point later down, if Netflix were to give me more than two, we would see the fall of her too. The fact that Boohoo.com bought Nasty Gal and how Sophia is really, the real Sophia is not, she basically lost her company and she's 32 years old. We're not telling a fairy tale. She'll be 33 this week. Now she's just going, "OK, what's next? What's the next thing that I do?" I think that's a really interesting story to tell.
I read a few reviews that reacted harshly to Britt Robertson's version of Sophia, calling her harsh and a "whiny millennial." Did putting Sophia's energy forward in first episode feel like a risk?
Cannon: We had given the entire season to [critics] because I knew we were starting Sophia in this angry place, and having come from network television, believe me I've been given a gazillion notes on making sure the lady is likable. The story wouldn't have been true if I had started Sophia out as more demure or polite or obedient. That's not the story we're telling.
The second episode is a connection the first as if it's one piece, because I really felt I had to take the time to get the story started. Then I think from three you're on for the ride... At the premiere, I rewatched [the first episode] again because I start to think, "Oh yeah, I guess maybe. Did I go too far?" It's like, no, no. She lashes out at her boss and then right after that is emotional and calls herself an asshole and doesn't know she's being such an asshole. She literally gets slapped in the face by an older woman saying, "You are stupid."
Or society doesn't allow or like to see a young woman mad or angry. And the truth of it is is that that is a societal problem that in my little, small way I'm trying to shift and represent. Because for a lot of young women who I've spoken to, who have seen the show they're just like, "Thank you, finally. That's how I felt." To give them permission to have these feelings, and not be put into a box of you're not allowed to act or feel that way.
Your work on 30 Rock had me drawing a line between Sophia and Liz Lemon, who is also a self-aware asshole at times.
Cannon: The difference between Liz Lemon and Sophia is that Liz Lemon was in her 30s, right? It was more forgiving. But people write off someone in their early 20s as just being shrill, as if everything out of their mouth is not worth listening to. In the bigger picture of representation in television and movies, it's like, I hope that people will get past it and really listen to what she's saying. I noticed in a review somebody exclaimed a line as if she yelled it, and she didn't. She said it very quietly.
People who stick with Sophia's journey know that, by the fifth episode, which shifts to flashbacks with her friend Annie, that she's vulnerable and emotional.
Cannon: Sophia's love affair with her business was going to be the number one love of the series. But second to that is her relationship with her best friend, Annie. That's why we did that episode. We wanted the origin story of their relationship, but also that idea that friends give to each other what the other one lacks. Sophia's just this loner that Annie loves because she feels good nurturing and being there for Sophia. I feel like it's a really real dynamic between a lot of friends.
That episode was actually the last one that we edited together. Originally it went from flashback to flashback to flashback. We didn't see the origin of how they met till the last scene. We tried to do it with these visual time shifts. It's all a bunch of blah, blah, blah nonsense but we really worked hard on that episode and ended up really cutting it down and making people feel what they needed to feel at the time that they felt it.
What was your philosophy for pairing scenes with music? The soundtrack matches the vibrant look of the show.
Cannon: [Music supervisor] Season Kent did our music and I think it's so great. I really wanted to be in that '70s area, sort of vintage songs, and I wanted to find a lot of female voices, not just the most popular songs that you know of that time. We wanted to go deep. There's a San Francisco band that didn't break out, but I liked a couple of their songs. In the eighth episode the band Blackpool Lights, that Shane is the manager of, the drummer is actually my friend Billy and that was his band 10 years ago. They were touring in 2006 and the songs that you hear are the songs they were touring during that time. I was actually at their concerts and stuff. There was a nice little marriage there of some serendipity that I liked a lot there. There are original songs too, that we have from the band Animated Discussions. When they're in the bar [in the first episode] and then the song at the end, the one that you hear. I think that song was already done by the band that did it, but I don't think they ever released it. The "I Come Crashing" song.
And then there's [the] Working Girl song, Carly Simon's ["Let the River Run"], in the ninth episode was really important to me. I loved that movie so much, and the fact that Sophia was getting her office space, and then that song came on, and then the speech… the "girl" in Girlboss to me has always meant youth and not gender. That was the one episode in which we focused on the obstacles of being a woman in the workplace. Having the Working Girl song at the end, emotionally, just made me very happy.
How did you wind up with the incredible scene later in the series where you turn an internet forum into a Dr. Strangelove war room?
There's so much talk about Sophia's likeability and the real Sophia, but no one's talking about these moods we tried to make. I was very excited about that episode because in the couple of episodes leading up to that, Sophia was getting into fights with a lot of people, and a big one with her boyfriend on that LA trip. I knew she was going to get kicked off of eBay and she and Annie were going to have a big rift, but I didn't want to show Sophia yelling again.
These scenes were that idea of how, on the internet, you can have a full-on argument with somebody and not feel the emotion. You don't see it. Had they had that conversation in front of each other it would not have been as big of a fight. But to say something as cutting as she said with no emotion behind it... like Annie says, "The internet is this horrible place. You're not going to win. The internet's always going to win." And it did.
It would not surprise me if people reading this interview think it's strange that some dude thinks he can talk to a female writer about her new show Girlboss (and, for full transparency, I originally had a female writer lined up to do it). Do you think it's weird?
I'm glad that you did it. I feel like that maybe that's happening a lot with people I've talked to over the phone. You're one of the few guys I've talked to. And, you know, with Pitch Perfect, I just thought I was making a funny comedy and the marketing team was like, "No, this is for young girls. This is for that demographic." I was like, "No, it's going to be for everybody." They were like, "No, no, no, it's for..."
I didn't know what I was doing. But, then you could see that both genders enjoy that movie and it was them coming out of the woodwork and being like, "Oh yeah, my wife or my girlfriend made me watch it and I actually liked it." I think that I'm glad to hear that you like this because it means there's a crossover of content where business-wise I could say to an executive, "No, guys are interested in the things that we are also interested in." It is possible -- and it happens a lot.
Sign up here for our daily Thrillist email, and get your fix of the best in food/drink/fun.
Matt Patches is Thrillist's Executive Entertainment Editor. His previous work appeared on Grantland, Esquire.com, and Vulture. Find him on Twitter @misterpatches.