The Weirdest Things That Happened on 'Glee' That You Probably Forgot About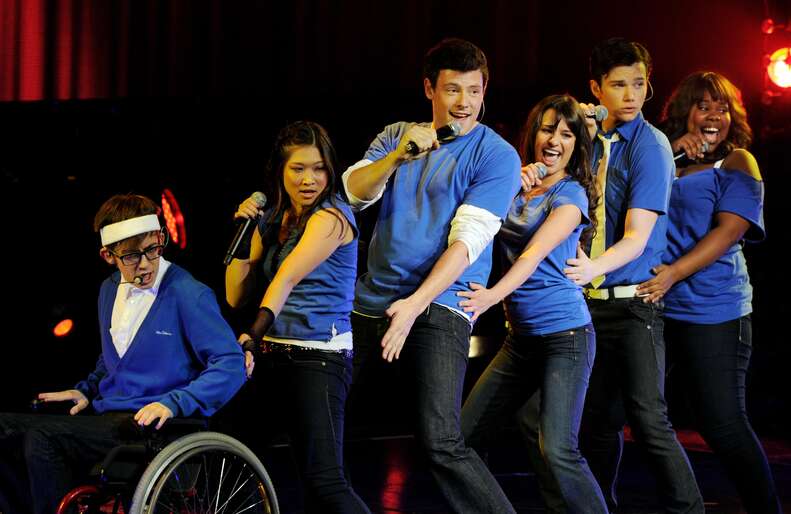 In 2009, Ryan Murphy reinvigorated a craze thought dead across the nation: show choir, and an obsession with all of the salacious scandals that apparently comes along with being in it. Glee, Murphy's campy musical/comedy creation about high schoolers finding themselves and fighting for notoriety in an Ohio glee club called New Directions, while competing with an over-funded cheerleading squad, was instantly a phenomenon. The show had everything: a cast of 20-something up-and-comers and Broadway babies playing 16-year-olds, Hot 100 hits flipped into a capella bops, Jane Lynch in track suits, and so much drama -- the kind that becomes suburban legends.
While the four-time Golden Globe award-winning series launched the careers of stars like Lea Michelle, ruled the iTunes charts with its covers for years, and went on to produce an entire stadium-sized live tour, none of this was without a few problematic missteps along the way. Yes, Glee was revolutionary for being a few steps ahead of its time, featuring a largely diverse cast covering teenage concerns like queer romance at the forefront of its plot -- but all of which had a dosage of late-2000s cringe. To reminisce the teen series that ruled much of the early 2010s on its 10th year anniversary, Thrillist brings you some of the strangest things that you probably forgot happened on Glee.
They performed "Push It" by Salt-n-Pepa
Admittedly, New Directions' first-ever performance in front of the student body in "Showmance" (Season 1, Episode 2) was supposed to be an awkward scene. But, boy, is it ever! The then measly-sized club fails to tell Mr. Schue what song they're debuting -- it's "Push It" by Salt-n-Pepa, complete with SO MUCH thrusting -- and looks of utter horror fall across everybody's faces in the audience. Their rapping is met with blank stares; there's enough upsetting teen pulsation to fill the entire series. For that, it's worth revisiting just to experience that same core-shattering cringe you did in 2009 once again.
Their prom was dinosaur-themed
Something along the lines of "A Night to Remember" or "Masquerade" was too basic of a theme for prom at the very dramatic McKinley High School. So, what do they land on for the second prom featured in the series (Season 3, Episode 19)? A dinosaur theme! It's a little bit Jurassic Park, but for the most part, very Flinstones-esque. Brittany even performs Kesha's "Dinosaur," a song about an older man hitting on her, because back in 2012, camp wasn't dead just yet.
Gwyneth Paltrow covered Rihanna
With Ryan Murphy's network of famous collaborators, Glee gifted fans with basically a new guest star every week (Idina Menzel, Kathy Griffin, Neil Patrick Harris, anyone?) -- but one of the most confounding was none other than Pepper Pots and Goop founder, Gwyneth Paltrow, as Holly Holliday. In Seasons 2 and 5, Paltrow reappeared as a substitute teacher, a sort of jack of all trades, teaching everything from Spanish to choir to sex ed. Her character was extremely confident and a bit of an over-sharer for a school teacher, although her storyline was really just a side romance for Mr. Schue while the sexual tension between him and Emma built. But that doesn't mean she wasn't able to provide a handful of eclectic performances, like her very bold rendition of Joan Jett's "Do You Wanna Touch Me?" as part of a sex ed lesson. (She even ends on a high note, drilling in the lesson with the informative point: "So, just remember whenever you have sex with someone, you're having sex with everyone they've had sex with. And everybody's got a random.")
Her mash-up of Rihanna's "Umbrella" with "Singing in the Rain" really takes the cake, though. There's umbrellas and trench coats and a stage somehow full of a ton of water that an average public school auditorium probably doesn't actually have the equipment for. A stand-out moment, for sure!
Fondue For Two
Brittany S. Pierce (get it?) is one of the most underrated characters on the series. A classic dumb blonde, yes, but she's also got the most heart of anyone and is entertainingly weird. As her character crept further into the spotlight, she also got her own web-series written into the show called Fondue For Two. Very in the vein of early 2010s YouTuber vlogger-style, she hosted a pre-influencer talk show where she, you guessed it, combined her two favorite things: "hot cheese and talking to people." There was even an opening sequence and theme song you might feel a bit triggered upon hearing, her cat Lord Tubbington (who was on Atkins) always appeared, and it was the opportunity for all the hot McKinley High tea to be spilled. On air is when she outted her bestie Santana, actually! What a time, and a relic, of the show.
They incited a "Britney Spears sex riot"
In "Britney/Brittany" (Season 2, Episode 2), their Britney Spears-themed episode, New Directions -- along with Mr. Schuester -- performs "Toxic" for the homecoming assembly. As much as the glee club gets made fun of, their classmates get way too excited watching their sex-fueled performance of the suggestive song. They're especially horny over their teacher, yelling things like, "Have my babies, Mr. Schue," and, "Make me your Britney, Mr. Schue!" It's all very scandalous and climaxes at a moment of the vindictive Sue claiming they've incited a "Britney Spears sex riot" and pulling the fire alarm, causing everyone to stampede off the bleachers.
In addition to that, earlier in the episode a handful of students got so high undergoing dental procedures, they had Britney Spears hallucinations with the pop star herself! Such freaky sex fiends, those gleeks!
One of the students had a crush on Mr. Schuester
Oh, Rachel Berry, a character who starts off consistently being so much. In the early episode "Ballads" (Season 1, Episode 10), the club is divided into pairs to perform renditions of ballads; when Rachel is left without a partner, Mr. Schue steps in to sing with her. Inevitably, Rachel becomes infatuated with her duet partner, giving him unwanted attention. Admittedly, yes, Mr. Schue is a stereotypical "hot" teacher, being young and hip and relatable and a killer performer -- and what would Glee have been if not the perfect opportunity for a problematic teacher/student affair? But it's also a destination they did not have to arrive at. Yet, they did -- along with a side story about a former student named Suzy Pepper who was so obsessed with Mr. Schue that she attempted suicide because of her unrequited feelings.
Instead of letting Rachel down easy to avoid that from happening again, serenading her seems like the next best option! He mashes up "Don't Stand So Close to Me" by The Police with "Young Girl" by Gary Puckett and the Union Gap, which might seem like a clear message, but to a lovelorn Rachel, she's very into it. Actually, somehow, she misconstrues the lyrics into meaning her teacher is so attracted to her, he can't stand to be near her. It was an admirable decision to never write a romance between them into the plot for the sake of dram', but it's still an uncomfortable moment that's difficult to watch as it unfolds.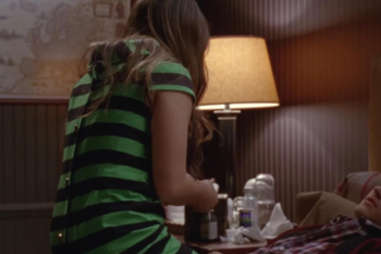 Tina rubbed VapoRub all over Blaine without his consent
With each new Glee episode came a new "oh my god, I can't believe that aired on TV" reaction and subsequent debate about whether or not it was appropriate and timely to feature whatever they did. There was derogatory language, teens (even gay teens!) losing their virginity, school shootings, and more... as well as a little story about Tina Cohen-Chang (Jenna Ushkowitz) rubbing VapoRub on Blaine (Darren Criss) while he's passed out from cold medicine. In "Diva" (Season 4, Episode 13), when Tina goes over to Blaine's house to work on a solo, she crosses a boundary and takes advantage of him while he's passed out sick. It's an incident Gleeks dubbed as the "Vapo-Rape," as Ms. Cohen-Chang took the opportunity to explore her crush on openly gay Blaine by unbuttoning his shirt and dousing his chest in Vicks when he was drugged up. The scene attempts to be a somber moment about Tina once again wanting something she can't have, but it also gets brushed off like many of the show's other blunders. Yikes!
Finn thought he got Quinn pregnant for sharing a hot tub with her
To head cheerleader/nice Christian girl Quinn, getting pregnant is only half her problem. Making sure her parents and then-boyfriend Finn don't find out bad boy Puck is actually the father is a much greater concern, threatening serious damage to her reputation. As if telling the truth wouldn't have been less harmful, much of Season 1 is spent focusing on 16-year-old Finn preparing to become a father and taking in Quinn once her parents kick her out. It's a killer plot for a teen drama, but there's a detail that makes it little off: The two never had sex. In fact, Quinn used to interrupt their make out sessions with prayer like the devout girl she is. So, instead, she convinced Finn that he got her pregnant that one time they were in a hot tub together! There's even a flashback of this moment -- in which Quinn tries to turn him off by reminding him of that time he ran over a mailman -- but because it's "the perfect temperature for sperm," he BELIEVES HER! For basically the whole season!!! Can you imagine how many paranoid teens this storyline probably freaked out?
Finn thought God was speaking to him through grilled cheese
"Grilled Cheesus" (Season 2, Episode 3) was what Ryan Murphy thought would be the series' most controversial episode to date at the time. The episode was an exploration of faith, looking at each character's belief in God or lack thereof -- partly brought about after Kurt's father survives a heart attack... but also because Finn thinks he sees Jesus in a grilled cheese. The episode opens with a sequence of Finn making himself a sandwich with his George Foreman Grill, explaining, "When I pulled the sandwich out, I saw the face of God. Literally. I had made a Grilled Cheesus." The image toasted onto his slice of white bread is, like, kind of uncanny, but the premise is wildly ridiculous, and a hilarious means of finding The Lord. The jock who claims he's "not the most religious guy" takes to praying, of course, for things teenage boys see as worth praying over, like winning a football game for once and getting to second base with his girlfriend. Oddly enough, this is one of the series' most dramatic installments and won Chris Culfer (Kurt) an Emmy -- but that doesn't stop the sequences of Finn praying over a piece of bread, AKA the "Cheesy Lord," from being one of the strangest moments either.
The glee club got drunk together
Glee was never one to sugarcoat what teens may or may not be up to. Meaning: Underage drinking happens, so let's unpack that! In "Blame It on the Alcohol" (Season 2, Episode 14), it's Alcohol Awareness Week at McKinley High and the glee club is tasked with coming up with an advisory performance for the student assembly. Logically, Rachel throws a house party in order to get some life experience so she knows exactly what her and the Gleeks are singing about to their classmates. It's a hot mess for everybody involved. They even play spin the bottle while Finn explains the "types of drunk" that women get (you know, turn into strippers and/or get angry -- the standard sexist presumptions).
What's so insane about this episode, though, is the crew becomes borderline alcoholics (for one episode alone), drinking during school hours, and performing "Blame It on the Alcohol" while buzzed to Mr. Schuester who commends their "acting." Then what song do they land on for the school assembly? "Tik Tok" by Kesha, obviously! And when Santana and Brittany puke from alcohol poisoning on stage, it's totally fine because it seems like performance art to everyone else.
The episode ends with a penultimate moment of Mr. Schue explaining to his students that drinking underage is illegal and they're lucky to have gotten away with just vomiting in front of the student body this time around. He also passes out a pledge he requests they sign and gives out his cell number in case they do drink too much and need a lift home. There's a lot of confusing messages in the episode, and it ends on a sort of unresolved note -- but I guess you just have to take a shot and accept the show for what it is.