Go from the couch to a 5K in 8 weeks
ALL PHOTOGRAPHS BY ANTHONY HUMPHREYS
You don't have to be Prefontaine (or even Postfontaine) just to jog for a little. To prove it, we've consulted health and fitness experts to help us put together an eight-week, easy-to-execute plan to go from the guy who hasn't run since middle school gym class to the guy who just crushed his first 5K. Here's the rundown (see what we did there):
Week 1
Monday
Today's the big day. And it all starts with... a walk. That's it. Stroll the entirety of a 5K (3.1 miles for the metrically challenged) to get a feel for the distance you'll defeat in two months time. Important: don't try to do more, even if you feel you can -- it's a slow build you're after.
Wednesday
Today, we get our first taste of blood running. Keep it unambitious: 30 seconds of light running, then 60 seconds of walking. Cue up your "Pat Benatar: All Fired Up'' playlist, because you're going to repeat this nine times.
Saturday
Kick up Wednesday's workout with one solid minute of running then two minutes of walking. Run at a pace where you can hear breathing or at the point where you can no long talk in sentences. "The Pledge of Allegiance is a good way to test this," says Jenny Hadfield, co-author of Marathoning for Mortals. Repeat this nine times.
Week 2
Monday
Strengthening your core is key to going the distance. Dr. Oz's personal trainer, Joel Harper, recommends something he calls Towel Runs. Find a dirty patch of floor (it'll get clean in the process), get in push-up position with the towel under your toes and, using your ab muscles (they do exist!), bring the towel forward and back 15 times.
Wednesday
Repeat Week 1.
Thursday
Find a 40-yard area at any track -- city-dwellers: try a city block. Start with light jogging forward and backward. Move on to lateral slides and give karaokes a try. The real goal here is constant motion for 20 minutes. If you want more challenge, Dr. Scott Weiss, D.P.T., A.T., CSCS (basically certified in everything that makes you stronger) recommends high knees, butt kickers, bounds, standing tow touches, torso rotations and skipping drills.
Saturday
Repeat Week 1.
Sunday
Time to really test your endurance. Cue up your stopwatch and see how long you can run. The goal is duration, not speed, so pace yourself. The test here is to push past exhaustion. Once you feel like you can't give a single step more, try to last another minute. Then rest for a bit, because you're going to do it one more time. This round, even if your pace slows, increase the duration by at least two minutes -- do it for Ned Stark.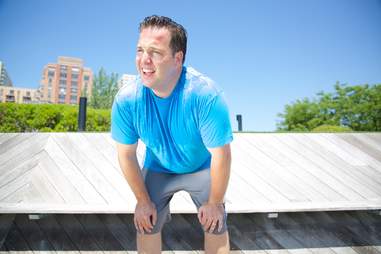 Week 3
Tuesday
Momentarily surrender by eating two pizzas and a funfetti cake while weeping gently into your gym shorts.
Thursday
Hop back on the wagon with a 40-minute walk/jog. Jog until you feel tired, then walk. Once your heart rate steadies, return your pace to a jog. Afterward, start integrating some stretches. Bart Yasso, Chief Running Officer at Runner's World, recommends not stretching too much before running. Instead, stretch more strenuously after: "Use your walk/jog as your stretch before you begin running."
Saturday
Repeat Week 2.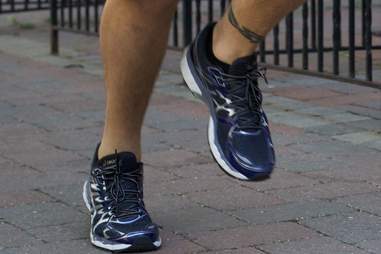 Week 4-5
Monday
Find a hilly area and run at full speed up and down. The moment you begin to feel fatigued, begin walking. Once your heart rate has stabilized, that's right, more sprints! Just 20 minutes, though.  Your goal here -- beyond pushing yourself -- is to continue to build endurance while switching up routines.
Tuesday
Repeat Week 2.
Friday
Repeat Week 3.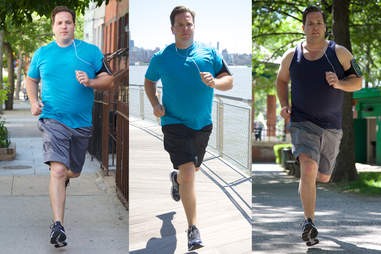 Week 6-7
Tuesday
You might be feeling like a seasoned pro at this point, and keep up the good work, but don't become a victim of poor habits. "If someone runs on the same path or same side of the street, it can cause certain structures to get overstressed," says Joseph Ciccone, Associate Director Columbia Orthopedics Sports Therapy. "Simply changing the side of the road they run on can give some balance to the body." You heard the guy: mix it up. If you've been at the track, run around the neighborhood. If you've been running the neighborhood, head to the park. If you've been running in the park… uh, abandoned insane asylum?
Thursday
Repeat Week 4.
Sunday
Repeat an earlier workout, you decide (just not the walking one, you're a runner now).
Week 8
Wednesday
Time to Spring Like Beckham. Chris Neville, fitness coach of the Los Angeles Galaxy, shared David Beckham's workout in which he does eight to ten sets of 60-yard sprints to his maximum intensity with ten seconds of rest in between. That might be a bit… impossible for you, but Neville introduced a yeoman variation: three to four sets of the 60-yard dash with 20 seconds of rest in between. As Kelly Clarkson once sang, "What doesn't kill you makes you STRONGER".
Sunday
(Assuming "What" didn't kill you) Repeat Week 6.
The 5K
You did it! (You did it, right?). Congratulate yourself with a carbo-load, a few beers, and some well-earned couch time. Just remember, now that you've completed a 5K, a 10K should be a future pursuit. Or a full-on marathon. Maybe not. Regardless, keep running, it's not that hard.