The 12 Most Outrageous Moments at the 2016 Golden Globes
NBC Universal/Getty Images
The Golden Globes are brutal, challenging and often miserable -- much like The Revenant, the movie the Hollywood Foreign Press decided to honor with three of its biggest awards. While the show has a reputation for possibly alcohol-influenced debauchery, this year's edition was actually pretty tame and predictable. Ricky Gervais made tasteless jokes. Leonardo DiCaprio won an award. The show was so long, Jim Carrey grew a scary beard.
If you didn't endure the show yourself or are looking to relive those cherished memories, here were the moments everyone will be talking about tomorrow.
Why Mozart in the Jungle, why?
The Amazon Instant Video original took home prizes for Best Television Series -- Comedy and Best Actor -- Comedy, despite being (1) less buzzy than the streaming service's own Transparent and (2) a show ... that no one watches? Time to catch up with this eccentric, musical award-winner.
Gervais' running disses of The Martian
Ridley Scott's intermittently amusing space drama scored a nomination against three actual comedies and whatever Joy is, much to the bemusement of the ceremony's beer-swilling host. Gervais knows that The Martian would have had about as much chance of winning in the movie drama category as his comedy Derek would in the TV comedy category. When it won the award, even Scott himself said, skeptically, "Comedy?" Ah, the enduring power of earnest disco jokes.
Jamie Foxx vs. Quentin Tarantino
The Best Original Score went from hilarious to bizarre to tense as hell thanks to an extended exchange between Foxx and his Django Unchained director. First, Foxx hijacked the winner announcement to give props to Straight Outta Compton. OK, funny, if not a little unorderly. Then, Tarantino took the mic to accept the award on behalf of Ennio Morricone, saying the legend wasn't in the "ghetto" of film composing, but up there with Mozart and Beethoven. Foxx didn't take kindly to the word choice. There was muttering. There were drunken looks. It was all very awkward. Quintessential Globes.
Jon Hamm awkwardly wins for Mad Men
The actor swore he didn't expect to take the stage for his final bow as Don Draper, and we may actually believe him. "Thank you for not taking my suggestion and ending the entire series on Chumbawamba," he told Matthew Weiner, to little applause. Don't worry, Jon. We laughed.
Sylvester Stallone snubs Ryan Coogler and Michael B. JordanIt's important to thank your collaborators, but it can also be hard to remember everyone's name under all those lights. Best Supporting Actor winner Sylvester Stallone gave a heartfelt speech where he thanked his agents, his family, and his imaginary friend Rocky Balboa -- but he forgot to thank Creed director Ryan Coogler and Michael B. Jordan, his brilliant young costar. Apparently, he remembered them right as the show was cutting to commercial and was able to give them a shout-out that didn't make the broadcast. Come on, Sly -- remember them at the Oscars!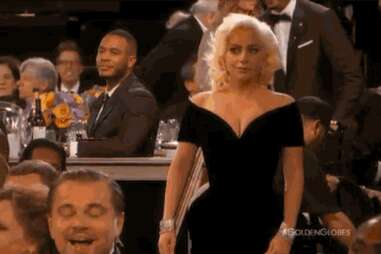 The Leo vs. Gaga moment
That GIF pretty much says it all. Ouch.
Aziz Ansari had the best cutaway gag
He may not have won an award for Master of None, but at least Ansari had the best cutaway gag. He must've gotten some nominee joke tips from his Parks and Recreation co-star Amy Poehler.
Ricky Gervais and Mel Gibson butt heads in public
Gervais cracked that he'd bashed Gibson the last time he'd hosted the Golden Globes, and their 2016 meeting would not offer a hug-and-make-up moment. After cat-fighting on the way out -- "I like seeing Ricky once every three years," Gibson said, "it reminds me to get a colonoscopy" -- Gervais returned to stage to interrupt Gibson. Censors bleeped a comment, to which Gibson responded, "Ask the person who said that." Say what? Those in the room reported Gervais as having said "What the fuck does sugar tits even mean?" Alan Cumming's reaction shot summed it up perfectly.
Denzel Washington can't find his glassesWhile accepting his Cecil B. DeMille lifetime achievement award, Denzel Washington once again cemented his legendary uncle status. While repeatedly asking for his glasses to read his speech from his family on stage, you could almost hear the new memes being born.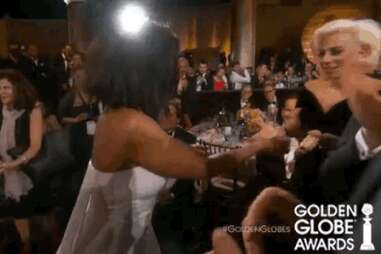 Taraji P. Henson's delicious-looking sugar cookies
Or were they snickerdoodles?
The Revenant dominated the rest of the evening
Picking up trophies for Best Director, Best Actor and Best Picture, The Revenant was the big story of the show's arduous final hour. Will this be the momentum-booster the movie needs to win big at the Oscars this year? Tune into the next over-long awards show to find out.
Sign up here for our daily Thrillist email, and get your fix of the best in food/drink/fun.
Follow the Thrillist Editors on Twitter @ThrillistEnt.