Recommended Video
Tuna Eyeball with Timothy DeLaGhetto and Ben Sinclair
Uh, Hidden Fences isn't a movie
NBC's Jenna Bush provided one of the earliest cringeworthy moments of the night when she congratulated the always-dapper Pharrell Williams on his Original Score nomination for Hidden Fences. Of course, the movie is actually called Hidden Figures -- and Fences is a totally different Golden Globe-nominated movie! Pharrell was, uh, appropriately perplexed by her mistake.
The Tonight Show Starring Jimmy Fallon/YouTube
The Globes la-la-love La La Land
A pretaped red carpet segment showed the marquee nominees stuck in traffic on the way to the awards, à la La La Land's showstopping opening number. Not into musicals? The Globes crew threw in an Evan Rachel Wood Westworld joke and Jon Snow coming back to life, just for you.
That Teleprompter isn't winning an award anytime soon
Much to Jimmy Fallon's dismay, his Teleprompter glitched out just in time for him to stall at his opening monologue. Now he must know how Mariah Carey feels.
Justin Timberlake had Jimmy Fallon jokes
The Globes host was nervous at the start of his big gig. Thankfully, Justin Timberlake was on hand to loosen his BFF up with a spot-on impression, poking fun at the Tonight Show honcho's chronic overexcitement, manic spasms, and that surprised face he makes when, well, basically anything happens. Short, but effective!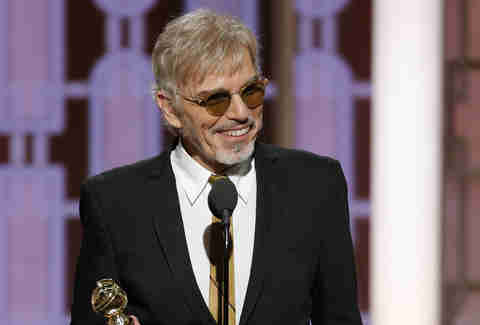 Billy Bob Thornton is feuding with Bob Odenkirk
Billy Bob Thornton's win in the Best Actor in a Drama category for Amazon's Goliath was one of the first surprises of the night -- we didn't know the Hollywood Foreign Press was so into dad shows -- but the funniest part of his acceptance came when he reinstigated an ancient "feud" with Better Call Saul's Bob Odenkirk from the stage. It seemed like a playful joke between actor buds, but with Billy Bob, you really never know. Dude made Bad Santa 2.
Donald Glover thanked Migos for "Bad and Boujee"
Atlanta is a show inspired by the culture, history, and people of the city it takes its name from, so it was no surprise that Donald Glover gave a shout-out to his hometown during his acceptance speech for the Best Comedy Award. What was surprising? His tribute to the ATL rap group Migos, who appeared on his show in Season 1, and to their song "Bad and Boujee," which is currently the No. 2 song in the country. Rain drop. Drop top. Etc.
Denzel Washington got caught zoning out
Just in time for a speech from Hollywood Foreign Press president Lorenzo Soria, cameras cut to the Fences director-star looking a little lost. More awkward reaction-cam shots, please.
Hugh Laurie joked that this will be the last Golden Globes
While many acceptance speeches skipped politics this year, former Golden Globe Award winner Hugh Laurie took a few shots shots at President-elect Donald Trump when he picked up his trophy for The Night Manager. "I'll be able to say I won this at the last ever Golden Globes," he quipped. "I don't mean to be gloomy, it's just that it has the words 'Hollywood,' 'Foreign,' and 'Press' in the title. I also think to some Republicans even the word 'association' is sketchy."
Sofia Vergara was the butt of the joke
When Sofia Vergara introduced the Miss Golden Globe trio (sisters Sophia, Sistine, and Scarlet Stallone), she called the Hollywood Foreign Press Association's annual tradition an "anal tradition." Then she called it an "anus tradition." Then she winked because the joke was on you.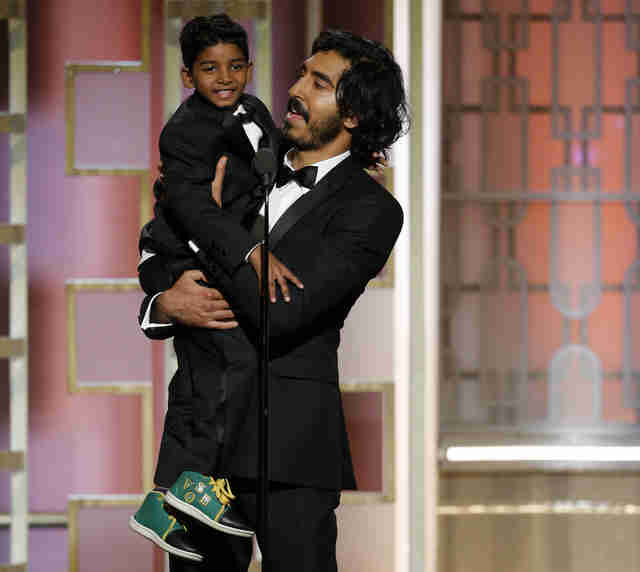 This kid's kicks deserve all the awards
Dev Patel brought out 8-year-old Sunny Pawar to introduce their film Lion, in which they both play protagonist Saroo at different ages. If Pawar's awesome shoes doesn't convince you to check out the movie, we don't know what will.
Amy Schumer taught her movie mom how to read
Amy Schumer and Goldie Hawn are co-starring in Snatched. While introducing the Best Performance by an Actor in a Motion Picture tonight, the duo gave Globes viewers a little preview of the kind of mother-daughter chemistry and hijinks you should expect in the forthcoming action-comedy -- glasses, thankfully, not included. 
Wiig and Carell can make you laugh AND cry
While introducing the contenders for Best Animated Movie, Kristen Wiig and Steve Carell tearfully recounted the first time they both saw animated movies: Carell loved Fantasia, but didn't love that his parents got divorced afterward. Wiig probably would have liked Bambi -- had she not had to put down three of her family's dogs beforehand. You can always count on these two.
Ryan Reynolds and Andrew Garfield got to first base
You've gotta keep you eyes peeled to the screen at all times during the Golden Globes. You never know when you might catch Deadpool kissing Spider-Man. We smell a spinoff!
Meryl Streep shot down the MMA
For her lifetime achievement award speech, the perpetual winner lectured us about art, politics, and resisting hate in the age of President-elect Trump. And then... Streep took a potshot at MMA. "Hollywood is crawling with outsiders and foreigners. If you kick 'em all out, you'll have nothing to watch but football and mixed martial arts, which are not the arts." OK, OK, good point about the diverse population of the entertainment industry, but c'mon, Meryl, what did Conor McGregor ever do to you?
Emma Stone accidentally did a double-hug
And instantly regretted it.
Carl Weathers showed up!
He and his Rocky Buddy Sylvester Stallone awarded Moonlight its Best Drama statue to knock out one hell of a show.
Christian Slater can hardly believe it.
Sign up here for our daily Thrillist email, and get your fix of the best in food/drink/fun.