The 15 Most Outrageous Moments at the 2019 Golden Globes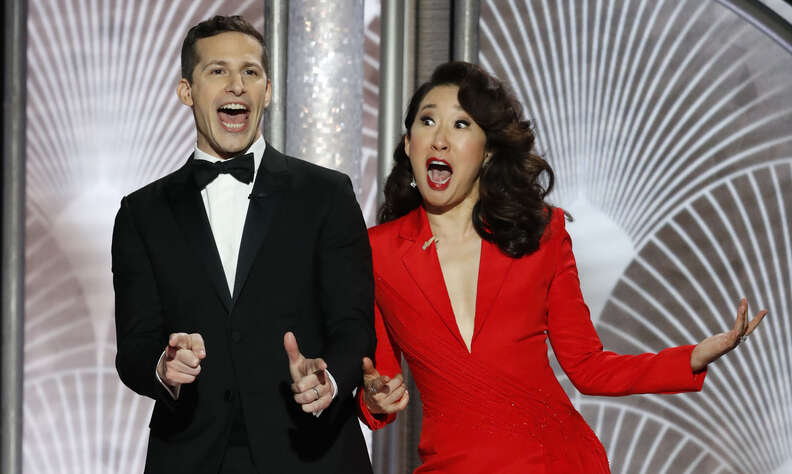 The Golden Globes are known for their messiness, thanks to the flowing booze and dinner party energy. Of course, this year, given the Oscars' hosting fiasco, the Globes got a run for their money, but the Hollywood Foreign Press Association's annual shindig had its share of silly, confounding, and downright surprising moments. Presided over by Andy Samberg and (newly minted Golden Globe winner) Sandra Oh, who chose goofy gags and compliments over burns, the evening featured outbursts from Emma Stone and Lady Gaga, cursing from Patricia Arquette and Steve Carell, and one entertainingly bizarre speech from Jeff Bridges about boats in the greater celebration of movies and TV shows from the past year. Green Book and Bohemian Rhapsody ended up taking home the Comedy and Drama Best Picture trophies, respectively, but the real entertainment came elsewhere.
Fiji water girl photobombs everybody on the red carpet
The biggest star at the Globes isn't a star of the screen. She's even better than that: She's the Fiji Water Girl. After photobombing a handful of celebrities on the red carpet, the internet found a new hero in a young woman holding a tray of water bottles, her eyes set on the camera, a smirk across her face like she knew exactly what was up.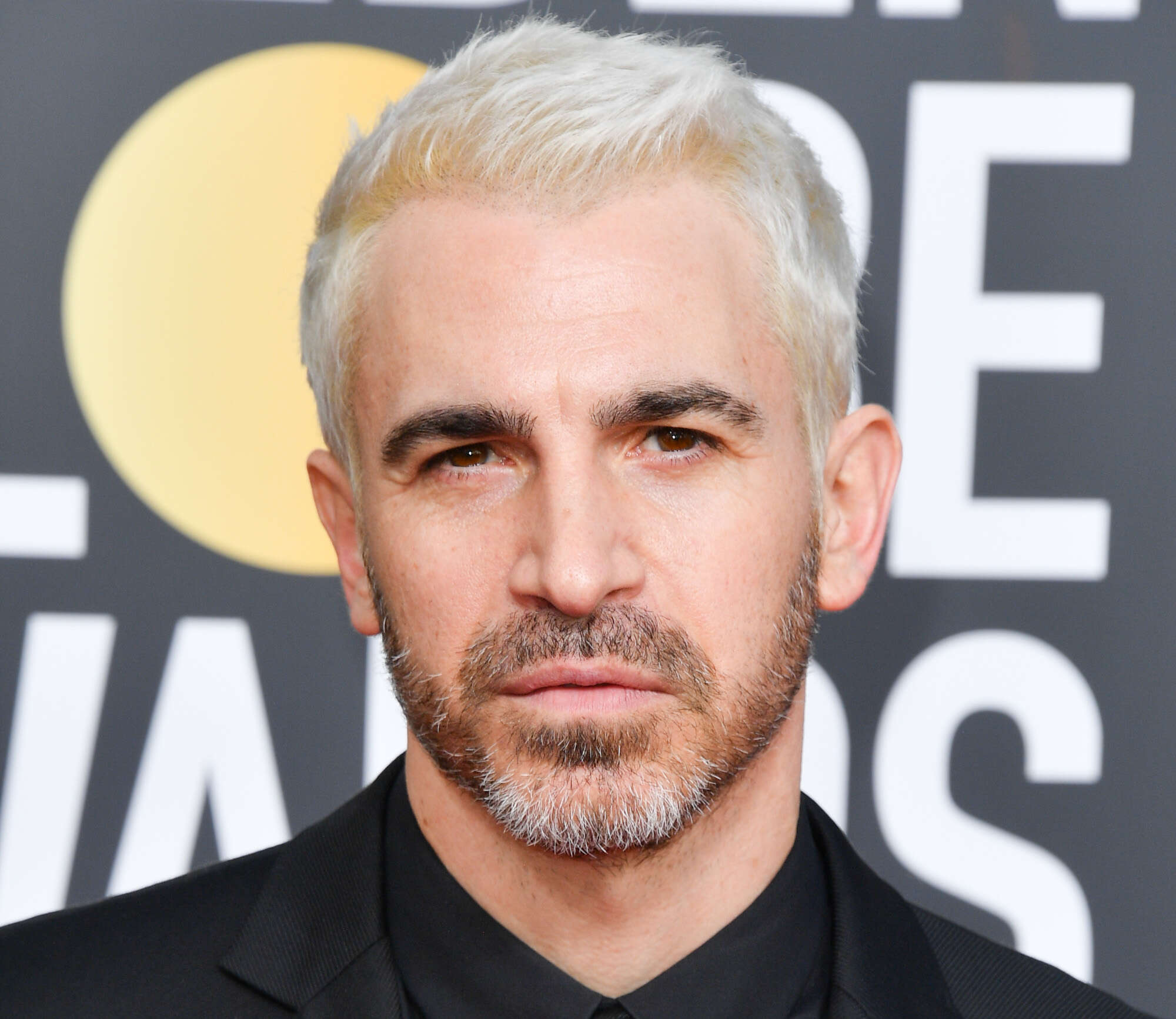 Chris Messina's red carpet reveal: bleach blonde hair
Did you hear that Chris Messina is BLONDE now??? Well, he is, and the look, which Messina unveiled on the red carpet, is dividing the internet between those who stan the change and those who think he looks like a lame cosplayer. He kind of is: The Sharp Objects star is playing serial killer, Victor Zsazs, in the upcoming DC movie Birds of Prey, which explains the hair makeover. But most importantly: Is it hot???
Chrissy Metz called Alison Brie "such a bitch" on the red carpet
Most red carpet conversations we hear on TV have a canned quality to them, but occasionally a "hot mic" catches a celebrity making a comment that they probably didn't want spread out to viewers around the world. That appears to be what happened to This Is Us star Chrissy Metz, who People noticed was asked to introduce GLOW star Alison Brie during a Facebook Live pre-show. "She's such a bitch," said Metz as the camera panned over to Brie, presumably when she thought she was no longer on the air. Merely hours later, Metz denied having said it via Twitter: "I adore Alison and would never say a bad word about her, or anyone! I sure hope she knows my heart." We definitely heard it, so someone had to have said it...
Lady Gaga's dramatic reaction to the "100 people in the room" joke
It's a truth universally acknowledged that there can be 100 people in a room and 99 won't believe in Lady Gaga, but one will and it's Bradley Cooper. Yes, Gaga repeated that phrase so much during her press run for A Star Is Born it became a running joke, one that Sandra Oh was starting to rag on during the opening monologue. But Gaga would not stand for anyone taking issue with her bit. From the crowd she yelled, "It's true!" with gumption. But it was all in good fun. In fact, Oh and Andy Samberg aimed for niceness above all else in their opening. They started out by roasting audience members with compliments, like the one Samberg gave to Michael B. Jordan: "More like Michael B. Buff AF. You a snack Michael." And ultimately, Oh ended with a heartfelt message about the diversity of the honorees.
Emma Stone yelled "I'm sorry!" at Sandra Oh's Aloha joke
Emma Stone issued a mea culpa for one of her most maligned roles from the audience in the middle of the opening monologue. In one of the most notorious incidents of whitewashing in recent years, Stone played a character partially of Asian descent in 2015's Cameron Crowe-directed Aloha. That fact is the the context for Oh's joke that Crazy Rich Asians "is the first studio film with an Asian American lead since Ghost in the Shell and Aloha." (Scarlett Johansson was responsible for the respective whitewashing in GITS.) But Stone evidently felt guilty enough to shout, "I'm sorry!" from her seat. It's not the first time Stone has addressed the issue at hand: She did so shortly after the release, but the off-the-cuff remark was still surprising -- apparently, even to Stone. She told the Los Angeles Times: "It wasn't like I planned it, but I did say it."
Patricia Arquette dropped an F-bomb
Live television isn't as fun as it used to be. After winning the award for Best Actress in a Limited Series or a Motion Picture Made for Television for her role as Tilly Mitchell in Showtime's Escape at Dannemora, Arquette ran down the usual list of "thank yous," which included gratitude shoutouts to the makeup team that helped make her performance so transformative. Referring to the prosthetic teeth that apparently weren't much fun to wear, Arquette reportedly said, "How many fucked-up teeth does one person need?" Thanks to the magic of tape delay, she was bleeped. Thanks to the magic of the internet, anyone can find out exactly what she said.
Andy Samberg and Sandra Oh give flu shots to everyone
What's an awards show without a stunt giveaway to the audience? As Samberg and Oh joked, the Globes guests are fed during the ceremony so there was no need to order pizzas. Instead, they called in some lab coat wearing assistants to deliver flu shots to the crowd. As more than a few observers on Twitter noted after the bit, noted anti-flu-vax comedian Jim Carrey, who was nominated for his work on Showtime's Kidding, was not shown getting a shot. Maybe they didn't reach the TV area.
Steve Carell says Carol Burnett makes Tom Hanks look like an asshole
More cursing! Presenting the first annual Carol Burnett Award for lifetime achievement in television, actor/comedian Steve Carell claimed of Burnett, "It's been said that she makes Tom Hanks look like an asshole." For those not in the know, the joke is that Tom Hanks is notoriously not an asshole. Supposedly. It's a joke that lifetime comedian, entertainer, groundbreaking artist, and all-around impressive person Burnett likely appreciated.
Lady Gaga sobbed after "Shallow" won, even though it was going to clearly win
If there's one thing we know for sure, it's that Lady Gaga loves being very dramatic (see above Lady Gaga moment). The other thing we all knew going into the Golden Globes this year is that "Shallow," the sweeping, glorious duet between Gaga and Bradley Cooper that provides the emotional backbone of A Star Is Born was definitely going to win the Best Original Song category Sunday night. It seems like the only person who DIDN'T know "Shallow" was a shoo-in was Gaga herself, who started pouring tears as soon as the cameras cut to her walking shakily up the steps. Mark Ronson, who co-wrote the song, had to take over the actual victory speech part, while Gaga was "indisposed," wiping her eyes next to him. Gaga's utter disbelief whenever someone compliments her or even suggests nominating her for an award is part of what makes her so freakin' charming. Just goes to show, there can be 100 people in a room and… well, you know the rest.
Maya Rudolph proposed to Amy Poehler
Stealing the spotlight away from the Best Screenplay Award, which ended up going to Green Book, and from Oscars director Glenn Weiss, who popped the question to his wife in the middle of last year's Emmys, Maya Rudolph proposed to her co-presenter Amy Poehler in the middle of the ceremony. Trembling with fear, she presented a ring, and, luckily, the former Parks and Recreation star said yes. As long as they get married at the Golden Globes next year -- and maybe take the hosting duties themselves -- we're all for it.
Christian Bale thanked Satan
Christian Bale is not necessarily thought of as the most jovial movie star. He's a Serious Actor who plays Serious Roles by transforming his physical shape. However, he gave one of the most strangely amusing speeches of the night when he won Best Actor in a comedy for playing Dick Cheney in Vice. He started out by calling the audience a bunch of "lucky buggers" who get to do what they love for a living, and ended up thanking "Satan, for giving him the inspiration" to play Cheney. He pitched starring in a Mitch McConnell biopic, and possibly introduced one of his children as "Banana" and "Burrito." (Burrito Bale would be a good name, though.) It was a wild ride.
Melissa McCarthy was handing out ham sandwiches all night
The good thing about the Golden Globes is that dinner and drinks are handed out before the ceremony. The bad thing is everyone who walks the red carpet pre-show gets none of it, to avoid the constant buzz of clinking silverware during the ceremony's broadcast. Some stars bring their own power bars to survive the event, but for those who forgot their Nature Valleys, Melissa McCarthy was on hand serving up 30 secret ham and cheese sandwiches from LA specialty restaurant Joan's on Third. One of the 30 went to Olivia Colman, who thanked McCarthy for the sandwich during her acceptance speech for Best Actress in a Musical or Comedy for her role as Queen Anne in The Favourite. "I've been handing them out to everyone," McCarthy told Variety. "Next year, I'm bringing hot dogs."
Jeff Bridges taught everyone about boats
During his speech accepting the Cecil B. DeMille Award, Jeff Bridges got downright cosmic as he reflected on his long career and offered some words of wisdom in the form of a nautical metaphor. (Maybe he was thinking about his time filming White Squall?) "I like to think of myself as a trim tab and all of us are trim tabs," Bridges said, referencing the rudders on ocean liners. "It may seem that we're not up to the task, but we are, man. We're alive. We can make a difference. We can turn this ship in the way we want to go, man." The whole thing was oddly soothing, man.
Apparently, 2019 is the year of The Kominsky Method (???)
"Netflix, Netflix, Netflix. Netflix, Netflix, Netflix." That was an actual part of producer extraordinaire Chuck Lorre's acceptance speech after The Kominsky Method picked up a Golden Globe for Best Television Series -- Musical or Comedy, and he has a point. The sheer ubiquity of Netflix has gathered enough inertia to perform a kind of alchemy, turning mundane shows into award-winners. Lorre is better known as the creator of such lowest-common-denominator network hits as Two and a Half Men and The Big Bang Theory, and is not exactly a staple at awards shows. Something strange happened at the Golden Globes, though, and it has become clear that 2019 is the year of The Kominsky Method, a comedy about an aging actor, his aging friends, and all their problems with aging. There are pee jokes, obviously, and tax jokes, and death jokes. "Jokes" being used loosely here. Michael Douglas picked up a Globe for his performance as Sandy Kominsky, and given the small number of voters among the Hollywood Foreign Press Association, we can only assume Netflix used some of its spare billions to "convince" the HFPA to make Kominsky the 2019 Golden Globe Awards' biggest surprise.
Bohemian Rhapsody won Best Picture
The Freddie Mercury biopic Bohemian Rhapsody is clearly a hit at the box office, where it has racked up over $700 million across the globe since its release in November, but it's been consistently overshadowed in the awards race by Bradley Cooper's more critically acclaimed (and, honestly, just way better) rock drama, A Star Is Born. In a surprise twist, Bohemian Rhapsody emerged as the Golden Globes champion, grabbing Best Motion Picture -- Drama from Jackson Maine and Ally just as the ceremony was drawing to a close. What does that mean for Bohemian Rhapsody'sBest Picture Oscar chances later this year? Possibly nothing -- the Globes are always a little wacky and difficult to predict.
Still, it was odd to see Malek make his Best Actor speech and the producers for Bohemian Rhapsody accept their award without once mentioning the film's credited director Bryan Singer, who was fired from the movie under eyebrow-raising circumstances before it was even completed. (Expect to read more about the allegations swirling around Singer in the coming weeks as the competition for the Oscars heats up.) Combined with the Best Motion Picture -- Comedy win for Green Book, the Golden Globes ended in the way they often do: a befuddled shrug.
Sign up here for our daily Thrillist email and subscribe here for our YouTube channel to get your fix of the best in food/drink/fun.