The 14 Most Outrageous Moments From the 2020 Golden Globes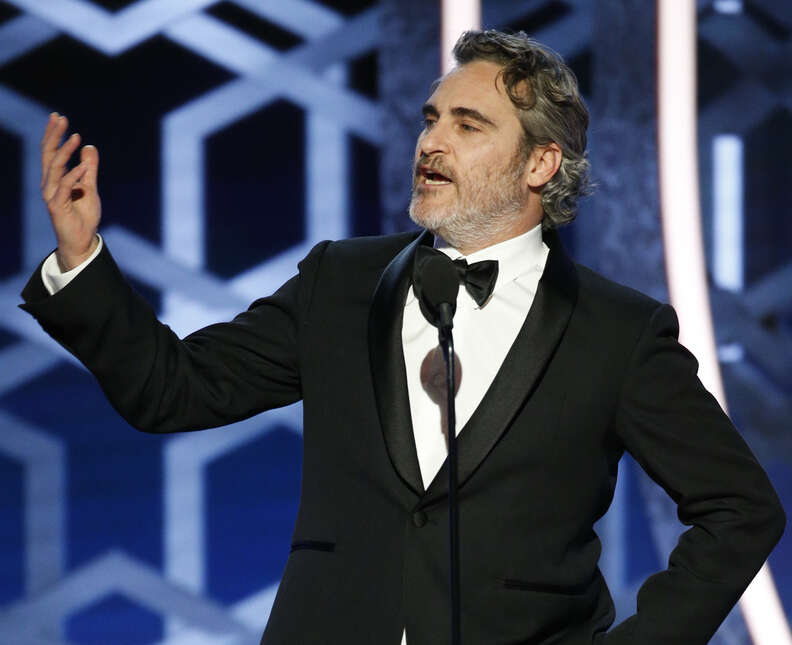 Joaquin Phoenix probably doing a swear.

| Paul Drinkwater/NBCUniversal Media, LLC via Getty Images
Joaquin Phoenix probably doing a swear.

| Paul Drinkwater/NBCUniversal Media, LLC via Getty Images
The Golden Globes aren't just the fun, drunk uncle of awards season; they're largely seen as the bellwether for who will win Oscars a month from now, thanks to the outsize influence the Hollywood Foreign Press Association wields. But hey, they're fun to watch, and Ricky Gervais returns as host because this is basically his only job now. Appropriately, he delivered his opening monologue with a fitting level of insouciant comfort.
And sure, we may have already told you what the best movies and best TV shows of 2019, but we don't get to put on a booze-soaked awards show full of outrageous moments. Here are those moments, from Stellan Skarsgård's weird eyebrow joke to Phoebe Waller-Bridge's explicit Obama confession.
Rita Wilson's beauty crisis
Awards show glam is a very serious business usually taking a team of artisans to get stars red carpet ready. But what happens when someone just doesn't show up? Rita Wilson suffered this crisis on Globes night, tweeting at 4:47 p.m. ET, "My hair and makeup person is one hour and twenty minutes late." At 4:55: "Hair and makeup still not here. Trying to be zen." A minute later: "Booked this person in September. Hair and makeup still not here." And then, radio silence. We don't know what happened after that, but by about 7:55 p.m. we spotted Wilson with husband Tom Hanks, who received the Cecil B. DeMille Award, on the E! Red Carpet. Phew.
Ricky Gervais' brutal opening monologue
Walking out on stage with a glass of beer in his hand and a smirk on his face, fourth-time host Ricky Gervais arrived to ruffle feathers. During his other gigs in 2010, 2011, 2012, and 2016, he earned gasps and cackles from the audience by taking aim at celebrities like Mel Gibson, Tim Allen, and Caitlyn Jenner. In what he repeatedly described as his last hosting gig, the former star of The Office and Extras dutifully ran through punchlines about quasi-edgy topics: Felicity Huffman's prison sentence, Leonardo DiCaprio's dating record, Martin Scorsese's height, and James Corden's appearance in Cats all got referenced. (A joke about Judi Dench, Corden's Cats co-star, licking her "mange" got partially mangled by trigger-happy NBC censors.) Even if his "bad boy" schtick can be tiresome, Gervais had a handful of winningly antagonistic lines, like when he reacted to groans about a Jeffrey Epstein joke with, "Sorry, I know he's your friend." His routine might not have won over everyone in the audience, particularly stars promoting Apple shows, but it will probably get him asked back for another "final" performance in a few years.
Tom Hanks' reactions to Gervais' jokes
NBC should have just kept a camera trained on Tom Hanks for the entirety of Gervais' monologue. For every cringey joke, Hanks had the perfect face, looking part befuddled, part disgruntled, part ready to jump out of his skin, and occasionally amused. The first cut to Hanks came after Gervais made a crack about Felicity Huffman and her college admissions scandal, and they kept coming. The memeable screenshots immediately took on a life of their own on Twitter. Expect these to fill your feeds for years to come.
Ramy Youssef: "I know you didn't watch my show"
One of the most satisfying wins of the night went to Ramy Youssef for his excellent Hulu series Ramy about a Muslim millennial coming of age in New Jersey. Up against Bill Hader, Paul Rudd, and Ben Platt in the category Best Actor in a TV Series, Musical or Comedy, Youseff himself knew what many people were thinking: "Ramy who?" So after thanking his God for the win -- a dig to Gervais' abrasive opening monologue -- the comedian quipped, "I know you didn't watch my show" to everybody in the room. It was a direct and funny acceptance speech, which hopefully convinces you to start streaming one of the most underrated shows of 2019.
Stellan Skarsgård thanks his eyebrows
Picking up his first Golden Globe for his performance as a Soviet bureaucrat in HBO's Chernobyl, actor Stellan Skarsgård gave exactly the type of goofy, free-wheeling acceptance speech award shows need. "I should thank one person, and that is -- Milos Forman, who said to me a couple years ago, 'Stellan, I've seen so many films with you, but I never remember your face!" said Skarsgård, doing an impression of the late Czech director. He said it was because he didn't have any eyebrows, then ended his speech by thanking Chernobyl's makeup designer Daniel Parker for giving him "a couple of eyebrows." Shout-out to eyebrows!
Bong Joon Ho tells everyone to grow up and read the subtitles
While accepting Parasite's well-deserved award for Best Foreign Language Film, South Korean director Bong Joon Ho, though his translator Sharon Choi, urged everyone to grow up already and get used to reading subtitles in foreign movies. "Once you overcome the one-inch tall barrier of subtitles you will be introduced to so many more amazing films," he sardonically told the audience, to sheepish laughs. His speech was quick, but he ended it by saying, "I think we use only just one language, the cinema."
Beyonce and Jay-Z stroll in an hour late and leave early
When you're Beyoncé, there's really no need for a red carpet. Every room you're in is your personal red carpet. In the case of this year's Golden Globes, Beyoncé, a nominee for Original Song for "Spirit" featured in The Lion King, skipped the red carpet -- and the beginning of the whole affair. She and her husband Jay-Z showed up after the show was well underway, appearing in the room as Kate McKinnon was giving a heartfelt tribute to Ellen Degeneres about an hour into the show, recipient of the Carol Burnett Award. They stayed for two hours and 15 minutes and then peaced right after (or even during?) Joaquin Phoenix's Best Actor speech. Talk about a power move!
Jason Momoa wears tank top, gives Brian Cox directions
This moment was mercifully brief because watching it too long would have been like staring directly into the sun during the eclipse. As Succession's Brian Cox was slinking through aisles to get to the stage to accept his award for Best Performance by an Actor in a Television Series, Drama, he got a bit lost. Understandable -- the path doesn't seem particularly clear! But there, looking like a hot goth guardian angel, was Jason Momoa wearing his signature man bun and a very Aquaman-esque black tank top to point Cox in the right direction with his huge bare arms. (For the record, Momoa was wearing a black velvet jacket on the red carpet.)
Phoebe Waller-Bridge jokes about masturbating to Obama in Fleabag
When former President Barack Obama revealed his favorite movies and TV shows of 2019, his inclusion of Fleabag Season 2 raised some eyebrows. Not because Fleabag isn't great -- obviously, it is -- but because Phoebe Waller-Bridge's character is caught masturbating to one of Obama's speeches in the first season of Fleabag. So when the series won the prize for Best TV Series, Musical or Comedy, Waller-Bridge decided to address the matter head on. "Personally, I would also like to thank Obama for putting us on his list," she said. "And as some of you may know, he's always been on mine. And if you don't get that joke, please watch Season 1 of Fleabag really, really quickly."
Ansel Elgort sings his heart out
Introduced as the star of Steven Spielberg's upcoming West Side Story remake, Ansel Elgort made the most of his presentation of the Best Original Song Award alongside Dakota Fanning. The trophy went to Elton John and Bernie Taupin for their song "I'm Gonna Love Me Again" in Rocketman, but we'll remember Elgort's bizarre decision to belt out the name of the award more than anything else about the category while Fanning stood there looking profoundly embarrassed. What exactly was going through his mind? Was it planned? Spontaneous? These are the mysteries of Elgort.
Sacha Baron Cohen takes a shot at Mark Zuckerberg
While introducing a clip of the Best Picture-nominated satire Jojo Rabbit, Sacha Baron Cohen couldn't resist making a joke about his new nemesis. "The hero of this next movie is a naive, misguided child who spreads Nazi propaganda and only has imaginary friends," said Cohen. "His name is Mark Zuckerberg." The comments came after the Who Is America? and The Spy star criticized the powerful tech CEO during a speech in November of last year while accepting an award at the Anti-Defamation League's Never is Now summit, where he described Facebook as "the greatest propaganda machine in history." Don't mess with Borat.
Brad Pitt shouts out his best bro, Leonardo DiCaprio
While accepting his Golden Globe for Best Supporting Actor for his performance as stuntman Cliff Booth in Once Upon a Time… in Hollywood, Brad Pitt ribbed his co-star Leonardo DiCaprio (or, as he affectionately calls him, "LDC"), while thanking him and complimenting his fellow nominees. After thanking "the man himself," director Quentin Tarantino, Pitt threw some gratitude to DiCaprio as well, though he had one note about his performance in Titanic: "I would've shared the raft." Good to know even Brad Pitt loses sleep over these things. Stars, they're just like us!
Joaquin Phoenix's speech was censored so many times it was nearly unintelligible
Joaquin Phoenix's (possibly drunken) speech for his Joker win was a real roller coaster. After thanking the HFPA for going plant-based, he started praising his fellow nominees, but cursed so many times that the audience at home had basically no idea what he was saying. He then choked up during a shout-out to his fiancée Rooney Mara, resulting in a long pause and a pivot back to pleading with his industry cohorts not to take private jets from Los Angeles to Palm Springs, at which point the music played him off. Do not try to take away their private jets, Joaquin!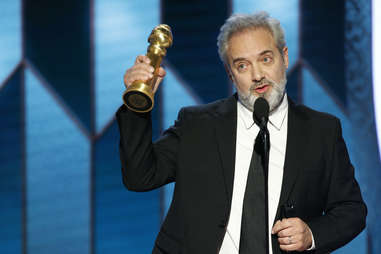 '1917' was the night's surprise winner
Unless you've been playing very close attention to the buzz in Hollywood, the big winner of the night probably came out of nowhere. The World War I drama 1917 -- shot as if it were done in a single take -- ended up taking Best Motion Picture, Drama over heavy-hitters like The Irishman, Marriage Story, and Joker. It was the second of 1917's shocking wins: Earlier in the night Sam Mendes won Best Director over Martin Scorsese, Bong Joon Ho, and Quentin Tarantino. Never underestimate a good gimmick.
Need help finding something to watch? Sign up here for our weekly Streamail newsletter to get streaming recommendations delivered straight to your inbox.