Watch These 9 Horror Movies After 'Get Out'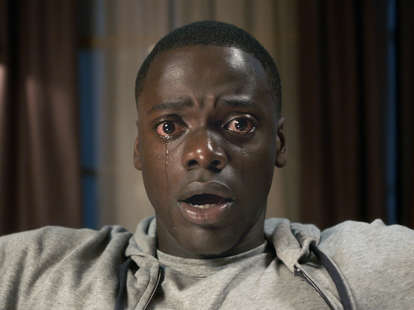 It's official: The highly entertaining and insightful horror film Get Out is a bona fide hit, earning more than $100 million and a bevy of positive reviews. Those who know writer/director Jordan Peele saw it coming; despite being best known for his sketch work and impressions on Key & Peele, the comedian is also a huge horror-movie fan.
So if you just got out of Get Out and you're looking for something similar to follow it up with, we'd recommend one of these. And hey, if you watch enough of them, maybe you'll make the next big horror movie one day.
The Wicker Man (1973)
Just as Get Out has a hero who unwittingly wanders into a small, welcoming, gradually more ominous community, so does this eerie 1973 horror classic, about a detective (Edward Woodward) who visits an island commune to investigate the disappearance of a young girl. Both movies tap into that unsettling feeling that arises when you realize that you're in a foreign land, full of strange people who make you feel... weird. Something is just kinda off -- and dangerous. The Wicker Man's flower-power inhabitants live up to that aura of creepiness by... bringing the fire, so to speak.
Where to watch it: Rent on iTunes, Amazon, or YouTube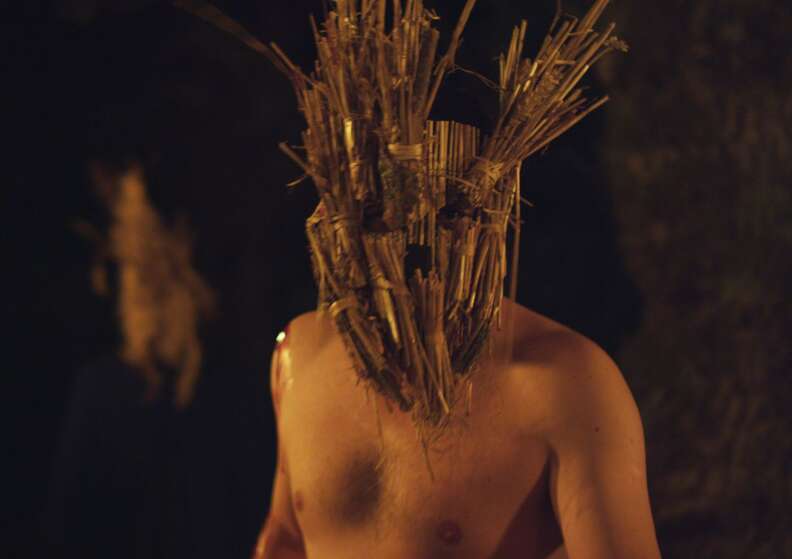 Kill List (2011)
I'm always game to recommend this great British import, but once you see it you'll know why. Like Get Out, Kill List deals with secret societies that are up to horrific, clandestine behavior. Their end game is one of the most shocking reveals in modern movie history. After sucking you up with a straightforward crime movie premise, Kill List descends into darkness, unleashes violence, slams your brain on the floor, and leaves you just a bit shaken when it's all over.
Where to watch it: Stream on Shudder and Hulu; rent on iTunes, Amazon, and YouTube
Invasion of the Body Snatchers (1956) and (1978)
Imagine meeting up with a bunch of friends for dinner and a movie, but all you can focus on is how weird they're acting. You've known these people for years, but you've never seen them like this. You mention this feeling to other people, and they claim to have no idea what you're talking about. So how long before you start to think that it's not your friends who are crazy... it's you? The paranoia is just one of the central themes of Jack Finney's 1954 novel, and it pops up in different disguises in both the 1956 and 1978 movie adaptations. The former taps into the "Red Scare" while the latter is enmeshed in the late-'70s "self-help" craze, but they both address one of our most primal fears: that everyone we know has gone crazy. Or we have.
Where to watch it: Rent both on iTunes, Amazon, or YouTube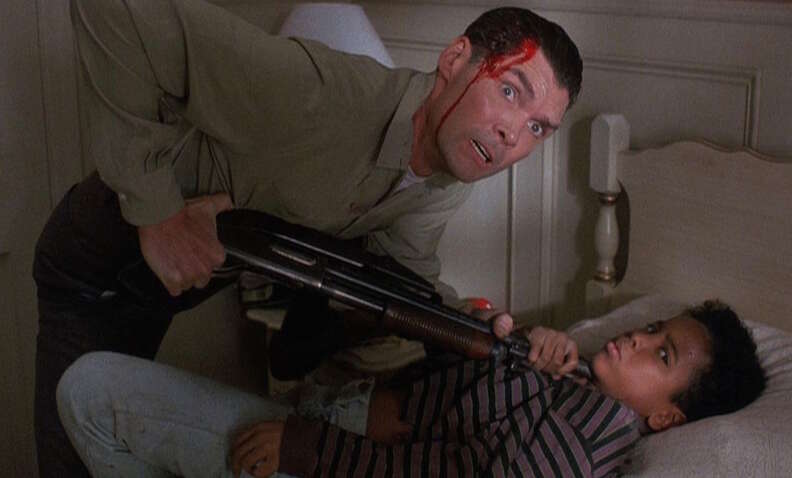 The People Under the Stairs (1991)
If you're looking for another dark yet playful horror story about black people who stumble upon a nefarious scheme cooked up by deviant white people, look no further. Wes Craven's willfully bizarre and (of course) wildly underrated horror-comedy tackles issues of race and class system as a young "street kid" struggles to find his way out of a house of ceaseless horrors. Novel and progressive in the coolest, quietest ways, The People Under the Stairs is a ton of fun, in a pulpy, intelligent, and all-around freaky way.
Where to watch it: Rent on Amazon, YouTube
The Amityville Horror (1979)
If you were wondering where Get Out got its title, at least partially, look no further than this spooky1979 supernatural smash hit in which an evil house basically tells an average white family to (and I quote) "Get out!" It was all over the posters, too. And then Eddie Murphy went and made "Get out!" a classic punch line when he described how a black family would deal with the horrors of Amityville. Warning: Eddie curses!
Where to watch it: Stream on DirectTV, STARZ Play; rent on iTunes, Amazon, and YouTube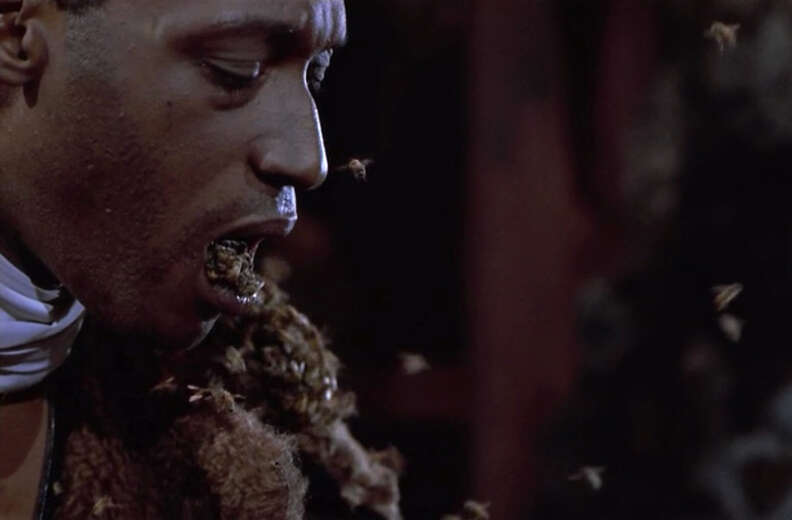 Candyman (1992)
Very few horror films tackle the horrible ramifications of racism, but this dark and ominous collaboration between writer Clive Barker (Hellraiser) and director Bernard Rose (Immortal Beloved) does an admirable job, while delivering all the horror-movie goods. It's about a well-meaning (white) researcher who is looking into the sordid history of a low-income (black) community. She soon comes to realize that the neighborhood is being haunted by a hook-handed madman who once suffered endless tortures simply because he fell in love with a white woman. This is pretty brave and audacious stuff for a wide-release horror flick, and that's just one of the reasons that Candyman is fondly remembered by Barker fans and horror freaks alike: It's smart, it's challenging, and it's really quite scary.
Where to watch it: Stream on STARZ Play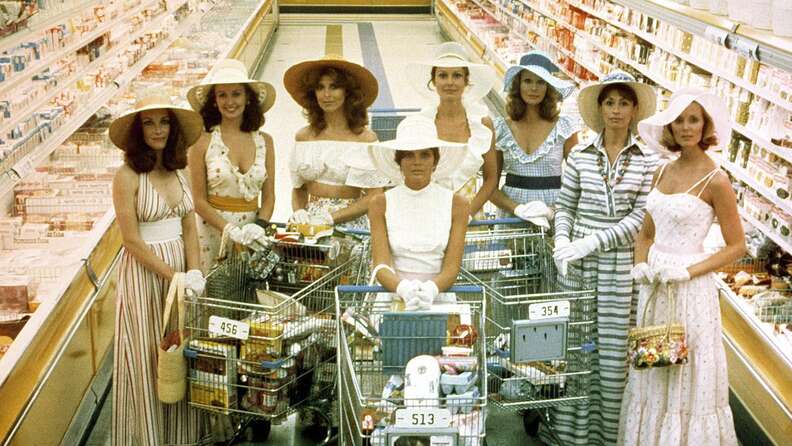 The Stepford Wives (1975) and (2004)
A young housewife slowly comes to realize that something is very, very wrong with all of the women in her new hometown of Stepford, but it's not until two of her closest friends turn into homogenized conformists that she starts to discover the truth: The housewives of Stepford have been replaced by, well, let's not spoil the whole thing. Based on a clever Ira Levin (Rosemary's Baby) novel, this mid-'70s adaptation may feel a bit dated to modern viewers, though you'll want to track it down before settling for the Nicole Kidman-led remake.
Where to watch it: Rent the 2004 version on iTunes, Amazon, and YouTube
Sign up here for our daily Thrillist email, and get your fix of the best in food/drink/fun.
Scott Weinberg is a film writer and critic who has written for outlets such as
Playboy
, FEARnet, and Nerdist. He tweets @scotteweinberg but ignores mean people.