10 Behind-the-Scenes Nightmares That Became Great Movies
Last month, Star Wars fans took a collective gasp when news broke that 21 Jump Street and The LEGO Movie directors Phil Lord and Chris Miller were fired from the untitled Han Solo film -- just three weeks shy of the movie's completion. Fans wondered what this meant for Lucasfilm, whose first attempt at a Star Wars spin-off "anthology" film, Rogue One, faced similar production woes. Was the Han Solo movie destined for critical annihilation? Or could it survive the turbulent trip to the big screen?
We'll know when the movie rolls out next year, but complicated productions aren't a new thing, nor do they spell disaster. Over 100 years, from The Golden Age studio system to director-driven blockbusters, Hollywood has seen its fair share of similar woes, while still managing to create masterpieces out of the scraps. If these 10 examples are any indication, a troubled production doesn't mean much when it comes to crafting a cinematic legacy.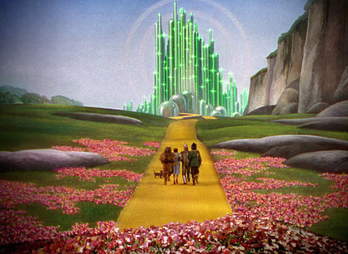 MGM
The Wizard of Oz (1939)
Directed by: Victor Fleming (with contributions by Richard Thorpe, George Cukor and King Vidor)
Starring: Judy Garland, Frank Morgan, Margaret Hamilton, Ray Bolger, Jack Haley, Bert Lahr
What went wrong: What didn't? Rushed into production by MGM after the success of Disney's Snow White and the Seven Dwarfs, the Technicolor fantasy musical was immediately met with problems. As many as 16 writers -- and potentially more -- worked on the screenplay, which was constantly reworked throughout production. Actor Buddy Ebsen, the original Tin Man, was replaced by Jack Haley after suffering an allergic reaction to his silver makeup that was so bad he wound up in critical condition. Wicked Witch of the West actress Margaret Hamilton was severely burned on set and spent six weeks in the hospital. Four different directors ultimately worked on the film, though Victor Fleming gets the bulk of the credit. On top of all that, the pressures on star Judy Garland to retain a girlish figure led to an obsession with dieting and a barbiturate addiction that eventually killed her at age 47.
How it turned out: Despite the torrid production, the result is one of the most beloved movies of all time. The Wizard of Oz has been viewed more than any other film in television syndication history and is a pop culture behemoth, with countless references and allusions in other art and media. It was nominated for six Academy Awards, winning two, and received an honorary juvenile acting award for Garland.
MGM
Gone with the Wind (1939)
Directed by: Victor Fleming (but also George Cukor and Sam Wood)
Starring: Vivien Leigh, Clark Gable, Olivia de Havilland
What went wrong: George Cukor spent a week on The Wizard of Oz before MGM replaced him with Victor Fleming... who also replaced him as director of Gone With the Wind, reportedly at the behest of actor Clark Gable. Rumor has it that Gable had had a fling with a male, silent film star, a personal friend of Cukor, which caused the rift. Other reports claim that Cukor's "snail-like" filming pace frustrated legendary producer David O. Selznick. Cukor's firing was so late into production -- three weeks before the scheduled wrap, the exact number of weeks Lord and Miller had left on Han Solo -- that producer Selznick estimated "three solid reels" of his work appears in the final film.
How it turned out:Gone With the Wind won 12 Academy Awards, including Best Picture, has perhaps the most famous final line in all of cinema, and, when adjusted for inflation, is the highest-grossing movie of all time.
Universal Pictures
American Graffiti (1973)
Directed by: George Lucas
Starring: Richard Dreyfuss, Ron Howard, Cindy Williams, Harrison Ford
What went wrong:American Graffiti, George Lucas's pre-Star Wars project that first united him with Harrison Ford, was marred with problems from the beginning. Lucas wrote a story treatment for the film, based on his teen years in Modesto, California, and hired pal David Picker to write the screenplay. "It was overtly sexual and very fantasy-like," Lucas later said of Picker's script, which he rejected. He reworked the screenplay with different writing partners, but had difficulty finding the money to make it. (Eventually, Francis Ford Coppola came aboard as a producer and Universal Pictures backed the project.) The filming itself was laborious: A member of the production team was arrested for growing marijuana, location permits were denied, Ford was arrested in a bar fight and was drunk during most of his scenes, an actor set fire to Lucas's hotel room, Richard Dreyfuss' head got sliced open the day before he was set to film close-ups, and two camera operators were almost killed filming the movie's climactic race scene.
How it turned out: The film was an enormous critical and box office success, and was nominated for the Academy Award for Best Picture. It launched Ford's career and served as a successful transition to more adult roles for both Dreyfuss and Ron Howard. And without American Graffiti, there'd be no Star Wars.
20th Century Fox
The Exorcist (1973)
Directed by: William Friedkin
Starring: Linda Blair, Ellen Burstyn, Max von Sydow, Jason Miller
What went wrong: Director William Friedkin used several unorthodox methods to elicit responses from his actors. Linda Blair, just 12-years-old during filming, was yanked around on a harness to mimic demonic possession, as was her onscreen mother (Burstyn), whose screams of suffering were used in the final cut of the film, much to her chagrin. Friedkin also slapped Father William O'Malley to elicit an emotional reaction, which offended his Catholic crew members, and fired blanks at actor Jason Miller for a take. The lack of US diplomatic relations with Iraq meant that the prologue was filmed by Friedkin using a British crew and agreeing to several Iraqi government demands. Many also believed the film to be cursed after fires mysteriously broke out on set. By the end of production, nine people involved with the film had died.
How it turned out:The Exorcist was the first horror film to be nominated for Best Picture at the Academy Awards, and received 10 nominations overall. Adjusted for inflation, it's the 11th highest-grossing film of all time. It routinely tops the lists of best horror films ever made.
Universal Pictures
Jaws (1975)
Directed by: Steven Spielberg
Starring: Roy Scheider, Robert Shaw, Richard Dreyfuss
What went wrong: Steven Spielberg, just 27-years-old when he was hired to direct Jaws, famously insisted his shark attack drama be shot in the ocean instead of a tank. Though creatively ingenious, the decision rattled the production, as the Martha Vineyard's location was beset by bad weather, causing delays that ballooned the film's budget from $4 million to $9 million and royally peeved the actors.
"I was pretty naive about mother nature and the hubris of a filmmaker who thinks he can conquer the elements was foolhardy," Spielberg later admitted toAin't It Cool News.
The shoddy mechanical shark, nicknamed Bruce, was also a giant problem. But, blessedly, the technical issues with Bruce led to Spielberg's "less is more" approach, and he shifted focus to the actors and their reactions instead of the monster, which built suspense and turned the movie into an instant classic.
How it turned out:Jaws revolutionized the film industry by creating the summer blockbuster phenomenon and becoming the highest-grossing film of all time (until Star Wars stole the title in 1977). The movie made Spielberg a superstar, has one of the most famous soundtracks of all time, and is often considered one of the greatest films ever made.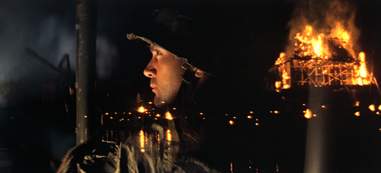 Miramax Films
Apocalypse Now (1979)
Directed by: Francis Ford Coppola
Starring: Marlon Brando, Martin Sheen, Robert Duvall
What went wrong:Apocalypse Now was scarred from the get-go. George Lucas was originally tapped to direct, with Coppola as producer, but that version of the film languished in development hell for years. Coppola finally took the project on himself, and was met with a series of woes: he fired lead actor Harvey Keitel and replaced him with Martin Sheen, who was battling alcoholism and suffered a heart attack during shooting. The stress of the shoot led Coppola to have a seizure. Booze and drugs were a big problem on set, with the actors and crew reportedly being drunk or high through much of filming.
"Ask anybody who was out there, we all felt like we fought the war," actor Dennis Hopper later said.
The weather in the Philippines, where the film was shot, also compromised many of the sets, and wild animals and tropical illnesses terrorized the crew. Veteran actor Marlon Brando brought his own set of problems, namely arriving on set at around 300 pounds, a far cry from the lean fighting machine Coppola had envisioned for the role of the mystical Colonel Kurtz. What was meant to be a six-week production eventually took 68 weeks to complete. The set troubles were so extraneous that it spawned a famous making-of documentary, Hearts of Darkness: A Filmmaker's Apocalypse, directed by Coppola's wife, Eleanor.
How it turned out:Apocalypse Now won the Palme d'Or at Cannes, was nominated for Best Picture at the Oscars, and despite initial mixed reviews, is considered one of the greatest films ever made.
Columbia Pictures
Tootsie (1982)
Directed by: Sydney Pollack
Starring: Dustin Hoffman, Jessica Lange, Teri Garr
 
What went wrong: Production delays, issues with makeup, and a troublesome actor all contributed to the minor disaster that was the set of Tootsie. Dustin Hoffman, who plays a volatile performer disguising himself as a woman to achieve fame, was as tempestuous as his filmic counterpart, reportedly quarreling so badly with Sydney Pollack that the director told The New York Times, "He sees every picture as what he calls a 'silent war.' And he's fought with most of his directors. I think if he would give a director half a chance, and not assume that the director is trying to kill him, he would see that most directors want what he wants, which is the best possible picture."
How it turned out: The film was nominated for 10 Academy Awards, including Best Actor for Dustin Hoffman. Jessica Lange won the Oscar for Best Actress in a Supporting Role. It was the second highest-grossing film of 1982, after E.T.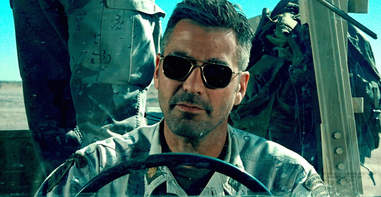 Warner Bros. Pictures
Three Kings (1999)
Directed by: David O. Russell
Starring: George Clooney, Mark Wahlberg, Ice Cube
What went wrong: Director David O. Russell reportedly shut screenwriter John Ridley (12 Years a Slave) out of the filmmaking process, with Ridley claiming he never saw the script changes until a year later, when he received a copy without his name on it. The filming process was equally conflicted. The studio, worried about tensions in the Middle East, cut the 80-day shooting schedule to 68 and lowered the budget. Russell's improvisational style proved an issue with the cast, with actor George Clooney later saying, "There's an element of David that was in way over his head, as brilliant as the film is. He was vulnerable and selfish, and it would manifest itself in a lot of yelling." Clooney, who was still filming ER at the time, was urged to drop out of filming, but stayed on anyway, and was a protector of the crew, who he defended from Russell's outbursts. During one heated scene, Russell reportedly threw an extra to the ground, which resulted in a physical fight between the director and Clooney.
How it turned out: Three Kings was a critical and box office success. It also marked Clooney's successful transition from television actor to cinematic leading man.
Warner Bros. Pictures
Mad Max: Fury Road (2015)
Directed by: George Miller
Starring: Tom Hardy, Charlize Theron
What went wrong: The 2015 sequel to Mel Gibson's post-apocalyptic '80s adventure series was no easy sojourn to screen. The film was in development hell for years, with the first efforts to resurrect the series as early as 1998. The September 11, 2001 terrorist attacks further delayed production, as did the death of actor Heath Ledger, who was set to take on the title role. By 2010, actor Tom Hardy had the part, and in 2012 filming began in the Namib Desert of Africa. Filming went over-schedule and over-budget, and upset the Namibian government, who worried the production was damaging sensitive terrains. Extensive reshoots occurred in 2013 to perfect the film's rough cut. Actors Tom Hardy and Charlize Theron were also reportedly at ends during filming, a claim later confirmed by co-star Zoë Kravitz.
How it turned out:Mad Max: Fury Road was a box office and critical success, receiving 10 Academy Award nominations, including Best Picture. It has a 97% on critical aggregator Rotten Tomatoes, making it the best-reviewed film of 2015 (and our favorite of that year).
LucasFilm/Walt Disney Pictures
Rogue One: A Star Wars Story (2016)
Directed by: Gareth Edwards (and probably Tony Gilroy)
Starring: Felicity Jones, Diego Luna, Donnie Yen
What went wrong: When Disney purchased Lucasfilm in 2012, Lucasfilm president Kathleen Kennedy promised that the new wave of Star Wars films would be helmed by "less established" directors to give the films an energized, fresh feel. Fans were optimistic after Godzilla director Gareth Edwards was hired to helm the first anthology film, Rogue One, about a team of Rebels who steal the Death Star plans. But Edwards' rough cut didn't live up to Disney standards, and, if reports are to be believed, the Mouse House handed reshoot duties to Tony Gilroy, who was paid $5 million to rehabilitate the film. According to John Gilroy, one of three editors of Rogue One and brother of Tony, much of the movie's third act was changed in reshoots, which led to additional filming for the rest of the film, too. "Everything was connected to everything so doing something to one venue would change all the other venues, so really we had to... we were working until the last minute," he told Yahoo! Movies. According to some rumors, as much as 40% of the film was reshot.
How it turned out:Rogue One grossed over $1 billion at the global box office, received two Academy Award nominations, and was overall very well-received by both fans and critics.
Sign up here for our daily Thrillist email and subscribe here for our YouTube channel to get your fix of the best in food/drink/fun.
Lindsey Romain is a writer and editor living in Chicago. She covers politics for Teen Vogue and has also appeared in Vulture, Birth.Movies.Death, and more. Follow her on Twitter @lindseyromain.