Gordon Ramsay Is Not the New Anthony Bourdain, And That's Perfectly Fine
The celebrity chef turns to travel hosting in 'Gordon Ramsay: Uncharted.'
Nearly two months after Anthony Bourdain's death, Nat Geo announced their new food travel series, Gordon Ramsay: Uncharted. The program, which just ended its first six-episode season on Sunday and is streamable on Hulu, follows the barking celebrity chef in an uncharacteristic persona -- Gordon Ramsay, the curious guy -- as he travels to some misrepresented regions, learns the local culture, and attempts to make a meal that represents each community he visits. The gist is simple enough. Once the news was announced, however, the response from critics was -- how shall we put this? -- unkind. The timing was unfortunate, but the question still feels relevant: Is Gordon Ramsay the next Anthony Bourdain? Is this comparison even fair?
"We took a lot of flak on the announcements with Nat Geo about rivaling Tony Bourdain, and that was incorrect," the celebrity chef explained to a room full of journalists during the 2019 Television Critics Association summer tour. "Judge the program and the integrity and the team that's gone to hell and back to make this work."

It's a simple sentiment that may be hard for some viewers. If one was to look at the Bourdain brand (he'd probably despise being called a brand) and compared it to Ramsay's, it's easy to see the differences that set the two outspoken food personalities apart.
Anthony Bourdain made it his mission to travel the world and explore cultures unfamiliar to average viewers on his own punk rock terms, which had Bourdain moving on from A Cook's Tour, his first series which aired on Food Network, after just two seasons. His need for authenticity in his work caused him to part ways with The Travel Channel after nine successful seasons of No Reservations, the series he was most famous for.
Gordon Ramsay, on the other hand, is probably best known for shouting obscenities at reality show contestants in any number of kitchens, be it the ones he commands in Fox's Hell's Kitchen and Masterchef, the rat-infested ones he attempts to fix in Fox's Kitchen Nightmares, or the bright and kid-friendly one featured in the more light-hearted Masterchef Jr. If you're wondering why we're not mentioning Gordon Ramsay's 24 Hours to Hell and Back, well… that's a televised trainwreck we're still trying to forget.
All that said, it's obvious that the Ramsay brand is strong. And when you put a pause on any judgment you may have over his new travel-themed show, the Nat Geo team-up does make some sense. Not only does Fox own Nat Geo, broadening Ramsay's repertoire on the small-screen helps him to learn a few new things while making a bunch of mistakes in the process. Because in Uncharted, Gordon Ramsay fails -- a lot. He's put in uncomfortable, compromising situations. And, much like his sweaty appearance on Hot Ones, viewers regularly see the Michelin Star-winning chef get taken down a few notches.
"I love that vulnerability, I think," Ramsay continued, recalling an episode of the series they shot in Laos. "I'd never been in a kayak before, driving down the road before we hit that incredible river, the Mekong. And Mick [Oshea, Laos adventurist] said, 'How much kayaking have you done?' I said, 'Dude, look at the size of me. I capsize every time I sit in a kayak.'"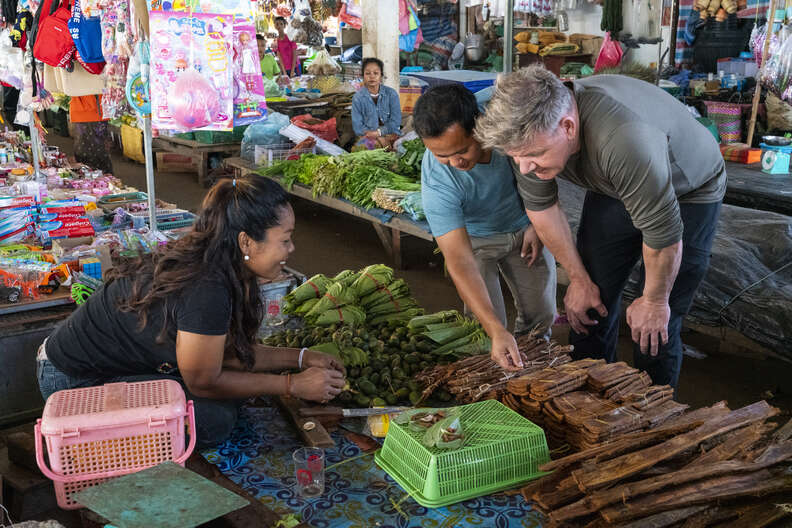 Whether he's being rained on by ant larvae in Laos or clinging on the side of a cliff to harvest mushrooms in Morocco, Uncharted pushes the Brit outside of his comfort zone, regularly. It's all fun to watch, but let's not mince words here. Gordon Ramsay isn't going to replace Anthony Bourdain as the new leader in food/travel programming, and that's just fine.
Bourdain had a hunger to hop on planes to the most remote parts of the world and immerse himself in the culture in a way TV audiences had never seen before. He not only asked the right questions, he sat back and let the locals do the talking. He took part in odd customs and always paid the utmost respect to every person he visited and drank with. Throughout his tenure, we watched Bourdain eat things many Americans would not even consider, like a raw seal eyeball and roasted sheep's testicles, without that much pause.
In Ramsay's Nat Geo series, our host regularly exhibits baffled disgust at the notion of putting things like beetle grubs and sheep's lungs in his mouth. And while it seems that Ramsay is out to continue pushing the message that traveling, meeting different cultures, and discovering their food is a worthwhile method of connecting with others and ourselves, he still has an uphill battle ahead of him.
Can Gordon Ramsay push his hotheaded persona out of the way and truly become a student of the world? Honestly, that remains to be seen. The first season of Uncharted -- Ramsay visits Peru, New Zealand, Morocco, Hawaii, Laos, and Alaska -- still very much exists in the master-chef realm that Gordon lives, breathes, and eats in. Unlike Anthony Bourdain, who worked regularly at telling stories that could survive without being hoisted up by the power of his own celebrity, Gordon Ramsay: Uncharted is slathered in Gordon Ramsay.
The moments without Gordon Ramsay on-screen are filled with the chef's voice-over narration filling in the gaps. Maybe this is by design, giving viewers a different perspective of the man many know as a profanity-spewing kitchen nightmare of a culinary guru, but all one needs to do is wait a moment, and his ego will eventually poke through.
Ego resistance is a strong force, though, and it's one that Ramsay seems hell-bent on overcoming. The show's got a raw vulnerability about it -- this is documentary programming, meaning no rehearsals -- and that may be the real draw here. "I don't like hanging around in hotels and sunbathing, so when we landed, we hit the ground, and then we got on with it," Ramsay explained. "Because for me, it wasn't about a flash environment. It was about getting to the crux and the heartbeat and what made that particular region sing."
Look, this isn't the first time a celebrity chef has led a travel show. After Bourdain changed the food TV narrative, celebrity chefs like Marcus Samuelsson, Emeril Lagasse, David Chang, and even Bourdain's best friend Eric Ripert jumped onto the bandwagon and helmed their own projects, following many of the travel show prerequisites established by No Reservations. Gordon Ramsay: Uncharted doesn't break the mold, either, but the show does succeed at pivoting away from the public's perceptions of its host. As different as it is from the rest of his repertoire, this is a Gordon Ramsay show that somehow makes sense. Each episode's goal of teaching Ramsay about the region he's visiting finds him using local cooking methods to create a dish that'll hopefully represent the area and its people.
Does he always win the approval of the locals? Nope. And that's a good thing. All he needs to do now is shut his mouth once in a while and really listen. When that happens, Gordon Ramsay: Uncharted may actually become something worth charting.