The 13 Craziest Grammy Awards Moments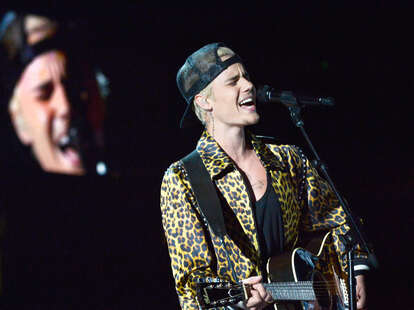 The Grammys are all about "moments." They tell us this repeatedly throughout the ceremony, like a party host who keeps insisting that you take group pictures with people you don't even know.
As luck would have it this year, they weren't lying: the 58th Annual Grammy Awards gave us just enough genuinely entertaining moments -- not to mention the highly touted Kendrick Lamar vs. Taylor Swift showdown -- to keep us awake for the whole ceremony:
LL Cool J loves lip-syncing
"I love a lip-sync battle as much as the next guy..." said the show's host LL Cool J, before showing a bunch of "Grammy memories" and establishing the prevailing tone of unrelenting nostalgia for the night. Was his lip-sync comment a shot at some of the performers on deck for the evening? Or was it a plug for his Spike show, Lip-Sync Battle? The answer lies somewhere in LL's mind, which is conveniently hidden under his signature Kangol hat.

The Weeknd escapes from a light box
The Weeknd sang his charming song about not being able to feel his face, appropriately titled "Can't Feel My Face," while trapped inside a scary light box. I was nervous for him. Luckily, he escaped to do a ballad, which was less exciting but probably safer for the small animal that is his haircut.

Gary Sinise shows up
Oh, shit, it's Lieutenant Dan! Wandering in from the set of whatever CBS spinoff cop drama he's currently being held prisoner on, Gary Sinise showed up to make a shout-out to our armed forces. Sadly, his band was shut-out of the big awards again this year.

Tyrese (and others) pays tribute to Lionel Richie
Lionel Richie is a legend, so who did Grammy staffers select to pay tribute to him? The dude who clowns Ludacris in the Fast and Furious movies.

Stevie Wonder sings a capella
Why do people think a capella groups are acceptable anywhere outside of college cafeterias? A band like Earth, Wind & Fire deserves some actual rhythm and whoomph -- not this mannered crooning from Pentatonix. At least it looked like Stevie was having fun up there.

Hamilton gave us a Tonys preview
I've been told Hamilton is actually genius and great! People I really respect and admire have sung its praises for months. It looks like a fun way to spend $1,000 that I don't have in one evening. The performance that was featured during the show, sadly, was not enough to turn me into a fan.

Kendrick Lamar gets theatrical
The trappings of Kendrick Lamar's performance had all the markings of a possible disaster: costumes, elaborate sets, pyrotechnics, screeching guitars, frantic editing, and glow-in-the-dark paint. Instead, it was transcendent. While so many of the performances of the evening felt stale and predictable, this medley, which included "Blacker the Berry" and "Alright," was kinetic, dramatic, and political. It felt like the result of a singular vision. It didn't feel cooked up in a lab by a bunch of CBS executives looking to appeal to confused Big Bang Theory fans. It was the type of iconic "moment" that shows like this are always chasing but rarely delivering.
Adele reveals she isn't perfect
Adele is usually so on point. Her hair, her videos, her songs, her album art -- everything. So it was surprising to see her fight sound issues and generally seem bummed to be there while she performed "All I Ask." Next year she'll probably have a bunch of nominations, so she shouldn't be too worried.
Justin Bieber looks like this now
Keep growing that beard, Biebs!

Lady Gaga does Bowie cosplay
It makes sense that Lady Gaga was recruited for the karaoke-tribute to the late, great David Bowie. But did it have to be so... conscientious? It often felt like we were watching a Jim Carrey-style impression, like Now: This Is What I Call Bowie.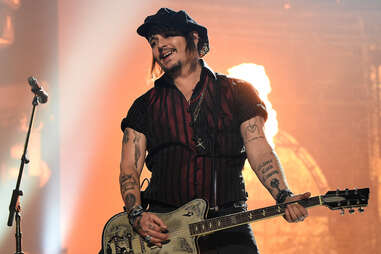 Johnny Depp still thinks he's Keith Richards
At times, it feels like Dave Grohl has to make a court-appointed appearance at every awards ceremony to tell us that some people live rock 'n' roll. This show was filled with lots of embarrassing, bizarre examples of how rock music has mutated and atrophied over the years, but none was more bizarre than Johnny Depp joining forces with Alice Cooper and Joe Perry as the Hollywood Vampires to pay tribute to the late, great Lemmy from Motörhead. The last thing I expected to see at this show was Mortdecai going metal.

Taylor Swift wins Album of the Year and sub-tweets Kanye West
While many were hoping Kendrick Lamar's epic To Pimp a Butterfly would take home the Best Album of the Year trophy, Taylor Swift snatched it away from the Compton rapper for 1989, her '80s influenced pop record. Instead of pulling a Macklemore and apologizing to Lamar, she used her speech to fire a couple discreet disses in Kanye West's direction.
"As the first woman to win Album of the Year at the Grammys twice, I want to say to all the young women out there, there are going to be people along the way who will try to undercut your success or take credit for your accomplishments or your fame," she said from the stage. "But if you just focus on the work and you don't let those people sidetrack you, someday, when you get where you are going, you will look around and you will know that it was you and the people who love you who put you there. And that will be the greatest feeling in the world."

Listen to Donny Osmond, America!
Sign up here for our daily Thrillist email, and get your fix of the best in food/drink/fun.
Dan Jackson is a staff writer at Thrillist Entertainment and he really enjoyed Alabama Shakes but couldn't fit that into this article. He's on Twitter: @danielvjackson.