The 9 Most Outrageous Moments From the 2020 Grammys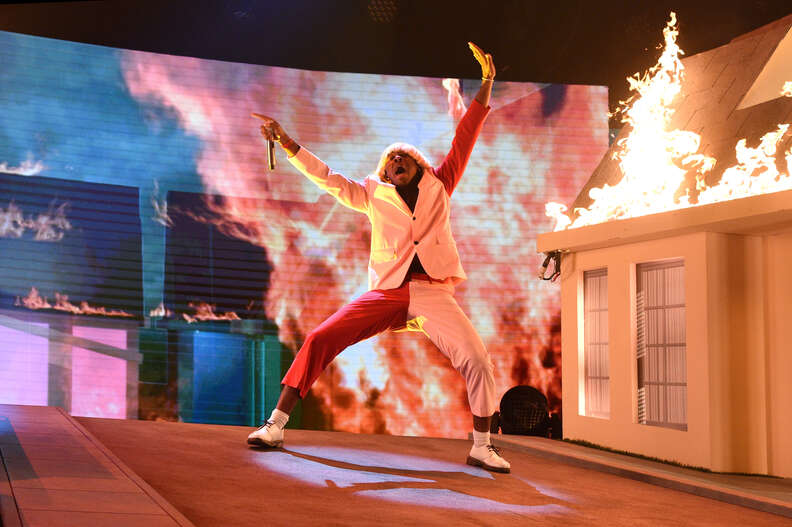 It's the Grammys, "Music's Biggest Night!" All of the pop stars are out, they're taking home awards for the music we couldn't stop listening to last year, and while the Recording Academy rarely honors interesting work that doesn't hit the Top 40, the Grammys are arguably the most entertaining awards show. Because performances take priority, the music only stops when an award winner makes an acceptance speech.
This year's ceremony was more somber than others in recent memory. It took place at the Staples Center, where the Lakers play in Los Angeles, in the wake of Kobe Bryant and his daughter Gigi's tragic unexpected deaths, which Alicia Keys eulogized in her opening monologue and performed "It's So Hard to Say Goodbye" with Boyz II Men in tribute. This year's Grammys also came amid corruption and sexual harassment allegations against previous Recording Academy president Neil Portnow by former president and CEO Deborah Dugan, who was placed on administrative leave just 10 days before the program.
Nevertheless, there were more than a handful of moving and entertaining performances, and wild moments went down, from the red carpet looks, to high energy performances from artists like Tyler, the Creator and Lil Nas X, to Billie Eilish's late night awards sweep that turned her into the biggest winner of the night. Here are the most outrageous moments from the 2020 Grammy Awards.
If you need some other Grammy-worthy music recommendations that the Recording Academy overlooked this year, check out our best albums of 2019 and best songs of 2019.
Lizzo: "Welcome to the Grammys, bitch!"
The Grammys basically belonged to Lizzo. If being the year's most-nominated artist didn't make that clear, her introduction to the show definitely did. The 8-nom, 3-win artist kicked off the ceremony by dedicating her performance to Kobe Bryant, shouting, "This one's for Kobe," ahead of her orchestra-backed performance of "Cuz I Love You." She honored him with hell of a set, including her Record/Song/Pop Solo Performance-nominated "Truth Hurts" that featured her signature flute solo -- hand-delivered to her on a silver platter that descended from the stage's ceiling. Mid-flute-playing she stopped to shout, "Periodt," and then ended her performance and launched the full show with, "Welcome to the Grammys, bitch!" Welcome to the Grammys, indeed.
Alicia Keys shouted out everyone there with a weird serenade
Alicia Keys returned as the Grammys' host for the second year in a row, and set a weird tone for the night when she took to the piano to serenade and call out just about everyone in the crowd. She covered Song of the Year nominee "Someone You Loved" by Lewis Capaldi but replaced the lyrics with cutesy name drops of nominees like Ariana Grande and Beyonce, a review of the past year in music (like how we all "obsessed over BTS"), and laid out some expectations for the night, including saying the show is "10,000 hours long so keep the speeches short." It was not as funny as probably intended, but it was certainly cringe-worthy and felt like an all-too positive bit that failed to address the elephant in the room: the allegations that came out in the past week.
Ariana Grande showed up looking like Cinderella
Last year, Ariana Grande's absence didn't go unnoticed. A week before the award show she announced she was backing out of performing and attending due to disagreements with the producers -- and yet she still won Best Pop Vocal Album for sweetener. This year, she absolutely showed up, making an entrance like a freaking princess at the ball in a gown full of tulle. Wearing long gloves and her blonde hair in its signature pony tail, she didn't look far off from Cinderella… and then she went inside, changed into another gown, and came back out onto the red carpet just because. It was a diva moment well deserved given she didn't attend last year and was of one of the most-nominated artists this time around with five nominations.
Tyler, the Creator's fire performance
The best performance of the night belonged to Tyler, the Creator, who received one of the most well-deserved wins of the night for Best Rap Album for his excellent IGOR. Dressed as his blonde-wig-wearing persona Igor, the alternative rapper sang a compilation of tracks from the album along with Boyz II Men, including "EARFQUAKE," which was appropriate because the entire stage nearly erupted in a full-blown earthquake. During "NEW MAGIC WAND," an army of Igor look-a-likes infiltrated the auditorium and danced furiously on the stage as it shook and ignited into flames. When the performance ended, Tyler fell backward off the stage. Big exit! The literally fire performance highlighted how interesting some of the most eclectic talent at the award show can be.
Best Comedy Album Winner Dave Chapelle was nowhere to be found
The Grammys only television a handful of many awards, and surprisingly, one of them was Best Comedy Album. The award went to now three-time Grammy winner Dave Chapelle for his Dave Chappelle: Sticks & Stones, beating out attendees and presenters Ellen Degeneres, Jim Gaffigan, and Trevor Noah, as well as Aziz Ansari. When Brandi Carlile and Tanya Tucker announced he won, though, it turned out he maybe wasn't in attendance, or at least wasn't on his way up to get the award, so the country stars had to accept the golden gramophone on his behalf. Later in the evening, viewers allegedly spotted the supposedly MIA comedian in the crowd (dressed a bit incognito wearing shades indoors) so maybe he was late or maybe he just wasn't in the mood. Hard to say with Chapelle.
Offset was unimpressed by Camila Cabello's father-daughter tribute
Camila Cabello may have brought her father to tears with her tribute to him in her song "First Man," but not everybody in the crowd was as moved. The pop star walked into the crowd to embrace her dad, and sitting just across the aisle was Offset who looked somewhere between bored-as-ever and bothered behind a crying Gwen Stefani, who was telling the camera to get out of her face, and her husband Blake Shelton. The Migos member looked straight into the reaction cameras as if he had something to say, and that something was, "Make it stop."
Lil Nas X brought out BTS, Mason Ramsey, Billy Ray Cyrus, and full-sized Nas
No song dominated 2019 like Lil Nas X's hip-hop/country mash-up "Old Town Road." Appropriately, no performance ruled the Grammys with its stacked lineup (and outright absurdity) like "Old Town Road." It followed the cowboy through a series of rooms, and metaphorically the song's various iterations, as each featured artist joined him in a new room as the set changed. K-pop phenoms BTS chilled out with the young star, Diplo played guitar as he rocked out with fellow country up-and-comer/Walmart yodeler Mason Ramsey, and the OG outlaw who remixed the song to begin with, Billy Ray, played on as… Matrix-inspired pleather clad dancers came out! Lil Nas even rapped with (big) Nas! It was chaos, but captured what was blissful and meme-able about that one-of-a-kind Record of the Year nominee.
Sharon Osbourne announced the nominees for best rap song
It was as if the Recording Academy sat in a room and thought, "Who would be the most random person to announce the winner for Best Rap Song?" because Ozzy and Sharon Osbourne gave out the major award. This not only led to Sharon mispronouncing winner DJ Khaled's name and saying the title of the song that he won for -- "Racks in the Middle" -- it brought her to say rappers' names like Lil Baby and Gunna in her posh British accent. It was insane, but also so great that they should probably invite her back last year. Sharonnnnnn!
Billie Eilish doesn't get why she won four Grammys
Billie Eilish blew up last year and became one of the biggest pop stars in the world, but that didn't stop her from having an existential crisis following her Song of the Year win. As soon as she got up on stage to accept her award for "Bad Guy," the 18-year-old let out a dramatic "WHY?" as if she was unworthy of the title. After a few gasps/yelps/wows, the youngest person to ever be nominated in the top four biggest categories (Song/Record/Album of the Year, plus Best New Artist) humbly accepted the award, stressing how grateful she was to have won in a category with so many artists she looks up to. Later on, she won Best New Artist, reacting just as shocked as before ("Two!") before shouting out the fans. Shortly after, when When We Fall Asleep, Where Do We Go? won Album of the Year, you could see her shouting "no, no, no!" from her seat. "We stand up here confused and grateful," her brother, producer, and songwriting partner Finneas added on stage. Literally seconds after they walked offstage, "Bad Guy" won Record of the Year. The camera cut to Billie and Finneas giving each other a look that said "goddammit." They walked back on, said "thanks" into the mic and walked off again. Humble queen.
Read more: Why Billie Elilish Was the Biggest Pop Star of 2019
Need help finding something to watch? Sign up here for our weekly Streamail newsletter to get streaming recommendations delivered straight to your inbox.
Sadie Bell is the entertainment editorial assistant at Thrillist.