This 'Grease' Fan Theory Says Sandy and Danny Were Dead the Whole Time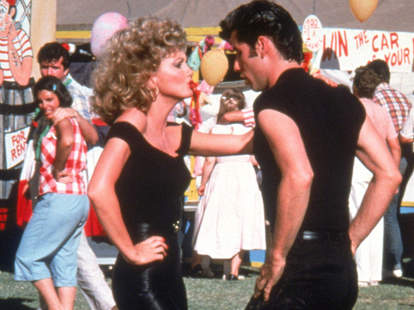 Of all the insane movie twists we've stomached, we did not see this one coming: what if Grease's high-school sweethearts were ghosts?
One Reddit theory about Sandy and Danny's meet-cute in the beginning of the happy-go-lucky musical romance is going viral, and it kind of makes sense. See if you can follow along:
When Danny Zuko brags to his buddies about saving Sandy's life -- "she nearly drowned" -- the theory posits that she didn't make it. "As she drowned, her brain deprived of oxygen, she had a vivid coma fantasy involving her summer fling Danny, where they shared a magical year of high school together. The visions get increasingly outlandish as time passes, until finally, as Danny desperately tries to resuscitate her on the beach, she sees herself flying into Heaven in her dying moments."
There's a decent amount of evidence for this theory. Like, how the heck does Danny's face appear in the water in "There Are Worse Things I Could Do"?
Oh, and there's a freaking flying car at the end -- Thunderbirds aren't actually that fast. As the Reddit sleuth points out, "The car ... defies the laws of gravity and flies into the sky" at the end of the movie. Looks like an ascent to heaven if you ask us:
Paramount Pictures
Lauren Leibowitz is an editor at Thrillist Entertainment ready for her great T-Bird ride into the sky. Find her on Twitter @lleibowitzz.