'The Great British Bake Off' Is Amazing. America's Remake Is Underbaked.
ABC
ABC
Have you ever written a speech or a paper, but before you saved it, your computer crashed and you lost the whole thing? Then you try to rewrite the exact same words in the exact same order, but no matter what you do, it's just not as good as the original? This happens on TV, too. This week, ABC translates The Great British Bake Off, the UK phenomenon delivered stateside by PBS and Netflix, into The Great American Baking Show. The show is exactly the same… almost.
The Great American Baking Show uses the same graphics, same theme music, same set, and same three-tier baking competition format (as did The American Baking Competition, a previous remake CBS did in 2013). Each week a bunch of amateur bakers take part in a signature bake, demanding a certain type of culinary skills, then the technical bake, where they are forced to cook a recipe they've never seen before, and finally the show-stopper, a round all about wowing the judges with an insane mound of cookies, cakes, pies, loaves, or other delicious treats that Oprah would break her diet to down. Each week, a standout cook is awarded "Star Baker" and someone is sent home until there's one winner. The prize? Bragging rights, which, in the shadow of Iron Chef, Chopped, and this week's returning competition, Top Chef, is about as un-American as spitting in an apple pie. The pacifism works for both shows.
So, if everything is the same, what gets lost in translation? Here's what...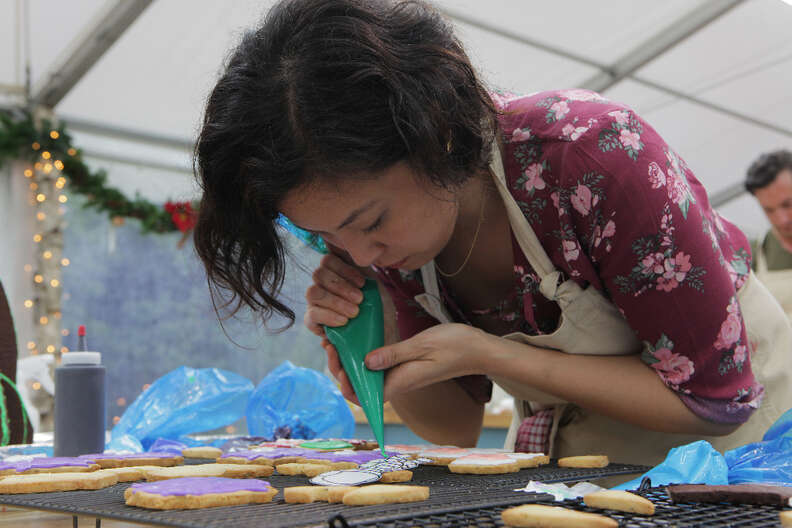 The Americans don't rise to the occasion
Like British Bake Off, ABC's remake pulls a diverse cast of bakers from all the country. The diversity of both shows is one of the major selling points, reflecting a country that is unified by certain things even as all of its citizens are so different. And like on the original, everyone who is cast is nice as pie. They seem to be there to make friends and build extravagant cake towers. But why are there only three guys out of the 10 contestants on the American version? It's as if it's saying that work in the kitchen is women's work. The Great American Baking Show could have used that classic archetype of a retired woodworker/grandpa who's an expert at flatbread.
The other problem is that, unlike the original show's talent, not everyone on this edition is as skilled as a baker (or maybe everyone in the UK trains their entire life to bake perfect scones?). Right from the start, we know which bakers will get kicked off first -- a few can't finish one of the challenges. The thrill of British Bake Off is that the contestants are great people, but also great bakers. Hollywood casting forgot the second ingredient.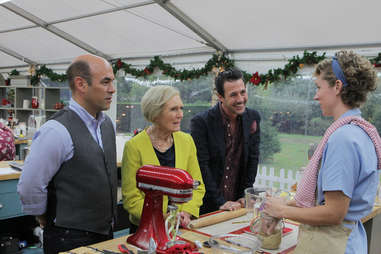 The remake's hosts need a little more spice
The Great British Bake Off's hosts, Mel Giedroyc and Sue Perkins, are like the UK's answer to our Kathie Lee and Hoda. They're delightfully corny and walk around the tent where the bakers work, spouting impish silliness and puns that would make the greatest connoisseur of dad jokes groan. You only realize how essential they are when watching American Baking Show. The remake stars husband-and-wife team Nia Vardalos and Ian Gomez, who try to deliver the same shtick as Mel and Sue. The problem is lack of authenticity. They seem like they're copying a pair to whom it comes naturally, and straining badly. The only thing worse than a bad dad joke is someone telling it with a hollow delivery.
The judges across the pond are Mary Berry, a cross between Martha Stewart and Super Nanny if she was mainlining Xanax, and Paul Hollywood, who is sort of like that gruff uncle that you don't really like but have to invite to every holiday anyway. Part of the fun is seeing the bakers please the always sunny Berry and try to win the grumbling admiration of Paul. In the US version, Berry is along for the ride, but she's far too "Keep Calm and Carry On" for anything with "American" in the title. Joining Berry is pretty-boy baker Johnny Iuzzini, who has our national deficit of wanting to be liked by everyone. He's adequate, but he's no Paul, whose ruthless taste makes every contestant better.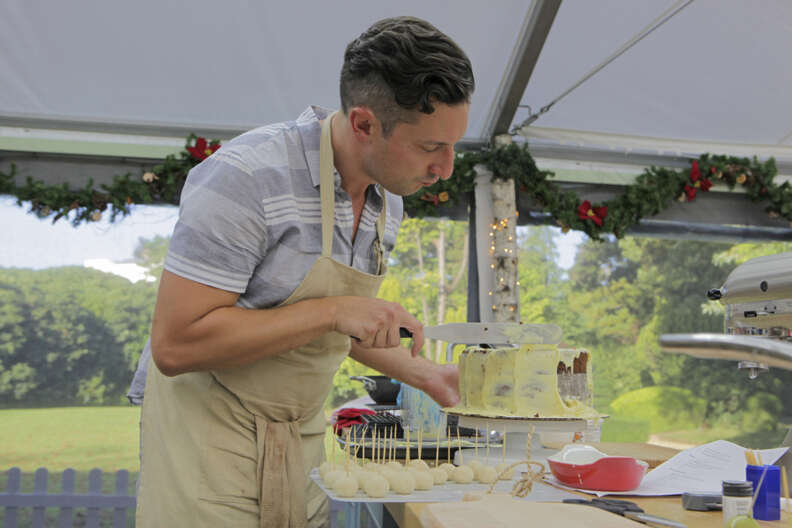 So… much… Christmas… spirit…
Much to-do has been made by media pundits about how British Bake Off is a mirror of the nation's identity and dynamic, giving the no-stakes contest a deeper meaning. That is not present on ABC. The whole thing is dipped in tinsel, wrapped in Rudolph paper, and plunked under a Christmas tree. The holiday theme is pervasive in everything, from the décor to the challenges, as if baking is something we only do between Black Friday and whenever Hallmark Christmas movies go off the air in early January. We don't get to see a glimpse of the melting pot that is American culture, because everything is filtered through the lens of a commercialized holiday.
There's such thing as too much suspense
The Great British Bake Off aired on BBC, which gave each episode a full 60 minutes without breaks. PBS and Netflix also keep the episodes intact when they re-air. But on ABC, each episode is only 42 minutes with commercials, chopped up by network television standards, i.e., every time there could be a cliffhanger, there's a cliffhanger. Will the cake come out of the tin?! The answer is almost always yes.
The Great British Bake Off downplayed drama to become a form of relaxation. When things didn't work out, there would be bursts of cheer and camaraderie to bolster spirits. It's as if the producers think that Americans are so stupid that they'll only stomach a game show if it operates in the same way Survivor did when Richard Hatch first bore his willie 16 years ago. C'mon, ABC, just let them eat cake.
The Great American Baking Show premieres on ABC on Thursday, December 1st at 9pm.
Sign up here for our daily Thrillist email, and get your fix of the best in food/drink/fun.
Brian Moylan is a freelance writer and
Real Housewives
anthropologist who lives in New York.