How to Cast Nazi Skinheads, According to the Director of 'Green Room'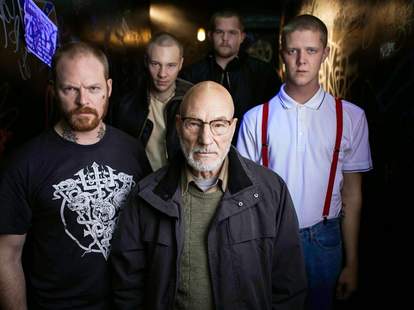 Jeremy Saulnier gets punk rock. As a preteen skateboarder growing up in suburban Virginia, he was drawn to the physical immediacy, boundless creativity, and sweaty personal expression of hardcore. In high school, he drove across the Memorial Bridge to see shows in Washington, DC. He played in bands with friends. Decades later, when casting Green Room, the writer and director's bracing new punk thriller, he knew authenticity was more important than Hollywood glamour.
"It's my job to ignore some of that and not get too excited about star power or people's perceived value," says Saulnier. "You're left with who these actors are and what they can bring to the table. I cast people who were energetic and enthusiastic and very talented, so I was in a very safe place when I was trapped in that room."
Luckily, the audience isn't as safe. Green Room opens with quietly observed moments of young punk band The Ain't Rights on tour -- siphoning gas for their van, conducting earnest zine interviews, crashing on couches -- but quickly turns into a bloodbath when the group's bassist Pat (Anton Yelchin) accidentally witnesses the aftermath of a violent confrontation in the green room of a Portland skinhead bar. Words are exchanged. Box cutters and machetes are drawn. Pit bulls circle the club.
You start to worry all these charming young actors aren't going to survive.
Scott Patrick Green/A24
The secrets to casting the perfect punks
Assembling the right cast for a movie like
Green Room
is a difficult but essential task. Despite the buckets of blood, guns, and stomach-churning broken-limb makeup effects, it's still a chamber drama at heart. It could be a splatter-filled stage play. The kind you bring a poncho to if you sit in the first row.
The movie only succeeds if the actors playing these young punks can draw you into their secret language, make you laugh at their inside jokes, and get you invested in the psychological turmoil of their escape. Without a strong emotional connection, the characters are skinhead canon fodder.
To add to the difficulty, this was new territory for Saulnier, a rising filmmaker coming off the 2013 success of his excellent low-budget hillbilly noir Blue Ruin. That movie's cast mostly consisted of high school buddies; this one stars Chekhov and Captain Picard. And casting a movie is more logistically complicated than simply finding your leads.
"The peripheral roles for Blue Ruin were designed to require less of a commitment from actors because we were only asking for three to five days of their time," explains Saulnier. "For Green Room, we had people trapped in a room, so we had to ask for pretty full commitments from everybody because the whole film takes place in about 16 hours."
But this time, in addition to a slightly larger budget, Saulnier also had the assistance of casting director Avy Kaufman, a veteran of blockbusters like National Treasure, The Bourne Ultimatum, and The Sixth Sense. And, thanks to a gritty script with a killer hook -- John Carpenter-esque punks-vs.-skins siege thriller -- he had the perfect bait for actors in their 20s looking to take a risk on a small production. In addition to Yelchin as the lead, he cast Arrested Development's Alia Shawkat, Skins' Joe Cole, and English actor Callum Turner as the band members. Rounding out the cast, he secured indie favorite Imogen Poots for the important role of Amber, the band's only ally in increasingly hostile territory.
"They weren't typical boyfriend or girlfriend parts," says Saulnier. "For Imogen Poots to get feral, get face-painted, wield a shotgun, and kick some ass -- it's a new opportunity for her, and she embraced it. She signed up immediately."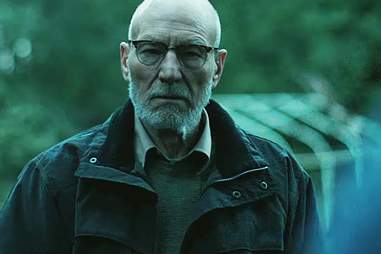 A24
Finding the right neo-Nazis can be challenging
Many people will buy tickets for
Green Room
for one reason: to see Professor X break bad. Patrick Stewart may have a cuddly public persona thanks to his social media best-friendship with Ian McKellen, but there aren't any meme-worthy moments in his villainous turn as Darcy Banker, the vicious leader of a brutally efficient skinhead gang. It's a subtle, controlled performance that feels tailor-made for his iconic bald head. But it almost didn't happen.
Unlike the other stars, Stewart was a last-minute addition to the cast. "That came up 10 days from production," says Saulnier. "We were already breaking sets. It wasn't just a last-minute save -- the whole film got classed up when he came on board."
Rounding out the film's gang of heavies, Saulnier also cast Macon Blair, his old friend and the star of Blue Ruin, as a put-upon, in-over-his-head skinhead. It's a carefully modulated performance that gets at the movie's tricky tonal goal: granting even the sickest, most deranged characters a sliver of empathy. While the movie's portrayal of neo-Nazis is hardly warm and cuddly, Saulnier forces the audience to spend time with them and consider them not as monsters, but as humans.
But a little authenticity goes a long way
That doesn't mean the production was open to the involvement of Portland's actual neo-Nazi population. Saulnier was attracted to the city because the landscapes were so different than the rural Southern vibe of his previous film, but he admits the hipster haven's
notable history with the white-power movement
also played a role in his decision.
While vetting extras, he came across a potential actor who looked a little too authentic. And, sure enough, after a Facebook search he found out the man was part of the white-power movement. He was not offered a part in the film and Saulnier tried his best to avoid local skinheads.
"Other than that, there's been no contact," he says. "We don't get too into ideology and politics in the movie itself, so we're trying to steer clear of them. Hopefully everyone knows that I tried to humanize all the characters in the movie. That was my primary goal."
Sign up here for our daily Thrillist email, and get your fix of the best in food/drink/fun.
Dan Jackson is a staff writer at Thrillist Entertainment. He's on Twitter: @danielvjackson.