Grimes's New Album Is a Thrilling Journey Through an Apocalyptic Future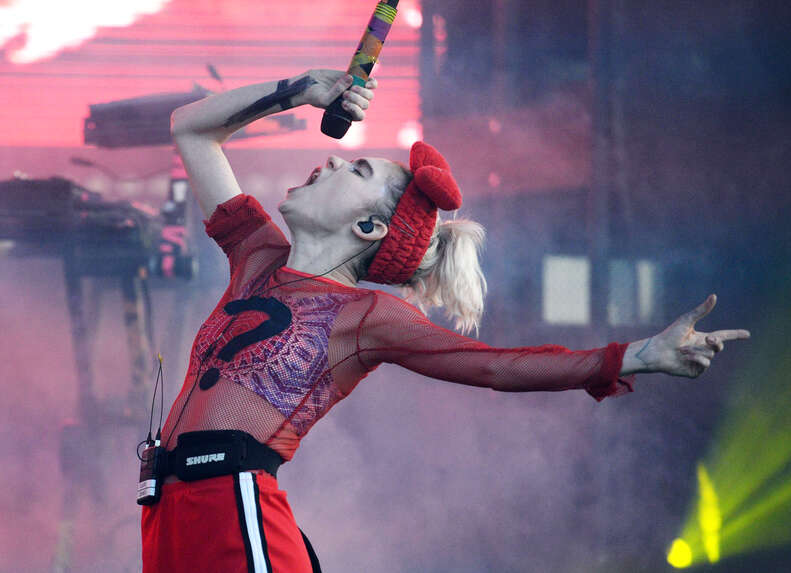 When Grimes first announced her fifth studio album, she made some bold, ambitious claims. In a since-deleted Instagram post from March 2019, the controversial synth-pop artist, also known by her given name Claire Boucher, described the highly anticipated record as "a concept album about the anthropomorphic goddess of climate Change" and stated that "each song will be a different embodiment of human extinction as depicted through a Pop star Demonology." Like most grandiose concept records, especially ones that include science-fiction elements and tackle Big Ideas, it sounded both intriguing and ridiculous.
Almost a year later, the resulting collection of songs, Miss Anthropocene, is finally here, ready to be broken down, dissected, and obsessed over. While Grimes has generated some wild headlines recently with her comments defending her tech billionaire partner Elon Musk and her public dust-up with Azealia Banks, the new record has earned generally strong reviews and proved her music can still break through the celebrity spectacle that swirls around her. Mixing the pop sheen of her last project Art Angels with an increasingly bleak, pessimistic worldview, Miss Anthropocene is a serious, vital work in 2020.
It's also a little goofy and confusing, like most things Grimes puts out in the world. To make sense of the project, we had our Editorial Assistant Sadie Bell and Senior Staff Writer Dan Jackson dig into Miss Anthropocene to see if it satisfies as an album and a piece of imaginative, ecologically minded world-building. Let's take a walk on the darkseid together.
Dan Jackson: I'll admit right away that I was nervous this album was going to be exhausting. In recent years, Grimes has tried my patience a little with the seemingly endless drip of information about new music and her battles with the press, which included some comments defending Elon Musk's union-busting tactics as the founder of Tesla. Her desire to create an "an evil album" that drew inspiration from comic book movie villains like Thanos and the Joker made me roll my eyes. Celebrities becoming super-embattled and consumed with their own public personas, like Kanye West or Taylor Swift, can either lead to great music or pretty crappy records.
Grimes has always been a heavily referential, collage-like artist, drawing inspiration from both Frank Herbert's spice saga Dune and the dreamy songs of the pink round Pokémon Jigglypuff in her early music. Judging only from the early interviews, it felt like this record was going to be drawing from material I've never been super into, like the mopey alt-rock of Marilyn Manson and Tool. But then I actually started listening to it and… it mostly sounded like a really good Grimes record! My skepticism melted away right around the time the beat on "Violence" kicked in. Sadie, did you have similar baggage going into this record and what was your response to the album on first listen?
Sadie Bell: I think ever since Grimes and Elon Musk debuted their couple-dom at the Met Gala red carpet in 2018 and the internet collectively lost its mind, everyone has been a little nervous to hear what's been incubating in Grimes' lab, myself included. I've definitely been fascinated by the various off-the-wall blunders she's been in since then, stepping into the life of a public figure. But I also wanted to evaluate the record on its own because, at her core, she is an innovative recording artist following up Art Angels, one of the best albums of 2015.
So much of this album's rollout has been connected to Grimes' now-public personal life -- which is fair to criticize in an age where music fans are constantly questioning the separation (if there is one) between an artist and her art and because Grimes, in particular, was once known as an outspoken, anti-establishment figure. But it's been frustrating seeing how much of the conversation has been connected to her romantic partner when male artists often date eccentric people too and that rarely factors into the preemptive evaluation of whatever album they're dropping.
All of that aside, I went into Miss Anthropocene accepting Grimes for being Grimes (or extremely campy and enamored with concepts that feel like they belong in another dimension), and whatever the record is -- including her AI alter-ego War Nymph -- was probably going to be cosmically weird. I found that… it is! It's also high art pop that sees Grimes teleporting her nu metal inclinations into catchy pop structures. It's obviously not just any regular ol' pop record, though; it's also a maximalist concept album about climate change. Dan, what were your thoughts on how that plays into the record?
Dan: Yeah, I agree that some of the Musk-focused coverage of this record has been irritating, and I think Miss Anthropocene mostly works so well because you don't really need any of that personal narrative context to enjoy the music. Unsurprisingly, the same goes for the big picture dystopian tech parable angle. Despite all the heady conceptual themes and Easter egg-like social media promotional tidbits, she's created a record that mostly works on its own internal emotional logic. Feel free to read Miss Anthropocene's letter of intent, where she declares "global warming is good," but it probably won't determine whether or not you fall under the spell of a song like "So Heavy I Fell Through the Earth," which kicks off the album. Mood wins out.
I found the musical choices more surprising than any of the plot or character-driven stuff. It's clear when you get to "Delete Forever," an acoustic guitar-driven ballad written in the wake of the rapper Lil Peep's tragic death, that the record is going to take some big swings. I liked how almost cartoonishly angsty it was, drawing on the brooding nihilism of '90s Ozzfest bands without necessarily going full nu metal with the riffs and the screaming. (Though some of lyrics on "My Name is Dark," like "I don't need to sleep anymore/That's what the drugs are for" wouldn't be out of place on an old Korn record.) Were you able to track any sort of story here? And did all the experiments on the album work for you?
Sadie: Totally -- the record feels like a product of 2020, both in its calico electro sounds and the post-modern, nihilistic take on watching the world go up in flames. I agree the conceptual stuff is mostly secondary to the sonic exhilaration you get while listening. I think a handful of her themes were easy to parse, like how the record sounds like it's being delivered from a pro-global warming anti-hero. Songs like "We Appreciate Power" are in-your-face with with absurdist lyrics that read like a constitution for a new AI populous ("Pledge allegiance to the world's most powerful computer / Simulation is the future"). Looking closer at "Violence," you can draw a disturbing analogy between an abusive relationship and humanity's sadistic/masochistic relationship with the Earth. Honestly, it's sort of like a genre novel that I would probably deem too nerdy to pick up and unpack. At times it plays as pretty gimmicky, but ultimately you do "submit" to it. I guess I will pledge allegiance to the big, smart computer!
More than genre, the production is thrilling because of how far-reaching it is. "New Gods" hypnotizes with its goth synths over her girlish, digitized voice; "Darkseid," featuring frequent collaborator and Taiwanese artist 潘PAN, has a dark rap swagger and continues to make a case for globalized pop. As she trances on the sprawling "Before the fever," "This is the sound of the end of the world," and if that's the case, I'm inclined to let it all burn if the apocalypse is going to sound that damn good. (Not actually, though.) But if anything, Miss Anthropocene is more of a prophecy of an AI-produced music future than anything else.
Dan: LOL, I'm bummed you wouldn't pick up the genre novel version of this record! And, yes, I agree: as much as I admire the music, I wouldn't want to live under the thumb of the AI capable of producing Miss Anthropocene. (Maybe this is what Andrew Yang was warning us all against?) As a piece of music, I liked its clanging, swaggering vibe even if I didn't always connect to the larger message.
Oddly enough, I recently re-watched the Steven Spielberg movie A.I., where Haley Joel Osment plays a robot-child dreaming of becoming a "real" boy, and it's funny how some of the turn-of-the-millennium anxieties about androids imitating human behavior have been replaced by this quasi-combative curiosity about humans becoming more like our algorithmically-minded overlords. Grimes has hinted that her next record will "move on" from some of the darker themes here, but I hope she doesn't abandon them entirely. She hasn't finished terraforming this strange planet yet.
Need help finding something to watch? Sign up here for our weekly Streamail newsletter to get streaming recommendations delivered straight to your inbox.