Hall & Oates Will Teach You How to Love: A Thrillist Q&A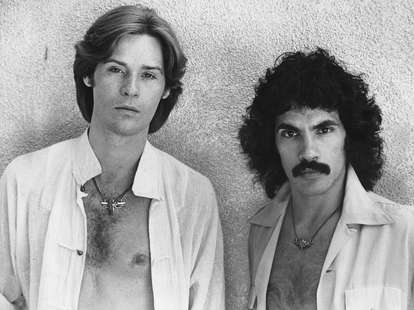 Tony Bernard/LA Times/Getty Images
It's March, which means, with Valentine's Day well in the rearview, many of us can take a well-deserved breather from romantic concerns. But not Daryl Hall and/or John Oates. As the writers of such ubiquitous '80s wedding bangers as "Maneater," "One on One," and "Kiss on My List," they've embraced romance as a way of life. Lucratively, too: if the Internet and the experts at VH1's Behind the Music are to be believed, Hall & Oates are the most successful musical duo of the rock epoch, with seven platinum albums, 34 chart hits, and an estimated 40 million records sold. In other words, these dudes know how to write a love song. Which means, presumably, they know how to love. So, as they gear up for a lengthy US tour starting this spring, we gave them a call.
THRILLIST: Have you ever written a song with the specific purpose of seducing someone?
Daryl Hall: Probably all of them. [Laughs] There's songs I've written where I was trying to hold on to someone, like "Wait for Me." That's a good one. And it worked!
John Oates: [Laughs] Every song I write is with the purpose to seduce myself -- because if I don't seduce myself, then I won't like it.
THRILLIST: Have you ever charmed your own pants off?
Oates: I actually write in the nude, so I don't even have to take my pants off.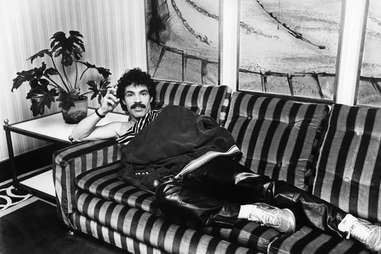 THRILLIST: That's convenient. What makes a good love song?
Hall: The idea of love is complicated, so I think a good love song has to be complicated. To just write a song, "I love you, I can't live without you," that's sort of stating the obvious.
Oates: Since love as an emotion or a concept is so subjective, I'd have to say it would depend on the people involved. I guess there's really no difference between what makes a great love song and what makes a great song -- when the sensibility and the craftsmanship and the inspiration of the songwriter resonates and connects with the listener and somehow speaks to what they themselves would like to articulate.
THRILLIST: What's your take on love songs that don't necessarily involve another human? Like these guys who write love songs about their pickup trucks or their dogs?
Hall: If you have a love for your pickup truck, write a song about it. That's what I say. Why not? I don't think there should be any censorship.
Oates: Everyone has their own concept of love. You can love your dog. You can love your pickup truck. You can love your gun, or your flowerbed, or your organic garden. [Laughs] Better to love than not to love, I guess.
THRILLIST: What are some of your favorite love songs by other artists?
Hall: Very few songs appeal to me that are about positive love. "Sara Smile" is a positive love song, but even that one has a bit of complication in the second verse. A song like "If You Don't Know Me by Now," [originally by Harold Melvin & the Blue Notes], is a love song, but a frustrated love song.
Oates: I don't have any.
THRILLIST: What's your favorite love song that you've written?
Oates: Probably "Maneater." [Laughs] No, I'm kidding. That song is about the greed and avarice that was going on in New York City in the '80s. So maybe it's a love song to New York. [Laughs]
Hall: I'd say "One on One" and "Sara Smile." They're positive love songs with a slight twist in them.
Oates: Daryl and I recorded a song in '96 on the Marigold Sky album called "Promise Ain't Enough," and I was thinking about getting married when I came up with the idea for the song. It ended up being chosen by Brides magazine as Wedding Song of the Year in 1996.
THRILLIST: You mentioned "Maneater." Everyone thinks that one is about a woman. Same goes for "I Can't Go for That (No Can Do)."
Oates: Ninety-nine percent of the people in the world think that "Maneater" is about a woman, and "I Can't Go for That" is about some girl you wanna get rid of. But "I Can't Go for That" is about the music business. But that's part of the craft of songwriting: you take something that has some broader meaning but you put it into a setting of a personal relationship and it becomes more relatable. If people delve into the lyrics, they can find something more substantial in it, but if they don't, it still works on whatever superficial level they want it to work on.
THRILLIST: Those songs are over 30 years old, which means people have been misunderstanding them for three decades. Isn't that annoying?
Hall: No, because I've always had the philosophy that once it leaves my brain, it belongs to the world. People can do what they want with it. They can sample it as long as they pay me. Very rarely do I write a song that has only one meaning.
Oates: Do you think everyone understands a Bob Dylan song? It's poetry, it's metaphor, it's simile, it's imagery -- that's what it's all about.
THRILLIST: I'm guessing that you guys have had women throwing themselves at you since the 1970s. How did you deal with that when you were single, and how did you deal with that when you weren't single?
Hall: In earlier days, I was just out there rocking and rolling. I wasn't paying much attention to anything other than what was happening at the moment. Over the years, my relationships have changed and I changed as a person. I was married. I'm still married, right now, technically, but I'm in the process of divorce. So I'm a single guy for real for the first time in my life. I don't know, man. I take every experience as it comes. I don't have any rules about it at all.
Oates: Well, I was married briefly in the '80s but I didn't act like I was married. When I met my current wife in the early '90s, we decided -- mostly it was her idea --that the only way we could make it work in the crazy lifestyle I lead is to be together all the time and share it as a team. We did that, and we brought up our son that way. He went on the road when he was five weeks old. I give [my wife] full credit for having the foresight to realize that was the only way it was gonna work.
THRILLIST: Did you two ever discuss your love lives to come up with material back in the day?
Oates: We wouldn't even have to because we could actually experience it -- especially in the early days, when we were sharing apartments, traveling constantly together in a van. A song like "She's Gone" is a perfect example. I had a very casual relationship with a girl who didn't show up for a date on New Year's Eve. Daryl had a much deeper breakup with an ex-wife. We pooled our experiences and created this song.
THRILLIST: Do you ever feel like an old married couple?
Hall: Not an old married couple -- more like brothers. I don't have a brother other than John, but it's one of those things where you can be away from each other for a long time and you don't really have to explain much. You lead your life separately and when you come together, it's like no time passed.
Oates: It's like if you have a family member that moves to a different part of the country and you don't see them except on holidays. You just know each other so well -- I know his family; he knows my family. We both grew up in the same area in Pennsylvania. We both have younger sisters who are approximately the same age. We both listened to the same music growing up. So even though we didn't know each other in our early childhood, we had this commonality. It's the same now.
THRILLIST: Hall: What's the most romantic thing you've ever done?
Hall: Man, I live in a world of romance. I don't know if there's any one thing, but I tend to think in romantic terms. I'm the kind of person that gives flowers on special days and things like that. I think maybe the most romantic thing I've ever done was devote my life to a family and focus on that over everything else. It didn't work out so well...
THRILLIST: What about you, Oates?
Oates: I bought my wife some perfume at the airport on the way home from a show the other day. And I hate perfume -- I don't even like it when she wears it. But I know she likes it, so I bought it for her. I guess that was fairly romantic.
THRILLIST: Sometimes romance is taking one for the team.
Oates: [Laughs] For me, romance is a pliable emotion that stretches and contracts with time and chemistry.
THRILLIST: Hey, that's pretty good.
Oates: I'm gonna have to remember it, because I have no idea where it came from.
Sign up here for our daily Thrillist email, and get your fix of the best in food/drink/fun.
J. Bennett is a writer and musician living in Los Angeles. He enjoys pork products, dressing in the style of 1970s African dictators, and long walks on the beach. His work has appeared in Vice, Noisey, High Times, LA Weekly, and Decibel.