Everything We Know About 'Harley Quinn' Season 3
The DC Universe series (that also streams on HBO Max) absolutely deserves another season.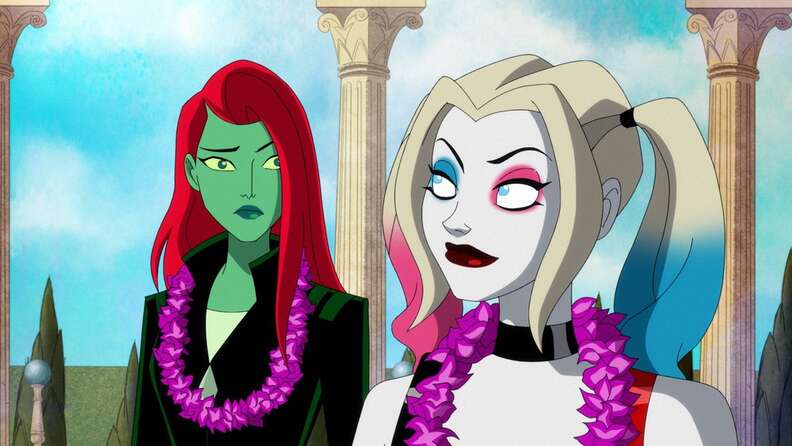 This post contains spoilers for Season 2 of Harley Quinn.
In the last frames of the second season of Harley Quinn, Harley and Poison Ivy quite literally drive off into the sunset together. It's a gosh darn poetic ending. The two antiheroines have finally confessed their love for one another and are being pursued by the Gotham PD as they Thelma & Louise it into an unknown future. "The End" flashes upon the screen before the animators append a question mark to it. Frankly, it would be a pretty good place for the series to stop, but why should it? There are plenty more adventures for these two off-kilter lovebirds to go on, and fans are eager to see their messy relationship develop. So, is there a Season 3 coming? Read on to find out.
Has Season 3 of Harley Quinn been announced?
As of September 18, 2020, yes! The new seasn announcement took a while, and that frustrated many, especially as the show continued to amass fans since its debut on HBO Max in August 2020.

Why did it take so long?
Well, Harley Quinn, along with a bunch of other series, was in a weird limbo thanks to shifting priorities at WarnerMedia. Harley Quinn first dropped in November of last year as an original on DC Universe, the streaming service dedicated just to DC Comics properties. Its second season premiered there in April 2020, before it all was plopped on HBO Max August 1. Now, DC Universe is being dissolved.
What will happen in the third season of Harley Quinn?
A third season necessitates hitting the reset button, at least a little bit. But isn't that worth it to figure out how Harley and Ivy's romance turns out? These are both complicated women, one who over-commits to her partners and the other who shies away from commitment. It's not going to be easy.
In an interview with Deadline, Halpern explained that the question driving the third season will likely be, "When you've mostly been in toxic and bad relationships your whole life, how do you then be in a good one? How does the baggage that you bring from all these other relationships affect the relationship you're in that you really want to work?" He also teased digging deeper into Ivy's psyche as the show goes forward. Plus, there's the whole issue of all the people who want our lovebirds dead. Speaking on a podcast, Halpern mentioned that one of the DC Comics villains that will be popping up is The Mad Hatter.

Has the third season stirred up any controversy?
Glad you asked. Interest in Season 3 piqued when Halpern told Variety that DC requested he and Schumacker pull a scene in which Batman (voiced by Diedrich Bader) goes down on Catwoman (Sanaa Lathan) because apparently that's not a heroic thing to do. The reveal came in the context of Halpern explaining that DC was more permissible when it came to their villains than their heroes.
"A perfect example of that is in this third season of Harley [when] we had a moment where Batman was going down on Catwoman," he said. "And DC was like, 'You can't do that. You absolutely cannot do that.' They're like, 'Heroes don't do that.' So, we said, 'Are you saying heroes are just selfish lovers?' They were like, 'No, it's that we sell consumer toys for heroes. It's hard to sell a toy if Batman is also going down on someone.'" Fans jumped on Twitter to insist that a man giving a woman oral pleasure was definitely a heroic thing to do, but it remains to be seen whether that scene remains on the cutting room floor.

When will Harley Quinn Season 3 premiere?
Likely not until the end of 2021 or the beginning of 2022, and that's according to Halpern himself. Animation is awesome, but it's a very time consuming process. It takes some time to get all of Harley's punches and cartwheels just right.