This post contains contextual spoilers for Harry Potter and the Cursed Child, reaped from what we think you need to know about the new story. If you want to go in like an Obliviate spell victim, hold off.
In June, J.K. Rowling's Harry Potter and the Cursed Child  opened to previews on London's West End, causing American Potter fans to weep. Unless they shelled out for plane tickets, they weren't seeing the two-part play that continued Harry Potter's story, 19 years after defeating Voldemort. Thankfully, those of us Stateside won't have to wait too much longer to find out what Harry, Ron, Hermione, and the rest of the gang have been up to; the script of the play will arrive in book form at 12:01am on July 31st (Harry's and Rowling's birthday). Time to dig out your Gryffindor scarf, head to a midnight release party, and stay up reading for two days straight.
Rowling has urged anyone that has seen the play to avoid revealing any spoilers on the internet. But thanks to a little owl, we have an idea of how Cursed Child builds on the previous books, and the base knowledge required to enjoy it. No need to dust off your Potter boxed set -- here's a study guide we imagine Hermione would approve of:
Where we last left Potter & Co.
The epilogue of Harry Potter and the Deathly Hallows was literally called "Nineteen Years Later," making the basic details of everyone's life in that chapter essential to the play, which starts in the same time frame. Quick refresher: Harry and Ginny are married and have three kids (pay attention to Albus Severus the most), Ron and Hermione are married and have two kids, it seems like Draco and Harry are on respectful terms, and the epilogue ends with the words "All was well." That's what they thought.
J.K. Rowling's post-Deathly Hallows reveals are foundational
Rowling loves teasing details about Potter, and a few should inform Cursed Child. Turns out that Harry and Ron work as Aurors at the Ministry of Magic, and before that, the middle Weasley spent time working at George's joke shop (which is quite successful these days). Hermione also works at the Ministry, fighting for nonhuman magical-being rights. Oh, and apparently there's been an American school for magic all this time?! Must have lost my acceptance letter in the mail. 
Harry had issues on his first night at Hogwarts
Way back in The Sorcerer's Stone, the Sorting Hat places Harry in Gryffindor, but only after he begs the magical garment to give him "anything but Slytherin." Fast-forward to Deathly Hallows' "Nineteen Years Later," where Harry tells his son Albus that a person can ask the Sorting Hat which house to place you in, and that joining Slytherin would be an honor. So, could the Potter legacy actually delve into the Slytherin world? Very possible. 
What happened to the Death Eaters after Voldemort died?
After Harry defeats He Who Must Not Be Named, the Ministry arrested many of the surviving Death Eaters. Others remained in hiding. The government pardoned the Malfoys due to Lucius giving up much information about the whereabouts of Death Eaters. Still, there's no living down the past; after Voldemort's fall, Dark Marks on surviving Death Eaters' arms turned into scars. And we know scars mean a lot in this world.
Recommended Video
'Last Week Tonight' Writer Josh Gondelman Takes Shots, Talks About Working For John Oliver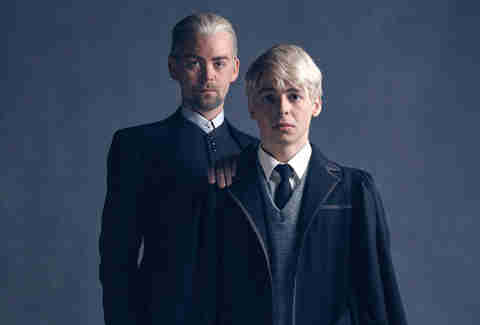 Remember the Marauder's Map, the wizarding world's GPS
As we learn in Prisoner of Azkaban, James Potter (Harry's dad), Sirius Black (Harry's godfather), Remus Lupin, and Peter Pettigrew created the Marauder's Map, a magical object that could detect anyone roaming Hogwarts. After the Weasley twins gifted it to Harry, the map played big roles in the plot of the stories. By the end of Deathly Hallows, Harry seems to have possession of it, though Rowling has hinted that one of his kids probably stole it out of his desk. Hmmmm....
Remember the Time-Turner, a device that can undo anything
Even though we can think of about a million ways to use the Time-Turner, Hermione was given it in her third year as a gift from Professor McGonagall to be able to take more classes (yeah, really). When the Ministry of Magic was partially destroyed during Harry Potter and the Order of the Phoenix, all of the Time-Turners were damaged and deemed useless. If Hermione still has hers, she holds a very powerful magical device in her hands.
What happened to Azkaban?
When Kingsley Shacklebolt was named Minister of Magic after the Battle of Hogwarts, he excused the Dementors from their Azkaban guard posts, turning over a new leaf for the wizard prison system. In the present it's still used as a jail, but Aurors act as guards. Anyone involved with Voldemort and his ideologies was sentenced to Azkaban, so many familiar faces can currently be found there. Including Dolores Umbridge, who is quite possibly the most vile character in the entire Harry Potter story (yep, I went there).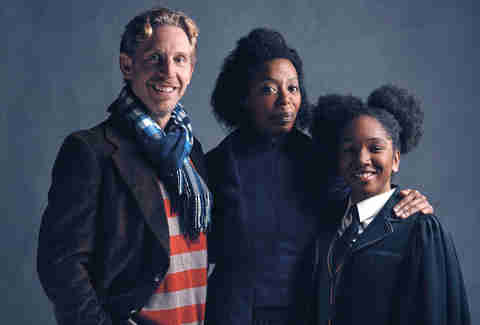 Keep these deceased characters in mind
Even though Severus Snape, Cedric Diggory, and Bellatrix Lestrange met early deaths throughout the Harry Potter saga, their legacies play a key role in Cursed Child.
If you do (or do not) recall: Snape, after six books of speculation, was a double agent inside the Death Eaters to ensure Harry's safety, fueled by his love for Lily Potter. He died in the Battle of Hogwarts, but not before showing Harry all of his memories and revealing his true allegiance. Because Harry's son is named after him, Snape's legacy is sure to play a role in this play.
Diggory was Harry's competitor in the Goblet of Fire. In the final round, Peter Pettigrew killed him on Voldemort's orders. He was the first person, but certainly not the last, Harry saw die during the Dark Lord's campaign.
Lestrange, who was Sirius Black's cousin and one of Voldemort's top Death Eaters, was literally blasted into nothingness by Molly Weasley ("NOT MY DAUGHTER, YOU BITCH!"). Here's to hoping we see more of Molly Weasley's fiery side this time around.
Minor characters could play major roles
Padma and Parvati Patil had bit parts in the Harry Potter books, but they did provide a lot of laughs as Harry and Ron's dates to the Yule Ball. They fought alongside fellow Gryffindors in the Battle of Hogwarts and are known survivors. Also rumored to play a role in The Cursed Child is Professor McGonagall, who served as headmistress of Hogwarts after the Second Wizarding War. Rowling, however, revealed that McGonagall retired from the position before Harry's son Albus attended Hogwarts.
Don't forget the inciting incident of the entire Potter saga
Voldemort tried to kill Harry because of a prophecy predicting his eventual demise at the boy wizard's hand. As we know, the assassination did not go according to plan. Lily Potter shielded Harry, the curse backfired, and Voldemort lost his physical form, forcing his soul to wander until the events of Sorcerer's Stone. However, part of his soul (a "Horcrux") attached to Harry, the only living thing in the room. This chunk of Voldy died when the Dark Lord "killed" Potter in the Battle of Hogwarts. While we buy that the death curse really destroyed the villain once and for all, there's reason to believe his shadow, specifically the planned murder of Harry, could play a key role in Cursed Child, a play about Harry's own parental love.
Don't forget the spells
We're venturing back into the wizarding world, so it's best to refresh yourself on those Latin-informed spells you had memorized after devouring the books:
Riddikulus: Turns Boggarts into something, well, ridiculous.
Alohomora: Unlocks doors.
Lumos: Turns your wand into a fancy flashlight. Who needs an iPhone?
Expelliarmus: Disarms your opponent's wand.
Wingardium Leviosa: It's leviOHHHHsa, not levioSAAA. Oh, and it makes things float.
Stupefy: Momentarily stuns another wizard or witch.
Accio: Can bring anything to you. Best for lazy people.
Avada Kedavra: The Killing Curse. Let's hope it hasn't been uttered since Deathly Hallows.
Expecto Patronum: Conjures a Patronus to protect you from Dementors and other nasty things.
Sign up here for our daily Thrillist email, and get your fix of the best in food/drink/fun.