Want to feel old? Harry Potter -- if he existed in the real world -- would be closing in on 40 now. Want to feel older? Take a look at a picture of Dakota Johnson at the premiere of Harry Potter and the Sorcerer's Stone. 
With eight movies over the course of 10 years, that meant a lot of fancy premieres in London, New York, and Los Angeles. That resulted in a bunch of awkward red carpet photos with some totally random celebrities. (And of course many with the actual Potter stars as we watch them grown from pre-teens into adult movie stars.) So in honor of Harry's 38th birthday on July 31, we've dug through the Getty Images archives to find a treasure trove of picutres throughout the years. Accio, nostalgia! 
Emma Watson (2001)
That face says: "You think I'm Hermione Granger now? Just wait until I grow up, become a UN Ambassador, teach the world about feminism, and leave a bunch of books in public transit hubs. I'm going to overachieve like you've never seen."
Tom Felton (2001)
Poor little Tom Felton is here at the 2001 London premiere of The Socerer's Stone gearing himself up for years of being utterly hated.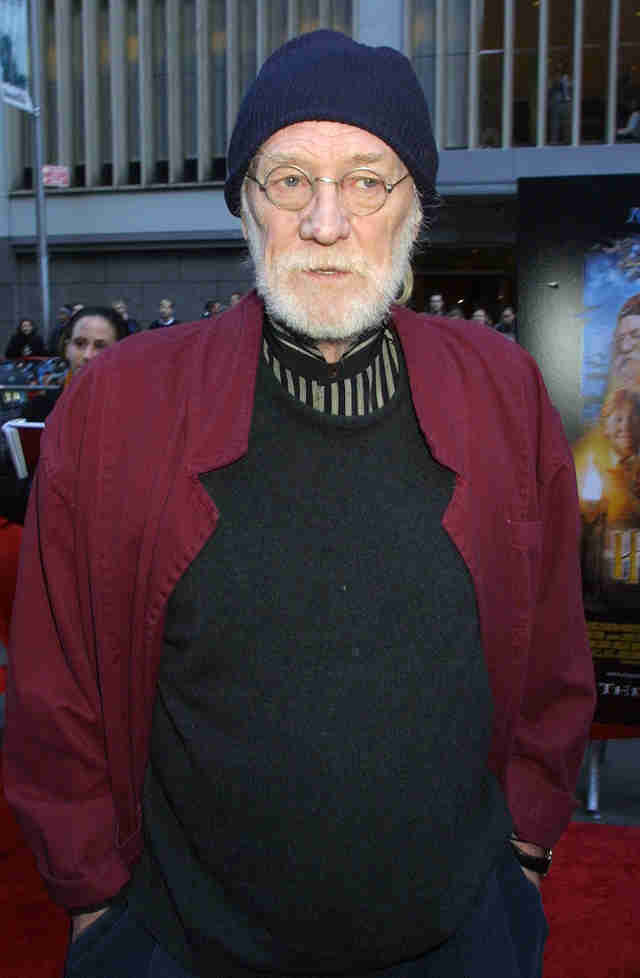 Richard Harris (2001)
Rest in peace, first Dumbledore, who came out to the New York Sorcerer's Stone premiere in these sweet duds.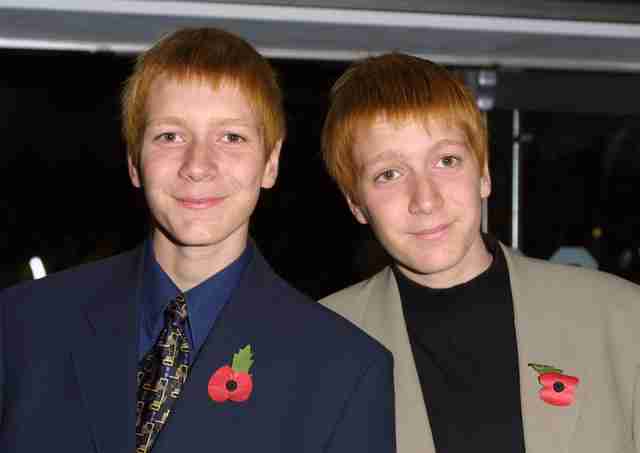 James and Oliver Phelps (2001)
These two look ready to seriously fuck with some people. They've got their routine down, primed to fool people into thinking one is Fred when actually the other is Fred and vice versa with George.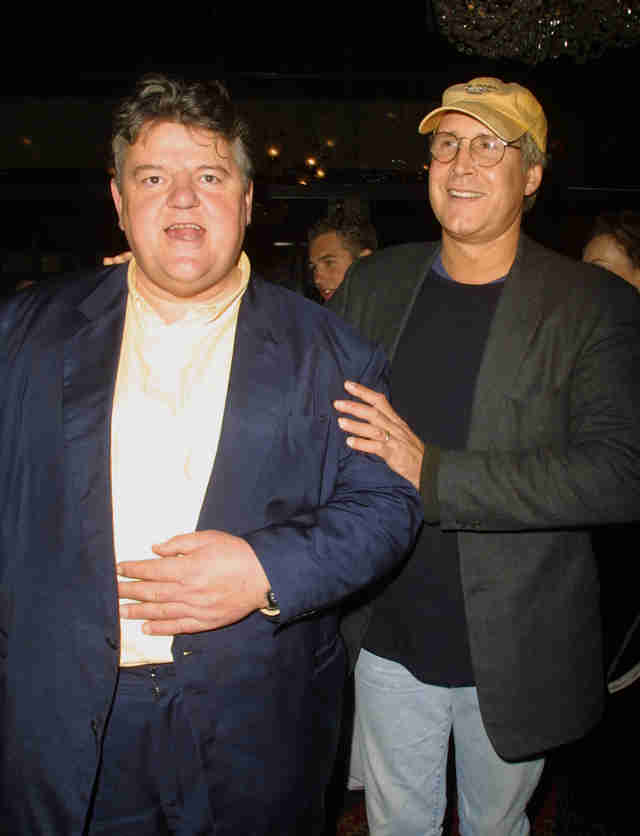 Robbie Coltrane and Chevy Chase (2001)
Remember when Hagrid was in National Lampoon's European Vacation? Chevy Chase does, and probably used that knowledge to get into this premiere. 
Cher (2001)
"Of course I can play a British witch. If I can play Meryl Streep's mom in Mamma Mia! Here We Go Again in a couple of years anything is possible."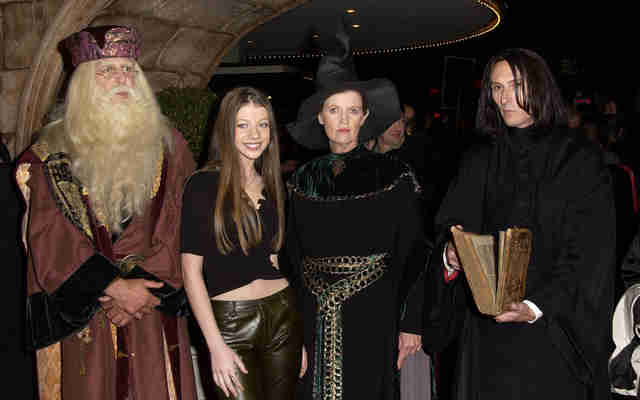 Michelle Trachtenberg (2001)
This was the height of Michelle Trachtenberg's Buffy arc and the height of the ultra low-slung pants look. Do you think she explained what a Key was to anyone at the premiere? Or had to justify Dawn's retconned existence? Meanwhile, she looks vaguely uncomfortable with all these Potter impersonators surrounding her. 
Charlton Heston (2001)
Someone in the crowd was more excited about Moses than Harry Potter.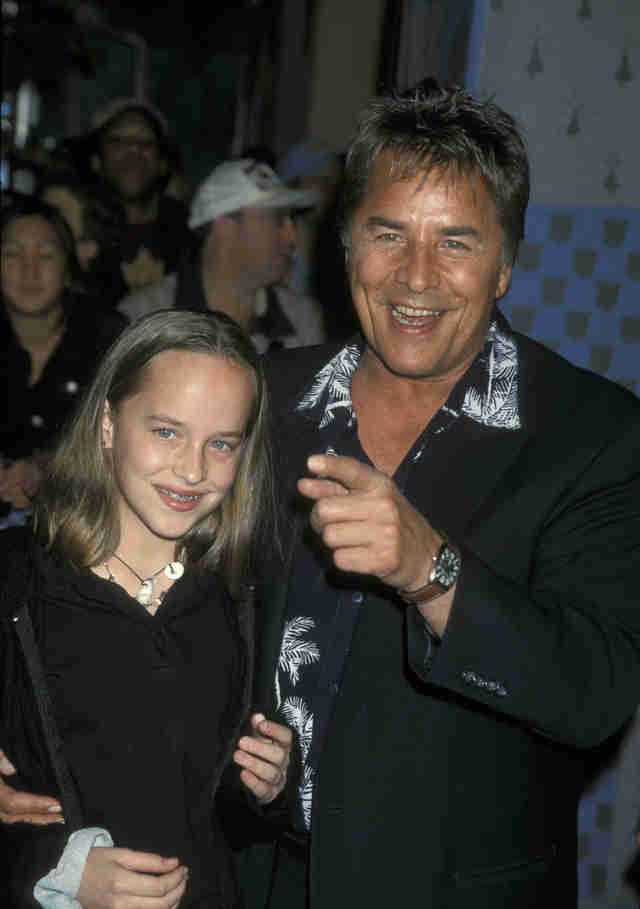 Dakota and Don Johnson (2001)
Once upon a time Dakota Johnson was a Harry Potter fan just like you...except she had a well-connected dad who could get her into the fancy pants premiere.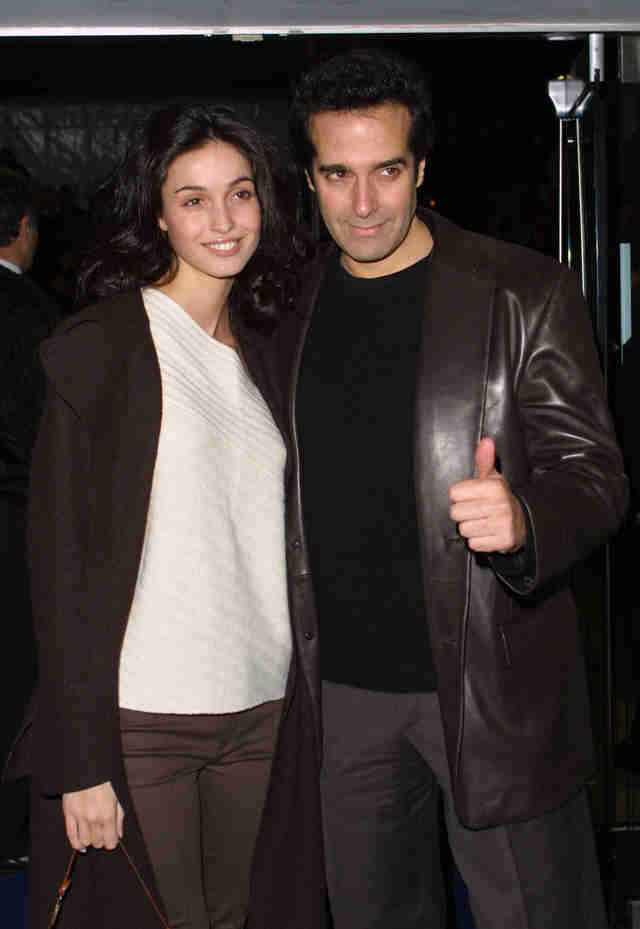 Guest and David Copperfield (2001)
David Copperfield was probably snooty about the fact that he's a real magician. 
Mae Whitman and Alia Shawkat (2001)
Maeby Fünke was plotting her Hollywood takeover at a very young age with...her? 
Sean Astin (2001)
"Mr. Frodo, in just a month we'll show these tots how it's done. You want fantasy? We'll give you fantasy. Also, does this Burberry scarf look good on me?"
Coolio (2002)
Coolio looks calm, but we believe inside he is so ready to see some Whomping Willow hijinks! 
 
Leelee Sobieski (2002)
Leelee Sobieski -- of, wait for it, Never Been Kissed fame -- projected witchy vibes for the Chambers of Secrets event. Related: Remember Leelee Sobieski?
Alfonso Cuarón and the Prisoner of Azkaban cast (2004)
A couple of questions: What did Chris Columbus just tell Daniel Radcliffe? How is Emma Watson's hair doing that? Was Alan Rickman really trying to shake off the Snape with the blonde hairdo? But, mostly, let's just bask in the joy of people who knew they just made the best installment of the franchise, the Prisoner of Azkaban.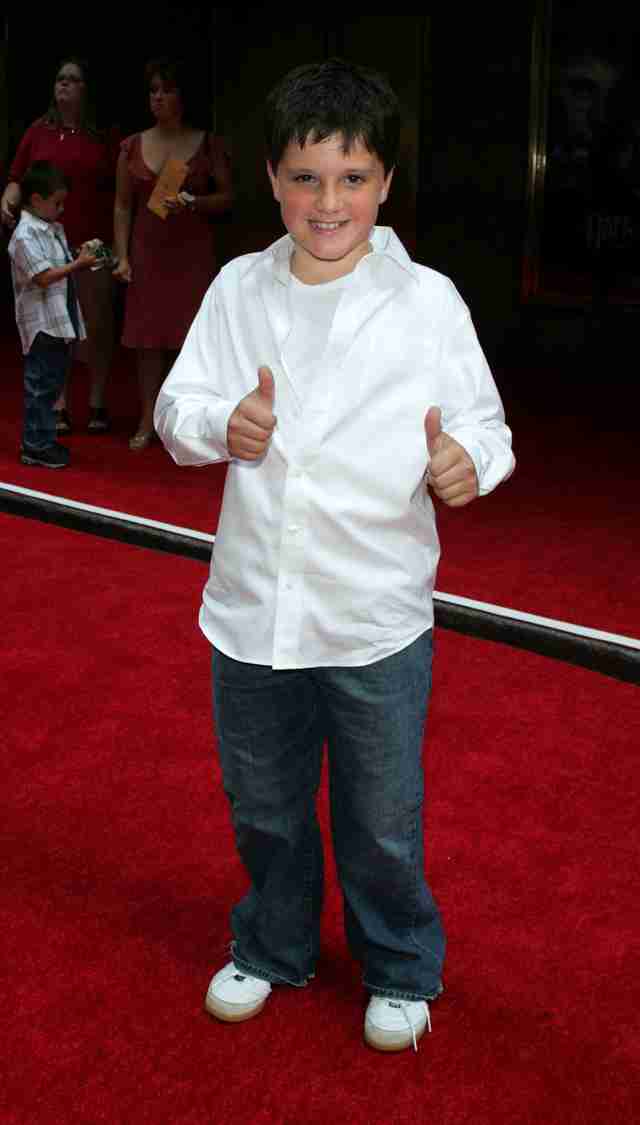 Josh Hutcherson (2004)
It was tempting to just let readers guess who this little nugget was going to grow up into, but for the sake of formatting we had to spoil the surprise. It's Josh Hutcherson, who in a couple of years will lose his baby cheeks, get some better fitting shirts, and star in his own YA franchise, The Hunger Games.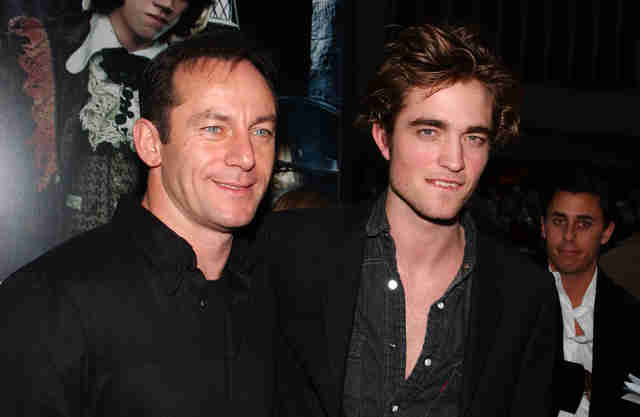 Jason Isaacs and Robert Pattinson (2005)
Still three years out from Twilight, Robert Pattinson is working on his smoldering overbite. (The guy behind him is not super impressed. On the other hand, Jason Isaacs is going full goofball with that smile to remind people, like Tom Felton, that he is not actually a Malfoy in real life. 
Daniel Radcliffe and Ralph Fiennes (2005)
Ralph Fiennes really wants to do this whole thing in character. Radcliffe is like, "Be cool, dude."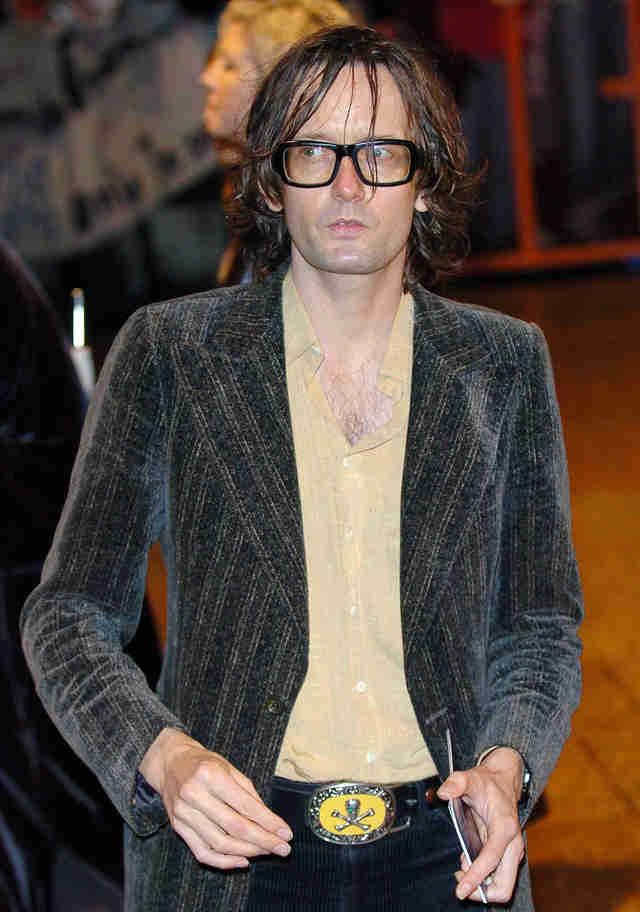 Jarvis Cocker (2005)
In this photo the Pulp frontman looks a bit confused, but he knows why he's here. Don't forget, Cocker was the frontman for The Weird Sisters, the supergroup that performed at the Yule Ball. He even wrote songs like "Do The Hippogriff." Maybe he was just going for some Remus Lupin chic?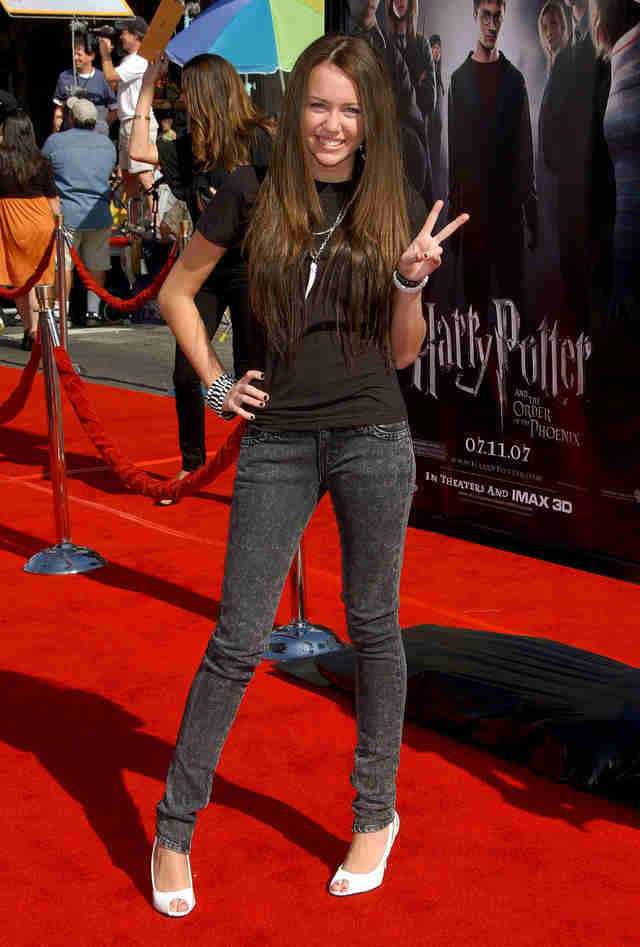 Miley Cyrus (2007)
The Order of The Phoenix is one of the final installments of the Potter saga and came out in 2007. But looking at this photo of Cyrus it seems like ages ago. This is pre-Liam Hemsworth, pre-twerking, pre-Dead Petz. It's enough to send you into an existential spiral. Were we ever so young?  
Helena Bonham Carter (2009)
Is this look meant to make us less frightened of Bellatrix Lestrange? Nice try, Helena. We see that hair. 
One Direction (2010)
Existential crisis, part two: Look at these fresh-faced youths, looking like they could very well be Hogwarts students themselves. (Harry's a Gryffindor. Niall's a Hufflepuff.) 
Ariana Grande (2011)
In 2018 we know that Harry Potter has been a crucial part of the relationship between Grande and her fiancé Pete Davidson. Once upon a time she was just a Nickelodeon star at the Deathly Hallows: Part 2 event. But now and forever we know that Grande is a Potter stan. She knows her shit. 
Sign up here for our daily Thrillist email and subscribe here for our YouTube channel to get your fix of the best in food/drink/fun.