A Starter Kit for Understanding the Appeal of Harry Styles
With 'Harry's House' coming out, we're breaking down what to know about the contemporary rock star.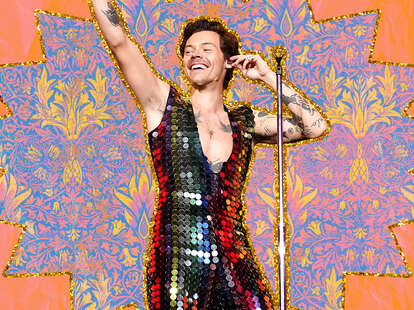 Design by Maitane Romagosa for Thrillist
When you think about the landscape of pop music today, it doesn't seem outlandish to say there aren't many rock stars—you know, David Bowie and Freddie Mercury-esque rock stars. Obviously, there are rock artists, but few stand out on their own as having that archetypal caliber, expansive following, and, most importantly, the element of mystique that so many 20th-century legends had.
One of the few singers who does have all of that—and something entirely unique—is Harry Styles. Ever since his boy band One Direction broke up in 2016 and he launched his solo career a year later, the 28-year-old Brit has become one of the most fascinating names in music (and in Hollywood, too, with his first starring roles, in the buzz-worthy dramas Don't Worry Darling and My Policeman, hitting theaters this fall). Singing '70s-inspired power ballads in feather boas, fur coats, and sequined jumpsuits that expose his tattooed chest just so, he's got that classic rock-star charisma down to a T. But with Styles, it's so much more than some nostalgia factor. Everything he does is with a daring artistic eye—from wearing gender-nonconforming fashion to releasing splashy music videos—and his live shows are experiences in and of themselves.
In many ways, It also feels like he's modernized what it means to be a rock star, creating a contemporary version of what an icon clad in glitter and leather can be. Rather than trashing hotel rooms and showing up late to Madison Square Garden gigs, he's prioritized something quite the opposite by promoting a message of acceptance and kindness. While not many pop stars preach a single explicit message, Styles has ingrained one into his artistry, performance, and persona. Although it's a fairly broad message, he's crafted it in a way that seems authentic, and its simplicity resonates with many of his fans for a variety of reasons. Beyond Styles himself, his mantra has even become integral to the fandom surrounding him.
His talent and ineffable charm may have caught your attention before—whether it was as the curly-haired teen in 1D or with his subsequent radio hits—but now that he's coming off a Coachella-headlining set, approaching the release of his third record, Harry's House, and multiple residencies, there's no better time to fully immerse yourself in his music and understand his appeal. To make yourself at home at Harry's House, if you will, here's what to know about the pop star.
His nostalgic pop-rock tunes
While there is a lot to unpack about Harry Styles, his music is obviously a large part of the appeal. People who unfairly judge boy bands (and are, frankly, sexist for having preconceived notions about artists with predominantly female fan bases) may have ignored Styles' solo debut. But by breaking out with "Sign of the Times," a tragic power ballad that takes its name from a Prince album, he illustrated he was doing something different from his One Direction days and made a statement as a modern act who was looking to rock history for sonic inspiration.
Since then, on both his self-titled 2017 debut and 2019's Fine Line, he's released guitar-and-piano-based pop-rock songs that feel accessible to any audience. Most of them have a hint of sex appeal and a confessional nature, much like radio hits from his idols Fleetwood Mac and Elton John. "Kiwi," for example, is a fan favorite and an anthemic hard-rock banger that's literally meant to be played in stadiums, and the moody six-minute track "She" similarly erupts in sticky-sweet guitar solos. Even as more pop-leaning songs like the successful Fine Line tracks "Adore You,""Golden," and "Watermelon Sugar" feel contemporary, there's still a delicious funkiness to the somewhat nonsensical lyrics, carefully masking his desires and sensitive aching in playful phrases for fans to mine.
It's his nostalgic sound that has pulled a handful of recent fans in. A 29-year-old podcaster who goes by Gray and co-hosts We Blame Harry Styles first became a Styles fan after seeing him host Saturday Night Live in 2019. Already into "his influences" and having recently done a deep dive on '60s and '70s rock, Gray was instantly struck by Styles' music. "Harry came along and he seemed like this wonderful successor to something that I already loved," he tells Thrillist.
For many admirers, the confessional quality of Styles' lyricism is what stands out. One fan who asked to remain anonymous but runs the popular fan account @HSDaily says, "The thing with Harry is that he's unapologetically himself in a way that I think many of us find very aspirational, and that translates into his music and elevates it. The way I see it, his music is an invitation to look into the deepest parts of yourself and come to terms with who you are and with those emotions that make you you, no matter how vulnerable they are."
The Harry's House lead single "As It Was" is a pinnacle of Styles' signature appeal, being both a heartbreaking song about ceaseless loneliness and one of divine '80s synth-pop inspiration. He's clearly a student of pop and rock history, compelled to be vulnerable in his work, like many other radio-favorite rock greats. Adding him to your queue, you'll find that he makes it easy for any music lover to settle into his 20th-century sonic universe that probably resembles a mid-century-modern ranch full of conversation pits.
His "treat people with kindness" message
Harry Styles has become synonymous with the phrase "treat people with kindness." It's the title of a kitschy Fine Line track, which sounds like it could have been the theme for the free-love movement, and it's what's printed on most of his merchandise. It's also a key part of his artistry and personhood, and what makes his energy stand out to so many fans who could use that positivity in their lives.
A fan behind @HSDaily points out that Styles encouraged kindness during the 1D era, so it only made sense that it would become an integral part of his solo endeavors. "Kindness is such a universal language," they say. "We all want to be treated with kindness, but sometimes we forget that it all begins with our own actions. I think Harry spreading this message is a reminder of that—a reminder that we can always be kinder to others and to ourselves. It's such a simple message, but it's one that's very easy to forget, so having it present on everything he does is very significant and [something] the world needs."
For fans who are familiar with Styles' career, it doesn't feel solely like a marketing tactic. Shatha, a 22-year-old who's followed him for over 10 years now, recognizes his kindness theme as a core part of Styles' identity. "He truly seems to care about [his fans], and it makes me feel worthy and loved," she says. "He's always reminding everyone to be whoever they want to be, and I admire that."
It also translates to his music, where even as he exerts a certain emotional rawness, there's also a hint of positivity to recognize that goodness could come tomorrow. It plays out in "Fine Line," for instance. It's an essential listen, according to Shatha, who says, "I love the buildup, with him repeating, 'We'll be a fine line,' [which] leads to him singing, 'We'll be all right.' It gives you chills, and I think it's really comforting. In that moment, I can't help but believe him, and believe that I will indeed be alright."
His connection to the LGBTQ+ community
Styles' "treat people with kindness" catch-all goes hand in hand with the safe space he tries to foster for his LGBTQ+ fans. While he's never put a label on himself, he has long challenged gender norms by experimenting with style, featured both men and women in his music videos, and has been an outspoken ally for years.
Rachel Albert, a 23-year-old fan who's been with Styles since 1D and feels as if she's grown up with him, notes that he was the only member of the boy band to ever wave a pride flag. "I don't think he realizes that that's something that a lot of his queer fans think of, but they do," she says.
While recent devotees have been drawn to the themes in his music and his campiness, they've largely connected to him because of his live show. There tends to be a moment every concert where the singer holds up LGBTQ+ flags, but the way he communicates his connection to the queer community also feels like much more than a gesture. "I've been to a lot of concerts, and I've never felt the way I felt when I was at one of his concerts," says Rachel, who came out to one of her friends as lesbian in the middle of a Styles show. "He goes out of his way to just make everyone feel so safe and so loved and accepted."
Gray, for instance, was part of a group that organized a project where, at a series of MSG shows in fall 2021, an entire section of the stadium held up a rainbow made out of paper during his song "Lights Up." He says, "Harry brings an energy to a venue that makes it feel like a safe space. For me, the way that he's impacted my life has been really big. That sounds corny, but with [the rainbow] project, I wanted to embrace the energy of the room and make people who were there feel seen."
What it comes down to, though, is that he's "very positive about being proud," which is something fans can see in his boundary-pushing aesthetics and how openly he embraces queerness in the crowd. "It's not just that he is up there just waving flags, but he's doing things that make people feel valued," says Gray, who's noticed instances of fans coming out at Styles' shows and the pop star reacting with joy ("I've never seen anyone be so excited about a bisexual person coming out in my life!"). "A lot of people see him onstage talking about his values, saying that he loves his queer fans, and they feel valued in a unique way."
That special Harry style
It's safe to say that there's something special about Harry Styles. But in addition to that rock-star charisma and the positive energy he projects, the trajectory of his particular stardom has been something of a fascination.
"There are so many ways that Harry's career could've gone. He could've chased charts and trends, but ultimately he's let the music speak for himself from the beginning," says one of the @HSdaily managers. The team behind the account began as 1D fans and feel like they've come of age along with him, becoming increasingly interested in art and fashion around the time that he launched his solo work. Because of that, from the start, they say they could "see the vision."
"[He hasn't] stuck to one formula because it worked the first time. He's kept exploring, experimenting, and opening himself up more to be honest and vulnerable in his music, and you can perceive that not only in his lyrics and production, but even in all the other aspects—music videos, artwork, aesthetics, clothes," they say. "He puts so much thought into every detail [and that] everything means something, which makes every piece of work so authentically him." That's the artistry that people are finding in him, they say.
As Gray puts it, "the package of Harry Styles is very compelling." While he may be one player in the mainstream pop machine, he's undeniably one whose sparkle—a word many fans use to describe him—glistens in a way that feels as if he has it and then some. If you've yet to dive in, you may as well: You'll likely find yourself at home, and it's clear that Harry would welcome you in.