Fans who flocked to Dunkirk this weekend were likely split into two groups: those who barely registered that one of the floppy haired, waterlogged soldiers was pop star Harry Styles; and those who barely registered anything else.
In Dunkirk, director Christopher Nolan has managed to unite two of the internet's most infamously vocal fandoms in defense of a film that caters directly to neither of them, yet has still managed to please both. Nolan "fanboys," most of whom got on board after the release of 2008's The Dark Knight, have been anticipating his latest drama since its announcement; and as soon as Styles was cast, millions of One Direction fans suddenly took a vested interest in World War II.
Against all odds, teenage girls all over the world have headed to theaters and taken to social media to defend a relentless, visceral war film with nary a romantic plotline in sight. But they don't seem to care -- as long as Harry Styles makes it out alive.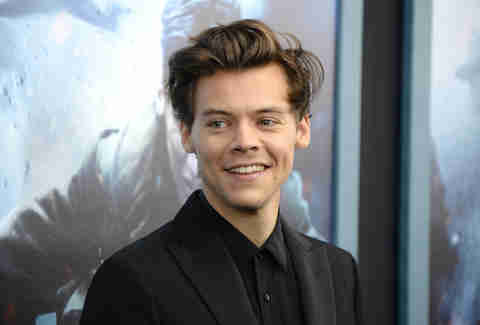 At a glance, the internet's obsession with Styles seems pretty simple. He has all the qualities of a modern-day heartthrob, from impeccable bone structure to an ever-rising number of tattoos to a back catalogue of A-list ex-girlfriends to a cryptic social media presence.
But Styles is more than bedroom wall poster fodder, and his fans knew it before anyone else. It was clear from the early days of One Direction that Styles was, for lack of a better comparison, the group's Justin Timberlake, destined to leave the boy band behind and embark on a successful solo career.
So far, so good.
Styles' self-titled solo album released in May to record-breaking numbers and a hit single in "Sign of the Times." More impressive than the numbers were the critical responses; from Rolling Stone to Billboard, fans and skeptics alike lauded Styles for taking a chance on a true rock n' roll album -- a far cry from the generic pop hits that had brought him thus far.
And now, Styles's acting debut in Dunkirk adds even more depth to his wildly successful reinvention. From Timberlake in The Social Network to Beyonce in Dreamgirls, musicians have made the jump to "serious actor" time and time again, but rarely do they disappear into a role like Styles has managed to do.
As Alex, one of many frightened soldiers desperate to get across the channel and away from the war, Styles gets a chance to demonstrate his considerable chops while blending into the film's sizable ensemble. It's not the subtlest role in Dunkirk -- Styles has significantly more dialogue than costar Fionn Whitehead -- but it's far from showy. Not the kind of role one would expect the current prince of pop to take on.
But that seems to be the theme of the Harry Styles reinvention: doing the opposite of what the world expects. He spent most of his first Saturday Night Live appearance jittering in Mick Jagger caricature. Even now, as critics praise his onscreen debut, Styles hints in interviews that this may be his first and last acting gig. "I may be one and done," he told a BBC reporter at the film's London premiere. "I peaked too soon!"
Whether Styles really is just doing whatever the hell he wants, or if his recent surprising choices are carefully calculated to leave his boy band image behind, there's no denying that it's working in his favor.
Styles has managed to hold onto millions of loyal One Direction fans, unlike some of his bandmates, through mere good sporting. You'd be hard-pressed to find a bad word spoken about the band -- or his fans -- from Styles's mouth. And thanks to his new rock n' roll sound and a solid performance in Dunkirk, he's turning skeptics into fans by the thousands.
It's hard to imagine Styles quitting acting so soon, and now that he's proven his legitimate talent, Hollywood's biggest directors may well come knocking. His Dunkirk performance may not be a perfect gauge for Styles' potential as a leading man, but it's a promising start indeed.
Sign up here for our daily Thrillist email and subscribe here for our YouTube channel to get your fix of the best in food/drink/fun.