Netflix's 'Haters Back Off!' Is the 'Napoleon Dynamite' of TV
Hey guysss, it's me Miranda -- if that greeting doesn't ring familiar, it's about to. Colleen Ballinger's internet persona Miranda Sings now has eight episodes of her Haters Back Off! series streaming on Netflix.
The show plays as an origin story for the YouTube sensation who has amassed millions of subscribers by caking on lipstick, dissing famous people, abusing the English language, and uploading tutorials on everything from dancing to making "TACO BELL POPCISCLES" [sic]. But Haters, co-created by Ballinger and her brother Christopher, focuses less on those vids and more on Miranda's offline pursuit of fame -- love, betrayal, and tragedy all making cameos along the way.
Does this serialized debut deserve a spot in your queue? Should you binge it? We'll help you decide below.
How much of an O.G. Mirfanda are you?
Miranda was born in 2007 as a parody of the cocky singers Ballinger studied vocal performance and musical theater with in college. Though the character has boasted an immense online following since the early 2010s, she didn't bow on a true mainstream stage until 2014, when she played Pictionary with Jerry Seinfeld, Martin Short, and Jimmy Fallon on The Tonight Show.
"I feel a lot of pressure," Ballinger said on her vlog before the taping. "To get up and perform in front of people who have no idea who I am, never heard of the character, probably won't think it's very funny -- they'll think it's weird, they might not get [the joke], because Miranda's such a strange thing -- that's why I'm so nervous." The sentiments serve as a fitting warning for Haters.
That's not to say the show is only for Mirfandas. Sure, Haters contains Easter eggs. (Look for a "Where My Baes At?" kernel.) But it also answers burning questions -- "Why the heck does she wear her lipstick like that?" "Where did her name come from?" -- and fleshes out a bizarre world in ways both newbies and diehards can enjoy. If you're in the former camp, it'd be worth familiarizing yourself with Ballinger's brand of comedy beforehand so you know what to expect.
Do you miss Angela from The Office?
As much as Haters concerns itself with Miranda's dreams, the underlying story it tells is one of five dysfunctional Washingtonians who want each other's approval. The problem is most of the people on the show are too selfish, the types who choose to use each other rather than help each other.
Miranda's joined by Jim (Eastbound & Down's Steve Little), her boneheaded uncle who loves color guard and wants to prove himself as the best talent manager in showbiz. Office alumna Angela Kinsey plays Bethany, Miranda's single mom who works at a grocery store and complains about fake ailments. And last, there's Miranda's helplessly obsessed neighbor Patrick (Erik Stocklin) and her artist sister Emily (Francesca Reale, the comedy's straight man).
Unlike her fellow Tonight Show guests, Ballinger's Netflix castmates all do an admirable job supporting her onscreen. Many get the chance to flex both dramatic and comedic muscles. Kinsey in particular nails her part as a frustrating mom who does all the wrong things at all the wrong times.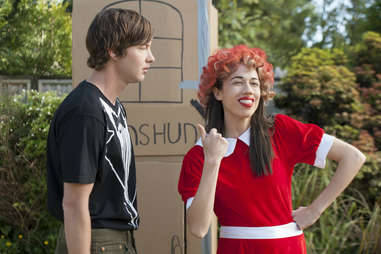 Do you like the sound of a Napoleon Dynamite TV series?
Haters uses personal quirks and awkward situations to deliver the bulk of its laughs. For the uninitiated, the talentless but fearless Miranda might come across as the spiritual sister of Napoleon Dynamite and Kyle Mooney's Good Neighbor interviewer, or a long-lost descendant of Florence Foster Jenkins.
Her uncle's five-step plan to fame -- 1) film a viral video; 2) appear in a TV commercial; 3) start a singing career; 4) nab a big movie role; and 5) become a magician -- essentially outlines Season 1. Almost every episode builds toward an amped-up version of Napoleon's dance skit, showcasing performances that are absurd but glorious to watch.
The other characters own their strangeness, too. If Patrick isn't stuttering while trying to woo the love of his life, for example, he's practicing sword flourishes and collecting discarded popsicle sticks; Bethany buys animal-print wrist braces to spruce up her outfits. Such delicious oddities abound.
Do you think it's funny when people purposely butcher words and songs?
Another aspect of Miranda's humor stems from her unflinching self-confidence -- or delusions. She genuinely believes she's the shining beacon of perfection. The personality trait manifests itself in big things: her performances, her view of herself as a romantic catch. Also, in small things: her sense of style, how she pronounces and spells words. (Magician, for example, is "magichin.")
As Miranda's family members learn, it's fruitless to try to convince her she isn't an authority on ... well, everything. She's the type of person who would say she sings the best rendition of Whitney Houston's "I Will Always Love You," or Wicked's "Defying Gravity." The truth, of course, is her nasally voice, stilted choreography, botched lyrics, and twisted facial expressions make those songs (and others) hilariously awful. In Haters, Miranda's obstinacy at once keeps her going and nearly ruins her. It might do the same to you.
How do you deal with cringe-worthy humor?
This is the kind of show that has someone shove an entire banana into their mouth only to let all the contents slowly drip out. It also fetishizes health conditions and physical handicaps, and floods a backyard full of human feces. Comfortable social interactions are rare.
A karaoke contest and a CD release party guest appearance are supposed to be real displays of talent. They elicit in-show laughs and out-of-show cringes. Why doesn't Miranda start a comedy act? you might think. Why can't she learn to laugh at herself? These are questions that'll haunt the viewer as they resonate through the season finale.
Should you binge?
Watch? Yes. Binge? No. Treat this like Miranda's YouTube page -- maybe one video (read: episode) a day. What's great about Haters Back Off! is it expands a fun world in a way that helps a character leap from micro-content to the 30-minute format. But since Miranda is grating by design, bingers might run the risk of burning out by Episode 4 or 5.
That'd be a shame because the most engaging writing comes in the latter half of the season, as the show's tone dramatically shifts. When Miranda gets a shot at what she believes is a legit opportunity and true love, her story starts to feel less like an ode to success at all costs and more like a warning. You'll want to stick around.
Sign up here for our daily Thrillist email, and get your fix of the best in food/drink/fun.
Sean Fitz-Gerald is a staff writer at Thrillist Entertainment and wants a Taco Bell popsicle now. Find him on Twitter: @srkfitzgerald.