Hayley Kiyoko Is Making the Gay Reality Show of Her Dreams
The pop star known as "Lesbian Jesus" talks about the art that inspires her.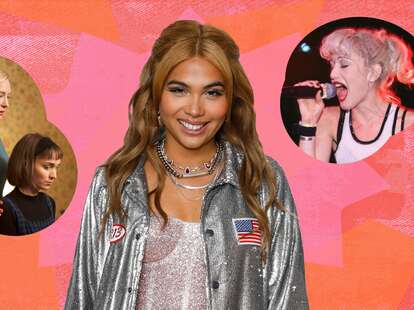 Design by Mallory Rosten for Thrillist
In her own words, the pop star Hayley Kiyoko is a "massive lesbian." To her fans, she's "Lesbian Jesus." As a musician, she's unabashedly herself, writing love songs with female pronouns and letting her own queerness assume center stage. Take, for instance, the self-directed video for "For the Girls," the third single off her upcoming album, which puts a gay spin on the Bachelor franchise.
Kiyoko started her career as a member of a girl group called The Stunners, all the while acting in the Disney Channel's Wizards of Waverly Place and Lemonade Mouth. But she really broke out in 2015 when she released the song "Girls Like Girls," and her status as a bright, gay light of pop was cemented with her 2018 album Expectations. In honor of Pride Month and in anticipation of Panorama, which features songs like "Chance" and "Deep in the Woods," Thrillist spoke with Kiyoko about her formative touchstones.
Stevie Wonder, No Doubt, and Pink
I was really inspired by people that were very unique and bold with who they were. I think the struggle was I didn't really have a queer icon per se in my adolescence. But I loved Stevie Wonder because he told these incredible, wonderful, visual stories with his music. And I was inspired by Gwen Stefani and No Doubt because she was just authentically herself and she was also a tomboy. I loved Pink. I really looked up to the artists that were open with who they were and didn't fit the exact norm of how we should present and how we should dress.
Coming out in the music world
The thing that sparked me the most was this conversation I had with my co-writer Lily May-Young when I was writing music with her. It was raining outside, and she was like, "What are you most afraid of expressing?" She was the first person I came out to in the music world and scene. That was this epiphany moment of "why am I not sharing my actual truth?" That was a turning point for me. So that was my movie or TV moment where I was like, "Hey, maybe I should share who I am, and why am I holding back? What am I waiting for?" That was the day we wrote "Girls Like Girls." That was the moment. And I think that was in my early 20s. I've written songs since I was 5, and I always used male pronouns. And even in the comfort of my own bedroom and the comfort of my own journal, I was afraid someone was going to read it. I was never truthful to myself with who I wanted to really sing about. So that was a big deal for me.
Carol
I've always been cheering any type of queer representation in the film and television space, and I think we're getting more and more. We still need more, but I am always comforted to see that representation start to really come about in a mainstream way. I loved the movie Carol—that was one of my favorite movies that came out. I've just always craved more. And I've always craved to create things that I've always wanted to watch or listen to. There's been such a gaping hole for me, just as a queer woman of color trying to find exactly who I am and exactly why my journey has always been hard. That's always been a great motivator for me to direct my music videos and to hopefully direct features and television.
Reality TV
I love all those dating shows. I just love reality television, and I want to see people like me up there as well. I don't know why we don't have that representation, because queer people are everywhere and we are mainstream. And so I was really inspired to create a music video for "For the Girls" where anyone could find love. Directing this music video was a dream come true, as was casting the contestants. We had queer people in front of the camera, behind the camera. I think I was so surprised by how much in-person presence I needed from the queer community, because we've been in isolation and have been connecting with each other on the internet, and texting, and Zooming and all this stuff. But just being physically with people that have similar experiences and feeling that community was the greatest gift ever. It reminded me of when my fans tell me how wonderful it is to go to my concerts and what a safe space it feels like. I was experiencing that on my own music video shoot, like, gosh, this just feels like oxygen. This feels right, and I feel like I can truly be myself. Every single person, I think, felt very similarly. It was an incredible shoot, and it was so fun because we did multi-cam the way we shot it. I was just like, "Wow, should I get into reality? This is so much fun."
Tegan and Sara and Lance Bass
Tegan and Sara were a huge influence on me and helped normalize my feelings. I think Lance Bass coming out, for real, when that happened, that was a big moment for me too. It's been a culmination of many moments. Many moments of normalization that had led me to truly love myself and be who I am today. And so I think that it's so important for people to encourage one another to have a safe space, to be their authentic selves, because every single branch on that tree is leading to someone fully emerging.
Being "Lesbian Jesus"
At the time, I didn't know that nickname was going to stick, and it's really stuck to the point of it being in the Urban Dictionary. I'm so grateful for my fans because they have made me feel so normalized and seen and celebrated. I just want them to feel the same way. Growing up, I didn't feel that way. There's always going to be challenges. Life is going to be hard. But why not make life a little easier and support one another and share our struggles and our triumphs and our experiences with one another to help bring ease to someone else's journey? I don't really have an answer to what Lesbian Jesus means to me now. To me, it just feels like a big hug from my fans. And I feel celebrated for being my true, authentic self, which is a massive lesbian.