Every New Movie and TV Show Coming to HBO Max and HBO Go in July
Even more titles are coming to HBO Max's already impressive slate.
It's a month now since HBO Max launched, and this July the new service is continuing to follow through with its plan to release 30+ originals within its first year. Both scripted and animated series on the way, including Close Enough, the new animated comedy from Regular Show creator J.G. Quintel, and House of Ho, a "docusoap" about the prestigious Vietnamese-American Ho family based in Houston, Texas. HBO is of course still rolling out their own programming, too, with the horror anthology Room 104 returning for its final season next month. You'll also be able to watch 2019 movies Harriet and Motherless Brooklyn, and so much more on HBO Max's already impressive slate in July. Find out what's on the way below. 
*Denotes titles that will be available on both HBO (previously known as HBO Go) and HBO Max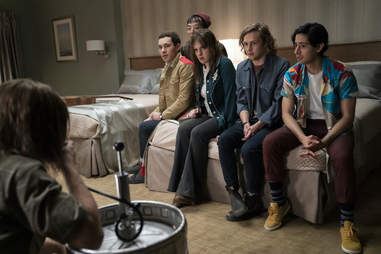 'Room 104' Season 4

| Tyler Golden/HBO
Everything coming in July
Available 7/1
Absolute Power
The Adventures of Pinocchio
The Amazing Panda Adventure
American Graffiti*
American History X
Angels in the Outfield
Angus
August Rush
The Bachelor
Batman & Mr. Freeze: SubZero
Batman and Harley Quinn
Batman vs. Two-Face
The Batman vs. Dracula
Batman: Assault on Arkham
Batman: Return of the Caped Crusaders
Batman: Under the Red Hood
Batman: Year One
Beautiful Creatures
Beerfest
The Big Year (Extended Version)*
The Bishop's Wife
Blade 2
Blade
Blade: Trinity
Blazing Saddles
Blood Work
Born to Be Wild
The Boy Who Could Fly
Bridget Jones: The Edge Of Reason*
Catch Me If You Can
Clara's Heart
The Conjuring
Cop Out
Creepshow
Death Becomes Her*
The Departed
The Dirty Dozen
Dirty Harry
Doc Hollywood
Dolphin Tale
Dumb & Dumber
Dumb and Dumberer: When Harry Met Lloyd
Enemy of the State*
The English Patient*
The Enforcer
The Exorcist
Fantastic Four (Extended Version)*
Flags of Our Fathers*
Flushed Away*
Four Christmases
Fred Claus
Free Willy 2: The Adventure Home
Free Willy 3: The Rescue
Free Willy
Free Willy: Escape from Pirate's Cove
Freedom Fighters: The Ray
The Gauntlet
Get Smart
Good Girls Get High
Green Lantern: Emerald Knights
Green Lantern: First Flight
The Green Pastures
Grumpier Old Men
Grumpy Old Men
A Guy Named Joe
Halwa*
Heartbreak Ridge
The Horn Blows at Midnight
Horrible Bosses (Extended Version)*
In Secret*
In Time*
Inkheart
Innerspace*
Insomnia
J. Edgar
Jack Frost
Jane Eyre*
Jeepers Creepers 2*
Jeepers Creepers*
JLA Adventures: Trapped in Time
John Q*
Journey to the Center of the Earth
Justice League vs. Teen Titans
Justice League: Crisis on Two Earths
Justice League: Doom 
Justice League: Gods and Monsters
Justice League: The Flashpoint Paradox
Justice League: The New Frontier
Justice League: Throne of Atlantis
Justice League: War
Kill Bill: Volume 1
Kill Bill: Volume 2
Kiss of the Dragon*
Lara Croft: Tomb Raider
Lara Croft Tomb Raider: The Cradle of Life
The Last Emperor*
Last Knights*
The Last Samurai
Lego DC Comics Super Heroes: Justice League vs. Bizarro League
Lego DC Comics Super Heroes: The Flash
Lego DC Super Hero Girls: Super-Villain High
Lego Justice League: Cosmic Clash
Lego Justice League: Gotham City Breakout
The Letter*
Life Is Beautiful*
Little Big League
Little Manhattan*
Little Nicky
The Longest Yard
Loser Leaves Town*
Love Don't Cost a Thing
Mad Max 2: The Road Warrior
Mad Max Beyond Thunderdome
Magnolia*
Malibu's Most Wanted
Mars Attacks
Megamind
Message In A Bottle
Michael
Mickey Blue Eyes
Money Talks
Monkey Trouble
Moonwalk With Me*
Mr. Nanny
Munich*
Music and Lyrics
Nancy Drew
National Lampoon's Christmas Vacation
National Lampoon's European Vacation
National Lampoon's Loaded Weapon
National Lampoon's Vacation
Necessary Evil: The Super-Villains of DC Comics, (Documentary premiere)
New Looney Tunes
Now and Then
Orphan
Osmosis Jones
Pee-wee's Big Adventure
The Polar Express
Pop Star
Power
The Resurrection Of Gavin Stone*
Rich and Famous
The Right Stuff
Rumor Has It
Saving Private Ryan
Sesame Street Presents Follow That Bird 
Showgirls*
Something to Talk About
Space Jam
Spies Like Us
Star Trek
Stay*
Sudden Impact
Suicide Squad: Hell to Pay
Superman II
Superman III
Superman IV: The Quest for Peace
Superman Returns
Superman: Brainiac Attacks
Superman: The Movie
Superman: Unbound
Sweet November
Take the Lead
Tenacious D in the Pick of Destiny
Tequila Sunrise
The Talented Mr. Ripley*
Thirteen Ghosts
Tightrope
Tom & Jerry: The Movie
The Towering Inferno*
Troy
True Crime
Twelve Monkeys*
Unforgiven
Vegas Vacation
Watchmen
What's Your Number? (Extended Version)*
The Women
Wyatt Earp
Yogi Bear
Yours, Mine, and Ours
Zoetic* 
 
Available 7/3
Los Futbolismos (Aka The Footballest)*
 
Available 7/4
Midway*
 
Available 7/7
Blue Exorcist, Seasons 1-2
Your Lie in April, Season 1
91 Days, Season 1
 
Available 7/9
Close Enough, Series premiere (Max original)
Expecting Amy, Docuseries premiere (Max original)
Available 7/11
Sesame Street, Season 50 finale (HBO original)
Last Christmas*
 
Available 7/13
Foodie Love, Series premiere (HBO original)
 
Available 7/14
Inuyasha, Season 1
Showbiz Kids, Documentary premiere (HBO original documentary)
 
Available 7/15
Smurfs, Season 1
 
Available 7/16
House of Ho, Series premiere (Max original)
 
Available 7/17
Abuelos (Aka Grandpas)*
 
Available 7/18
Harriet*
 
Available 7/21
Bungo Stray Dogs, Seasons 1-3
Puella Magi Madoka Magica, Season 1
 
Available 7/23
Tig N Seek, Series premiere
 
Available 7/24
Room 104, Season 4 premiere (HBO original)
La Gallina Turuleca (Aka Turu, The Wacky Hen)*
 
Available 7/25
Motherless Brooklyn*
 
Available 7/28
Aldnoah.Zero, Season 1
Mob Psycho, Season 1
Stockton On My Mind, Documentary premiere (HBO original documentary)
 
Available 7/30
The Dog House - UK Edition, Season 1 (Max original)
Frayed, Series Premiere (Max original)
Available 7/31
Los Lobos*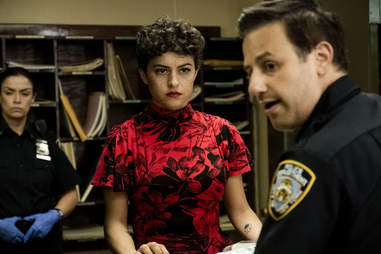 'Search Party' Season 3

| HBO Max
Everything that arrived in June
Available 6/1
Adventures in Babysitting*
Amelie*
An American Werewolf in London*
The American*
Another Cinderella Story
Beautiful Girls*
Black Beauty 
Bridget Jones's Baby
The Bucket List
Cabaret
The Champ
Chicago
A Cinderella Story
A Cinderella Story: Once Upon a Song
Clash Of The Titans
Cradle 2 the Grave
Crash*
Doubt*
Dreaming Of Joseph Lees*
Drop Dead Gorgeous
Dune*
Elf
Enter The Dragon
Far and Away*
Final Destination
The Final Destination
Final Destination 2
Final Destination 3
Firewall
Flipped
Forces of Nature*
The Fountain*
Frantic
From Dusk Til Dawn
Full Metal Jacket
Gente De Zona: En Letra De Otro*
The Good Son*
The Goonies
Hanna*
Havana*
He Got Game*
Heaven Can Wait
Heidi
Hello Again*
The Hobbit: An Unexpected Journey
The Hobbit: The Desolation of Smaug
The Hunger
In Her Shoes*
In Like Flint*
It Takes Two
Juice
The Last Mimzy
License To Wed
Life*
Lifeforce*
Lights Out*
Like Water For Chocolate*
Looney Tunes: Back in Action
The Losers
Love Jones
Lucy*
Magic Mike
McCabe and Mrs. Miller
Misery
Miss Pettigrew Lives for a Day*
A Monster Calls*
Mr. Wonderful*
Must Love Dogs
My Dog Skip
Mystic River
The Neverending Story
The Neverending Story II: The Next Chapter
New York Minute
Nights In Rodanthe
No Reservations
Ordinary People
Our Man Flint*
The Parallax View
Patch Adams*
A Perfect World
Pedro Capo: En Letra Otro*
Personal Best
Presumed Innocent
Ray*
Richie Rich
Rosewood
Rugrats Go Wild
Running on Empty
Secondhand Lions
She's The Man*
Sherlock Holmes: A Game of Shadows*
Space Cowboys
Speed Racer
Splendor in the Grass
The Stepfather*
Summer Catch
Teenage Mutant Ninja Turtles
Teenage Mutant Ninja Turtles 2
Teenage Mutant Ninja Turtles 3
Tess*
Tim Burton's Corpse Bride
The Time Traveler's Wife
Titanic
TMNT
Torch Song Trilogy
Turbo: A Power Rangers Movie*
Tweety's High-Flying Adventures
U-571*
U.S. Marshals
Unaccompanied Minors
Uncle Buck*
Veronica Mars
Walking and Talking*
We Are Marshall
Weird Science*
When Harry Met Sally
Wild Wild West
Wonder*
X-Men: First Class*
You've Got Mail
4th & Forever: Muck City, Season 1
Available 6/2
Inside Carbonaro, Season 1
Available 6/4
HBO First Look: The King of Staten Island* (HBO original)
We're Here, Season finale* (HBO original)
Available 6/5
Betty, Season finale* (HBO original)
Available 6/6
Ad Astra*
Yvonne Orji: Momma, I Made It!* (HBO original)
Available 6/7
I May Destroy You, Series premiere* (HBO original)
Available 6/10
Infinity Train, Season 2 premiere
Available 6/12
El asesino de los caprichos (AKA The Goya Murders)* 
Available 6/13
The Good Liar* 
Available 6/14
I Know This Much Is True, Limited series finale* (HBO original)
Insecure, Season 4 finale* (HBO original)
Available 6/16
Age of Big Cats, Season 1
Ancient Earth, Season 1
Apocalypse: WWI, Season 1
Big World in a Small Garden
The Celts: Blood, Iron & Sacrifice, Season 1
Cornfield Shipwreck
The Daunting Fortress of Richard the Lionheart
David Attenborough's Ant Mountain
David Attenborough's Light on Earth
DeBugged
Digits, Season 1
Dragons & Damsels
Ebony: The Last Years of the Atlantic Slave Trade
Expedition: Black Sea Wrecks, Season 1
First Man
#GeorgeWashington
Going Nuts: Tales from Squirrel World
Hack the Moon: Unsung Heroes of Apollo
The History of Food, Season 1
Hurricane the Anatomy, Season 1
Into the Lost Crystal Caves
Jason Silva: Transhumanism
King: A Filmed Record… Montgomery to Memphis (Parts 1 and 2), Season 1
Knuckleball!
Leonardo: The Mystery of The Lost Portrait
Looney Tunes (Batch 2), Season 1
Man's First Friend
Penguin Central
Pompeii: Disaster Street
Popeye (Batch 2), Season 1
Pyramids Builders: New Clues
Realm of the Volga, Season 1
Sacred Spaces, Season 1
Scandalous: The Untold Story of the National Enquirer, Documentary premiere
Scanning the Pyramids
Science vs. Terrorism, Season 1
The Secret Lives of Big Cats, Season 1
Secret Life of Lakes, Season 1
Secret Life Underground, Season 1
Secrets of the Solar System, Season 1
Space Probes!, Season 1
Speed, Season 1
Spies of War, Season 1
Tales of Nature, Season 1
Tsunamis: Facing a Global Threat
Versailles Rediscovered: The Sun King's Vanished Palace
Vitamania
Whale Wisdom
The Woodstock Bus
Available 6/18
Summer Camp Island, Season 2 premiere (Max original)
Karma, Series premiere (Max original)
Available 6/19
Bully. Coward. Victim. The Story of Roy Cohn, Documentary premiere* (HBO documentary)
Entre Nos: The Winners* (HBO original)
Bajo el mismo techno (AKA Under the Same Roof)*
Available 6/20
Ford V. Ferrari*
Available 6/21
Perry Mason, Drama series premiere* (HBO original)
Available 6/22
Hard, Series finale* (HBO original)
Available 6/24
South Park, Seasons 1-23
Transhood, Documentary premiere* (HBO documentary)
Available 6/25
Adventure Time Distant Lands: BMO, Special premiere (Max original)
Doom Patrol, Season 2 premiere (Max original)
Esme & Roy, Season 2A premiere (Max original)
Search Party, Season 3 premiere (Max original)
Available 6/26
Hormigas (AKA The Awakening of the Ants)
Available 6/27
Doctor Sleep (Director's Cut)*
Available 6/28
I'll Be Gone in the Dark, Docuseries premiere* (HBO original)
Available 6/30
Welcome to Chechnya, Documentary premiere* (HBO documentary)
Need help finding something to watch? Sign up here for our weekly Streamail newsletter to get streaming recommendations delivered straight to your inbox.
Follow the Thrillist Entertainment editors on Twitter @ThrillistEnt.