A new month is here, which means a fresh slate of HBO's usual range of high-profile originals and first television runs of major films. Here are all the movies and TV shows arriving on both the HBO GO and HBO NOW apps in the month ahead.
Recommended Video
There's a Stock Market-Themed Cocktail Bar in Hong Kong
Highlights
Random Acts of Flyness, Series Premiere (available 8/3)
High Art might not always make for relatable TV, but artist, acclaimed filmmaker, and Afrofuturist Terrence Nance's new surrealist variety show hits the mark with feats of performance-based, zeitgeist-y storytelling that will be a mandatory watch.
Three Billboards Outside Ebbing, Missouri (available 8/4)
Martin McDonagh's revenge saga Three Billboards Outside Ebbing, Missouri picked up seven nominations this past Oscar season -- including Best Actress for star Frances McDormand (winner!) and two Best Supporting Actor nods for Sam Rockwell (winner!) and Woody Harrelson (loser!) -- but became a lightning rod of controversy and debate in the process. Where some saw a "nuanced" film about empathy and vengeance, others began to point out blind spots in the film's treatment of its black characters. Decide whether you like it or not this month!
Succession, Season 1 Finale (available 8/5)
This corporate family dramedy about the Roys, the wealthiest and arguably worst people in America (or at least the media and entertainment biz), from executive producers Adam McKay and Will Ferrell has become Sunday night appointment viewing over the course of its first season, and, thank God, it's already been renewed for Season 2. FFO: The Newsroom, minus the self-aggrandizing, and Billions, minus the in-world competency of the characters.
Insecure, Season 3 (available 8/12)
Honestly, if you aren't excited for Season 3 of Issa Rae's singular, fearless comedy based off of her successful web series "Awkward Black Girl," it's time to reassess your taste.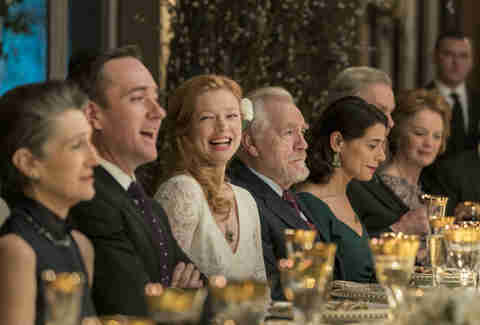 Everything else
Available 8/1
17 Again (2009)
Aranyelet (AKA Golden Life), Season 1 and 2
The Blind Side (2009)
Fargo (1996)
The Fugitive (1993)
The Good Lie (2014)
Heaven Can Wait (1978)
The Hunted (2003)
It's Complicated (2009)
Kiss Kiss, Bang Bang (2005)
Land of the Lost (2009)
Mamartuile (2017)
Murder by Numbers (2002)
New Jack City (1991)
The Nutty Professor (1996)
Nutty Professor II: The Klumps (2000)
Shine (1996)
Super Troopers (2002)
Taxi (2004)
The Terminal (2004)
The Truth About Charlie (2002)
U.S. Marshals (1998)
Valentina (2016)
The Verdict (1982)
Available 8/3
Animals, Season 3 Premiere
Random Acts of Flyness, Series Premiere
Los Buscadores (AKA Gold Seekers) (2017)
Available 8/4
Three Billboards Outside Ebbing, Missouri (2017)
Available 8/5
Succession, Season 1 Finale
Available 8/7
Hard Knocks, Season 13 Premiere
Available 8/10
Taco Shop (2018)
Available 8/11
Murder on the Orient Express (2017)
Available 8/12
Ballers, Season 4 Premiere
Insecure, Season 3 Premiere
Available 8/18
Darkest Hour (2017)
Esme & Roy, Season 1
Available 8/25
Father Figures (2017)
Drew Michael
Available 8/26
Sharp Objects, Season 1 Finale
Everything that arrived in July
Available 7/1:
All About Steve (2009)
Away We Go (2009)
Barbershop (2002)
Barbershop 2 (2004)
Batman (1966)
Being John Malkovich (1999)
Blow (2001)
Goodbye Christopher Robin (2017)
Good Will Hunting (1997)
Jennifer's Body (2009)
Liar Liar (1997)
March of the Penguins (2005)
Passenger 57 (1992)
Practical Magic (1998)
Princess Bride (1987)
State of Play (2009)
The Spy Next Door (2010)
Table 19 (2017)
These Colors Don't Run (2017)
Tooth Fairy (2010)
Whip It (1992)
Available 7/2
The Belko Experiment (2017)
Available 7/6
Misión Estrella (AKA The Highest Goal) (2017)
Available 7/7
Justice League (2017)
Available 7/8
Sharp Objects, Series Premiere
Bill Maher: Live from Oklahoma
Available 7/11
HBO First Look: Mama Mia! Here We Go Again
Available 7/13
Tesoros (2017)
Available 7/14
Battle of the Sexes (2017)
Sesame Street, Season 48 Finale
Available 7/16
Robin Williams: Come Inside My Mind
Available 7/19
The Boy Downstairs (2018)
Available 7/20
Off the Menu (2018)
Available 7/21
The Snowman (2017)
Available 7/27
Reinbou (AKA Rainbow) (2017)
Available 7/28
Victoria & Abdul (2017)
Available 7/29
Sr. Ávila, Season 4 Premiere
Sign up here for our daily Thrillist email and subscribe here for our YouTube channel to get your fix of the best in food/drink/fun.