All the HBO Max Original Movies and TV Shows Coming in 2022
HBO Max has lots of exciting new movies and series in store for this year.
'Pretty Little Liars: Original Sin'

| Karolina Wojtasik/HBO Max
'Pretty Little Liars: Original Sin'

| Karolina Wojtasik/HBO Max
HBO Max has a lot that's worth getting excited about. Although the streaming service is still relatively new, having launched in spring 2020, and doesn't have as massive an output of original content as Netflix, the Max Originals library is growing steadily with plenty of new movies and series heading to the streamer this year. Here, we're rounding up the slate of titles on the way—from popular shows that are coming back for another season to brand-new series. Just note that on this list you'll find strictly HBO Max Originals—not HBO series (such as House of the Dragon), although they do stream on the platform. We'll keep updating this list as more shows and movies are announced throughout the year.
ALSO READ: Our round-ups of every Netflix original coming in 2022 and new and returning TV shows to look forward to in 2022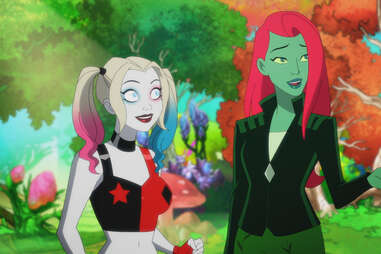 JULY 28
Citizen Ashe
New documentary. If you missed Rex Miller and Sam Pollard's Arthur Ashe documentary when it aired on CNN, good news: It's coming to HBO Max at the end of July. Aside from being the country's first great male tennis star, the course of Ashe's life set him on a path of political and medical activism, outspoken against South African apartheid and advocating for victims of AIDS.
(Watch the trailer)
Season 3. Everybody's favorite supervillain is coming back for even more mayhem. The latest season of the animated DC series finds Harley and her girl Poison Ivy on an "eat, bang, kill" tour, so get ready for chaos and a whole lot of fun.
(Watch the trailer)
House Party
New movie. Music-video director Calmatic (who's known for helming "Old Town Road" and working with major rappers) is making his feature-length directorial debut with this LeBron James-produced remake of the 1991 movie House Party. Definitely look forward to an incredible soundtrack with this one.
Pretty Little Liars: Original Sin
New series. Pretty Little Liars, which ran from 2010 to 2017, was one of Freeform's biggest successes. Based on Sara Shepard's YA novels, it spawned many spinoffs, although none were as successful as the original series about teens Spencer, Hanna, Aria, and Emily, who were terrorized by the mysterious "A" after their friend Allison disappeared. Now, the show is getting rebooted by Lindsay Calhoon Bring and Roberto Aguirre-Sacasa (Chilling Adventures of Sabrina) with a new cast in a different town and another set of melodramatic horrors. "Two can keep a secret if one of them is dead," baby!
(Watch the trailer)
AUGUST 4
Sweet Life: Los Angeles
Season 2. This Issa Rae-produced reality series about what it means to be Black and coming of age in your mid-20s returns in August with a four-episode premiere. The remainder of the 10-episode season then rolls out weekly.
(Watch the trailer)
AUGUST 25
House of Ho
Season 2. The reality series about the wealthy Vietnamese-American Ho family is back for more laughs and drama. After Season 1 introduced viewers to Binh and Hue and their children, the 10-episode Season 2 will introduce extended members of the Ho dynasty.
TBA AUGUST
SELENA + CHEF
Season 4. Join actress Selena Gomez for a new slate of recipes and wholesome banter, as her cooking show that features a different famous chef every episode returns. This time around, she'll be cooking from the comfort of a lovely beach home.
TBA 2022
Doom Patrol
Season 4. The fourth season of the much-beloved DC television superhero team series is coming soon, following Negative Man, Cyborg, Robotman, and the rest as they finally accept their fate as superheroes in the aftermath of their confrontation with the Brotherhood of Evil. It's about time!
Gremlins: Secrets of the Mogwai
New animated series. This animated series tells the origin story of the good boy Mogwai Gizmo and how the shop owner Mr. Wing first came into contact with it in 1920s Shanghai as a little boy. Expect to see some post-midnight snacking turn into a very surprising disaster.
Love and Death
New miniseries. This drama tells the true story of how a Texas woman named Candy Montgomery brutally murdered her best friend Betty Gore in the '80s. Lesli Linka Glatter (Homeland) directs the show, and David E. Kelley (Big Little Lies) produces, with Elizabeth Olsen and Lily Rabe starring. (No, you're not seeing double: There's a miniseries about this exact same story that came out on Hulu this year, too.)
Pennyworth
Season 3. Moving from Epix to HBO Max for its third season, Pennyworth continues to follow the exploits of Thomas Wayne (Ben Aldridge) and his security detail/butler, Alfred Pennyworth (Jack Bannon), meeting the two five years further into the future where a new era of superheroes and villains has dawned.
Titans
Season 4. The young heroes in Season 4 of this Teen Titans series seem to be facing a new big bad: Lex Luthor. IDK, maybe you've heard of him.
Untitled Lizzo Documentary
New documentary. The latest recording artist to get a pop doc is Lizzo, who has been one of the most groundbreaking artists to blow up in the past several years. Directed by Doug Pray (The Defiant Ones), the documentary will chart her rise from her humble beginnings coming up in the Houston and Minneapolis scenes to the release of her debut record Cuz I Love You and subsequent world tour.