Everything Coming to HBO Max in 2021
Check out the impressive slate of original movies and shows arriving this year.
HBO Max, for as much confusion and controversy it's generated in its short life, might secretly be the best streaming service around, considering its vast library of HBO shows and movies, Warner Bros. blockbusters, Studio Ghibli masterpieces, canonical films from the Turner Classic Movies archives, and lots more. Debuting to generally positive reviews (albeit disorienting plenty of potential users with residual HBO Go and HBO Now branding, and annoying others for not being initially available on platforms like the Amazon Fire and Roku) in spring 2020, launch-era HBO Max feels like it was just a preview for what's to come.
Most notably, the company shook the movie industry when it announced that Wonder Woman 1984 and all of Warner Bros.' subsequent 2021 movie releases will land on HBO Max at the same time they debut in theaters for the foreseeable future as the pandemic mandates restrictions on group gatherings indoors. Even though we might be relegated to watching movies we yearn to see in a dark theater, like Dune and Matrix 4, on our home TVs, at least we won't have to hold out another year or two to see them.
On top of that, and HBO proper's already solid TV slate, the list of HBO Max original shows and movies is growing fast, with 50 all-new titles set to arrive in 2021, along with returning favorites. Here's what to look out for this year. Note: Only HBO Max Originals and the previously mentioned Warner Bros. theatrical films are covered here; for new and returning HBO series (like Succession), check out our 2021 TV preview, and read our 2021 movie preview and 2021 Netflix calendar while you're at it.
Animated series. April 15.
The final season of this Cartoon Network animated series created by
Regular Show
writer Owen Dennis is getting the Max Original rebrand treatment. Set on an endless train full of fantastical cars that's traveling into oblivion, the anthology tells a story about a different passenger and their personal struggles each season.
Docuseries. April 15.
Marky Mark has got a passion for business, baby! This six-part docuseries explores how the actor juggles his career in Hollywood (and
mind-boggling daily routine
) with his many business ventures, from his clothing line and gyms to, of course, his Wahlburgers restaurants.
Warner Bros. Pictures
Movie. April 23.
Mortal Kombat
, one of the most popular video game franchises ever made, has been adapted into feature films before, but it's been a while, and the people are clamoring to return to the realms in which champions must duel in martial arts tournaments to conquer each other.
The Big Shot with Bethenny
Reality series. April TBA.
Bethenny Frankel is returning to reality TV. No, the former
Real Housewives of New York
star isn't dipping back into the
Housewives
universe: This is an all-new show in which the business mogul puts aspiring execs to the test for a spot on her Skinnygirl team, a la
The Apprentice
.
Ellen's Next Great Designer
Reality series. April TBA.
There can be a competition series about just about anything these days, and this one puts furniture designer's upholster, building, and creativity skills in action. Ellen Degeneres, who is apparently a big design fan, hosts and fellow furniture fan Scott Foley (Scandal, Whiskey Cavelier) is among the judges.
Generation Hustle
Docuseries. April TBA.
Millennials just can't stop the grind. This CNN Originals-produced docuseries explores the lengths young professionals go for fame and fortune.
'Those Who Wish Me Dead'

| Warner Bros. Pictures
Those Who Wish Me Dead
Movie. May 14.
Angelina Jolie, action star, had a nice ring to it back in her run as an over-sexualized Lara Croft in several Tomb Raiders (followed by less memorable movies), and now she's stepping back into a similar action-packed role in this adaptation of Michael Koryta's popular thriller novel of the same name. The neo-western follows a teenage boy who witnessed a brutal crime and the survivalist (Jolie) sent to protect him as he's being pursued by a pair of assassins and a wildfire rages around all of them.
The Conjuring: The Devil Made Me Do It
Movie. June 4.
First of all, you have to respect the third Conjuring movie for ditching the classier numbered titling of its first sequel and going with the much more fun Devil Made Me Do It subtitle. James Wan won't be handling directing duties here, but series stars Vera Farminga and Patrick Wilson are back to do some more creepy sleuthing as real-life paranormal investigators Ed and Lorraine Warren.
'In the Heights'

| Warner Bros. Pictures
Movie. June 18.
Lin-Manuel Miranda made his mark before
Hamilton
with this musical ode to the Manhattan neighborhood where he was raised. Now it comes to the screen with rising star Anthony Ramos as protagonist Usnavi, the character Miranda played on Broadway. We're most excited to see what
Crazy Rich Asians
director Jon M. Chu back in
Step Up
mode, filming intricately choreographed, massive dance sequences on New York City streets.
'Space Jam: A New Legacy'

| Warner Bros. Pictures
Movie. July 16.
While we're not getting the version of a
Space Jam
sequel directed by avant-garde filmmaker Terence Nance, which sounded very cool, we're still ready to slam with this new saga of basketball starring LeBron James and the Looney Tunes. Welcome to the jam, indeed.
Warner Bros. Pictures
Movie. August 6.
No, you're not experiencing superhero movie déjà vu. There was a movie from 2016 called
Suicide Squad
, which starred Will Smith, Margot Robbie, and Jared Leto as the Joker. Robbie returns as Harley Quinn, who she played in the recent
Birds of Prey
movie, but most of the rest of the cast is gone and writer/director David Ayer has been replaced with James Gunn, who will hopefully find a take on these characters that doesn't require another "soft reboot" in five years.
Reminiscence
Movie. September 3.
Westworld co-creator Lisa Joy's directorial film debut is about another form of freaky technology. Reminiscence stars Hugh Jackman as a scientist who discovers a technology to relive the past, and uses it to reconnect with a long-lost lover.
Malignant
Movie. September 10.
Details are scarce on this upcoming film from horror maestro James Wan (The Conjuring, Saw, Aquaman), but one thing's for sure, and it's that this movie will probably scare the shit out of you. Malignant is said to be an all-new original idea from Wan, screenwriter Akela Cooper, and Ingrid Bisu—so don't expect it to tie into any of Wan's existing properties—and Annabelle Wallis will lead the cast.
The Many Saints of Newark
Movie. September 24.
The Many Saints of Newark is the long-awaited Sopranos prequel movie from creator David Chase, and it reportedly focuses on Dickie Moltisant (Nivola), the father of Michael Imperioli's character Christopher. It's always a little dicey when a writer or director returns to a beloved set of characters many years later, but, come on, we can't wait to see this. Plus, it gives us an excuse to mention that Chase's last movie, 2012's Not Fade Away, remains an underrated gem.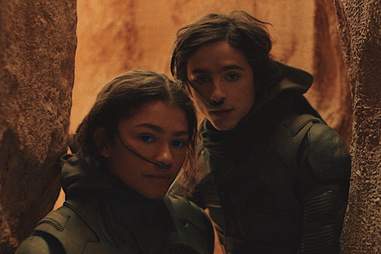 'Dune'

| Warner Bros. Pictures
Movie. October 1.
One of the greatest space operas ever written is being adapted into a movie (again), and from what we've seen, it looks pretty cool—especially if you like space worms. Timothée Chalamet plays Paul Atreides, the son of a noble house ruling in the far future over the spice planet Arrakis, also known as Dune, where, after a catastrophe shakes his family, he must journey out into the sand to find his destiny. Oscar Isaac, sporting an impressive beard, plays Paul's dad, Rebecca Ferguson plays his mother, and pretty much every supporting role is filled by a famous face.
King Richard
Movie. November 19.
Beloved Hollywood dad Will Smith is playing another famous father in this biographical film. He'll be portraying Richard Williams, father and coach to tennis superstars Venus and Serena Williams in this sports movie about how his training influenced their professional success.
Matrix 4
Movie. December 22.
How could we NOT be excited to return to the Matrix after all these years? We have no idea what the plot of this movie is going to be, but, with Keanu Reeves on board, we suspect it may have something to do with a guy nicknamed "The One," and perhaps an evil computer program, and perhaps a lot of fight scenes where people lean really, really far backwards.
The Boondocks
Animated series. TBA 2021.
Aaron MacGruder's hilarious Adult Swim anime-inspired staple is getting rebooted for HBO's streaming service on a two-season order and a 50-minute special. Details are light, but we do know that Granddad and his grandsons, Riley and Huey, will have to deal with the neo-Nazis that have established a tyrannical regime in their comfortable suburb. The Boondocks never tiptoed around its bold leftist and racial politics, and we can't wait to see what's in store with MacGruder back as showrunner after stepping away from Season 4
DC Super Hero High
Animated series. 2021 TBA.
We've seen shows about magical academies before, we've even seen schools for super heroes before. But what about an animated series about teens at a seemingly regular high school, who don't even realize they're destined to become supers one day? That's the premise of this all new DC series, which is executive produced by Elizabeth Banks.
Friends Reunion Special
Unscripted special. TBA 2021.
Friends
—they'll be there for you! The long-talked-about, confirmed, and then delayed reunion special of the beloved '90s sitcom is finally coming in 2021. While the special was supposed to air with HBO Max's launch in May 2020, the COVID-19 pandemic squashed those plans—but
come March 2021
, the whole cast will return to finally shoot the special. Unlike the many other reboots floating around HBO Max, this one isn't a revival or even a new episode: Expect the cast to revisit the set, share memories, and unseen footage to reminisce on the show.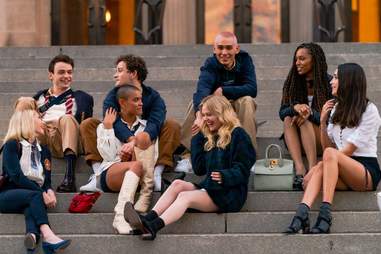 'Gossip Girl' reboot

| HBO Max
Gossip Girl reboot
Drama series. TBA 2021.
The new reboot of the 2007 CW series isn't another chronicle in the scandalous lives of Serena van der Woodsen and Blair Waldorf, but it will introduce a new crop of the Manhattan (and possibly even Brooklyn) teen elite and air all of their dirty little secrets in blog (Twitter? TikTok?) form. Original co-producers Josh Schwartz and Stephanie Savage are running the show.
No Sudden Move
Movie. 2021 TBA.
To follow up his last movie, Let Them All Talk (which is also an HBO Max original), Ocean's filmmaker Steven Soderbergh is returning to his heist movie roots. This star-studded crime movie is set in '50s Detroit, following a group of low-level criminals mysteriously hired to do what seems like an easy job of stealing a document. When things start to go horribly wrong, though, it appears as if they were brought together for some darker ulterior purpose. Don Cheadle, Matt Damon, Benicio Del Toro, Ray Liotta, and Julia Fox are among the cast.
The Other Two, Season 2
Comedy series. TBA 2021.
It's been a long wait for the second season of this still underrated show, which first premiered on Comedy Central in early 2019. Hopefully the story of the two 30-something aimless siblings of a tween pop star will gain more of an audience on HBO Max where its amazing songs can be fully appreciated.
The Prince
Animated series. TBA 2021
One of the best meme accounts on all of Instagram is TV producer Gary Janetti's (Family Guy, Will and Grace) page making fun of the British royals. With The Prince, he's turning his long-running joke that Prince George is a scheming snob into an animated comedy where he'll voice George. The rest of the cast is filled out by Orlando Bloom, Sophie Turner, Alan Cumming, and others.
The Sex Lives of College Girls
Comedy series. TBA 2021.
Mindy Kaling is among the writers/producers of this coming-of-age comedy about four roommates from different backgrounds exploring their sexualities during their freshman year at a college in Vermont.
Station Eleven
Drama series. TBA 2021.
This adaptation of Emily St. John Mandel's 2014 speculative novel, which followed a troupe of actors and musicians as they traveled an America ravaged by a flu pandemic, doesn't exactly sound like frothy post-2020 escapism. But, given the source material, it should be different from many of the more brutal dystopian tales of recent years. With Mackenzie Davis of Halt and Catch Fire in the lead role, Patrick Somerville (The Leftovers) serving as showrunner, and Hiro Murai (Atlanta) behind the camera, this should be a special one.
Titans, Season 3
Drama series. TBA 2021.
Titans is another one of DC Universe's series that's getting the HBO Max original rebrand treatment. Two seasons about the young teen titan heroes are available to stream now, and an all-new third will arrive sometime this year.
Tokyo Vice
Drama series. TBA 2021.
The pitch for this HBO Max original, which was delayed by the pandemic but should debut next year, is pretty simple: Michael Mann crime drama. Following an American journalist (Ansel Elgort) as he reports on corruption in Tokyo's elite vice squad in the late '90s, with help from a detective played by Ken Watanabe, Tokyo Vice sounds like a potentially captivating mix of The Insider and another famous Mann production with the word "Vice" in the title. Sign us up!
Untiled Nicki Minaj docuseries
Docuseries. 2021 TBA.
Barbz, it's your time. This six-part docuseries is about the game-changing rapper, her creative process, and personal life. Filmmaker Michael John Warren, who Minaj has previously worked with on documentaries attached to her albums Pink Friday and The PinkPrint, is on as director.