Everything Coming to HBO Max in 2021
Check out the impressive slate of original movies and shows heading your way.
HBO Max, for as much confusion and controversy it's generated in its short life, might secretly be the best streaming service around, considering its vast library of HBO shows and movies, Warner Bros. blockbusters, Studio Ghibli masterpieces, canonical films from the Turner Classic Movies archives, plus all of HBO's iconic series, and lots more. (Just don't talk about its user experience.) Debuting to generally positive reviews in spring 2020, HBO Max still feels like it's just a preview for even bigger things to come.
For 2021, at least, HBO Max will feature same-day debuts for all of Warner Bros.' theatrical movie releases and carry them for 30 days. As restrictions on indoor gatherings continue to be loosened, it's up to you whether you want to watch blockbusters like Dune and Matrix 4 at home or in the multiplex. On top of that, and HBO proper's already solid TV slate, the list of HBO Max original shows and movies is growing fast. Here's a closer look at everything set to arrive this year.
Note: Only HBO Max Originals and the previously mentioned Warner Bros. theatrical films are covered here; for new and returning HBO series (like Barry and Succession), check out our 2021 TV preview, and read our 2021 movie preview and 2021 Netflix calendar while you're at it.
AUGUST 19
Eyes on the Prize: Hallowed Ground
Docuseries. Henry Hampton's legendary docuseries Eyes on the Prize about the history of the civil rights moment aired on PBS between 1987 and 1990. Now, HBO Max is following up with a new installment directed by Sophia Nahli Allison (A Love Song for Latasha) about recent progress in the movement.
(Watch the trailer)
Marlon Wayans: You Know What It Is
Comedy special. The longtime comedian is getting an all-new comedy special in which he explores fatherhood, what it's like to raise a rebellious teenager, and other family drama.
(Watch the trailer)
Sweet Life: Los Angeles
Reality series. Issa Rae produced this series that sounds like an IRL, reality TV version of her HBO show Insecure. The series follows a group of young Black professionals in LA as they navigate their mid-20s and making it in their creative fields.
(Watch the trailer)
AUGUST 20
Reminiscence
Movie. Westworld co-creator Lisa Joy's directorial film debut is about another form of freaky tech. Reminiscence stars Hugh Jackman as a scientist who discovers a technology to relive the past, and uses it to reconnect with a long-lost lover.
(Watch the trailer)
AUGUST 26
The Other Two, Season 2
Comedy series. It's been a long wait for the second season of this still underrated show, which first premiered on Comedy Central in early 2019. Hopefully the story of the two 30-something aimless siblings of a tween pop star (and a soon-to-be TV host mother) will gain more of an audience on HBO Max where its amazing songs can be fully appreciated.
(Watch the trailer)
SEPTMEBER 10
Malignant
Movie. Details are scarce on this upcoming film from horror maestro James Wan (The Conjuring, Saw, Aquaman), but one thing's for sure, and it's that this movie will probably scare the shit out of you. Malignant is said to be an all-new original idea from Wan, screenwriter Akela Cooper, and Ingrid Bisu—so don't expect it to tie into any of Wan's existing properties—and Annabelle Wallis will lead the cast.
(Watch the trailer)
SEPTEMBER 15
A La Calle
Documentary. This political documentary debuts on HBO Max on the International Day of Democracy to tell the stories of ordinary Venezuelans and opposition leaders who overthrew the country's dictator Nicolás Maduro.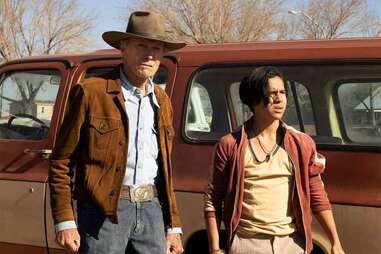 SEPTEMBER 17
Cry Macho
Movie. This Warner Bros. film has been a passion project for Clint Eastwood for quite some time. Based on N. Richard Nash's 1975 novel, the actor/director's been interested in the project since the '80s, and he finally got the chance to adapt last year with the screenplay he wrote back in 2000. Eastwood also stars in the film as a former rodeo star who journeys through rural Mexico in 1978 on a job to return a boy home to his father in Texas.
(Watch the trailer)
SEPTEMBER 23
Doom Patrol, Season 3
Comedy series. Your favorite group of ragtag superheroes are back. In this installment, the show about members of the super team/support group who all came out of accidents with superabilities finds everybody dealing with the fallout of Dorothy's confrontation with the Candlemaker and Madame Rouge returning from a time machine.
(Watch the teaser)
SEPTEMBER 30
The Way Down
Docuseries. This five-parter takes a deep dive into the controversy behind the Remnant Fellowship Church and its founder Gwen Shamblin Lara, who rose to fame in the '80s for developing a questionable Christian weight-loss program.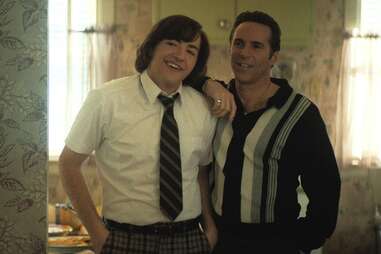 OCTOBER 1
The Many Saints of Newark
Movie. The Many Saints of Newark is the long-awaited Sopranos prequel movie from creator David Chase, and it focuses on Dickie Moltisanti (played by Alessandro Nivola), the father of Michael Imperioli's character Christopher. It's always a little dicey when a writer or director returns to a beloved set of characters many years later, but, come on, we can't wait to see this. Plus, it gives us an excuse to mention that Chase's last movie, 2012's Not Fade Away, remains an underrated gem.
(Watch the trailer)
OCTOBER 22
Dune
Movie. One of the greatest space operas ever written is being adapted into a movie (again), and from what we've seen, it looks pretty cool—especially if you like space worms. Timothée Chalamet plays Paul Atreides, the son of a noble house ruling in the far future over the spice planet Arrakis, also known as Dune, where, after a catastrophe shakes his family, he must journey out into the sand to find his destiny. Oscar Isaac, sporting an impressive beard, plays Paul's dad, Rebecca Ferguson plays his mother, and pretty much every supporting role is filled by a famous face.
(Watch the trailer)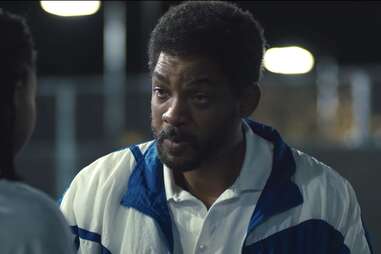 NOVEMBER 19
King Richard
Movie. Beloved Hollywood dad Will Smith is playing another famous father in this biographical film. He'll be portraying Richard Williams, father and coach to tennis superstars Venus and Serena Williams in this sports movie about how his training influenced their professional success.
(Watch the trailer)
NOVEMBER 25
8-Bit Christmas
Movie. Since Thanksgiving is basically the kick off of it's OK to watch Christmas movies now season, HBO Max is releasing a new one on the holiday to get you in the spirit. This '80s-set movie follows one boy's quest to get a new gaming system for Christmas, and stars the likes of Steve Zahn and Neil Patrick Harris.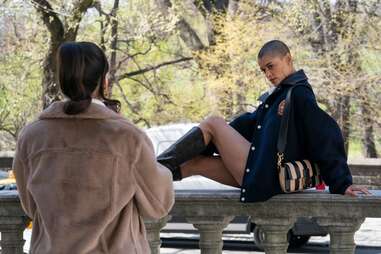 NOVEMBER 2021 TBA
Gossip Girl, Season 1, Part 2
Drama series. Hey Upper Eastsiders, Gossip Girl here. Six more episodes of the rebooted drama about NYC's elite will grace your small screens this fall.
Fall 2021 TBA
Sort Of
Comedy series. Canadian playwright/actor Bilal Baig co-created and stars in this series about a genderqueer millennial balancing transitions and identities in their life, from working at a LGBTQ+ bookstore and bar to their Pakistani family.
DECEMBER 22
Matrix 4
Movie. How could we NOT be excited to return to the Matrix after all these years? We have no idea what the plot of this movie is going to be, but, with Keanu Reeves on board, we suspect it may have something to do with a guy nicknamed "The One," and perhaps an evil computer program, and perhaps a lot of fight scenes where people lean really, really far backwards.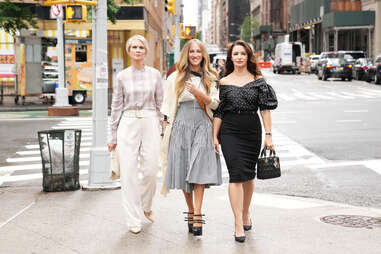 TBA 2021
And Just Like That…
Comedy series. Fans just couldn't help but wonder what the Sex and the City ladies were up to all these years later. Forget the two movies the iconic series spun-off, the series is coming back under a new name with 10 new episodes to check in on Carrie, Charlotte, and Miranda as they navigate family life and love in their 50s. (Kim Cattrall wouldn't be caught dead stepping back into Samantha's stilettos again, so expect the show to, well, probably kill her character off.)
DC Super Hero High
Animated series. We've seen shows about magical academies before, we've even seen schools for super heroes before. But what about an animated series about teens at a seemingly regular high school who don't even realize they're destined to become supers one day? That's the premise of this all new DC series, which is executive produced by Elizabeth Banks.
The Sex Lives of College Girls
Comedy series. Mindy Kaling is among the writers/producers of this coming-of-age comedy about four roommates from different backgrounds exploring their sexualities during their freshman year at a college in Vermont.
Station Eleven
Drama series. This adaptation of Emily St. John Mandel's 2014 speculative novel, which followed a troupe of actors and musicians as they traveled an America ravaged by a flu pandemic, doesn't exactly sound like frothy post-2020 escapism. But, given the source material, it should be different from many of the more brutal dystopian tales of recent years. With Mackenzie Davis of Halt and Catch Fire in the lead role, Patrick Somerville (The Leftovers) serving as showrunner, and Hiro Murai (Atlanta) behind the camera, this should be a special one.
Tokyo Vice
Drama series. The pitch for this HBO Max original, which was delayed by the pandemic but should debut next year, is pretty simple: Michael Mann crime drama. Following an American journalist (Ansel Elgort) as he reports on corruption in Tokyo's elite vice squad in the late '90s, with help from a detective played by Ken Watanabe, Tokyo Vice sounds like a potentially captivating mix of The Insider and another famous Mann production with the word "Vice" in the title. Sign us up!
Untiled Nicki Minaj docuseries
Docuseries. Barbz, it's your time. This six-part docuseries is about the game-changing rapper, her creative process, and personal life. Filmmaker Michael John Warren, who Minaj has previously worked with on documentaries attached to her albums Pink Friday and The PinkPrint, is on as director.