Everything We Know About 'Succession' Season 3
Who will get a kiss from daddy next?
This story contains spoilers for Succession through Season 2.
Succession, also known as the media's favorite TV show to reference on Twitter, wrapped up its second season in 2019 with a masterful bombshell of a finale. The series, which focuses on the internal politics and machinations of the Roy family business (Fox-like massive media corporation Waystar Royco), is one of the best dramas on television. Although it may not have same the cultural reach as HBO megalith Game of Thrones, it's just as much of an awards favorite for the network—picking up 18 nominations and seven wins, including Best Drama Series, at the 2020 Emmys—and is even more fun to obsessively break down and relive.
Given the series' high stakes and critical praise, a third season seemed like a foregone conclusion even before it was confirmed in August 2019 while Season 2 aired. We're looking ahead at everything we know about Succession Season 3, and where the future stands for one of the most fucked-up families on television.
Jeremy Strong and Brian Cox

| Graeme Hunter/HBO
When will Succession Season 3 premiere?
After production was suspended for months due to the pandemic,
Deadline
confirmed in February 2021 that the series was
finally
filming again. The publication reported that HBO and HBO Max chief content officer Casey Bloys said "his hope" was for the show to be back on air in the last quarter of 2021, although he was quick to note that he was considering that time frame as if it were a "normal world" right now. It does seem possible, though—especially since WarnerMedia (which owns HBO) already
confirmed
in late 2020 that the show would return in 2021. Should the series wrap up shooting this spring, and then move into post-production this summer, it definitely sounds like we'll be back in the warm embrace of those cold-hearted jerks sometime this fall.
Who will return for Succession Season 3?
Succession
wouldn't be anything without the Roys. That means the series' main cast will return for the third season, so we'll be seeing more of the Roys, including Logan (Brian Cox), Kendall (Jeremy Strong), Roman (Kieran Culkin), Shiv (Sarah Snook), Marcia (Hiam Abbass), and Connor (Alan Ruck). We can also expect
Tom Wambsgans
(Matthew Macfadyen) and
Gerri
(J. Smith-Cameron) to return for Season 3 as well. And of course,
Succession
could always use some
good old Cousin Greg
(Nicholas Braun).
We'll also be seeing a bit more of some familiar faces. In December 2020, Deadline reported that cast members Justine Lupe, David Rasche, and Fisher Stevens, who play Willa Ferreya, Karl Muller, and Hugo Baker, respectively, have been upped to series regulars. You'll remember Willa as Connor's aspiring playwright girlfriend, Karl as Waystar RoyCo's chief financial officer, and Hugo as the company's senior communications executive. Might that mean we'll see Connor in a full-fledged presidential campaign? It's possible! Regardless, it'll be satisfying to see even more of this crop of corporate slime balls.
Are there any new cast members in Succession Season 3?
Succession
is rounding out its elite Manhattanite world even more in Season 3 with a handful of new faces. On May 3, it was
announced
that Alexander Skarsgård, who earned an Emmy for his role on HBO's
Big Little Lies
, will be joining the cast in a recurring role. He'll be playing Lukas Matsson, described as "a successful, confrontational tech founder and CEO."
On May 5, the casting news continued to roll out with the announcement that Oscar-winner Adrien Brody, who was also recently cast in HBO's upcoming '80s Los Angeles Lakers series as Pat Riley, will also be entering the boardroom for Season 3. He'll play Josh Aaronson, described as "a billionaire activist investor who becomes pivotal in the battle for the ownership of Waystar." Lots of battling and confronting going on with all these billionaires and CEOs!
When the series began production in early 2021, a handful of additions to the cast were announced, as reported by Variety. Sanaa Lathan (Love & Basketball, The Affair), Linda Emond (Lodge 49), and Korean recording artist Jihae (Mortal Engines) are all taking on roles. Lathan is said to play high-profile lawyer Lisa Arthur, Emond will play (the greatly named) Michelle-Anne Vanderhoven, a senior White House aide, and Jihae is portraying "leading public relations consultant" Berry Schneider. As of right now, it's unclear who Lathan's character will be representing, if we're in for even more publicity blunders, or potentially some image clean-up before Conor's ridiculous presidential run, but they definitely sound like exciting additions all around.
In February, Deadline revealed that Hope Davis, who recently starred in Showtime's legal drama Your Honor, will also join Succession for Season 3 to play Sandi Furness, the daughter of Roy family nemesis Sandy Furness (Larry Pine). Sandy appeared in the first two seasons, plotting against Logan Roy, so expect more conflict (and perhaps some alliances) between the families in the new episodes.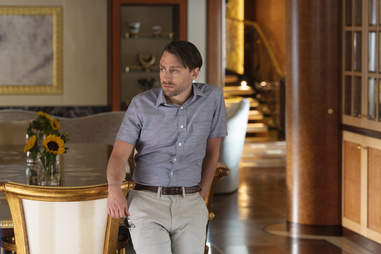 Kieran Culkin

| Graeme Hunter/HBO
What will Succession Season 3 be about?
After a
killer Season 1 finale
,
Season 2 promised to be even more drama-filled
for the Roy family, and boy, did it deliver. The
Season 2 finale concluded
with Kendall choosing to accuse his father of gross misconduct in front of a televised audience rather than taking the fall for Waystar Royco's cruise ship scandal, which is far from the first time Kendall has stabbed the Roy patriarch in the back. When Logan told Kendall in the season finale that he didn't have the killer drive necessary to take over the company, though, you knew it was in the cards for Ken to drop another bomb on his dad. Season 3 will certainly tackle the fallout from the second time Kendall betrayed Logan—surely he can't survive this blow? Does this mean Shiv is "the one?"
In the wake of Kendall growing a spine again, all of the Roy children seem like viable players to helm Waystar Royco. One of the theories currently floating around about Season 3 is that it'll be Roman-focused. Entertainment Weekly asked actor Kieran Culkin about the theory, to which he responded, "Well if you look in the first season, [it seemed] that Kendall was going to be [Logan's] guy, and then he wasn't. Then this year, it seems like Shiv is going to be the guy and now it's starting to look like she's not… So, maybe next year is Roman's turn."
In a virtual cast reunion hosted by Variety earlier in June, Cox said that creator Jesse Armstrong had already revealed his plans for the third season, and that, "It's jolly exciting, that's all I can say. It's very, very surprising what's going to happen."
There are plenty of questions begging resolution in Season 3. Is Logan going to finally be held accountable? Will Roman receive more of the show's attention? Will Gerri call him "slime puppy" again? Will Tom have to break some more Greggs? For Succession, the future is wide open.
Follow the Thrillist Entertainment editors on Twitter @ThrillistEnt.