The Costume Designer for 'Watchmen' Unveils the Secret of Lady Trieu's Look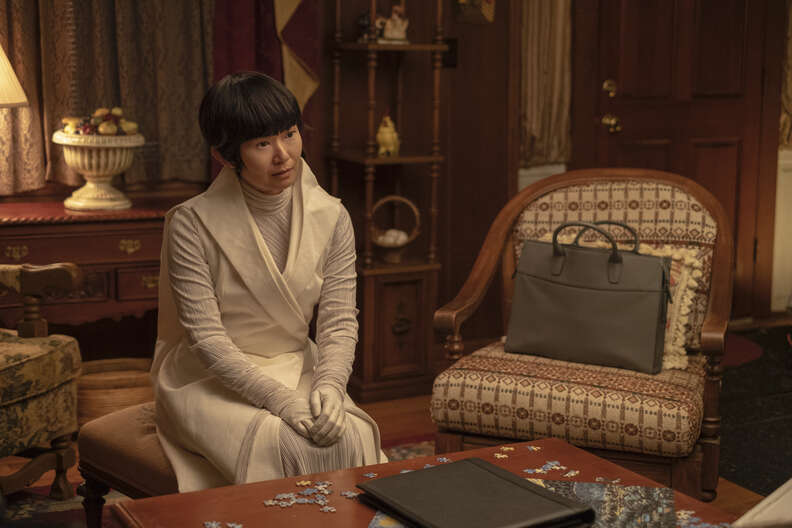 This story contains mild spoilers for Watchmen.
One of the first things you notice about Lady Trieu when she enters the frame during Watchmen's Episode 4 cold open is what she's wearing. She walks into a rural farmhouse looking like she's stepped off Rei Kawakubo's runway. The inhabitants -- the people she's there to bribe so they'll give her their property in exchange for a baby she made for them -- are outfitted in pajamas with rustic tones. She's in all white, a high collar framing her face.
Even in a world where costumes are the norm, Lady Trieu, played by Hong Chau, stands out. The masked crusaders working for the Tulsa police department must make do with what they have, which is why all their costumes look a little rough around the edges. "All of these vigilantes make their own costumes, so what are they able to obtain?" costume designer Meghan Kasperlik says. "Lady Trieu has money and has resources so it was more [that] she's the person who can afford to shop at the designer stores." She's a trillionaire, after all, who doesn't hide her face and considers herself an acolyte of Adrian Veidt (Jeremy Irons), the super-rich hero formerly known as Ozymandias, now in exile. Kasperlik walked us through Lady Trieu's grand entrance as well as some other secrets hidden within Watchmen's costumes.
Lady Trieu is high fashion
The audience doesn't learn much about Lady Trieu's backstory in her debut episode, aside from the details that she grew up in Vietnam, is building a giant clock in Oklahoma, and is connected, in some way, to Angela's grandfather. Aside from that, we can infer that she's adopted her name from the figure known as the "Vietnamese Joan of Arc," a warrior who fought for her country in the 3rd Century.
Kasperlik explains that while she knows a little bit about where Lady Trieu comes from thanks to creator Damon Lindelof, she also wasn't privy to her full origin when designing her looks. "I came up with the concept that she was wearing white," Kasperlik says. "Her colors are white and grey. There is a purity in that, but there's also a very strong presence in that and since all of our other characters were in darker tones or brighter tones it was something I thought that made her stand out even more." Kasperlik built the sleeveless coat and cape that Lady Trieu comes in wearing, taking inspiration from designers like Iris Van Herpen and leaning into the "architectural" aspects of the look. (Her shoes come directly from brands, including Chloé.) The gloves and the turtleneck are all part of her mystique. "I just didn't want her to be overly exposed," Kasperlik says. "I wanted to entice the mystery of what we don't know about her. What is she hiding? What is there? Why does she wear gloves? I wanted the audience to question those things."
Adrian Veidt's clothes are going to get more elaborate

Kasperlik really dug into the source material to find Veidt's aesthetic, looking for Easter eggs in the work of colorist John Higgins and artist Dave Gibbons that she could fold into the costumes. They largely had to be custom-made so that they could look a little weathered, given his current situation. She also noted that we should prepare for changes. "When he's in the manor there are subtleties to that, but then when we see him later on his riches are a little bit more exposed. And then throughout the season how we are moving forward with his character."
American Hero Story looks overly stylized on purpose
So far, Watchmen has only shown brief clips of American Hero Story, the Ryan Murphy-esque show that documents the adventures and scandals of the Minutemen, the first wave of costumed vigilantes who are referenced and explored in the comics. She was looking at American Horror Story: Hotel and reality TV to nail the "glossy" design.
But the desire for a "heightened" palette informed how she interpreted the comics. "When I was reading the graphic novel, I looked and I was like, 'Well, sometimes Hooded Justice looks like he's wearing purple and sometimes he's wearing black in the graphic novel," she says. "That was a big discussion of what color it needed to be and it definitely plays into pumping up the color for the TV show within the TV show." It also provides a contrast with the show's version of reality that will become evident later.
Kasperlik can't go too crazy
Kasperlik didn't design the pilot, so she wasn't responsible for conceiving the costumes worn by the likes of Regina King's Sister Night or Tim Blake Nelson's Looking Glass, though she did help adapt them for future wear. She had to alter Sister Night's hood for action sequences, for instance, replacing heavier leather with a lighter version and adding neoprene so it would stay up. But Kasperlik also learned the necessity of simplicity. She had a crafting stand next to her desk and would come up with wild ideas alongside her assistant. "I made this crazy three-dimensional mask that had like three faces," she says. "Damon was like, 'That is so cool, but we don't have a character like that in our story.' We don't want someone in background wearing it because it's so cool, we just can't not tell a story about that."