Height Matters on 'The Bachelor' & 'The Bachelorette.' Here's Proof.
Oren Aks/Thrillist
Oren Aks/Thrillist
Read our live recap of The Bachelor 2017 premiere that will update throughout the night!
Some of my fondest teenage memories revolve around reality television. That time my childhood friend hosted a Survivor-themed birthday party and we voted other party-goers "off the island." That time I bawled as I watched Kelly Clarkson sing "A Moment Like This" after she won the first season of American Idol. The first time I watched a guy propose to his future wife on national television... no, not on Joe Millionaire -- who do you think I am? That was The Bachelor, and since I heard host Chris Harrison's monologue in 2002, I was hooked.
Fast-forward a decade: I am now a full-time data scientist, creating predictive models by day and obsessing over The Bachelor by night. Really, it was only a matter of time before I went Moneyball with the eligible Bachelor and Bachelorette contestants, those walking, talking, flirting clusters of data.
The Bachelor and Bachelorette aren't exactly known for diverse talent pools, but their contestants do range in height, a physical attribute ingrained in dating culture. Does height play a role in rose ceremony dominators? Could I use it to predict a winner for this season of The Bachelorette? After crunching the measurements for 32 Bachelors and Bachelorettes, along with information on all contestants from each season since 2013 (or, 187 men and women over the course of seven seasons), the answer is yes. Here's the math:
We may never see a "short" Bachelor
In the United States, the average man stands 5'10". That's short, compared to the ideal Bachelor. Every one of The Bachelor's 20 leading men has hit the national height average or ranked above. Three bachelors measured in at a whopping 6'5", including our most recent bachelor, Season 20's Ben Higgins. Two, Jake Pavelka and, reportedly, Andrew Firestone, stood at exactly 5'10". In Jake's case, height created tension; "He's so short," complained a rejected Season 14 contestant to E!. "Like, really short... it's really apparent when you meet him." Only on reality TV does 5'10" make you one of the tiny guys.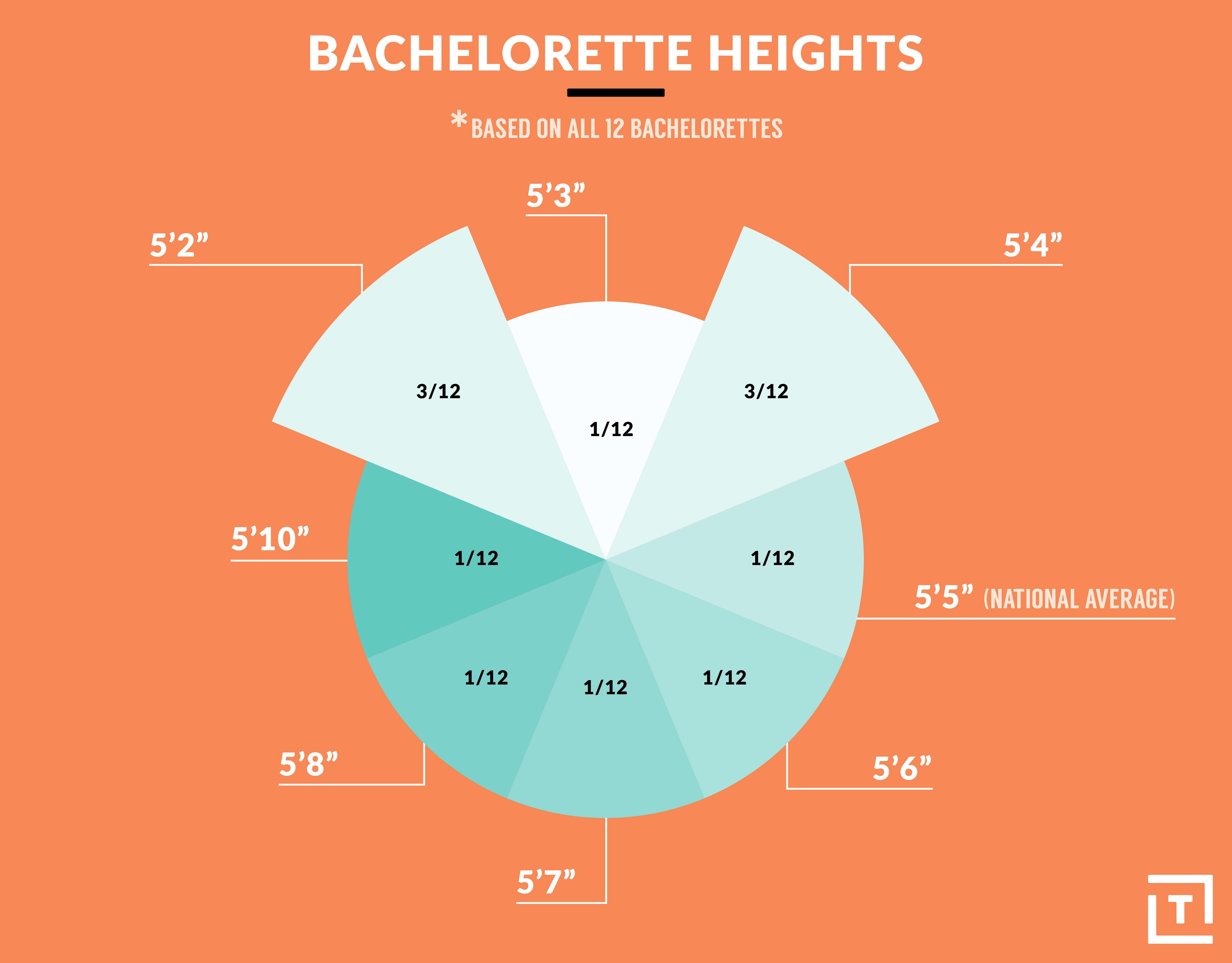 Bachelorettes stand tall and short
What does it take to be the Bachelorette? Discerning taste, some palpable charm, or just a nice smile, perhaps, but not height. The average stature of a Bachelorette is 5'5", the same as the average height of an American female. The dozen Bachelorettes we've seen grace the mansion set are all over the board, ranging from the short 5'2" (Season 7's Ashley Hebert) to the tall 5'10" (Season 2's Meredith Phillips). But do they and the Bachelors prefer to look up, down, or directly into the eyes of their suitors?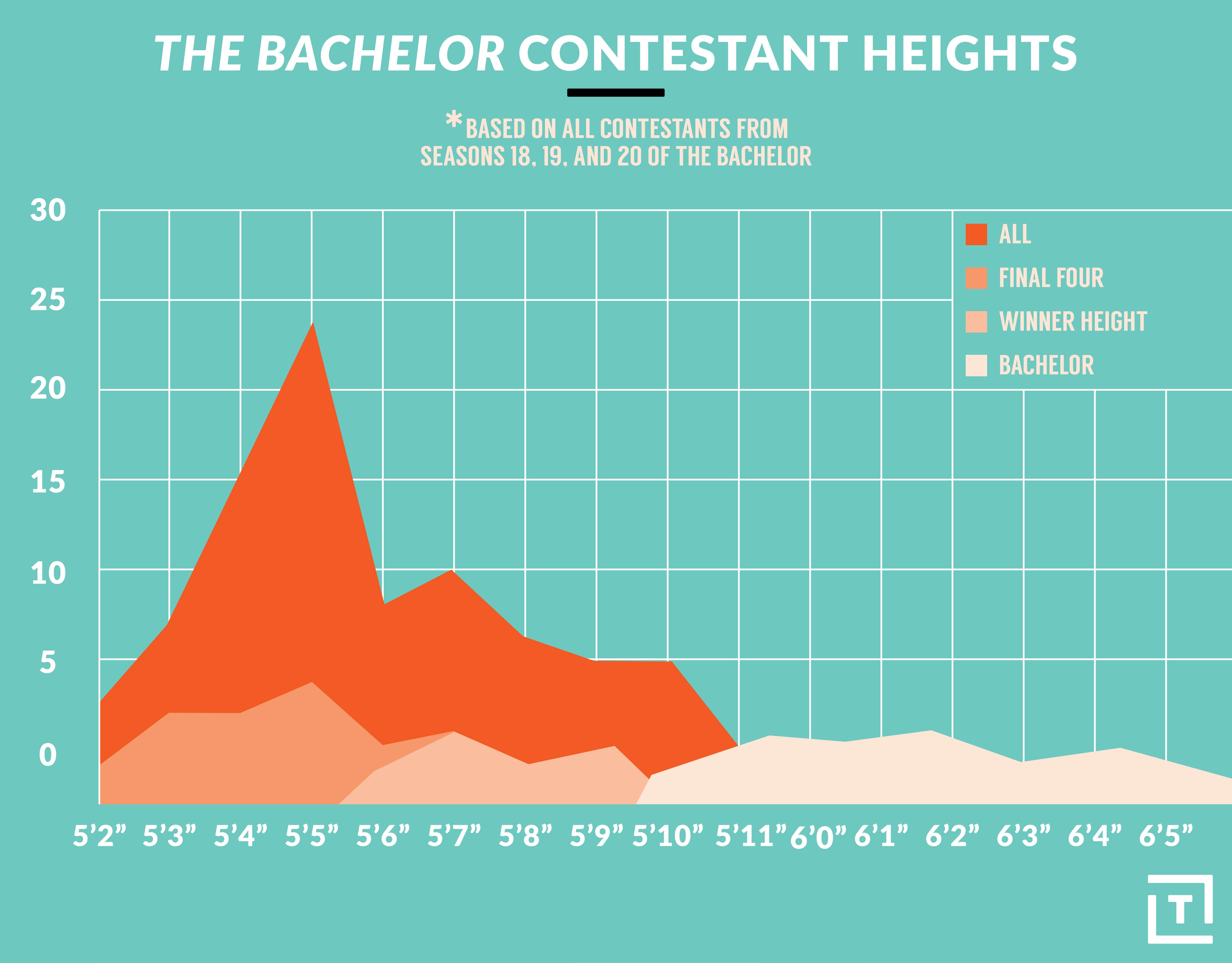 Producers rarely pick tall women for The Bachelor
Over the past three years, all of the female contestants on The Bachelor ranked at or below the national male average of 5'10", save for one woman, Tandra Steiner from Season 19, who stood at 5'11'. Chris Soules eliminated her in the second episode. Being tall doesn't help you stand out in a pool-party group date, apparently.
While producers appear to favor women who are shorter than their leading men, height doesn't make much of a difference when it comes to the final four. Women of all different heights, from 5'2" to 5'9", make it to the last few episodes. As the chart indicates, the Bachelors always stand a few inches above them. Institutionalized gender norms or preferred arrangement for romantic, over-the-shoulder camera angles? You decide.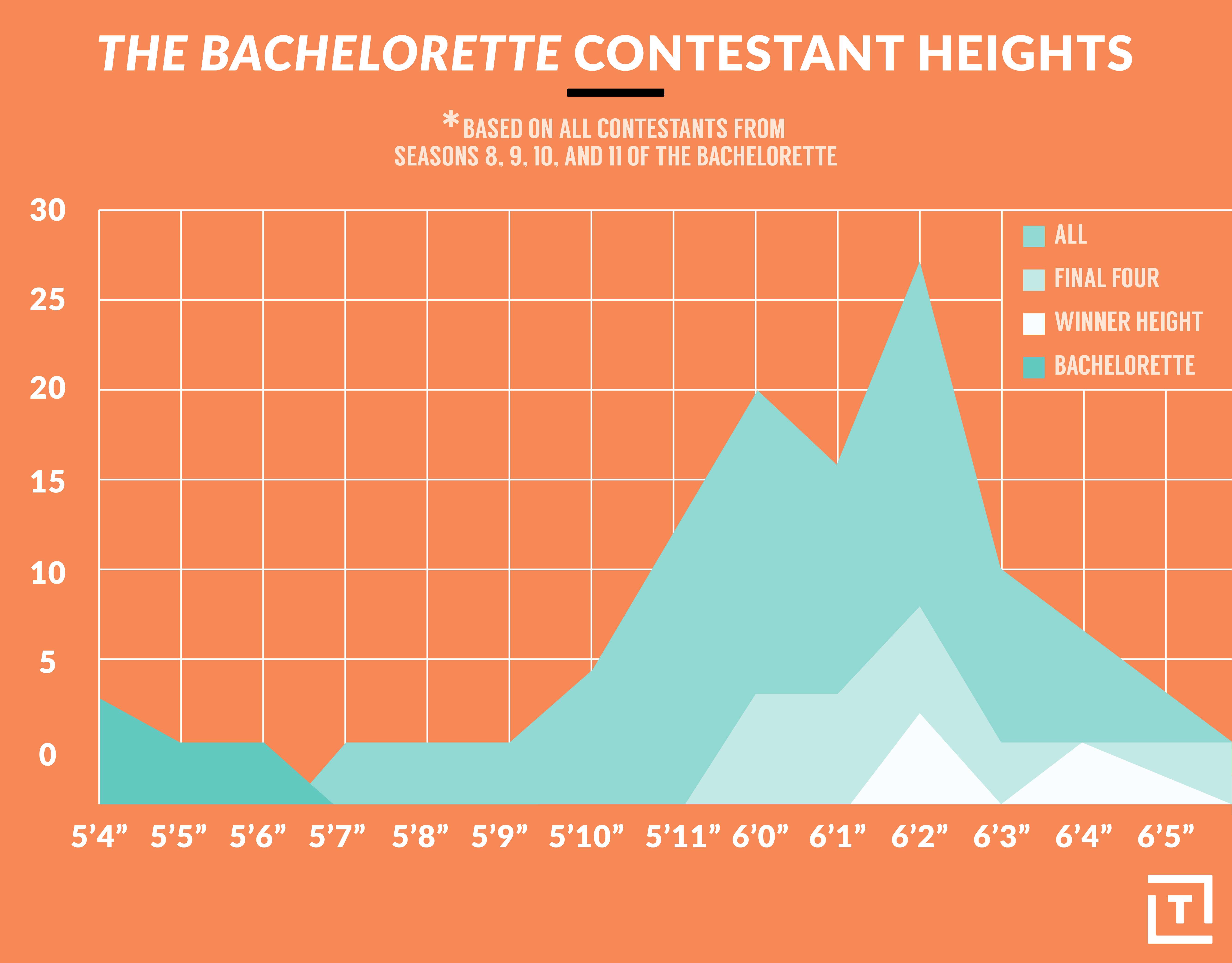 The Bachelorette men range from tall to taller
Sorry, short guys: aligned with The Bachelor's casting strategy, Bachelorettes are only supplied with men who stand taller than them. And data suggests that height is an even bigger factor as the cast narrows into the final four. Over the past three years, the Bachelorettes hovered around the average height -- from 5'4" to 5'6" -- while the men in their final-four rounds all stood above 6'. The winners measure in even taller: Chris Siegfried (Season 9) at 6'4"; Josh Murray (Season 10) at 6'2"; and Shawn Booth (Season 11) also at 6'2". Nick Viall, runner-up to both Murray and Booth (that hurts), matches his competition at 6'2". The trends are real.
One other thing to note here: you see those few guys at the bottom of the pack? Those are both JoJo's guys, Alex and Ali, standing at 5'7" and 5'8", respectively. She must have told producers that she doesn't care about height (even if she was, ahem, lying to herself) because the duo are the shortest guys to appear on the show in recent history. According to the data, they never stood a chance.
Bachelorettes prefer a wider height gap; Bachelors aren't as picky
Over 10 cycles of the franchise, we see that Bachelors chose women who were shorter than them, while Bachelorettes coupled with men who were taller than them. Bachelor picks (left bars) range in height though, from Juan Pablo picking Nikki Ferrell, who is only 2" shorter than him, to Sean Lowe picking Catherine Giudici, who is a whole foot shorter.
The Bachelorettes (right bars) tend to only pick men who are much taller than them -- a whole 9" taller on average. The smallest height differences are Jef Holm, who stands 7" taller than Bachelorette Emily Maynard, and J.P. Rosenbaum who is 8" taller than Season 7's Ashley Hebert. J.P. Rosenbaum (Season 7) and Jef Holm (Season 8) are two of the shorter winners, both under the 6' threshold. They still stood well above Ashley and Emily, their respective Bachelorettes -- but did it work out?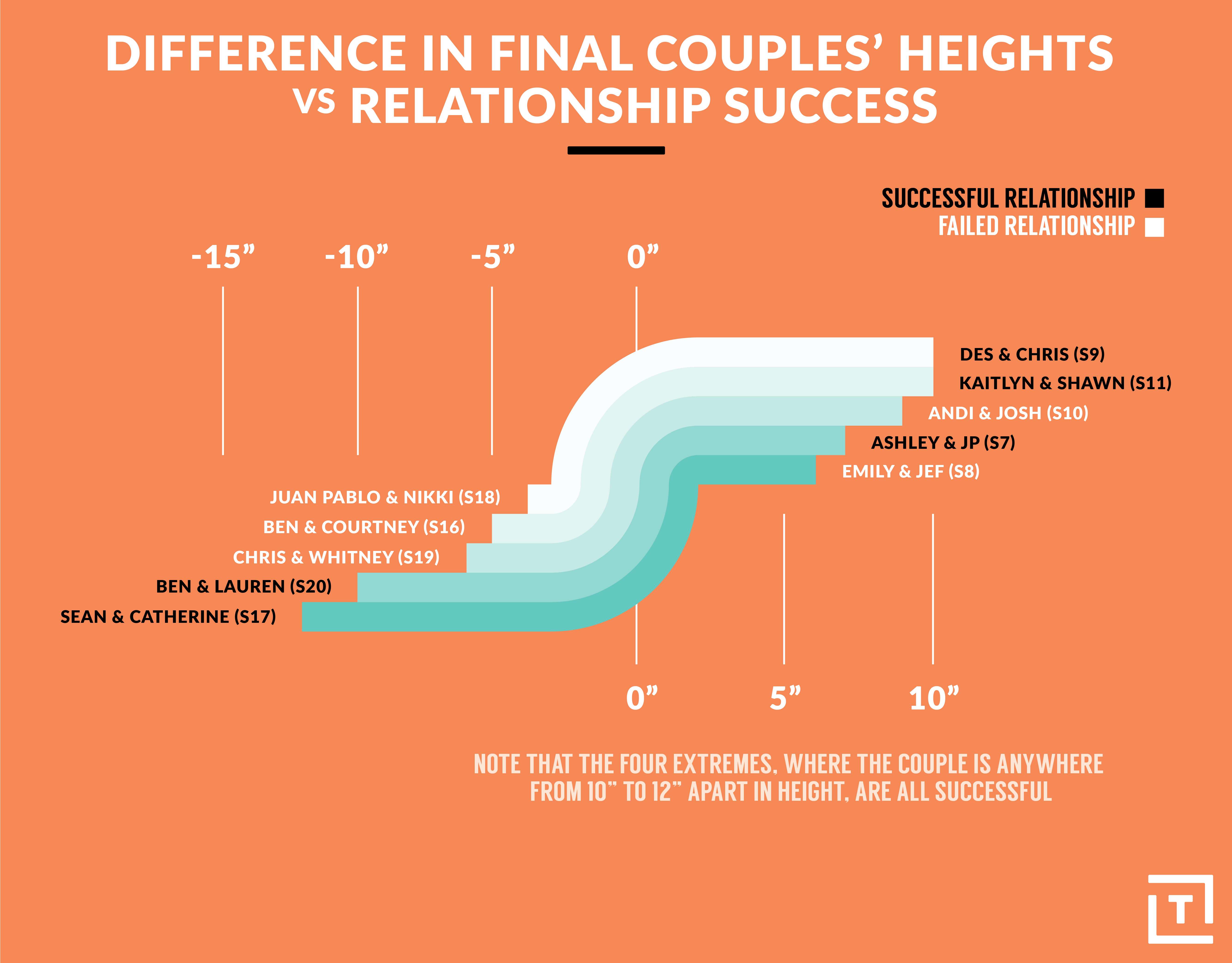 Couples who stand around the same height risk breaking up
In the Bachelor-verse, resolute romance requires a certain amount of distance -- at least according to the data. We see that couples who have the biggest difference in height -- Des and Chris (Bachelorette Season 9), Kaitlyn and Shawn (Bachelorette Season 11), Sean and Catherine (Bachelor Season 17), and Ben and Lauren (Bachelor Season 20) -- are the ones who actually tied the knot and forged a successful relationship. The couples that are close in height -- Emily and Jef (Bachelorette Season 8) and Juan Pablo and Nikki (Bachelor Season 18) – didn't make it in the long run.
So we conclude, in a loose-but-scientific manner, that the bigger the height difference on The Bachelor and Bachelorette, the more likely the couple is to stay together. Our suggestion to JoJo: go tall or go home! Which means...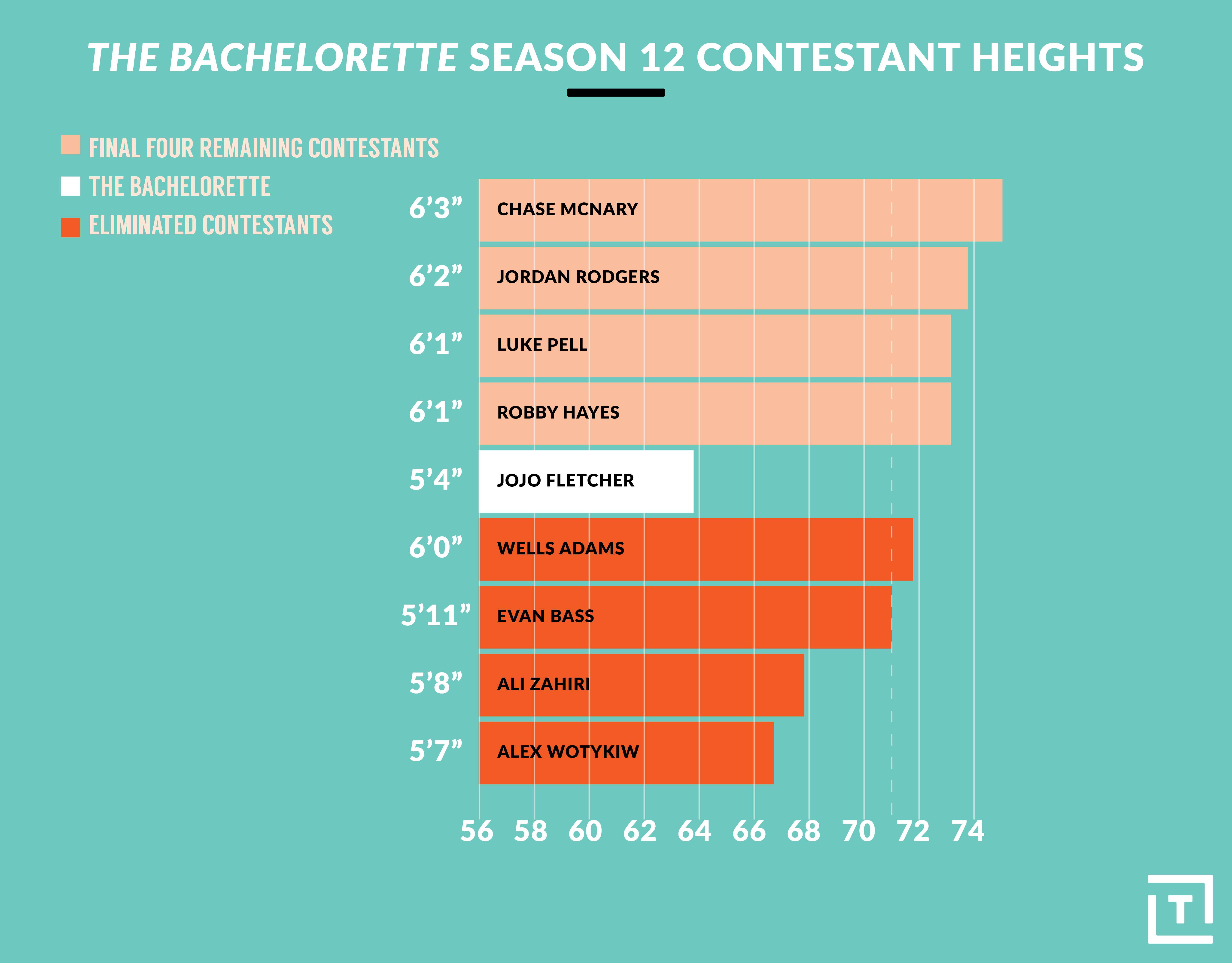 JoJo should (and will?) pick Jordan
Let's apply that to this season of The Bachelorette. We know that women care a ton how tall men are. In practical terms, if a Bachelorette has two dozen men to choose from, she will likely pick someone above the average of the group, 6'1" or taller. She weeded out the well-groomed outliers early on; a quick scan of eliminated contestants (red on the chart) find men who stand under 6". Unsurprisingly, all men in the final four meet this criteria.
Looking at the last two successful Bachelorette relationships, both Kaitlyn and Des chose guys who were exactly 10" taller than them. If JoJo, standing 5'4", wants a keeper, we recommend she picks the contestant who comes in at 6'2". This year's prime candidate? Sorry, Chad, who stands at the right height but was way too touchy to go the distance, the guy is Jordan Rodgers.
The heart knows what it wants, but the math speaks for itself.
Sign up here for our daily Thrillist email, and get your fix of the best in food/drink/fun.
Alice Zhao is a data scientist based in Chicago. Did she mention she loves
The Bachelor
? Follow her on Twitter @adashofdata.