23 Things You Didn't Know About Helen Mirren
Despite her many awards, untouchable regal image, and vaunted "Dame" status, Helen Mirren remains the 71-year-old thespian you'd most like to grab a beer with. While the Oscar-winning actress is best known for having played various queens of England, by now it's no secret that the budding twerking enthusiast is, as she described herself in a recent Super Bowl ad, "a notoriously frank and uncensored British lady."
But even though she's pretty much an open book in interviews and talk-show appearances, there's still plenty of lesser-known trivia you might not know about the Royal Shakespeare veteran and four-time Emmy winner. Let's take a closer look at this delightful badass.
1. Her great-grandfather was a butcher for Queen Victoria
According to a New Yorker profile of the actress, her mother "was the thirteenth of fourteen children, a butcher's daughter whose grandfather had been the butcher to Queen Victoria." It's unclear whether or not the butcher ever told the queen that one day his great-granddaughter would play her great-great-granddaughter, but, like, what else do you talk about with your butcher? And while Mirren has never played Queen Victoria, she has played two characters named Victoria -- in 1980's The Long Good Friday, and more recently, in the two Red movies.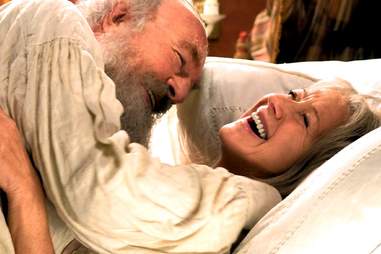 The Last Station

| Sony Pictures Classic
2. Her father's family got a shout-out in War and Peace -- and later she played Tolstoy's wife!
Mirren may be one of Britain's most iconic actresses, but her father was actually Russian, and his mother was a countess in a family that was noteworthy enough to be referenced in Tolstoy's War and Peace. Years later, Mirren would earn an Oscar nomination for playing the author's wife in The Last Station.
3. She used to be called "Popper"
Mirren's early acting nickname was "Little Mother Russia" because of her heritage, but her family had a much weirder nickname. According to the New Yorker, they called her Popper, or Pop, "because she would pop off into dreams," which sounds both too specific to be untrue and too bizarre to be real.
4. She was already a queen at 19
Like any great stage actress, Mirren has played in the same work a few times over the course of her career. In 1965, at the young age of 19, she made her debut with the National Youth Theatre as the second title character in Antony and Cleopatra, and then in the late '90s she starred in a much larger-scale production, with Alan Rickman as Antony. And Egypt wasn't done with her: in 1998 she provided the voice of Queen Tuya in the animated film The Prince of Egypt. By this point, she should be an honorary Egyptian.
Caligula

| Penthouse Films International
5. She was in an erotic film produced by the founder of Penthouse
If you're reading this, you probably already know Mirren often appears naked onscreen. In 1979, she appeared in various states of undress throughout Caligula, an over-the-top erotic historical drama written by the novelist Gore Vidal and produced by Bob Guccione, the gold-chain-and-dog-loving mind behind the dude mag Penthouse. "Everyone was naked in that," Mirren later told People. "It was like showing up for a nudist camp every day. You felt embarrassed if you had your clothes on in that movie."
6. And after that she was in a movie called Hussy
How does a boss like Helen Mirren follow up Caligula? By making a movie about a prostitute called Hussy and cementing her status as a risk-taking European sex symbol. Mission accomplished! 
7. She got arrested for smuggling because of Peter Sellers
In 1980, Mirren had a starring role in Peter Sellers' last film, The Fiendish Plot of Dr. Fu Manchu, and as production wrapped up, the Pink Panther comedian gifted her a watch with her character's name inscribed on the back. But the watch ended up being more trouble than it was worth. "Wearing it on my wrist while traveling back from Paris, this watch caused me to be arrested for smuggling and questioned for over five hours at the airport," she writes in her memoir. "I'd had no idea that the watch was solid gold. To escape jail time I had to pay virtually my entire salary in Customs duty." 
8. She loved cocaine but gave it up
Like all cool people in the '70s, Helen Mirren dabbled in cocaine. "I loved coke," she told GQ. "I never did a lot, just a little bit at parties." But she stopped doing it after reading an article that said Nazi war criminal Klaus Barbie was profiting from it in South America. The power of journalism!
9. She got a tattoo while drunk in Minnesota
If you haven't figured out by now, Helen Mirren doesn't play by society's rules, man. Not only will she get drunk with an American theater troupe at an Indian reservation in Minnesota, she'll also commemorate the occasion by getting a tattoo on her hand with a safety pin. She later told the Daily Mail the tattoo means "love thy neighbor," but, on a larger metaphoric level, it just means YOLO.
Excalibur

| Warner Bros.
10. She went on camping dates with Liam Neeson
One of Mirren's first big Hollywood roles was in the sword-and-sorcery epic Excalibur, where she met and dated a tall, relatively unknown actor named Liam Neeson. Sadly, the two did not stay together forever -- imagine the memes if they did! -- but, according to Mirren, they did go on some pretty wild camping trips where Neeson would struggle to fit in a tent. The dude can fight terrorists, kidnappers, and crime lords, but apparently he's easily defeated by a few poles and some synthetic material.
11. She will get her breastplate from Excalibur when the director dies
It's fair to say that Mirren's costumes in Excalibur inspired a lot of, uh, intense teenage fantasies. But the actual breastplate she wears in the film is still owned by director John Boorman, and it will be passed on to Mirren in his will when he dies.  
12. Sometimes she sets her alarm early -- and not just for sex
Mirren famously once said she set her alarm an hour early so she could have time to have sex with her husband, Taylor Hackford, whom she married in 1997, but the actual quote isn't quite as sex-obsessed as the media would have you think. "If I've got a busy day, I'll set the alarm an hour or two earlier than I have to," she says in a 1996 interview. "It's not just for sex, but so Taylor and I can chat, exchange views, discuss the world news and do anything else that takes our fancy." So, sure, sex sometimes takes their fancy and sometimes it doesn't -- leave her alone.
2010

| Metro-Goldwyn-Mayer
13. She called Roy Scheider the C-word
Mirren is known for speaking her mind -- and like most people, her mind has curse words in it. But as her career took off in the '80s and she found herself working on Hollywood films like 2010, the sequel to Stanley Kubrick's 2001: A Space Odyssey, she had to make some adjustments. "I learned how appalling it is to utter [swear words] on set one day," she said. "My co-star Roy Scheider was joking around and said something to make me laugh. I did, and the director called Cut! As an amused throwaway, I turned to Roy and said, 'Oh Roy, you cunt!' The whole studio froze in horror."
14. Her most famous pre-Queen role got an American remake
Mirren won two Emmy Awards for her role as Jane Tennison on the BBC's Prime Suspect, but did you know the show also got a short-lived American remake? In 2011, NBC aired its own version starring Maria Bello, but it only survived for 13 episodes, because you obviously can't make Prime Suspect without Helen Mirren -- seriously, don't even bother.
15. She called Dr. Frasier Crane's radio show
It's easy to forget that in its prime, Frasier was a popular show for celebrities to make an appearance on -- like the Entourage of Seattle -- typically in the form of a call to the bumbling psychiatrist. Mirren dialed in back in 2004, but unfortunately, her call wasn't momentous enough to get her a spin-off of her own.
16. She was in a movie that had to be renamed because of Columbine
Following the success of Prime Suspect, Mirren scored the title role in Killing Mrs. Tingle, a teen slasher movie from Scream scribe Kevin Williamson. But after the Columbine shootings, which delayed the similarly violent teen film O, the movie was retitled Teaching Mrs. Tingle. When it eventually arrived in theaters, it failed at the box office and got pretty brutal reviews as well.
17. She played Ayn Rand in a TV movie
When it comes to historical figures, Mirren doesn't only play members of the royal family. In 1999, she portrayed The Fountainhead writer Ayn Rand in a TV biopic, which earned her an Emmy and a special place in the heart of that weird teacher at your high school who pushes objectivism on everyone.
The Queen

| Pathé Pictures
18. She played both Queen Elizabeths
We weren't kidding about Mirren's royal cred! Before winning an Oscar for performance as Elizabeth II in The Queen, the regal actress played Elizabeth I in director Tom Hooper's UK television miniseries Elizabeth I. If that's not enough to impress you, she also played the wife of King George III in 1994's The Madness of King George, because, like, why not?
19. She won a Tony for the same role she won an Oscar for
After winning her first Oscar in 2006, just to stunt on her haters she won a Tony Award for the same role, playing Queen Elizabeth II in The Audience, a play written by Peter Morgan who also penned the script for The Queen. I didn't even know you were allowed to do that.
20. And she's one Grammy away from an EGOT!
By winning a Tony in 2015, Mirren got one step closer to winning the highly coveted EGOT, something she'd be able to lord over Meryl Streep next time they run into each other at an awards luncheon. "I want a Grammy," she told E! News. "I've got to do an audiobook. I certainly won't win a Grammy singing."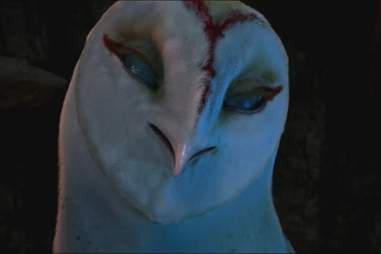 Legend of the Guardians: The Owls of Ga'Hoole

| Warner Bros. Pictures
21. She did the voice of a CGI owl for Zack Snyder
Oh shit, you thought Helen Mirren only did voice work for acerbic sitcoms like Frasier? Well, you're wrong. She was also the voice of Nyra, one of the owls in director Zack Snyder's CGI-owl epic Legend of the Guardians: The Owls of Ga'Hoole.  So, next time you spot an owl in the wild, just think to yourself, "Damn, Helen Mirren once provided the voice for these majestic creatures."
22. She likes to talk about public transportation on talk shows
Back in 2007, Mirren appeared on an episode of Top Gear and car-loving host Jeremy Clarkson teased her about her love of buses and trains. In 2015, after a great photo of her on the New York subway went viral, she appeared on The Tonight Show and told Jimmy Fallon a story about holding up a train by sticking her hand in the door. So, if you ever see Helen Mirren on a train, say hi to her. You might become talk-show fodder in the future.
23. She's retired from on-screen nudity
Last year, Mirren declared that she's done with onscreen nudity. Because she's Helen Mirren, the nudity retirement announcement came with an amazing quote. "That's the good thing about getting older; you don't have to do that sort of thing anymore," she said in an interview. "My pleasure pillows are purely for my husband."
Sign up here for our daily Thrillist email, and get your fix of the best in food/drink/fun.
Dan Jackson is a staff writer at Thrillist Entertainment, and his soul is ready for a
Fast and Furious
movie with Helen Mirren. He's on Twitter: @danielvjackson.